Splinterlands FOMO During Bear Market
It's incredible how much FOMO there was yesterday in the Splinterlands!
Absolutely spectacular to see the Riftwatchers presale end as soon as it started (less than one or two minutes!) and to watch licenses being purchased in bulk in real-time, and completely exhaust Tranche 1 supply!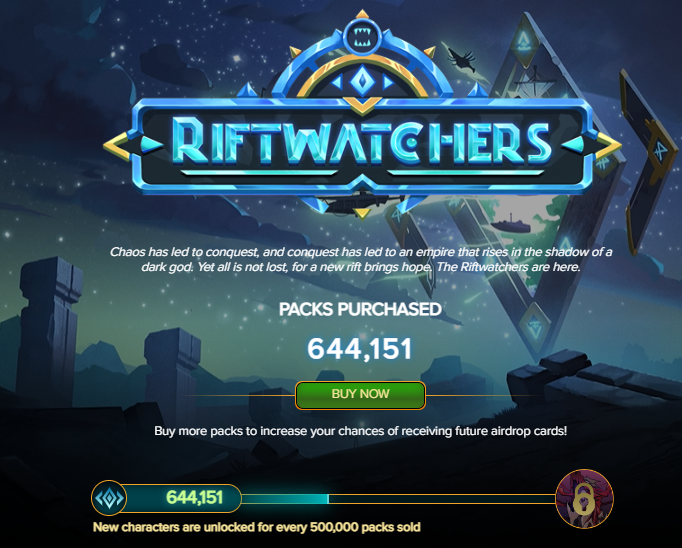 Chaos Legion packs have been purchased hard too, and it's only a bit until the next airdrop will drop.
I'll be honest with you, although I didn't see anyone, the whole day after the Riftwachers presale started seemed like a Black Friday at a major retailer.
And remember all this happens in a bear market, while prices are set in US dollars. Can you imagine another level higher? I really can't, other than new users flocking onto the platform in droves.
And it's not over! Tower Defense presale starts next week, Runies will be released shortly after, and in October there's the pack sale for GLS.
I have to admit, HiveFest presentations are about to begin and I still haven't recovered after the amazing day in Splinterlands yesterday.
What is very cool is that everyone involved in Splinterlands wins.
Those who participated in the presale or who bought licenses or packs, got what they wanted (hopefully, if they were quick enough), and others win in different ways.
Knowing myself and my equipment, I'm glad I chose not to participate yesterday. I would have lost the presale boat almost certainly, and that would have been frustrating.
People who haven't pulled their SPS and VOUCHERs from the diesel pools (or liquidity pools, more generally) to buy those nice things, gain in APR.
Currently, the APRs on most pools containing the two tokens are through the roof. They are probably the best APR in Splinterlands for the time being, better than licenses that had the top APR before yesterday.
Here's how I see this. Splinterlands is a huge ecosystem and growing at an incredible rate. You can't be everywhere and excel at the same time, in my opinion. So, what we all experienced yesterday, with lots of people getting what they desired while others held back (this time) but still won because competition in the liquidity pools dropped significantly, is a perfect example of everybody winning in Splinterlands.
There is one condition in my opinion. To focus, have a plan and stick with it, and try to excel in the areas that you focus on.
You don't have to chase everything in this ecosystem. There will come a time when your focus will receive a boost in profitability, even when you don't do anything other than wait. Just by how the different parts of the ecosystem interact and change one compared to another.
Let's not forget the last proposal that went through shifts the SPS rewards more towards the higher leagues. That should be great for those playing in higher leagues but may affect other areas.
If lower leagues bot farm owners decide to pull the plug instead of moving to higher leagues following better rewards, that will affect the rental market.
At the same time, if that happens, the lower leagues will become less crowdy and even the rewards to those remaining there or new arrivals might remain satisfactory.
But there are many interacting pieces, and we rarely can predict what's going to happen with a good degree of certainty in the Splinterlands ecosystem.
P.S.: I wrote my post earlier today to keep my eye on the Hivefest presentations. We already learned something important today, which is related to Splinterlands: custom JSONs will cost more RCs after HF26!
Posted Using LeoFinance Beta
---
---