SPS Airdrop Over Means I Started Opening Packs

The one-year SPS airdrop ended yesterday and the SPS management page has already been updated to a completely new dashboard, which puts the management of SPS, vouchers, and licenses for validator nodes on one page with 3 separate tabs.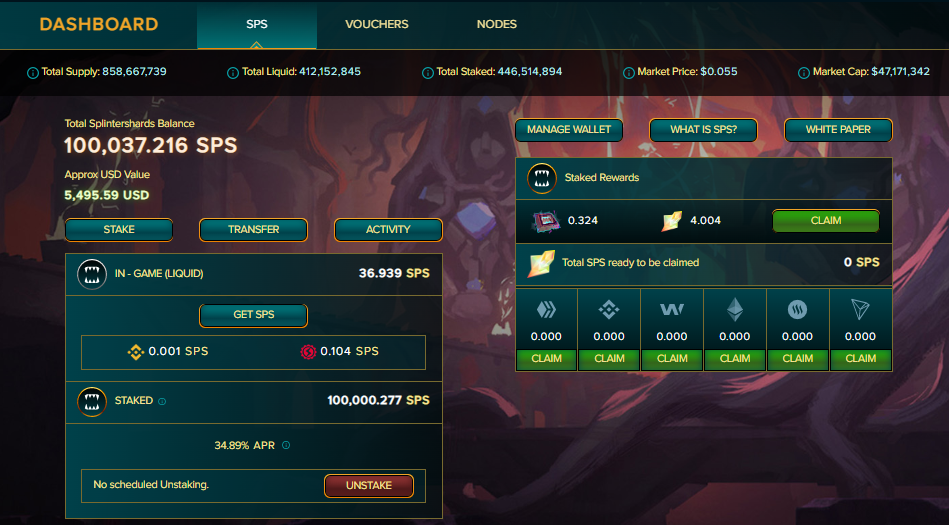 If you remember how things were before, SPS was handled from the SPS management page, vouchers from the Shop and I don't remember if node licenses could have been managed from the in-game interface or not (I don't have a license so haven't checked that part of that interface).
Consolidating the three parts in one dashboard is very useful, and obviously, they waited for the airdrop to end before they updated the management page.
Now that the airdrop is over, there's no more reason to think about airdrop points anymore. And anything that had high value for their airdrop points contribution could now have different uses or lose some value.
One of those assets that I will start using differently is my Chaos Legion packs. Now that they don't bring in airdrop points, I'll start opening them, when I have enough potions.
Today I opened 37 packs. No legendary in those packs, but there were a few gold foil cards and several epics, plus a couple of summoners, including 3 Tarsas. I need 3 more Tarsas (I think), to max it out. For my weekly goals, I consider it maxed already, because it's a sure thing, without buying any more cards.
Luckily, one of the recent updates to ranked battle rewards gives multiple potions per loot chest at higher leagues, which makes those potions add up much quicker than before without buying them.
So, I will probably open a couple of hundred CL packs in time before I max most of the remaining CL cards.
Until then, DEC/SPS pool and maybe other liquidity pools will be my friends.
Of course, I'll keep checking the secondary market from time to time, and if I see some outrageously low prices on something I need, I'll buy.
Posted Using LeoFinance Beta
---
---