Starting New Year Fully Focused: 1000 HIVE Powered Up for the First HPUD of 2023!
As you might have guessed from the title, HIVE Power continues to be one of my main goals in 2023 too. It's won't be a single-token goal, like in 2022, it will be a dual-token goal, but I'll share full details about that on my first Hive goals post for 2023, which will likely be tomorrow, where I'll set the targets (those that can be set already) and explain how I'm approaching things in 2023.
I believe starting the year with a big power-up is important to build up confidence for the months to come because unfortunately, we can't expect the bear market to have ended with the year that passed.
I also tried another thing this time. Instead of powering up HIVE directly from my staking account, I powered it up to my staking account but from gadrian. It's not fun powering up lots of HIVE every month and not receiving any HiveBuzz badge for that, lol. Maybe this way I will.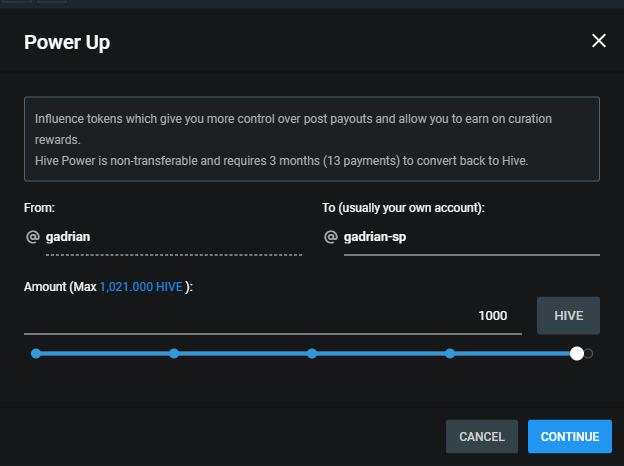 Walking Stories with Adrian
This post ended up way too short, so I thought I should keep myself accountable for this non-goal, on which I anticipate I'll have some issues being consistent.
I set these non-goals on Tuesday, and since then I walked almost every day (7+ km, 5+ km, 2 x 2km), except on Friday (or Thursday) and today. This is very good compared to my previous routine, which pretty much didn't exist lately.
Also, on my first non-goal regarding the Sunday posts, I'll sometimes have "Week through Adrian's Lenses", and other times I'll replace it with these "Walking Stories with Adrian" posts, perhaps more detailed, but not too much, lol.
Short update for SplinterGlossary
As I mentioned in the previous update for Splinterglossary, I took it slow with it this week.
I did update two or three definitions and added two new terms to the glossary, after scanning through both my and Splinterlands' recent posts for possible new terms to add.
There is also DEC-B which I haven't added. I'm waiting for the result of the proposal vote to add it or not.
I wish you success in your 2023 endeavors!
Posted Using LeoFinance Beta
---
---