Yesterday in my Corner of HiveVerse
Two of the ecosystems where I'm deeply involved from the HiveVerse had something going on yesterday.
Splinterlands had the Tower Defense presale, and Leofinance made another very useful upgrade to #Threads.
Let's start with Threads.
Leofinance Adds Threads Profile
Not too long ago Threads had a performance boost, which was definitely needed.
But while that was an important upgrade, and I read it also required some major backend changes, regular users will always be more impressed by new or improved features. Am I right? :)
So, here comes one major upgrade with a new feature: Threads Profile Page.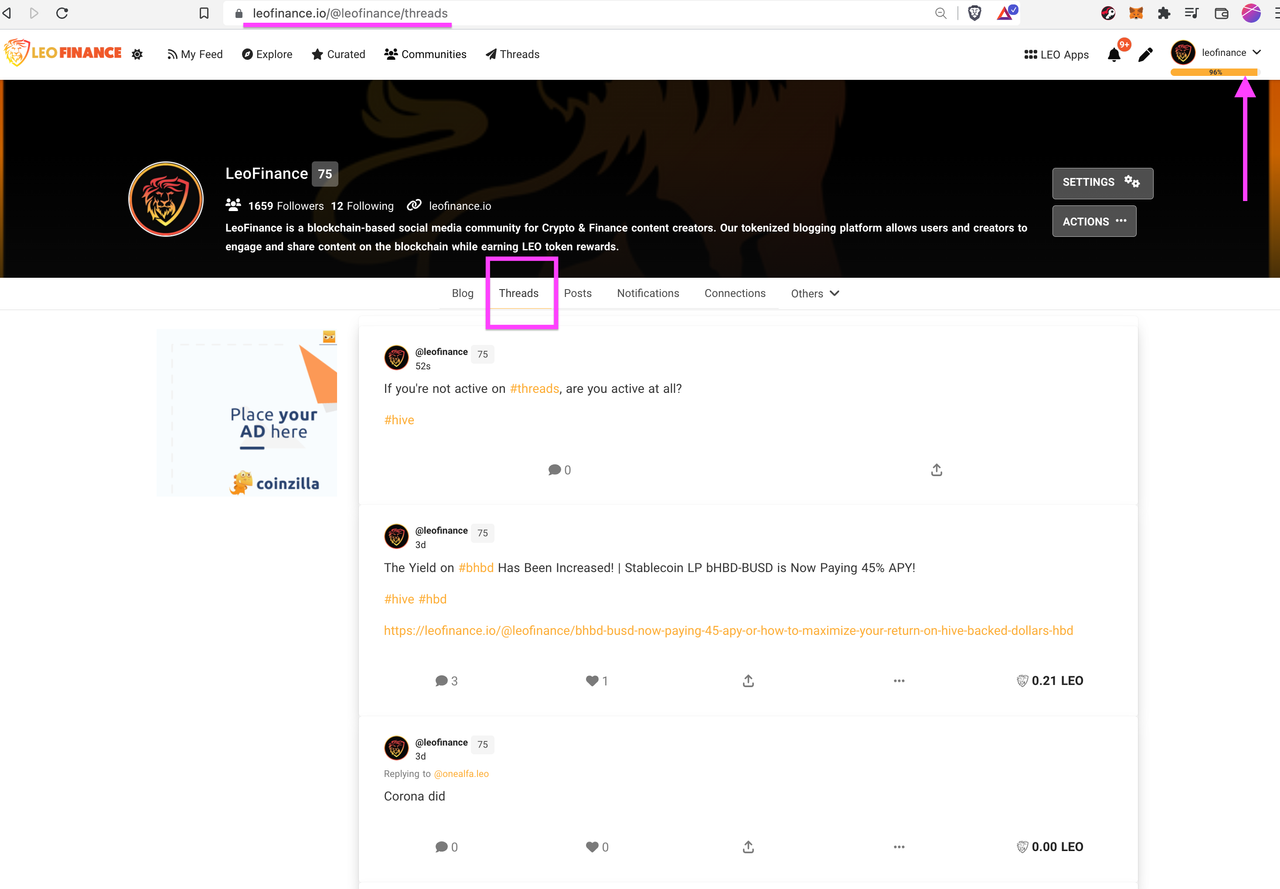 Some would say a profile page for a social media app (short form or long form) is standard and nothing to fuss about.
But when you're not building that social media app in Web 2.0, and you have to re-interpret the data structures at your disposal to fit what you're trying to build, nothing is standard. Everything is new and often challenging.
That's why a profile page for Threads is a major step forward.
I don't know how you answered your threads before the profile page was around.
There were two options:
look for your thread on LeoThreads until you found it and reply to whoever commented
look for your comment on the container post and reply to the comment(s) - these replies didn't show up on Threads, but it was the option I used for whatever reason
Not something to look forward to, especially if the reply came after some time.
Now, with the Threads Profile, here's what you have to do:
Go to your profile on Leofinance
Click on Threads
Go to your Thread that received a reply and click on it
The Threads interface will open with your comment and the reply(ies)
Click to comment on the reply
Reply back
It's as simple as that.
I can say that that will probably increase engagement and give ease of use as a reason, but I feel it's better to leave it short and sweet.
Splinterlands Tower Defense Presale
Not another sold-out-in-under-2-minutes event, but here we are 12-14 hours after that and the Tower Defense presale is sold out. This morning there were still a few thousand packs available, but since then they disappeared as well.
In my opinion, I believe the Riftwatchers presale was so 'hot' compared to the Tower Defense one for a couple of reasons:
they have almost immediate utility
they add to the core game for which (mostly) everything is known
the presale promo card for Riftwatchers is very powerful (nothing is known about the promo hero for the Tower Defense)
it was the first...
Now, unlike the Riftwachers presale, where I preferred to stay on the sidelines and buy single cards from the market later on, I did buy a couple of packs in the Tower Defense game.
I was prepared to buy up to 100 packs plus bonuses and I had all the funds transferred to do it, just in case.
But that was a very unlikely scenario. I just wanted to be ready, in case I find out something more that determines me to buy more.
Throughout the day, my mind was kind of made on 10 packs, just in case I get super-lucky and get that promo hero. And buy more packs in the general sale or cards later on. Why would I buy in the general sale instead of the presale? More time passes, more rewards come in and generate other rewards, more time to complete my goals for the year.
In the end, I doubled that, so I bought 20 packs.
Now, we did find some interesting things during the live stream with the team. And that is, there will be two proposals, one for land owners, and another for Tower Defense pack owners, to receive SPS airdrops while waiting for the respective game expansion/game to launch.
From my perception of how things will go down, it is more likely for the land proposal to go through than the TD one (if for nothing else, land is 'unique' - unlike packs - and the wait was much longer). That's one reason why I didn't buy more TD packs at this time.
Of course, as a pretty significant land owner, if that proposal goes through I'll have every reason to be happy!
Posted Using LeoFinance Beta
---
---