dCrops Quests are Live
Hello everyone. What's good?
It's been another week of hard crypto gaming, NFT-ing and Defi; barely enough time left for content creation. Well, I had to squeeze out a few to talk about the latest big update that has come to dCrops - QUESTS.
Now in case you have no idea what I'm talking about or what dCrops is, it is a farming simulation game on Hive. It is a play-to-earn game where you can earn CROP tokens by playing the game.
You can start playing at www.dcrops.com!
You can also check out my last post where I explained in a video how to get started with dCrops HERE.
---
Anyway, quests are the latest addition to the dCrops game and they come with sweet rewards. But how do they work?
At the beginning of a season, each player will 10 tasks that they must perform to complete a quest. Once these tasks are completed, the player then receives a reward chest which of course contains rewards.
These tasks can be one of three things - plant, harvest, sell. If you are already playing dCrops, then you should know that the whole gameplay is already just these three tasks. You plant crops, harvest them when ready, and then sell the harvested crops for shares which can then be exchanged for CROP tokens at the end of the season.
So, you receive quest tasks based on the actions you are already performing in-game. Here's an image for more context.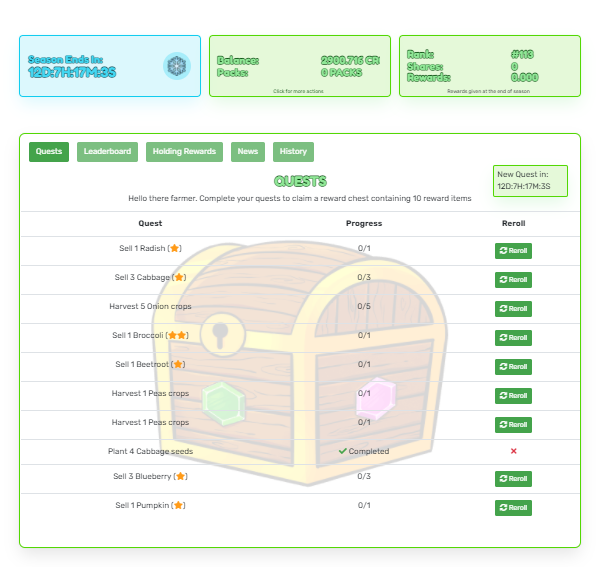 ---
Now, the reward chest will contain 10 reward items. And once set, quests will stay till the player resets that quest again in any upcoming season. Players can reset the quest even if they haven't completed or claimed their rewards yet.
The player can choose to change a task in the quest by enrolling. For example, in the image above, I will have to reroll the "Harvest 5 Onion crops" tasks as I do not have up to 5 Onion crops planted. Rerolling will bring up a new task which I may be able to complete.
It also costs just about 10 CROPS to reroll a task. This is small compared to the rewards and is a good sink for CROP in my opinion.
---
What are the rewards?
The rewards can be either of the following: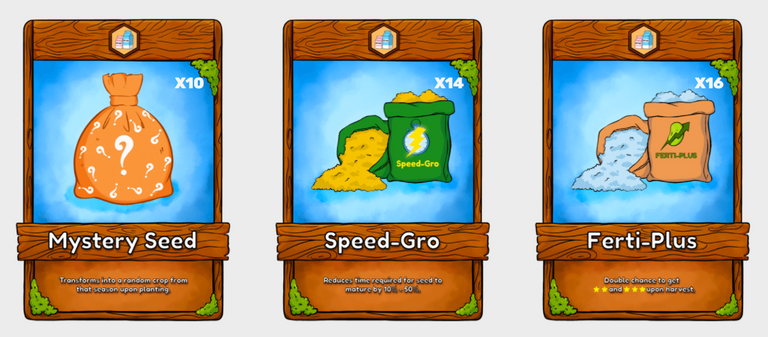 From original dCrops announcement post
What do these reward items do?
The Mystery Seeds randomly transforms into a seed from the current season when planted. The chance for it to transform to a certain rarity is the same as the drop rate for that seed in the packs. This means it has a 75% chance to be a Common seed and 0.8% to be a Legendary seed.
The Speed-Gro does just what the name says. It reduces the time required for a seed to mature by 10%-50% on a specific plot of land. This is applied across a land card for all its plots.
The Ferti-Plus on the other hand increases the fertility of a plot of land. It doubles the chance to get x2 and x3 crops upon harvest for the land that it was applied to. This is applied across a land card for all its plots.
---
These additions to the game are really exciting and I can't wait to get my first set of reward items this season and test them out.
The dCrops team also has a lot cooking in the background for later updates. These include stuff like Crafting, Cooking, Orders, Combining NFTS and a lot more. Hopefully, we get to see them all.

LBRY is a free, open, community-controlled digital wonderland. Join lbry.tv and earn a welcome bonus for you and I. JOIN NOW
I am sending you 1π! Pi is a new digital currency. To claim your Pi, follow this link and use my username (gamsam) as your invitation code.
Here is my invitation link for BEE Network. Use the invitation code: gamsam. Download HERE
Join me on Twitter to push the Hive campaign onward and get more people onboard Hive.


Posted Using LeoFinance Beta
---
---