[ESP/ENG] Sorry, Blame It On Me de Akon (Hive Open Mic abierto 134) | Sorry, Blame It On Me by Akon (Hive Open Mic Week 134)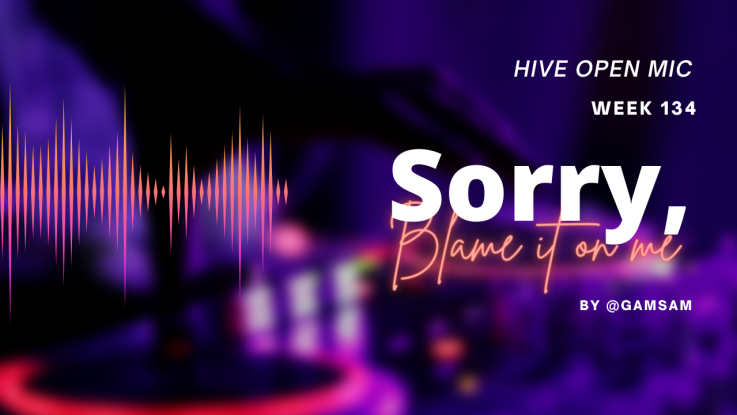 ---
Hola Chicos, Esta es mi primera entrada en Hive Open Mic y canté Sorry, Blame It On Me de Akon con @ebingo. Nos divertimos mucho haciendo esto. Elegí esta canción porque, en ella, el cantante se disculpa por todos sus errores y carencias ante las personas de su vida. Por no estar ahí, por estar demasiado ocupado, por el dolor que ha causado, por ser irresponsable. Pide a las personas a las que ha ofendido que le perdonen, ya que asume la responsabilidad de todos sus errores y les pide que le echen la culpa a él.
Es una canción bastante antigua lanzada hace más de 15 años (2006 para ser exactos) y me trae muchos recuerdos divertidos y nostálgicos cantándola. Espero que la disfrutes.
---
Hey Guys, This is my very First Entry Into Hive Open Mic and I sang Sorry, Blame It On Me by Akon with @ebingo. We sure had a lot of fun making this. The theme for this week is "perdón" is Spanish which means 'Sorry'. I chose this song because, in this song, the singer apologizes for all his wrongs and shortcomings to the people in his life. For not being there, for being too busy, for the pain he had caused, for being irresponsible. He asks the people he has offended to forgive as he takes responsibility for all his wrongdoings and asks them to put the blame on him.
It is quite an old song released over 15 years ago (2006 to be precise) and it brings ack a lot of fun and nostalgic memories singing it. I hope you enjoy.
---
Letras

Lo siento por las veces que te dejé en casa
Yo estaba en la carretera y tú estabas sola
Lo siento por las veces que me tuve que ir
Lo siento por el hecho de que no sabía
Que estabas sentada en casa deseando que
y que no te preocupes por el tiempo que te queda de vida
Lo siento por las veces que me descuidé
Lo siento por las veces que te falto el respeto
Lo siento por las cosas malas que he hecho
Siento no estar siempre ahí para mis hijos
Siento el hecho de no ser consciente
Que no puedas dormir por la noche cuando no estoy ahí
Porque estoy en la calle como todos los días
Lo siento por las cosas que no dije
Como que eres lo mejor de mi mundo
Y cómo estoy tan orgulloso de llamarte mi chica
Entiendo que hay algunos problemas
Y no estoy tan ciego para saber
Todo el dolor que guardas dentro de ti
Aunque no lo demuestres
Si no puedo disculparme por estar equivocado
Entonces es una vergüenza para mí
Seré la razón de tu dolor
Y puedes echarme la culpa a mí
Puedes echarme la culpa a mí
Puedes echarme la culpa a mí
Puedes echarme la culpa a mí
Puedes echarme la culpa a mí
Dijiste que podías echarme la culpa a mí
Dijo que podías echarme la culpa a mí
Dijiste que podías echarme la culpa a mí
Podrías echarme la culpa a mí
Lo siento por las cosas que te hizo pasar
Y todas las veces que no supiste qué hacer
Siento que hayas tenido que ir a vender esas bolsas
Solo tratando de mantenerte ocupada hasta que supieras de papá
Cuando preferirías estar en casa con todos tus hijos
Como una gran familia con amor y felicidad
Y aunque papá nos trataba como reyes
Se consiguió una segunda esposa y tú no estuviste de acuerdo
Se levantó y te dejó allí sola
Siento que hayas tenido que hacerlo por tu cuenta
Siento haber ido y haber aumentado tu dolor
Siento que tu hijo haya sido un ladrón
Siento haber crecido demasiado rápido
Ojalá hubiera escuchado y no hubiera sido tan malo
Siento que tu vida se haya convertido en esto
Siento que los federales vinieran y me llevaran

Lyrics
I'm sorry for the times that I left you home
I was on the road and you were alone
I'm sorry for the times that I had to go
I'm sorry for the fact that I did not know
That you were sitting home just wishing we
Could go back to when it was just you and me
I'm sorry for the times I would neglect
I'm sorry for the times I disrespect
I'm sorry for the wrong things that I've done
I'm sorry I'm not always there for my sons
I'm sorry for the fact that I'm not aware
That you can't sleep at night when I am not there
Because I'm in the streets like everyday
I'm sorry for the things that I did not say
Like how you are the best thing in my world
And how I'm so proud to call you my girl
I understand that there's some problems
And I'm not too blind to know
All the pain you kept inside you
Even though you might not show
If I can't apologize for being wrong
Then it's just a shame on me
I'll be the reason for your pain
And you can put the blame on me
You could put the blame on me
You could put the blame on me
You could put the blame on me
You could put the blame on me
Said you could put the blame on me
Said you could put the blame on me
Said you could put the blame on me
You could put the blame on me
I'm sorry for the things that he put you through
And all the times you didn't know what to do
I'm sorry that you had to go and sell those bags
Just tryna stay busy 'til you heard from dad
When you would rather be home with all your kids
As one big family with love and bliss
And even though pops treated us like kings
He got a second wife and you didn't agree
He got up and left you there all alone
I'm sorry that you had to do it on your own
I'm sorry that I went and added to your grief
I'm sorry that your son was once a thief
I'm sorry that I grew up way too fast
I wish I would've listened and not be so bad
I'm sorry that your life turned out this way
I'm sorry that the feds came and took me away
Lyrics from Musixmatch
---
▶️ 3Speak
---
---