Happy 2nd Birthday Hive!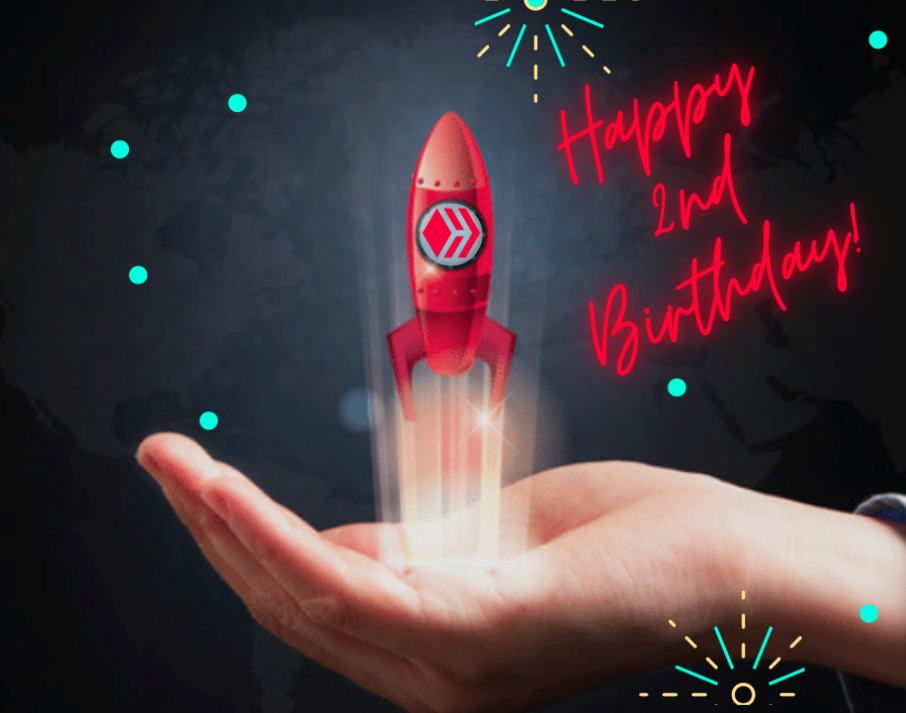 Another 10,512,000 blocks full of meaningful human interactions have been produced in this amazing open blockchain. It is time to celebrate Hive's second birthday. It has absolutely been a great year for Hive blockchain network. The first year was written in the history as building a solid foundation, and the second year have demonstrated the great capabilities of Hive as a multipurpose blockchain that is leading the way in Web Free transformation. Second year of Hive has been amazing for Hive and there is a lot to celebrate.
Hive Prices. Hive was able to become a billion dollar network. While its current market cap may be below a billion dollars, it will remain as such nevertheless. Because we know once accomplished highs will be repeated in near future. It is difficult to reach such milestones for the first time, but when the time is right we will be back above billion dollar market cap valuation and more. The price of a Hive coins went above $3. That also is a great accomplishment and shows the hard work put in by the builders has been recognized in the markets.
Making HBD work as it was originally intended and reaching stability as an algorithmic stable coin pegged to USD has been a huge success. It is super impressive how the HBD market price has been holding its peg to USD. While it is not perfect, and it doesn't have to be, we can expect HBD to go back to $1 USD pricing in a very short time when price go a bit away from this peg. This was demonstrated many many times. Witnesses reaching a consensus on paying 12% APR on HBD held in savings also makes HBD a very useful stable-coin. This APR has become even more important these days due to the high inflation and USD losing its purchasing power. Utilizing 12% APR HBD owners can mitigate these risks of losing the value of their cash assets.
The HBD success and many others on Hive wouldn't be possible with the creative and dedicated work of core developers. Another great addition to Hive code was integrating the ability to convert Hive to HBD. Now that Hive can be converted to HBD, just like HBD can be converted to Hive, this provides many options for Hive participants to utilize in their open network adventures. I really like the ability to convert Hive to HBD. It opens a possibility to create as many HBD as needed for any project. It also has a positive effect on the Hive price as well. There are many possibilities here. Wait until big money finds out about it.
All of the Hive based Apps, Tribes, and Communities have been hard at work and have seen many incredible improvements and growth. All of this work, building and success of the second year and setting up Hive network to even better third year. Splinterlands success has shown the true power of the Hive blockchain, and efforts like this will benefit many. LeoFinance was tireless in their efforts creating bridges, innovating and enabling Hive people with creative DeFi opportunities. NFTs on Hive have seen a lot of enthusiasm, development and participation. All of these great works of Hive developers and owners has proven once again, Hive truly is a pioneer in WebFree revolution.
A lot more developments going on in Hive both in core code development and layer two solutions. Two of the projects I am really excited about are Speak Network, which will be holding an event tomorrow and starting off the claims of their layer two tokens on Speak Network. Ragnarok game seems to have a great potential for success and unique innovation in blockchain gaming. There are many of developments in apps and games on Hive. It is not physically possible for one person to keep up with them all and know everything about them. Fortunately, Hive's social layer and its foundation in social networking makes it easy to find out information needed. When don't have time to receive all the updates, we know people who always try to stay informed of all things and they are only one message away.
Blocktrades team has been working on HAF - Hive Application Framework, which is going to be a great tool for developers from various backgrounds, to easily integrated their works to the Hive blockchain and take advantage of all the cool tools Hive provides. Another great development I really like is the bridge between Hive and bitcoin's lightning network created by BrianOfLondon. I love Hive and Bitcoin, and having solutions to transact using Hive in lightning network and from lightning to Hive is awesome.
Hive had been thriving in its second layer and have many accomplishments to showcase. It is great to be part of this network and witnessing these achievements. On an individual level for me, Hive journey continued to be rewarding experience in gaining knowledge & skills, networking & interacting with friends, and building financial equities.
Happy 2nd Birthday Hive!
Posted Using LeoFinance Beta
---
---