Hive Distributed At Least $6,866,529 As Content Rewards In The First Half Of 2022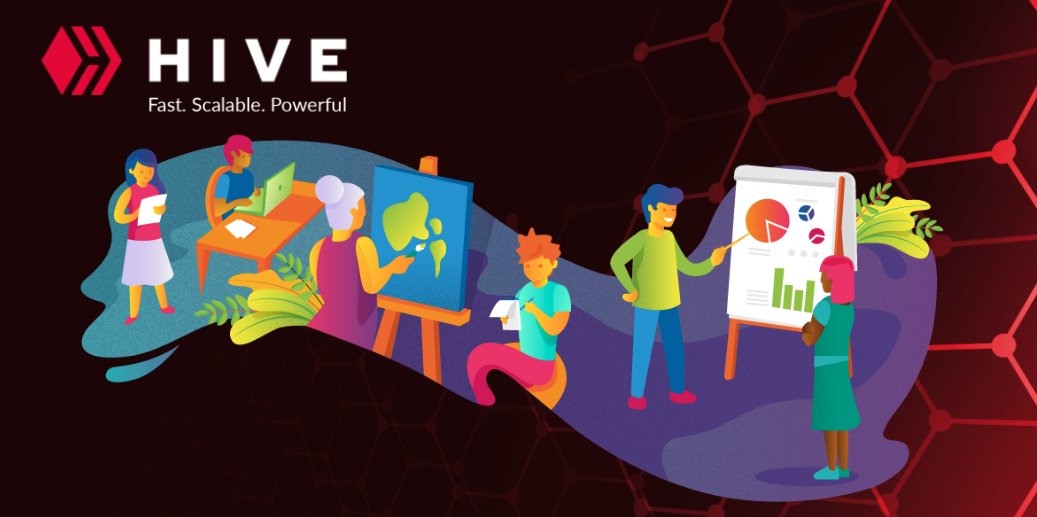 ---
Appreciation is a wonderful thing. It makes what is excellent in others belong to us as well.
~ Voltaire
---
Hive is an open blockchain network that offers decentralized standards for the future of the web. Hive encourages and promotes open and transparent solutions. The technology is open source and anybody is welcome to contribute, learn from it, fork it, build on top of it. This open networks welcomes all people of the world and empower talents from all walks of life form around the world. One of Hive's awesome features is its rewards distribution system.
Being an open network and welcoming everybody from all walks of live, and continuous community building efforts makes Hive one of the most, if not the most, decentralized networks. Proof of Brain methodology in combination with DPoS system, makes distribution of rewards more meaningful. Perhaps, this is the true proof of work distribution system. Proof of work by humans, that is. In addition to Proof of Brain rewards distribution system, Hive offers true ownership of accounts and wallets. Participants of the network and recipients of rewards are the only ones who have full control over their accounts/wallets. Some choose to reinvest in the network and build their equity and influence in participating in decentralization. Some choose to cash out and pay for their expenses. Everybody is free to use their rewards as they please.
There are many different kinds of rewards in Hive. Witnesses receive witness rewards for producing blocks and keeping the network secure. Developers and community builders can receive rewards or payments from Decentralized Hive Fund for their projects and efforts that benefit the network. There is 20% APR payments for HBD held in savings. The most popular rewards on Hive are author and curation rewards which authors receive for sharing their talents and experiences and curators receive for participating in curating activities.
In 2021, Hive blockchain distributed total of $10,640,212 as content rewards. Content rewards consist of author rewards and curator rewards. Author rewards were $4,898,447, and curator rewards were $5,741,765.
We are half way through 2022, and it is time to take a look at Hive content rewards for the first half of 2022.
In the first six months of 2022, January - June, Hive blockchain distributed total of $6,866,529 in content rewards. Content rewards consist of author and curator rewards. Authors were awarded $2,984,170, and curators received $3,882,358 in rewards. These numbers only represent native coins: Hive and HBD. Of course, Hive economy is much bigger than the native coins distribution. Hive tribes and Hive-engine based token project rewards add great deal of value in addition to the layer one rewards.
Another powerful feature of Hive is its communities and community building tools. Most of these rewards have been distributed through Hive communities. Hive communities always play a big role in distributing content rewards, driving engagement, and encouraging participation. Hive journey is more meaningful and fun with its communities.
In the past LeoFinance and GEMS always competed for the first place in Hive rewards distribution. Sometimes GEMS would be at the top, and other times it would be LeoFinance. It looks like in the first half of 2022, LeoFinance managed to retain number one position, and GEMS dropped to number 6. However it is also important to keep in mind that many of the top communities help with rewards distribution in other communities as well. While GEMS may be at number 6, I believe their rewards distribution is much higher due to rewarding engagement and talents in other communities as well.

Top 300 Communities Ranked By Hive Rewards

| # | Community | Posts & Comments | Author Rewards | Curator Rewards | Total Rewards |
| --- | --- | --- | --- | --- | --- |
| 1 | LeoFinance | 388,852 | $261,518.32 | $284,243.13 | $545,761.45 |
| 2 | Foodies Bee Hive | 110,293 | $148,254.46 | $150,445.96 | $298,700.41 |
| 3 | Pinmapple | 75,612 | $111,865.58 | $114,314.21 | $226,179.79 |
| 4 | HIVE CN 中文社区 | 55,232 | $97,472.35 | $97,327.86 | $194,800.21 |
| 5 | Splinterlands | 219,597 | $84,976.74 | $95,880.00 | $180,856.74 |
| 6 | GEMS | 76,137 | $83,779.49 | $87,731.40 | $171,510.89 |
| 7 | Photography Lovers | 82,868 | $76,630.28 | $79,452.05 | $156,082.33 |
| 8 | MakeUp Power | 30,889 | $74,636.64 | $75,171.82 | $149,808.46 |
| 9 | Hive Gaming | 52,468 | $67,323.05 | $77,291.49 | $144,614.54 |
| 10 | Liketu | 64,195 | $52,134.32 | $52,501.09 | $104,635.41 |
| 11 | Full Deportes | 28,824 | $43,363.40 | $46,570.97 | $89,934.36 |
| 12 | Hive Open Mic | 62,553 | $41,719.57 | $47,818.75 | $89,538.33 |
| 13 | Actifit | 182,046 | $42,779.41 | $44,304.27 | $87,083.68 |
| 14 | Black And White | 33,044 | $41,789.93 | $41,693.91 | $83,483.84 |
| 15 | Hive Diy | 32,187 | $38,432.99 | $38,780.53 | $77,213.52 |
| 16 | Movies & TV Shows | 33,790 | $33,321.80 | $37,401.79 | $70,723.60 |
| 17 | Sketchbook | 40,292 | $35,205.34 | $35,057.58 | $70,262.93 |
| 18 | Music | 38,580 | $31,985.79 | $36,154.34 | $68,140.13 |
| 19 | Team Ukraine | 18,456 | $31,253.64 | $35,370.02 | $66,623.65 |
| 20 | Writing Club | 24,177 | $31,803.68 | $32,786.92 | $64,590.60 |
| 21 | Motherhood | 22,728 | $31,133.15 | $33,145.28 | $64,278.43 |
| 22 | Catarsis | 19,741 | $31,000.38 | $32,373.11 | $63,373.49 |
| 23 | Olio di Balena | 43,261 | $28,935.26 | $29,036.66 | $57,971.92 |
| 24 | BDCommunity | 20,339 | $28,168.40 | $29,484.95 | $57,653.35 |
| 25 | Alien Art Hive | 23,382 | $27,172.23 | $29,832.48 | $57,004.71 |
| 26 | Aliento | 23,774 | $25,626.70 | $29,284.14 | $54,910.84 |
| 27 | Hive Learners | 69,030 | $27,031.04 | $27,652.01 | $54,683.05 |
| 28 | DTube | 18,431 | $24,230.19 | $26,492.59 | $50,722.78 |
| 29 | ASEAN HIVE COMMUNITY | 43,428 | $24,144.41 | $26,131.81 | $50,276.22 |
| 30 | Threespeak | 23,148 | $23,082.26 | $26,609.70 | $49,691.96 |
| 31 | OCD | 39,660 | $22,086.67 | $25,444.88 | $47,531.55 |
| 32 | WEEKEND EXPERIENCES | 41,282 | $22,265.41 | $22,505.21 | $44,770.61 |
| 33 | OnChainArt | 19,698 | $22,293.69 | $22,400.16 | $44,693.85 |
| 34 | EspaVlog | 20,859 | $19,034.00 | $24,152.51 | $43,186.51 |
| 35 | Gods On Chain | 7,199 | $21,055.88 | $21,931.02 | $42,986.90 |
| 36 | Cinnamon Cup Coffee | 20,884 | $20,030.81 | $20,910.03 | $40,940.84 |
| 37 | Let's Make a Collage | 32,638 | $15,051.97 | $24,445.60 | $39,497.58 |
| 38 | Blockchain Gaming | 139,742 | $19,090.92 | $20,176.46 | $39,267.38 |
| 39 | ecoTrain | 24,668 | $19,324.95 | $19,814.11 | $39,139.06 |
| 40 | Geek Zone | 19,896 | $18,436.46 | $20,326.42 | $38,762.88 |
| 41 | NeedleWorkMonday | 27,949 | $18,275.66 | $19,694.59 | $37,970.24 |
| 42 | Freewriters | 44,184 | $17,406.32 | $18,138.06 | $35,544.38 |
| 43 | Sports Talk Social | 24,289 | $17,702.40 | $17,722.33 | $35,424.73 |
| 44 | Proof of Brain | 37,338 | $16,793.15 | $17,468.61 | $34,261.76 |
| 45 | Wednesday Walk | 25,989 | $16,474.05 | $16,594.15 | $33,068.20 |
| 46 | Silver Bloggers | 21,566 | $14,891.38 | $15,809.91 | $30,701.29 |
| 47 | Architecture+Design | 13,891 | $14,376.44 | $15,223.16 | $29,599.60 |
| 48 | CCH | 14,998 | $14,508.03 | $14,819.64 | $29,327.67 |
| 49 | Ladies of Hive | 51,906 | $14,276.19 | $14,685.56 | $28,961.74 |
| 50 | Deutsch D-A-CH | 47,795 | $14,453.66 | $14,426.47 | $28,880.13 |
| 51 | Hive Pets | 14,120 | $13,865.37 | $14,952.89 | $28,818.26 |
| 52 | Amazing Nature | 22,575 | $13,871.75 | $14,177.67 | $28,049.42 |
| 53 | Holos&Lotus | 20,676 | $12,706.25 | $14,017.58 | $26,723.83 |
| 54 | Feathered Friends | 18,749 | $11,887.22 | $12,463.15 | $24,350.37 |
| 55 | Emotions & Feelings | 13,392 | $11,438.67 | $11,683.33 | $23,122.00 |
| 56 | VIMM.TV - Streaming | 7,541 | $10,660.22 | $11,893.02 | $22,553.25 |
| 57 | Cervantes | 12,065 | $11,077.97 | $11,271.14 | $22,349.11 |
| 58 | The City of Neoxian | 15,633 | $10,866.46 | $11,428.80 | $22,295.27 |
| 59 | HiveGarden | 16,636 | $10,930.90 | $11,206.99 | $22,137.89 |
| 60 | StemSocial | 9,838 | $10,654.26 | $10,990.91 | $21,645.17 |
| 61 | SkateHive | 8,138 | $10,344.32 | $11,250.11 | $21,594.42 |
| 62 | Deep Dives | 8,620 | $9,553.72 | $10,038.25 | $19,591.97 |
| 63 | HiveDevs | 2,947 | $9,316.29 | $10,002.70 | $19,318.99 |
| 64 | Photography | 6,709 | $9,248.91 | $9,227.67 | $18,476.58 |
| 65 | CineTV | 16,074 | $9,156.36 | $9,242.56 | $18,398.92 |
| 66 | 1UP | 17,789 | $8,202.42 | $9,172.02 | $17,374.44 |
| 67 | Plant Power (Vegan) | 10,455 | $8,133.68 | $8,408.70 | $16,542.38 |
| 68 | Literatos | 10,957 | $7,911.52 | $8,198.91 | $16,110.43 |
| 69 | The Ink Well | 29,162 | $7,601.87 | $8,016.67 | $15,618.54 |
| 70 | SWC | 8,438 | $6,666.16 | $8,717.01 | $15,383.16 |
| 71 | Hive Food | 11,475 | $7,115.48 | $7,279.70 | $14,395.18 |
| 72 | Market Friday | 15,043 | $6,753.20 | $6,897.04 | $13,650.24 |
| 73 | Rising Star Game | 100,918 | $6,676.84 | $6,870.94 | $13,547.78 |
| 74 | Sound Music | 7,533 | $6,476.47 | $7,046.69 | $13,523.17 |
| 75 | Urban Exploration | 3,856 | $6,663.42 | $6,652.53 | $13,315.95 |
| 76 | Hive Book Club | 5,377 | $5,870.66 | $7,081.56 | $12,952.22 |
| 77 | DBuzz | 83,717 | $6,229.03 | $6,149.74 | $12,378.76 |
| 78 | Shadow Hunters | 32,771 | $5,600.15 | $6,459.08 | $12,059.23 |
| 79 | Self Improvement | 5,857 | $5,965.45 | $6,033.22 | $11,998.67 |
| 80 | FungiFriday | 8,623 | $5,531.36 | $6,042.83 | $11,574.19 |
| 81 | WeedCash Network | 10,723 | $5,379.04 | $6,142.94 | $11,521.97 |
| 82 | Home Edders | 5,055 | $5,495.67 | $5,945.17 | $11,440.84 |
| 83 | PukuMundo | 8,477 | $4,875.69 | $5,925.83 | $10,801.52 |
| 84 | Discovery-it | 4,040 | $5,301.20 | $5,322.12 | $10,623.32 |
| 85 | Loving HIVE ❤ | 9,777 | $4,994.27 | $5,330.96 | $10,325.22 |
| 86 | Informationwar | 4,271 | $4,963.40 | $5,361.73 | $10,325.12 |
| 87 | BEER | 5,858 | $5,073.61 | $5,195.68 | $10,269.29 |
| 88 | STEMGeeks | 5,003 | $4,928.88 | $5,061.04 | $9,989.92 |
| 89 | MCGI Cares (Hive) | 6,758 | $4,952.64 | $4,957.86 | $9,910.50 |
| 90 | Comedy Open Mic | 8,712 | $4,622.53 | $5,001.87 | $9,624.40 |
| 91 | Education | 3,376 | $4,560.88 | $4,969.16 | $9,530.03 |
| 92 | ThoughtfulDailyPost | 9,456 | $4,644.04 | $4,712.79 | $9,356.83 |
| 93 | PHOTOGRAPHY [DAC] | 3,658 | $4,418.70 | $4,552.95 | $8,971.65 |
| 94 | EXHAUST | 8,622 | $4,059.98 | $4,431.04 | $8,491.03 |
| 95 | Axie Buzz | 2,346 | $4,102.16 | $4,204.08 | $8,306.24 |
| 96 | Sunset Photography | 8,329 | $4,034.72 | $4,212.60 | $8,247.32 |
| 97 | We Are Alive Tribe | 56,775 | $3,901.05 | $4,280.69 | $8,181.74 |
| 98 | Family & Friends | 4,385 | $3,984.11 | $4,045.07 | $8,029.18 |
| 99 | CELF Magazine | 7,564 | $3,825.98 | $4,089.05 | $7,915.03 |
| 100 | Hive Motors | 2,405 | $3,772.92 | $3,958.27 | $7,731.18 |
| 101 | Palnet | 2,786 | $3,535.24 | $4,129.28 | $7,664.52 |
| 102 | Fascinating Insects | 5,436 | $3,781.93 | $3,765.70 | $7,547.63 |
| 103 | Q-Inspired | 6,598 | $3,598.73 | $3,725.91 | $7,324.64 |
| 104 | Love & Sexuality | 2,993 | $3,371.45 | $3,832.59 | $7,204.04 |
| 105 | The Chess Community | 4,025 | $3,157.90 | $3,919.98 | $7,077.88 |
| 106 | StreetArt | 8,788 | $3,406.76 | $3,425.93 | $6,832.69 |
| 107 | INDONESIAN HIVE | 8,048 | $3,372.79 | $3,394.54 | $6,767.33 |
| 108 | Rally | 526 | $3,377.50 | $3,368.77 | $6,746.27 |
| 109 | SPK Network | 1,681 | $2,030.64 | $4,628.27 | $6,658.91 |
| 110 | Qurator | 2,310 | $3,021.50 | $3,402.25 | $6,423.75 |
| 111 | PhotoFeed | 6,085 | $3,103.61 | $3,313.01 | $6,416.62 |
| 112 | Fungi Lovers | 4,615 | $2,994.24 | $3,047.22 | $6,041.46 |
| 113 | Stock Images | 3,677 | $2,568.08 | $3,403.60 | $5,971.68 |
| 114 | Natural Medicine | 3,911 | $2,943.07 | $3,023.92 | $5,966.99 |
| 115 | Life Stories | 3,330 | $2,854.93 | $2,995.41 | $5,850.34 |
| 116 | THGaming | 31,600 | $2,808.81 | $2,884.66 | $5,693.46 |
| 117 | Hive Naija | 14,662 | $2,787.76 | $2,905.00 | $5,692.76 |
| 118 | HiveBR | 6,448 | $2,733.63 | $2,844.29 | $5,577.91 |
| 119 | Ecency | 7,726 | $2,633.99 | $2,891.74 | $5,525.73 |
| 120 | TravelFeed | 1,885 | $2,640.50 | $2,859.42 | $5,499.93 |
| 121 | SublimeSunday | 3,433 | $2,683.56 | $2,699.16 | $5,382.72 |
| 122 | Feel Good | 5,428 | $2,499.44 | $2,665.23 | $5,164.67 |
| 123 | The Pew: Guns & more | 2,298 | $2,554.26 | $2,580.73 | $5,134.99 |
| 124 | Scholar and Scribe | 6,982 | $2,454.83 | $2,503.58 | $4,958.41 |
| 125 | Rant, Complain, Talk | 5,074 | $2,450.83 | $2,503.03 | $4,953.86 |
| 126 | Agricultural Mindset | 1,617 | $2,460.60 | $2,467.30 | $4,927.90 |
| 127 | Live Hive Music | 1,362 | $2,315.67 | $2,482.17 | $4,797.84 |
| 128 | Cross Culture | 3,609 | $2,191.75 | $2,454.83 | $4,646.58 |
| 129 | Musicforlife 🎶 | 6,503 | $2,235.19 | $2,339.48 | $4,574.67 |
| 130 | The CTP Swarm | 11,400 | $2,046.33 | $2,128.31 | $4,174.63 |
| 131 | Blockchain Poets | 8,044 | $2,063.34 | $2,106.24 | $4,169.58 |
| 132 | Abundance Tribe | 2,425 | $1,955.70 | $2,142.72 | $4,098.42 |
| 133 | Value 4 Value | 628 | $2,015.49 | $2,079.18 | $4,094.67 |
| 134 | Succulent growers | 2,002 | $2,020.54 | $2,016.63 | $4,037.17 |
| 135 | Silver Gold Stackers | 2,860 | $2,002.64 | $2,022.93 | $4,025.57 |
| 136 | Hive PH | 3,347 | $1,915.58 | $2,085.30 | $4,000.88 |
| 137 | The Herbal Hive | 2,156 | $1,980.49 | $2,004.76 | $3,985.25 |
| 138 | Model-Agency | 4,341 | $1,991.48 | $1,987.36 | $3,978.84 |
| 139 | Picture A Day | 7,061 | $1,950.88 | $2,021.98 | $3,972.87 |
| 140 | Nerday | 1,998 | $1,977.85 | $1,971.70 | $3,949.55 |
| 141 | Ecency Bulgaria | 11,347 | $1,913.86 | $1,988.98 | $3,902.84 |
| 142 | Top Family | 2,508 | $1,943.17 | $1,941.25 | $3,884.42 |
| 143 | Bee on the Stage | 1,407 | $1,666.56 | $2,214.27 | $3,880.83 |
| 144 | The Man Cave | 2,511 | $1,788.77 | $1,959.97 | $3,748.74 |
| 145 | Lightpainters United | 1,959 | $1,714.95 | $1,859.64 | $3,574.59 |
| 146 | The MINIMALIST | 3,231 | $1,741.28 | $1,757.32 | $3,498.60 |
| 147 | HivePizza | 8,824 | $1,655.88 | $1,711.52 | $3,367.40 |
| 148 | Hive Power | 3,844 | $1,588.54 | $1,624.87 | $3,213.42 |
| 149 | PoliticallyIncorrect | 552 | $1,491.01 | $1,659.72 | $3,150.73 |
| 150 | Homesteading | 1,201 | $1,537.42 | $1,601.65 | $3,139.07 |
| 151 | Česky! | 2,377 | $1,565.02 | $1,556.56 | $3,121.58 |
| 152 | The Anime Realm | 2,484 | $1,496.32 | $1,599.21 | $3,095.53 |
| 153 | Love The Clouds | 6,192 | $1,496.39 | $1,567.51 | $3,063.90 |
| 154 | DIYHub | 2,118 | $1,486.81 | $1,490.48 | $2,977.29 |
| 155 | HiveVenezuela | 1,576 | $1,254.76 | $1,602.23 | $2,856.99 |
| 156 | ReggaeJAHM | 4,079 | $1,338.56 | $1,513.58 | $2,852.14 |
| 157 | Tabletop / DND | 880 | $1,412.96 | $1,421.86 | $2,834.82 |
| 158 | AFRI-TUNES | 5,005 | $1,306.24 | $1,516.39 | $2,822.63 |
| 159 | IndiaUnited | 4,230 | $1,396.09 | $1,416.36 | $2,812.45 |
| 160 | Stars | 4,440 | $1,380.43 | $1,395.82 | $2,776.25 |
| 161 | Wochen-Wahnsinn | 2,641 | $1,337.58 | $1,393.28 | $2,730.85 |
| 162 | SEAPHOTOGRAPHY | 2,582 | $1,365.44 | $1,359.11 | $2,724.55 |
| 163 | Caturday | 1,840 | $1,323.46 | $1,371.36 | $2,694.82 |
| 164 | HiveCuba | 1,404 | $1,287.22 | $1,384.41 | $2,671.64 |
| 165 | Hive Statistics | 5,108 | $1,245.91 | $1,397.74 | $2,643.66 |
| 166 | BlockChainPhoto | 919 | $1,287.03 | $1,288.40 | $2,575.43 |
| 167 | Curated Collections | 7,137 | $1,165.99 | $1,389.29 | $2,555.28 |
| 168 | Color Wolves United | 1,475 | $1,266.92 | $1,275.96 | $2,542.88 |
| 169 | Skin & Body Care | 1,507 | $1,219.18 | $1,275.63 | $2,494.81 |
| 170 | COMIC BOOKS fan/pro | 1,445 | $1,175.66 | $1,229.56 | $2,405.23 |
| 171 | HIVE-MYANMAR | 14,824 | $1,193.50 | $1,181.62 | $2,375.12 |
| 172 | Inner Blocks | 898 | $1,167.09 | $1,180.50 | $2,347.58 |
| 173 | DClub | 841 | $1,076.26 | $1,260.37 | $2,336.63 |
| 174 | CENT | 15,764 | $1,137.95 | $1,136.61 | $2,274.56 |
| 175 | Aureal | 2,369 | $1,069.69 | $1,193.12 | $2,262.81 |
| 176 | News & Views | 1,343 | $1,069.22 | $1,188.34 | $2,257.56 |
| 177 | La Ruche | 1,017 | $1,122.23 | $1,123.41 | $2,245.64 |
| 178 | HiveBloPoMo | 1,986 | $1,111.41 | $1,113.22 | $2,224.63 |
| 179 | The LIFESTYLE LOUNGE | 1,160 | $1,077.79 | $1,106.21 | $2,183.99 |
| 180 | Hive Mobile Games | 381 | $920.11 | $1,220.01 | $2,140.12 |
| 181 | PhotoBomb Challenge | 2,688 | $1,040.39 | $1,058.30 | $2,098.69 |
| 182 | Toys on Hive | 838 | $1,005.95 | $1,027.83 | $2,033.78 |
| 183 | HivePosh | 1,650 | $1,007.04 | $1,004.10 | $2,011.14 |
| 184 | dPoll | 8,488 | $937.71 | $1,033.06 | $1,970.78 |
| 185 | Hive Governance | 329 | $708.15 | $1,252.71 | $1,960.86 |
| 186 | Hagro | 1,761 | $972.75 | $985.17 | $1,957.93 |
| 187 | Legendary Dragons | 1,131 | $969.25 | $975.04 | $1,944.29 |
| 188 | Polish HIVE | 1,903 | $955.72 | $950.74 | $1,906.46 |
| 189 | The Alliance | 1,034 | $915.03 | $976.15 | $1,891.19 |
| 190 | Hive Marketing | 620 | $900.00 | $898.46 | $1,798.46 |
| 191 | Build-It | 1,219 | $890.12 | $898.06 | $1,788.18 |
| 192 | Freediving | 488 | $791.65 | $949.26 | $1,740.91 |
| 193 | Personal Development | 525 | $857.78 | $862.80 | $1,720.58 |
| 194 | Memechallenge | 2,133 | $851.31 | $868.66 | $1,719.97 |
| 195 | inji | 1,749 | $854.45 | $845.55 | $1,700.00 |
| 196 | Daily Blog | 865 | $836.58 | $845.71 | $1,682.29 |
| 197 | PL-TravelFeed | 961 | $723.00 | $952.66 | $1,675.65 |
| 198 | Hive Creators | 749 | $796.58 | $876.51 | $1,673.10 |
| 199 | About PeakD | 400 | $675.27 | $977.88 | $1,653.14 |
| 200 | MemeHive | 3,219 | $828.16 | $821.78 | $1,649.94 |
| 201 | PeakMonsters | 553 | $609.86 | $992.90 | $1,602.75 |
| 202 | Train Spotting | 562 | $755.24 | $762.90 | $1,518.14 |
| 203 | Programming & Dev | 595 | $749.46 | $762.95 | $1,512.41 |
| 204 | Farming Tales | 1,197 | $737.76 | $763.60 | $1,501.36 |
| 205 | hivemexico | 1,027 | $611.37 | $851.68 | $1,463.05 |
| 206 | HeartChurch | 768 | $737.38 | $720.73 | $1,458.11 |
| 207 | Ragnarok Game | 491 | $215.73 | $1,235.43 | $1,451.16 |
| 208 | Worldphotography | 1,805 | $704.32 | $713.85 | $1,418.17 |
| 209 | Visual Shots | 830 | $682.78 | $729.53 | $1,412.32 |
| 210 | GmbH | 2,190 | $674.21 | $722.80 | $1,397.01 |
| 211 | Mundo Autismo | 2,842 | $694.02 | $701.61 | $1,395.63 |
| 212 | Creative Makeup | 179 | $682.04 | $679.29 | $1,361.33 |
| 213 | Hive Comments | 1,765 | $657.65 | $665.28 | $1,322.93 |
| 214 | dynamichivers | 483 | $657.54 | $661.58 | $1,319.12 |
| 215 | Insects Of The World | 1,606 | $646.27 | $667.19 | $1,313.46 |
| 216 | Atheist Republic | 222 | $647.99 | $646.18 | $1,294.17 |
| 217 | DCooperation | 1,624 | $644.78 | $644.16 | $1,288.94 |
| 218 | Humanitas | 2,400 | $616.98 | $633.71 | $1,250.69 |
| 219 | LaTaverne | 5,403 | $559.05 | $658.53 | $1,217.58 |
| 220 | Web Novels | 466 | $599.56 | $604.53 | $1,204.09 |
| 221 | No Agenda Art | 2,380 | $508.01 | $677.50 | $1,185.51 |
| 222 | Mayvileros | 1,032 | $593.88 | $586.36 | $1,180.24 |
| 223 | Economics | 461 | $583.43 | $594.42 | $1,177.86 |
| 224 | 3D Printing | 301 | $552.52 | $555.41 | $1,107.93 |
| 225 | Alebrijes | 225 | $555.32 | $547.56 | $1,102.87 |
| 226 | Introduce Yourself | 1,173 | $503.61 | $599.04 | $1,102.65 |
| 227 | Hive TR | 1,083 | $527.40 | $531.08 | $1,058.48 |
| 228 | Hive NFTGame Latino | 13,475 | $426.25 | $618.93 | $1,045.18 |
| 229 | Rabona Official | 2,776 | $515.36 | $523.49 | $1,038.86 |
| 230 | Drone | 953 | $504.86 | $519.79 | $1,024.65 |
| 231 | LOLZ Community | 3,514 | $513.45 | $509.92 | $1,023.37 |
| 232 | Petals | 1,021 | $500.18 | $501.47 | $1,001.65 |
| 233 | EN ESPAÑOL | 634 | $494.24 | $502.46 | $996.70 |
| 234 | Paper in my Pocket | 711 | $450.21 | $541.61 | $991.82 |
| 235 | Sticker Art | 726 | $497.47 | $490.76 | $988.23 |
| 236 | BANAT | 705 | $443.90 | $540.22 | $984.12 |
| 237 | Dinero Juegos | 2,727 | $407.45 | $565.07 | $972.52 |
| 238 | Art Talk | 272 | $476.64 | $488.80 | $965.43 |
| 239 | Guitar | 590 | $461.76 | $492.69 | $954.45 |
| 240 | Blockchain Wizardry | 100 | $476.39 | $475.89 | $952.29 |
| 241 | Sunday 星期天 | 505 | $470.03 | $466.31 | $936.34 |
| 242 | Luke Is Alive | 7,464 | $417.44 | $496.47 | $913.91 |
| 243 | Pimp Your Post Thurs | 386 | $457.23 | $453.02 | $910.25 |
| 244 | NEED FOR SPEED | 890 | $318.97 | $590.88 | $909.85 |
| 245 | SKYROAD.ME | 188 | $438.78 | $448.11 | $886.90 |
| 246 | Archon | 1,061 | $396.36 | $480.83 | $877.18 |
| 247 | Hive Lingual | 196 | $399.92 | $473.82 | $873.73 |
| 248 | Dance and music | 699 | $424.08 | $441.49 | $865.56 |
| 249 | FreeSpeech | 496 | $425.78 | $425.44 | $851.22 |
| 250 | Conspiracy Realists | 431 | $408.46 | $439.08 | $847.55 |
| 251 | Hive's Red Carpet | 606 | $402.25 | $443.30 | $845.56 |
| 252 | POLIAC | 1,069 | $410.52 | $434.82 | $845.34 |
| 253 | RU° [closed] | 1,542 | $407.36 | $409.27 | $816.64 |
| 254 | COVID-19 | 630 | $398.19 | $412.77 | $810.96 |
| 255 | Atheism | 229 | $382.35 | $428.06 | $810.41 |
| 256 | 3shorts OLD | 659 | $364.06 | $440.34 | $804.40 |
| 257 | Underground Movement | 590 | $392.59 | $404.60 | $797.20 |
| 258 | Poetic Universe | 355 | $390.93 | $394.84 | $785.77 |
| 259 | Always a Flower | 836 | $388.97 | $389.60 | $778.57 |
| 260 | Game Development | 365 | $381.30 | $384.91 | $766.21 |
| 261 | Worldbuilding | 583 | $382.70 | $380.78 | $763.48 |
| 262 | LOVE PEACE FREEDOM | 761 | $379.80 | $378.04 | $757.85 |
| 263 | Analog (FILM) Photog | 478 | $376.13 | $369.69 | $745.82 |
| 264 | WeedCash Network | 318 | $353.47 | $388.92 | $742.39 |
| 265 | Faces of Hive | 958 | $340.28 | $375.76 | $716.04 |
| 266 | Orchid Lovers | 483 | $342.46 | $343.96 | $686.42 |
| 267 | Planetauto | 301 | $341.44 | $342.69 | $684.12 |
| 268 | Jewelry | 1,003 | $330.06 | $333.22 | $663.28 |
| 269 | Arachnids | 471 | $331.42 | $328.75 | $660.17 |
| 270 | Crowd Facts | 132 | $328.76 | $328.48 | $657.23 |
| 271 | Memehub | 784 | $319.82 | $319.69 | $639.51 |
| 272 | HiveCats | 502 | $304.89 | $319.81 | $624.70 |
| 273 | Psyber-X Community | 4,716 | $237.27 | $376.21 | $613.48 |
| 274 | central project | 13,960 | $298.30 | $311.10 | $609.40 |
| 275 | German Soccer Cup | 753 | $303.81 | $302.16 | $605.97 |
| 276 | Outdoors | 256 | $299.55 | $298.19 | $597.74 |
| 277 | CLEAN PLANET | 1,088 | $296.56 | $295.55 | $592.11 |
| 278 | LEGO | 230 | $289.72 | $287.53 | $577.25 |
| 279 | Creative Coin | 490 | $264.20 | $292.30 | $556.50 |
| 280 | Running | 510 | $274.90 | $274.98 | $549.89 |
| 281 | Original MEMEs | 123 | $270.45 | $274.60 | $545.05 |
| 282 | Podcasts | 101 | $248.06 | $287.99 | $536.06 |
| 283 | Hive Proposals | 66 | $250.76 | $266.99 | $517.74 |
| 284 | Blogging Challenge | 432 | $255.57 | $262.06 | $517.62 |
| 285 | Hive Gardening | 326 | $255.08 | $259.24 | $514.32 |
| 286 | VisualBlock | 3,715 | $239.30 | $273.80 | $513.10 |
| 287 | Multitopics | 429 | $238.14 | $273.98 | $512.12 |
| 288 | Authority Bloggers📈 | 254 | $254.41 | $254.99 | $509.40 |
| 289 | SaturdayMemories | 180 | $244.64 | $251.79 | $496.43 |
| 290 | Hive Punks | 204 | $240.37 | $241.84 | $482.21 |
| 291 | Introduce Your City | 809 | $231.58 | $250.30 | $481.88 |
| 292 | Trading Lounge | 410 | $240.05 | $239.06 | $479.11 |
| 293 | Portrait Photography | 177 | $230.85 | $242.50 | $473.35 |
| 294 | Develop Spanish | 202 | $233.97 | $238.25 | $472.22 |
| 295 | Atom Collector | 54 | $233.70 | $230.49 | $464.18 |
| 296 | Surfing | 530 | $228.90 | $227.04 | $455.94 |
| 297 | Swiss Hive | 369 | $207.78 | $238.46 | $446.24 |
| 298 | iOS Development | 23 | $204.80 | $229.82 | $434.62 |
| 299 | R2cornell | 922 | $218.04 | $216.39 | $434.42 |
| 300 | The SoCal Hive | 332 | $216.25 | $214.37 | $430.63 |
Posted Using LeoFinance Beta
---
---