Jack Mallers' Presentation Was The Best Of Bitcoin 2022 Conference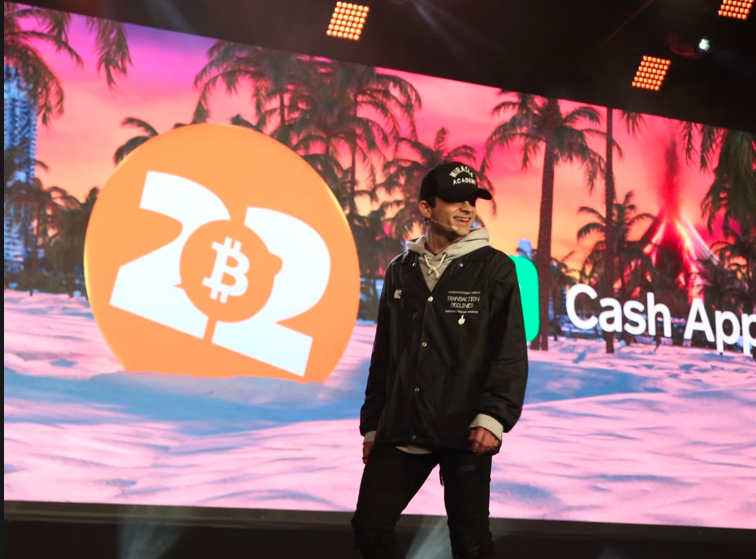 Bitcoin 2022 Conference was full of excitement with many interesting presentations, panel discussions, and announcements. Talks and discussions included many interesting thoughts and ideas from investors, miners, companies, developers, and even politicians. The best of all these presentations was the one by Jack Mallers, CEO of bitcoin payment app Strike. This presentation was entertaining, educational and had very interesting announcements for the future of Lightning Network as payment technology that may replace the legacy systems like Visa, MasterCard, AmEx, Discovery, etc.
If you haven't seen Jack Mallers' presentation yet, I highly recommend it. At the very least it offers educational value, explaining the history of how traditional payments systems and networks like Visa, MasterCard, AmEx, and Discovery have developed over time. He also explains how these systems work and haven't seen any significant innovation in decades.
Hive witnesses have just yesterday activated 20% APR on Hive Dollars kept in Savings with an ambitious goal of attracting more attention to this powerful stable-coin. Those of us who have been using Hive blockchain and know what HBD is, understand well the solution HBD provides to traditional payment systems. Hive Dollars offer easy to create and use wallets, layers of security, full ownership, 3 second transfers, zero fees on transfers, and much more. The importance of this value proposition becomes even more clear after you see Jack Mallers' presentation and see how legacy systems work.
Jack does a great job explaining the history and how the traditional payment systems work. He does this to make a very important point. That is these global systems haven't had any innovation in a very long time, they are controlled by monopolies, they have flaws, and finally today we have a technology that offers better solutions. This technology is bitcoin.
Of course, bitcoin core network cannot compete with instant payments and it also has transaction fees that fluctuate. However, the layer 2 solutions like Lightning Network do solve these problems and make bitcoin usable for every day payments. I haven't paid much of an attention to Lightning Network, until I saw BrianOfLondon building bridges between Hive/HBD and bitcoin on Lightning Network. After studying how Lightning works, I was amazed with the innovation and how it works. I don't fully understand it, and there is a lot more to learn, but so far what I know about is impressive.
I have come to a realization long ago that bitcoin is a great asset as a store of value, complete ownership of property, and better solution for transfer of value globally. However, it doesn't provide solution for daily small payments. For that I thought other solutions like Litecoin, Hive, HBD, and other coins were better fit. I still hold these positions. But at the same time I allow a possibility of Lightning Network becoming a major player in payment systems. If things do go that way, I will happily embrace it. Because this will only pave the roads for the adoption of other similar solutions, like HBD.
Jack Mallers made big announcements. He announced Strike's partnerships with an e-commerce platform Shopify, point-of-sale supplier NCR, and payments firm Blackhawk. He demonstrated on stage how we can pay with any lightning wallet for purchases on Shopify stores. That is a big step in crypto technologies being used as an alternative payment systems. He didn't stop there. He said it will become possible to pay with lightning wallets in many major US stores like Walmart, Macy's, Walgreens, Home Depot, CVS, Whole Foods and many many more within a year.
He shows a video of him walking into a grocery store in Chicago and pay for products with various lightning wallets. He uses Zap, Cash App and pays with QR code & Moon wallet for three different transactions. What is not clear is if we can do this right now. If not, it does seems like will be happening in near future.
It looks like the payment system presented here are similar to the model implemented in El Salvador. Merchants have an option to receive the payments in bitcoin or US dollars. If merchants choose to receive in USD, the bitcoin is converted to USD before the payment arrives in merchant's wallet. Many merchants may be hesitant to accept payments in bitcoin or other crypto assets because of difficulties they may present for accounting and tax purposes. If at the end they receive the payment in USD, these obstacles are removed. But the technology used to make this transaction happen is still the crypto technology, not using the middleman like banks who charge fees for these transactions.
I believe many merchants will embrace this solution, just because they save a lot on transaction fees. Paying 3% for each transaction adds up in a long run. Even though merchants are the one who pay the fees, these fees end up being added to the final price of a product and consumers pay for all the costs. Consumers should be happy with this innovation as well, because this will result in merchants pricing their products lower.
Another great benefit for merchants is the cash finality. The transaction settlement is instant. Once they receive the funds, they have them. They don't need to wait for days for the final settlement to go through. Also, they won't have to worry about future charge backs.
The payment solution Jack Mallers is offering will replace the legacy systems and is open for all to use. It doesn't limit the use to the Strike app. People are welcome to use any lightning app they choose, or even just use USD.
I believe HBD offers even better solution for such payments. Its success will depend on the growth of the Hive network. There might even be no need to convert HBD to USD for merchants since 1 HBD is already equal to 1 USD. Since it is not USD, they probably still be hesitant to use stable-coins at this time. But times are changing. In near future we may see stable-coins being welcome as alternative payment options by many more merchants. Especially, if we see positive attitude and changes in political levels.
Senator Cynthia Lummis, who seems to be a pro-crypto politician also participated in Bitcoin 2022 Conference. She said something very interesting and important. She said the sentiment among US senators is that CBDCs (Central bank digital currency) will be better fit for transactions and settlements among central banks, international banks, and commercial banks. She also said for daily payments between consumers and merchants stable-coins would be a better fit. That makes sense, and if true would mean massive crypt adoption is imminent. In such an environment where decentralized stable-coins are welcome to participate in overall economies, Hive Dollars will thrive as a solution. It is just a matter of time for builders and investors to figure it out.
In the meantime, V4V solution that has been built by BrianOfLondon that enables converting Hive/HBD to bitcoin on lightning network and vice versa is a great step in a right direction. Combining this tool with what Jack Mallers is offering, very soon we might be able to pay for daily shopping in HBD. Imaging earning 20% on the cash you keep in savings and being able to pay for anything anytime with the same cash in liquid wallet. There is so much value to empower ordinary people here. It is even more important today, when due to inflation cash held in bank accounts keep losing purchasing power.
Posted Using LeoFinance Beta
---
---