Ray Dalio's Principles For Dealing With The Changing World Order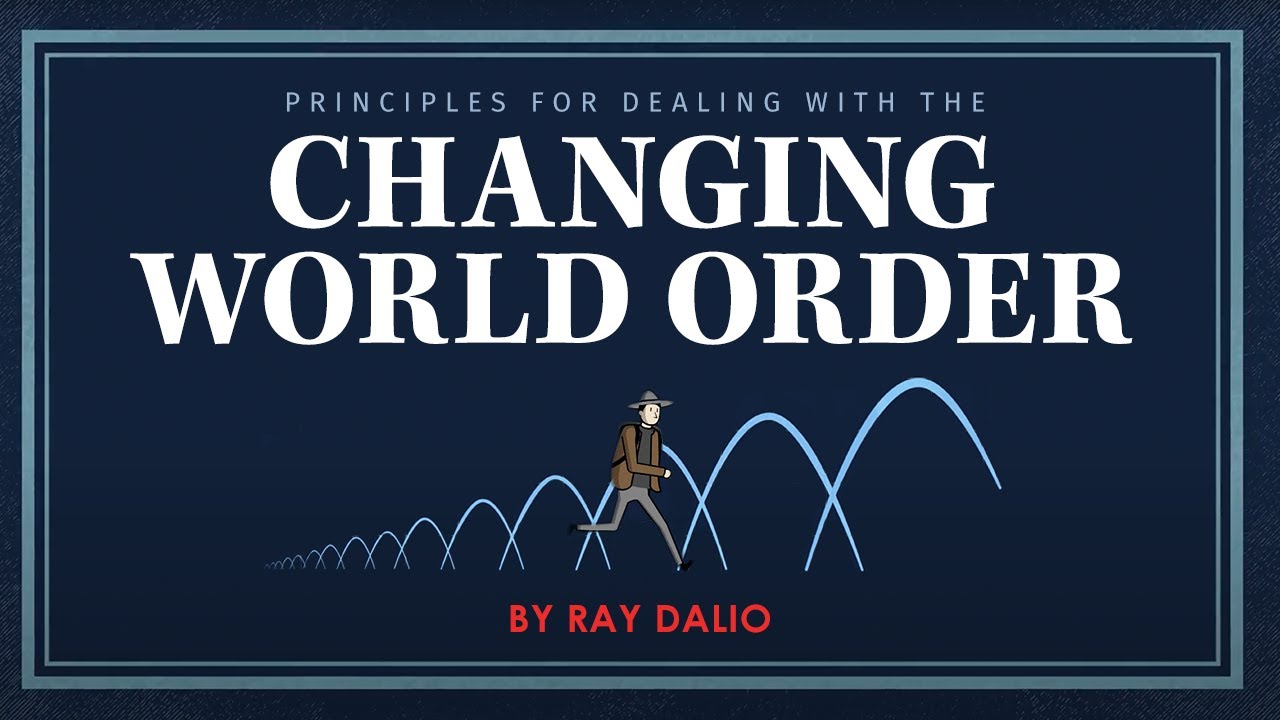 According to Wikipedia, Ray Dalio is an American billionaire investor and hedge fund manager, who has served as a co-chief investment officer of the world's largest hedge fund, Bridgewater Associates, since 1985. He founded Bridgewater in 1975 in New York.
I have heard about Ray Dalio before. I have known him as someone who has a good understanding of economy, finance and markets. From time to time I would see his name talking about current market conditions, economy and finance. There was a time when he spoke against bitcoin. And there was a time when he spoke in favor of bitcoin. The main thing I remember about him is watching his video titled How The Economic Machine Works. I don't remember all the details of the video, but I remember that I really liked it. It was interesting 30 minute video, explaining how economy works in simple terms.
Today, when I saw another video of his show up in my feed, I had to watch. It has a very interesting title, Principles For Dealing With The CHANGING WORLD ORDER. The video was published two weeks ago and already has 7.3 million views. If you would like to watch it yourself, feel free to follow the title link above.
The topic of the video is very interesting, especially these days with all the chaos in the world, economic uncertainties, and possibilities of financial crises. Knowing that Ray Dalio is a successful investors with many years of experience in markets, and having a good educational experience with his previous educational material in the past, it seemed a good idea to watch what he has to say these days. After watching the video, I was not impressed with it at all.
While I didn't find this particular video as useful as I did with his video about the economic machine, it still has an educational and entertainment value. It does go a little bit into history to make a point, explains how global reserve currencies work and why they failed in the past. It is a well made video and can be entertaining to watch as well. But I would like to tell you why I didn't like it.
It seems to be a promotional video for his new book with the same title. It looks like it was made to sell his book. He tells the viewer in the beginning that he will recommend them to read the book to learn more. I wouldn't mind to learn more and buy the book. But the video failed in the first place delivering in what it promised. For this reason, I am assuming the book would be a disappointment as well.
The story starts out really good, and make the viewer wonder what will be revealed in the end. Nothing is revealed in the end. It pretty much goes into more details of the summary presented in the beginning. The idea presented is not a unique one either. The core idea throughout the video is, history has shown that empires established the world order and their currencies became global reserve currencies. This gave them more economic power. Because they could print as much as they like, and nobody could do anything about it. At the decline of each empire the next one took over and continued the same cycle. First was the Dutch Empire, then the British Empire, then the US Empire. And now US Empire might be in decline too.
Of course know the history can be somewhat of an indicator what future may present. But not always. Certain things and patterns do tend to repeat. But not always. Even in this example of global financial systems, there were always other players involved as well. It doesn't always have to be one dominant empire. Recognizing patterns is a good skill to have and may present edge over other in the markets. But patterns demonstrated through the life cycles of empires may also be misread, especially when there are biases involved.
Now the problem is, even Ray Dalio himself in the end of the video doesn't make the conclusion he has been trying to suggest throughout the video. He dedicates the entire video to suggest that US Empire is in decline, so is US Dollar as a global reserve currency. He goes to suggest the next contender for becoming the empire and whose currency may become a global reserve currency is China. He is spending all this time to make this case. But at the end, he doesn't say it. He doesn't make that clear conclusion. But rather says, everybody should make their own conclusion.
The growth of Chinese economy and its global role has never been a secret to anybody. This is a not a unique idea. Economists, academics, politicians have been talking about growth of Chinese economy for years now. So, what? Growth of any countries economies are good thing. It lifts up many from poverty, provides better lifestyle. There are more countries whose economies have been growing in recent years and decades.
Of course not all countries have ambitions in becoming empires and having major role or say in global political and economic affairs. Usually such ambitions can be identified with the growth and focus on military capabilities of one country. If US global influence were to decline, I can see China contending for the global leader position. The question is, would it really want to? Maybe, maybe not. But more important question is, or the possibility Ray Dalio fails to address is, there are many other options.
We live in a different world compared to the entire human history. The technological advancement put us in a very different position then we were in at any point in our history. Technological changes are just too fast to keep up with. No history can foretell how the technological future will look like in a decade or a century. For the most part of the history we didn't have these computer technologies and they weren't part of this equation.
So, I would suggest, there will not be one global leader. There will be no need for a leader. It will be a cooperation and collaboration of many countries. No one country will have ultimate power. Even their military wouldn't mean much.
The video makes a huge emphasis on global reserve currency and how it is connected to the leading empires. He doesn't mention bitcoin and blockchain technologies at all. There is very good chance that bitcoin will become a global reserve currency. Just like people are tired of their central banks manipulating native currencies and continuously devaluing them, countries are are also tired of seeing manipulations by global reserve currency issuers.
If US Dollar were to decline and be removed as global reserve currency, I doubt it will be due to another empire rising to power, bur rather the failure of the fiat monetary system. The world need a fair system where all countries can participate in a permissionless manner. Bitcoin offers this solution.
Even if you don't agree this will be the case, ignoring bitcoin I think would be a mistake. Even if bitcoin doesn't become a global reserve currency or asset, it will continue to play a big role in shaping the future of the global monetary system. The video doesn't address these innovative technologies at all. Yet the purpose of this technology is to improve the monetary systems and policies.
After watching the video, despite my criticisms, I found value in it because the points it makes about traditional monetary system actually prove how continuing with the same system is not a good idea, especially when there are better alternative today.
Posted Using LeoFinance Beta
---
---