SEC Chair Gary Gensler Will Regulate Crypto Trading Platforms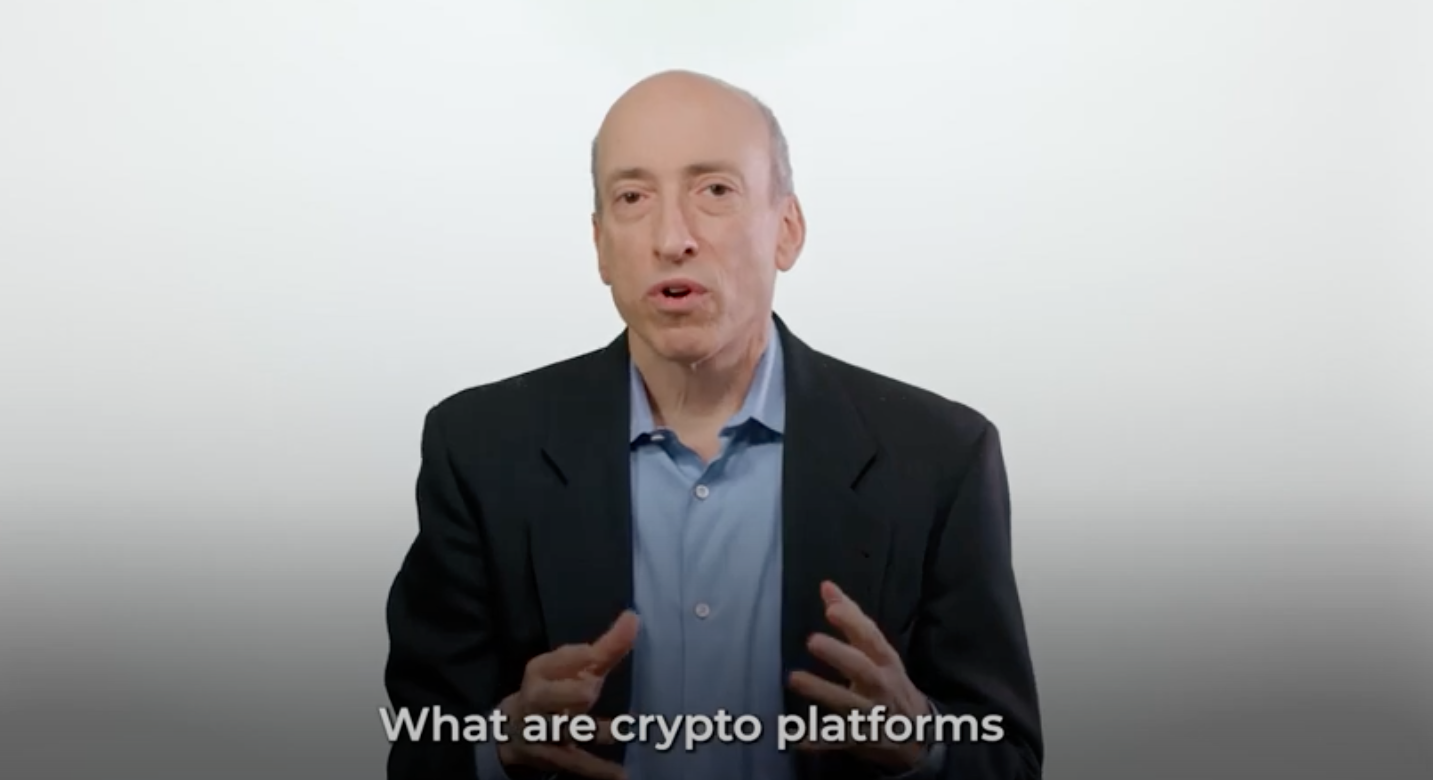 Yesterday, US Securities and Exchange Commission published a video Gary Gensler explaining what crypto trading platforms are from SEC's point of view and what they are planning to do. The video is only three minutes long and are part of Office Hours with Gary Gensler youtube series. Feel free to visit the following link to watch the video yourself.
We already knew SEC has started a prob into Coinbase and assessing whether Coinbase listed coins that may be considered securities. Coinbase will probably fight with counter legal actions. The rumors of SEC going after crypto exchanges were circulating for a years now, and we knew at some point they would have to intervene. It seems like the video is intended to inform the public of their intentions and not make it look like they are against crypto investors. As any government agency would say, the purpose of them wanting to regulate crypto platforms is to protect the investors.
I personally have not made any conclusion wether regulating crypto platforms is a good thing or not. Because regulators do not have a great reputation of actually protecting the investors. Even them trying to do something now, seems like a reaction to the recent events with crypto lending platforms that stopped withdrawals of funds and people are not sure if they will ever get their funds back. I think regulators could be a little more trustworthy if they took proactive actions. But that too could be viewed as if government is taking actions against crypto, and not scams and fraudulent actions. It is easier to step in and justify actions after fraud took place and people lost funds.
It is also true that there is a lot of fraud and scams in the crypto space. How should one make sense between these two extremes? One extreme is regulators making it more difficult for people to invest/trade. Another extreme is when scammers take advantage of people's trust, steal their money, and get away with zero consequence just because there are no rules in place.
The way Gary Gensler is making his case for regulating crypto trading platforms kinda makes sense. These centralized platforms do operate like centralized stock exchanges. And these same crypto platforms do engage in activities that may go against the interests of their customers and can be viewed as conflict of interest. Geneler even points out "not your keys not your coins" concept, and how crypto trading platform users lose their control over their assets when they deposit their assets in one of these platforms.
He also makes it sound like SEC will work with these platforms together to achieve its goals and protecting investors. It all sounds good, when they explain in simple terms like this. But big question is, if it is so simple to work with SEC, register securities and operate under regulations, why don't these crypto trading platforms do so? That would actually help their reputation and they would be able to conduct their business with no worries of legal consequences. I think the problem is, in reality, working with regulators is not that easy as Gensler is hinting. It costs a lot of money, legal fees, bureaucratic headache and takes long time.
Wether we like it or not, these centralized crypto trading platforms will need to be regulated one way or the other. If not SEC, then some other agency. Simply, because scammers will continue scamming. The problems of Celsius and Voyager wouldn't be the last one. Other platforms will emerge that will take crazy risks with their customers assets. When things go up they will make money, when things go down, they stop withdrawals, go bankrupt and disappear.
So, yes it is a good idea to get rid of scammers and fraudulent behavior from the crypto space. But this would come with costs for retail investors. Some platforms will just shut down business and continue their business elsewhere. It already happens. For example, Binance stopped serving US customers because they didn't want to deal with US regulators. Even when they make ".us" platform for US customers, it didn't have the same amount of options as the global website would offer. US investors need to use VPN or other work arounds to participate in crypto investments and to use certain platforms. Some platforms, monitor and don't allow connecting with VPN too.
Keeping coins in self custody wallets and not exchanges is a good reminder. But to get these coins, one would need to get on the exchanges first. If regulators keep scaring these platforms away from operating their business in the US, how are US investors suppose to buy these coins.
So, the question is to regulate crypto trading platforms, or not to regulate?. I am not convinced one way or the other and don't have a strong opinion yet. At the same time I am not happy with the status quo either. What I would like to see is free and fair marketplace. Perhaps, decentralized solutions are the ultimate answer.
I do like Gary Genser. He has very deep knowledge about blockchain technologies, decentralized systems, and bitcoin. I have seen his lecture on this topic and it was very educational. He also recently admitted that bitcoin is the only asset he would not classify as a security. It seems, at this stage SEC's focus is only on crypto trading platforms and not the crypto projects. What do you think? Let me know in the comments
Posted Using LeoFinance Beta
---
---