Terra Luna - A Round Trip Journey To The Moon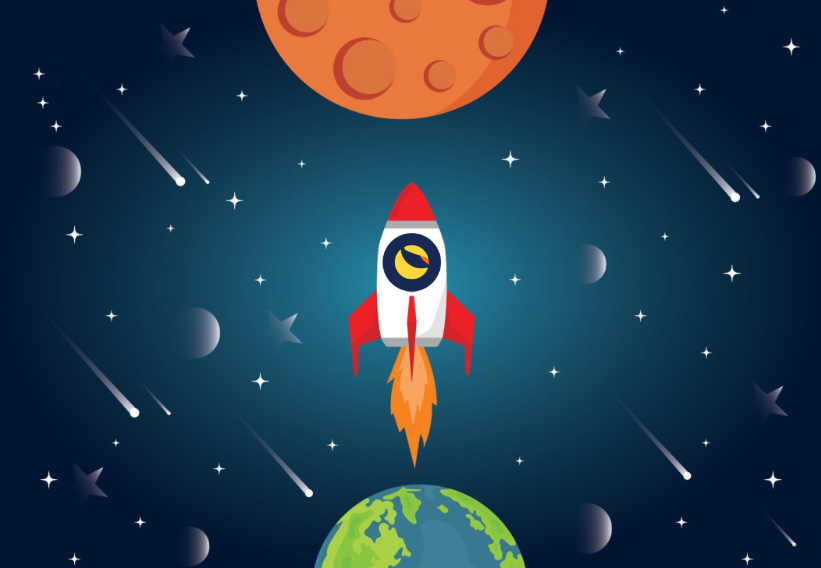 It has been an interesting and eventful week in the crypto world. Bitcoin and other crypto assets dropped significantly in price. For some it may be depressing, for others this might be another opportunity. Prices go up, prices go down. But only in crypto prices go up and down too high and too low, all at the same time. Many saw their portfolios decline. But those who were invested in Luna and UST were hurt the most. This may have even provided psychological relief to those who hold bitcoin and other crypto assets but not Luna and UST. So what if bitcoin drops to 25k? At least it didn't go to zero., were the thoughts going through the minds of non-Luna crowd.
By now the news of the UST de-pegging and Luna going to zero travelled around the globe. Just like news, crypto enthusiasts like traveling as well. The most desired destination of such travels is the Moon. Everybody competing in who can create the best tech that can fly to the Moon. Everybody competing which project to invest in, which ticket to buy, to be part of this journey. Terraform Labs may have been the winner in this race. Luna was one of the best performing crypto assets in 2021 and early 2022, if not the best. UST attracted a lot of attention and interest as an algorithmic stable-coin.
Just the naming of Terra Luna is quite interesting to me. In English it would mean Earth Moon. In a sense, those who were investing in Terra Luna were buying a ticket to a space shuttle to the Moon, the most desired destination for all crypto enthusiasts. The best part is, Luna made it to the Moon, regardless of the passengers realized it or not. What many may have not realized is that this was a round trip ticket. While the technology and the project could take its passengers to the Moon, it wasn't equipped to start a colony there. That's why after making the journey to the Moon, the shuttle had to make a U-turn and return to Earth.
What a fun and very expensive journey this was. I do feel sorry for those who lost their money. At least they got to experience such a unique ride. I hope they will find another technology that will not only take them back to the Moon but also let them stay there if they choose to. Who wouldn't want to stay on the Moon? Earth is boring. Yes, I know humans aren't going to survive on Moon. That place is meant for bots. But the view. The view of the Earth from the Moon is beautiful, I hear.
I was among the ones who didn't buy the Earth - Moon ticket and missed the journey. Instead, like other boring people ended up boarding the Hive space ship, which is really taking its time for take off. Hive engineers are so conservative and protective of this ship, that calculate everything, and keep building equipment to make sure a soft landing on Moon and survival once we get there. This has become obvious after we learned what happened with Terra Luna experiment.
UST is backed by Luna, and UST holder could in the past convert UST to $1 worth of Luna. Similarly, HBD is backed by Hive network and HBD holder can convert their HBD's to $1 worth of Hive at any given time. I haven't been fond of some of HBD's protective features. Among them are small conversion fee, converting at the average price of future 3.5 days, and the haircut rule. It turns out these the brilliant security measures, that are in place to prevent failure of the mission and causing both HBD and Hive getting into a death spiral of the black hole.
While the whole Terra Luna and UST fiasco is a sad story, and we wouldn't wish anybody lose their property and value of their assets, this will serve for many as a great lesson. It will serve as a lesson for Hive network as well and its continuous efforts in offering an algorithmic stable-coin. It has been clear that HBD is a better technology. But arrogance won't help anybody. Being boring and humble will serve better for Hive and HBD in coming years. People will recognize the solution Hive offers when time is right for them to do so.
One of the most interesting stories about Terra Luna and UST I saw was by Coffeezilla on youtube, who focused on arrogant behavior on social media by Do Kwon, co-founder and CEO of Terraform Labs. It appears only few months ago Do Kwon was taunting billionaires on Twitter, challenging them to attack Luna and UST. Such actions even lead to a 10 million dollar bet against Luna, that Luna would fail within a year. Do Kwon seems to have accepted the deal and may have lost it already.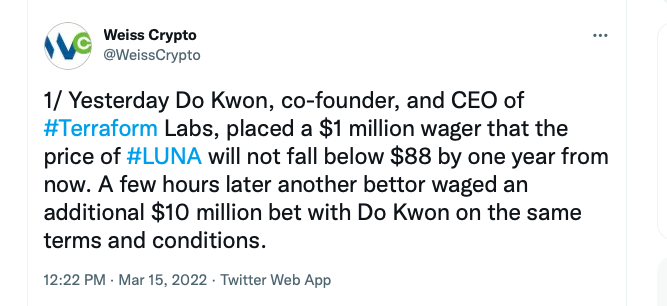 I admire the confidence in something you build and are in charge of. But was it really necessary to make real bets on public forum, especially when your actions can cause market behavior one way or the other? I am not suggesting this bet was the reason that lead to what happened with Luna and UST. I don't know. Nobody seems to know. What we know is there was a flaw in the design, and some have expressed that long before these events took place. Showing arrogance and engaging in serious bets like this may serve as a distraction from building useful things. Perhaps better approach could have been taking constructive criticism presented by everybody as tool for testing the flaws in the design and code. Making bets on Twitter, or even just using Twitter is huge distraction for someone who is on a mission to take their passengers to the Moon.
Maybe it's not Do Know's fault. Maybe it's just Twitter. Another rocket engineer, Elon Musk also lost focus from his core mission to take us to the Mars because of Twitter. Elon didn't make bets on Twitter. He just decide to buy it. In my last post I wrote about Hindenburg Research taking a short position on Twitter and predicting that Elon would try to lower the final price of the Twitter acquisition deal or maybe even walk away from the deal. Elon just recently announced that the deal is on hold until they verify the number of bots on Twitter. lol. What an excuse! Since when Elon doesn't like bots. He created the most sophisticated ones that build other bots.
It has indeed been an interesting week in the world of crypto and space journeys. I think we will all make it, as long as Twitter stops distracting us from things that matter the most.
Posted Using LeoFinance Beta
---
---