Brother's Office Pizzeria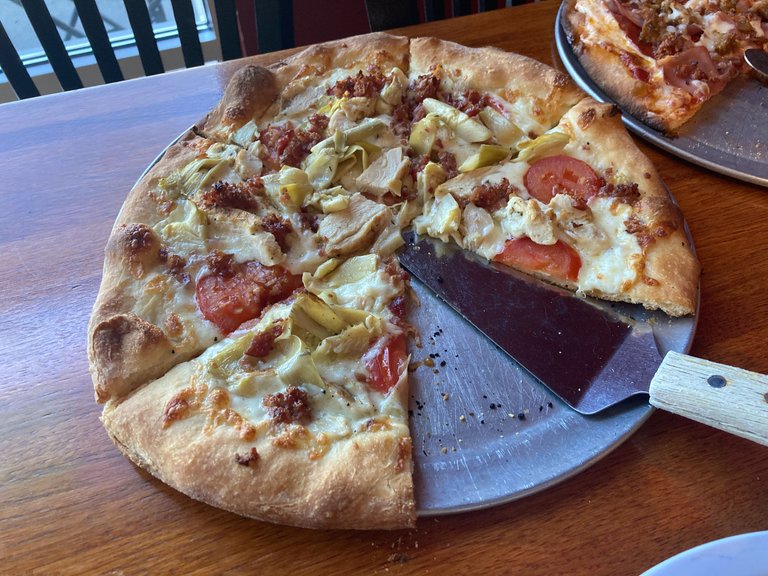 ---

This past Monday, the kids and I headed off to Spokane and Coeur d'Alene to do a bit of last minute school clothes shopping. Between the fair, car stuff, their work schedules, and homestead harvest insanity, let's just say we have had a bit of a hard time lining up our time so we could all go together.
And we did want to go together, as it is my daughter's senior year and we are all nostalgic and stuff. Anyway, we headed over to the Spokane Valley Mall for a bit of consumer masses meandering, I mean shopping.
Now, I am not the biggest fan of shopping, but I was determined to have a blast with my kiddos. Plus, since I wasn't really doing the shopping, I had a good time people watching and offering my opinion when it was requested on their clothing and shoe choices. Good times. Truly.

Anyway, after a couple hours of mall time, it was after one in the afternoon and none of us had eaten. In fact, I am pretty sure my daughter was hangry. Well, now that I think of it, we all most likely were.
My son wanted wings, my daughter wanted a burger, and I really thought a pizza might be nice. We all piled into my daughter's SUV and started looking at our phones.
"Hey, how bout Rocktown Grill & Pizzeria?" my darling child popped up, "they have all those things!"
I googled the joint, and sure enough their menu looked splendid. Like a local neighborhood pizzeria gastropub sorta place.
"Let's go!" I hollered like a hobbit knight going into a food collection battle, "I'll navigate!"

The restaurant was about a mile from the mall, and as we pulled onto a meandering boulevard that wound through a bunch of residential apartment buildings, I could feel a bit of skepticism brewing.
Not in this Kat though, I love a good spontaneous adventure, especially when it involves food acquirement!
Right in the middle of a bunch of apartment buildings was a little commercial building that said "Brother's Office Pizzeria" on the front of it.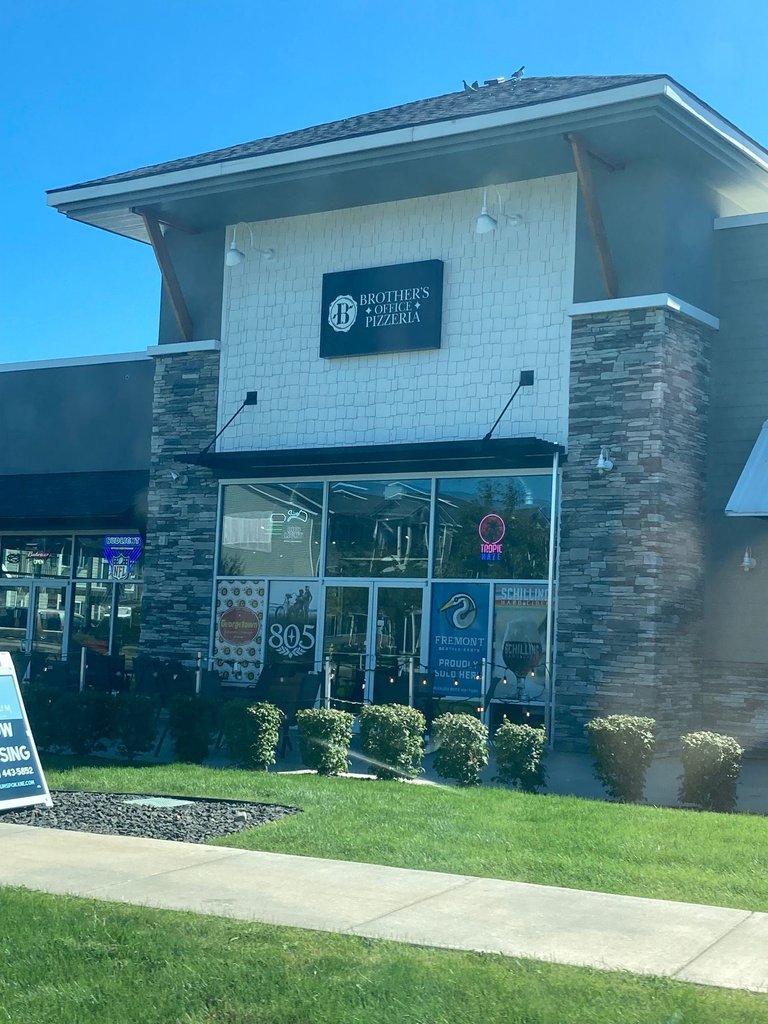 *"That must be it. Right?" *I mused as my daughter parked her beast.
"Looks like it, it's the right address." my son replied.
In through the back door we went.
---
Our first view was a family of four eating pizza. It turned out to be the owners of the place, and other than a couple teens eating slices as well, there was no one in the place.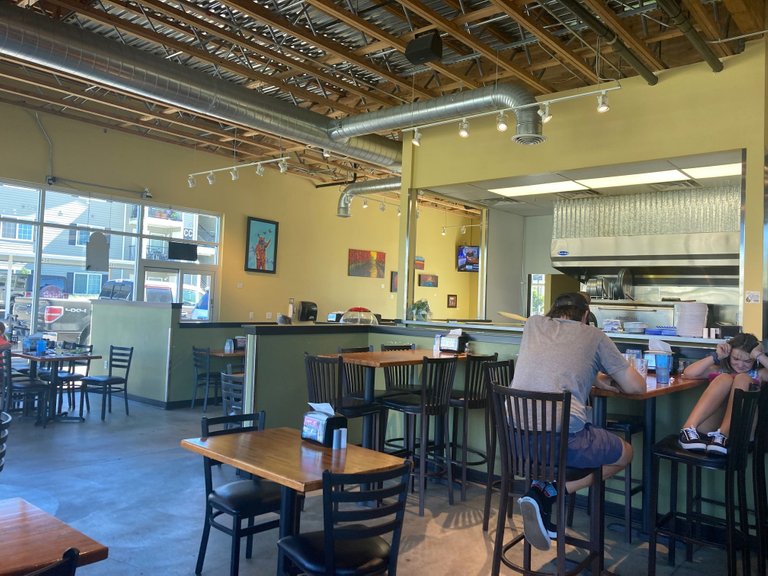 Not that I minded, I felt like we won the lottery just based on how the establishment smelled. Woodfired dough and cleanliness really do it for me.
The super sweet blonde gal who was cutting up piping hot pizza for her youngins smiled and told us to sit anywhere that we liked. So we grabbed a table along the windows. The whole place definitely had the adored local eatery vibe going on, tables, baseball and football games on tv's adorned the walls, and a very respectably stocked bar took up one whole wall.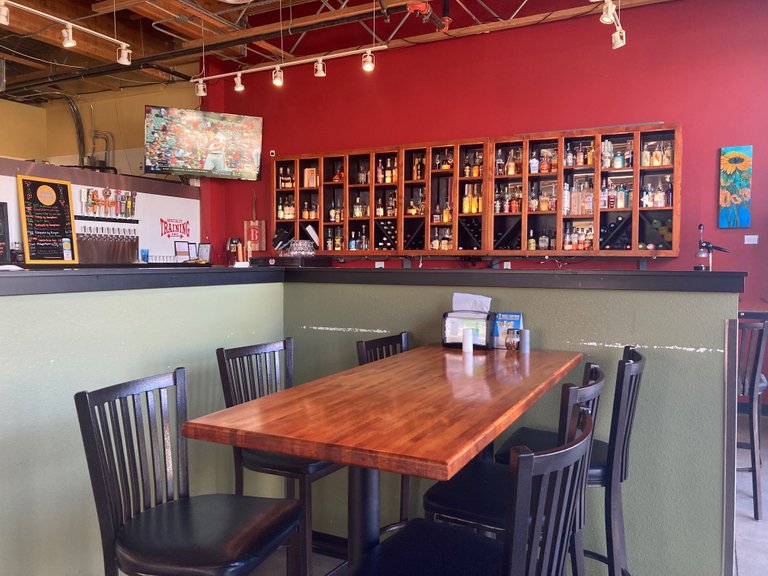 We were given menus and had our drink order taken as soon as we sat down. I pretty much always have unsweetened iced tea wherever I dine, the boy got a Sierra Mist, and my girl got a mango lemonade.
Then we got down to looking at the menu.
My eyes went right to the chicken pizza that had a house made white sauce, marinated artichokes and sliced tomatoes, chicken and bacon on it. Yup, that was the one.
The boy found the biggest order of wings possible, and my girl declared that the smashburger sounded amazeballs. My son, a growing Hawaiian behemoth, declared he was also ordering a meat adorned pizza and inquired if we could get an order of deep fried cheesecurds.
Well heck yes we could! We don't eat out much, and when we do it's a treat, so we were going to try a bunch of stuff!
The owner, who was really cool btw, took our order and after a not long wait at all, returned with food gloriousness.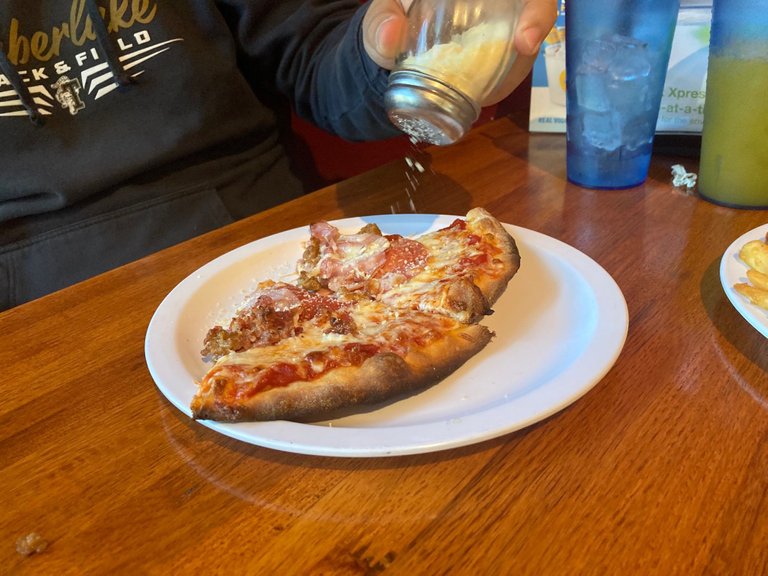 To start with, my pizza was beyond magnificent! Like nothing I have ever had before, the crust was light and crisp, the sauce was glorious, and all the flavors just melded together.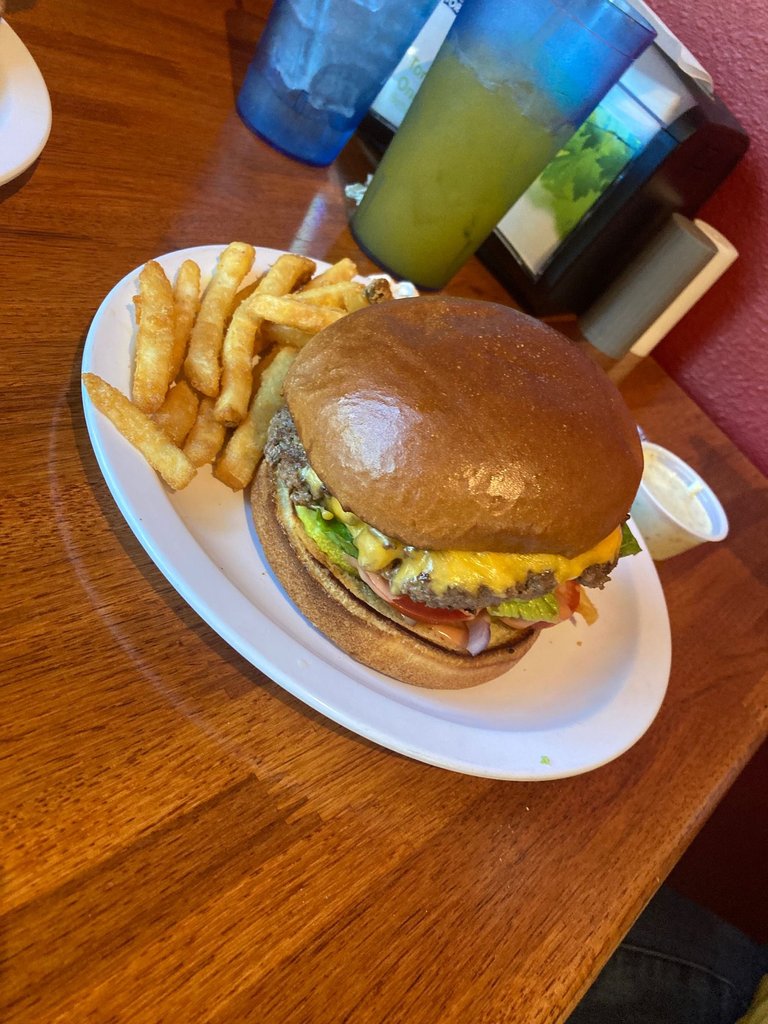 The kid's food was just as awesome! The burger was juicy and made from amazing quality meat. The boy's wings were some of the best I have ever had, crispy perfection on the outside and juicy yumminess on the inside.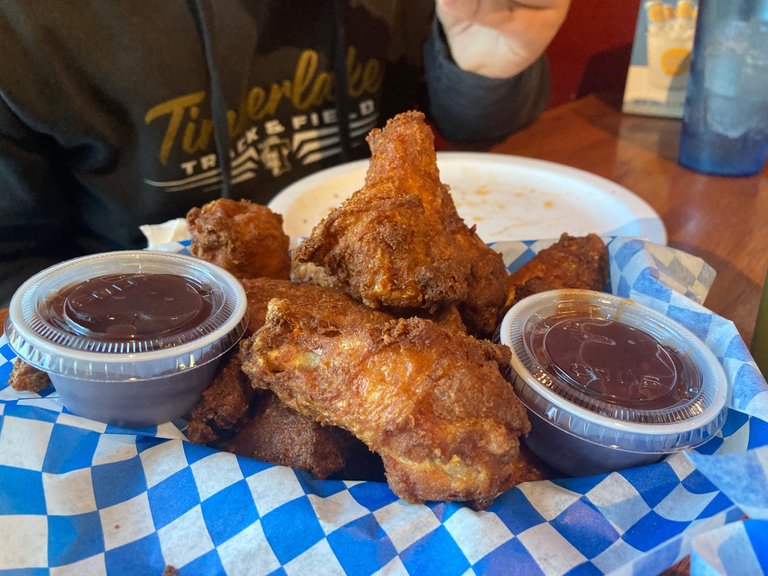 The cheesecurds were super great, especially dipped in the homemade pesto ranch the owner brought us. All in all, we ate about half the food, and when the delightful proprietor and chef dropped by to check on us, a conversation of food adoration broke out.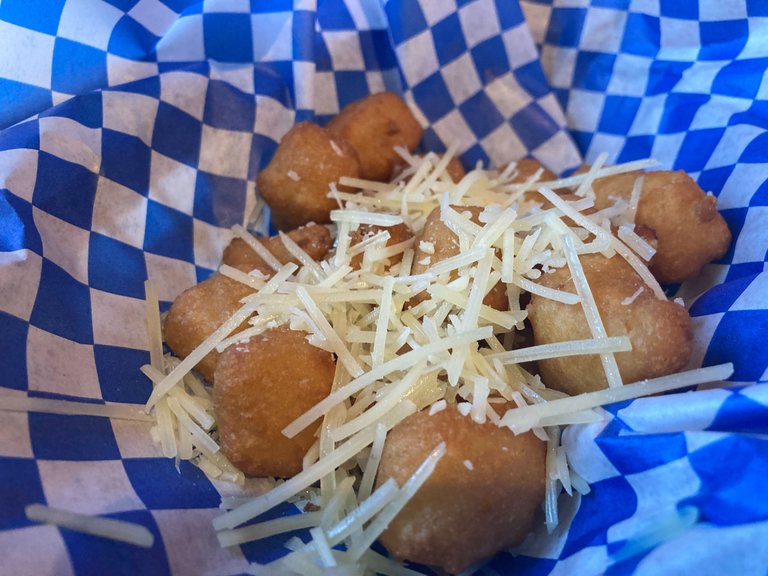 Come to find out, he and his brother had bought and opened the pizzeria on June 1st of this year, and their specialty is Neapolitan style pizza. He told us that he had put a ton of study, research, and practice into perfecting his crust. And let me tell you, it showed! The pizza was crispy, light, flavorful perfection!
As we were packing up our delightful leftovers to take home with us, we all agreed that we were so happy we decided to be adventurous, and were quick to let the owner know that we adored his cuisine and would be back!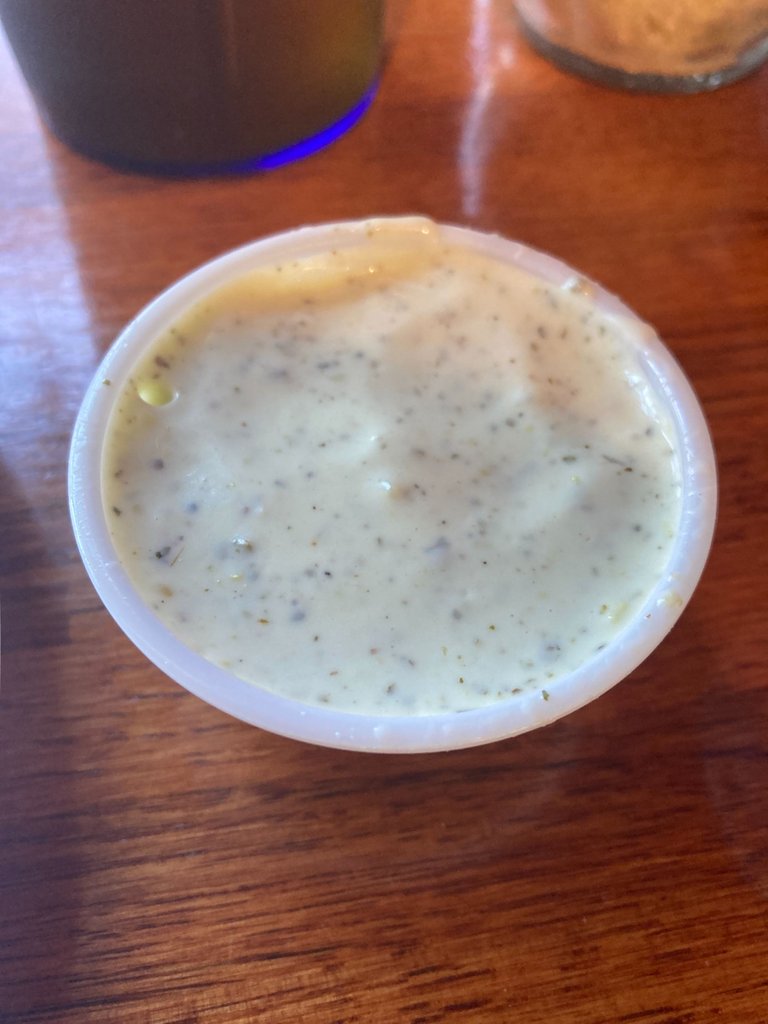 And if you are ever wandering about in the Spokane Valley, I totally recommend dropping in for a pie (or anything!) at Brother's Office Pizzeria (Formerly Rocktown Grill & Pizzeria) located at 12928 E. Mansfield Ave STE 1, Spokane Valley, WA 99216.

---
It's that awesome!!😍
---
---
And as most of the time, all of the images in this post were taken on the author's more than slightly afraid of being accidently dunked in pesto ranch iPhone.
---
---