In The Kitchen With Kat-Mixing Up My Morning Brew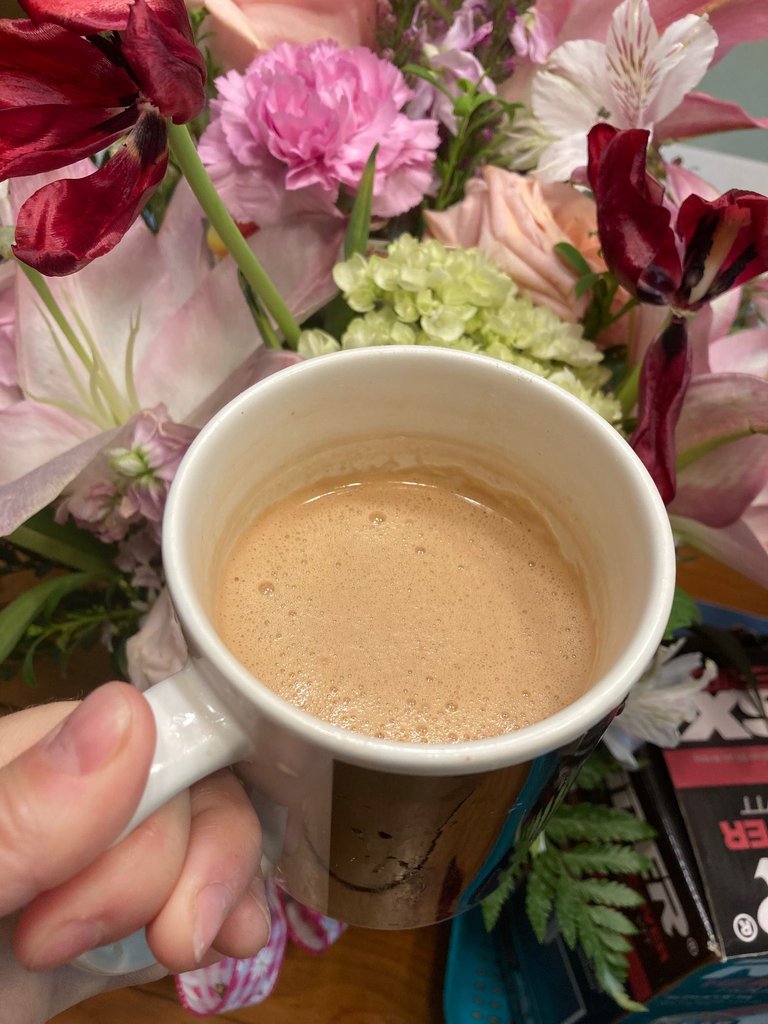 Here's the thing, pretty much every morning I enjoy sipping my one cup of cocoa coffee. It's a blend that I have written about before, a super-silky, palate-pleasing cup of sipping enjoyment.
That said, sometimes it is good to mix it up. I don't want my body (my mind) thinking it needs a cup of coffee every morning. So once in a while I like to throw something new in there. This week is one of those weeks. Plus, I am in an incorporating more plant-based foods phase in my life. My sinuses are always happy when I reduce the amount of dairy I eat, but don't worry my dear friend @prydefoltz, there's always going to be plenty of grass fed cream and butter in my realm lol!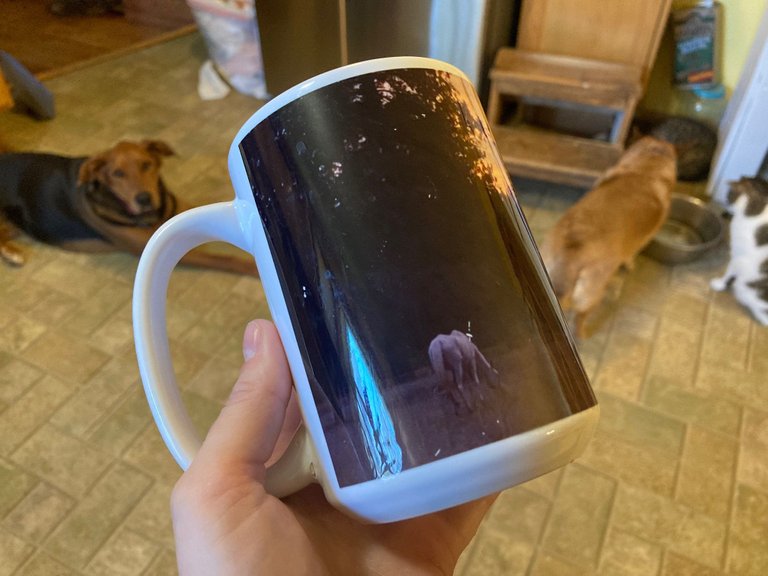 I'm a bit of an enthusiastic infant when it comes to trying new things though, so this morning I seized my favorite cup out of the dishwasher. My neighbor had us a pair made for Christmas, it has all our horses on it, including my Angel-horse who is no longer with us. Every time I clasp that cup I break into a dopey smile, and okay, I whinny a bit. Not really, grown ups shouldn't do that...right? Sure.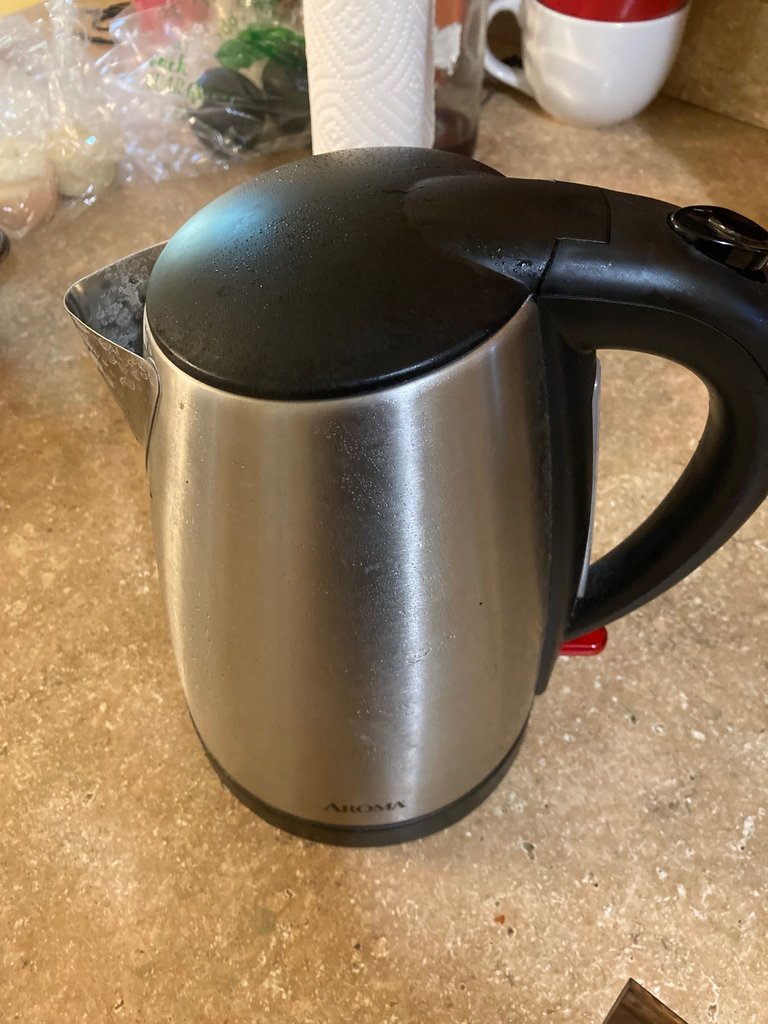 Anyway, I fired up my trusty electric kettle with more water than I needed because it's iced tea season and whenever I brew a cup of tea I also make a brew a mason jar of future iced tea. Because sometimes I am almost efficient!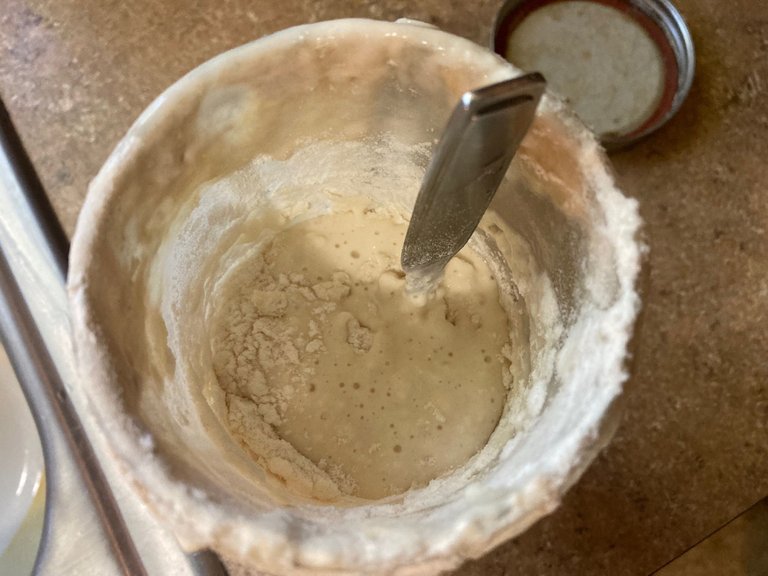 While I was waiting for my tea to brew I also fed and watered my starter, whom I affectionately refer to as Mick Jagger..."you can start me up!"
While my tea was brewing I logged into Listnerds for the day and my dopey smile went stellar because dang, do I ever love that platform! Speaking of positive things, if you haven't checked it out already, my dear friend @bradleyarrow has a DHF proposal that is just awesome! If you want to support something that will make an impact on people's lives and show just what our amazing blockchain and the people who make it up are capable of, then check it out!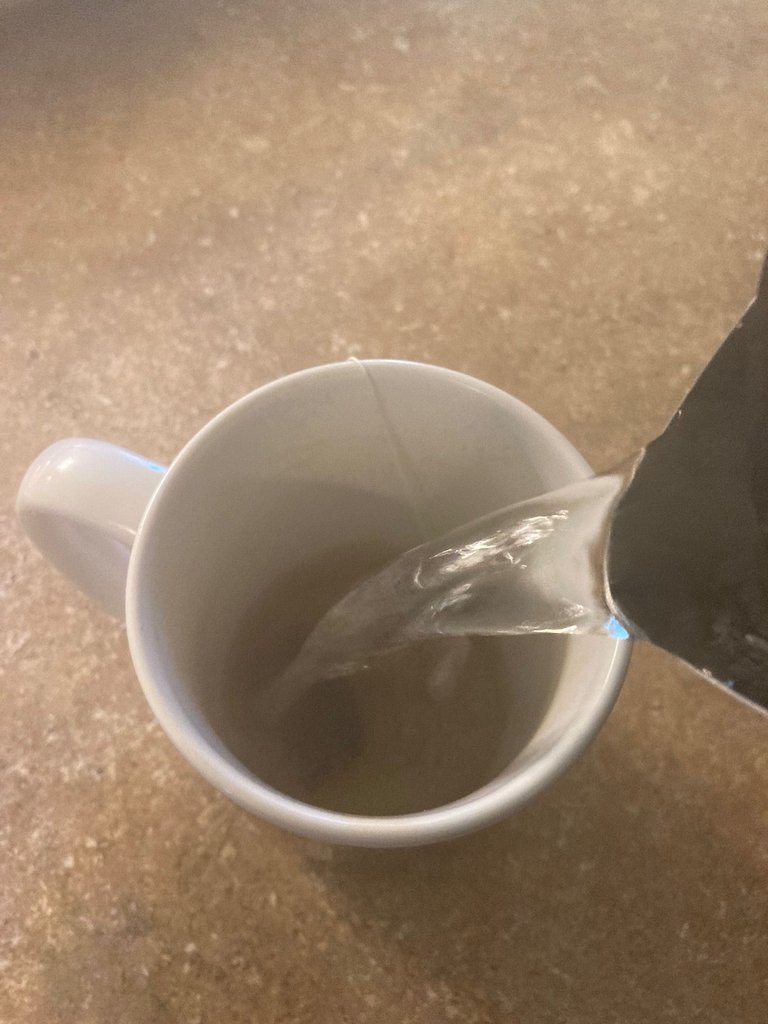 ---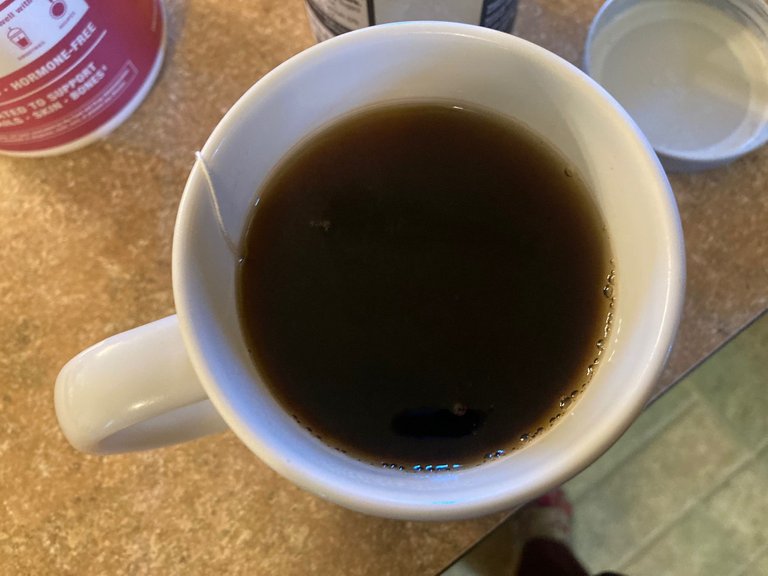 Back to the tea! Once my tea had steeped a bit, I removed the tea bag and added the collagen, coconut oil, and creamer. The rationale behind each of my additions is pretty straightforward.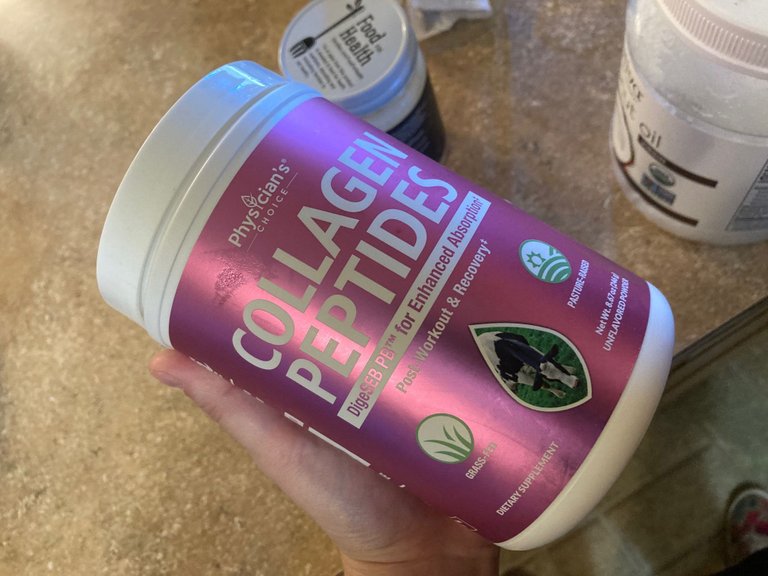 ---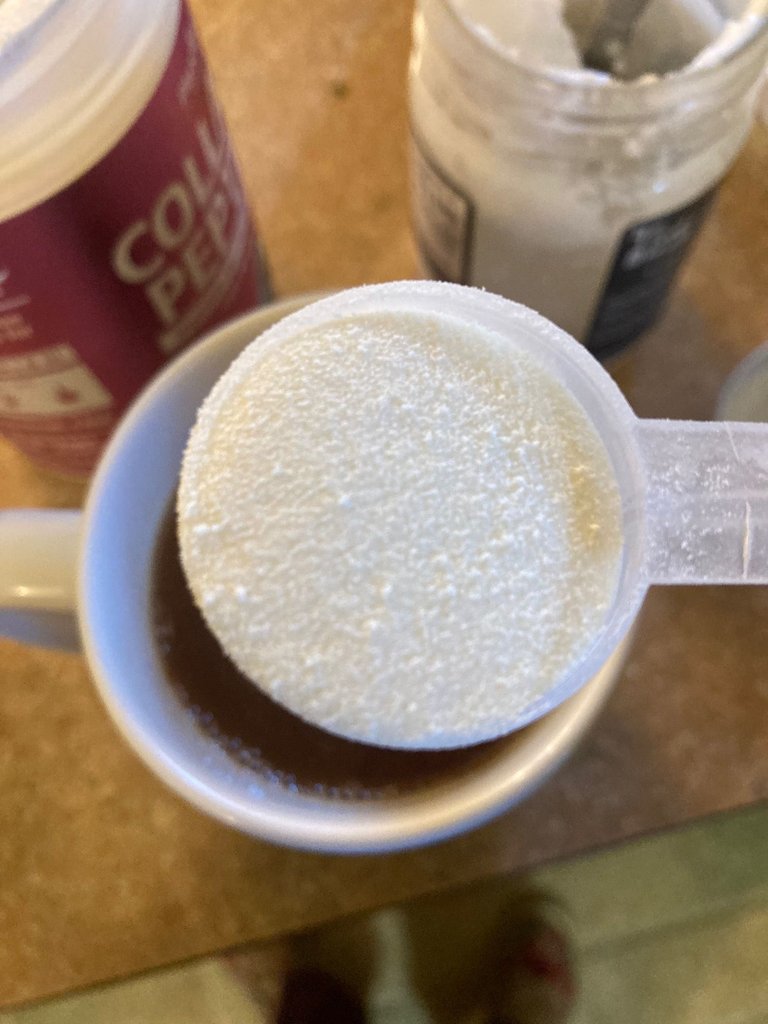 The collagen is in there because I lift weights at least two times a week, and collagen really helps with recovery, lean muscle tissue growth, and my joints love it! As does my skin and hair. And my gut! I've been taking collagen for many years and don't have any plans on stopping.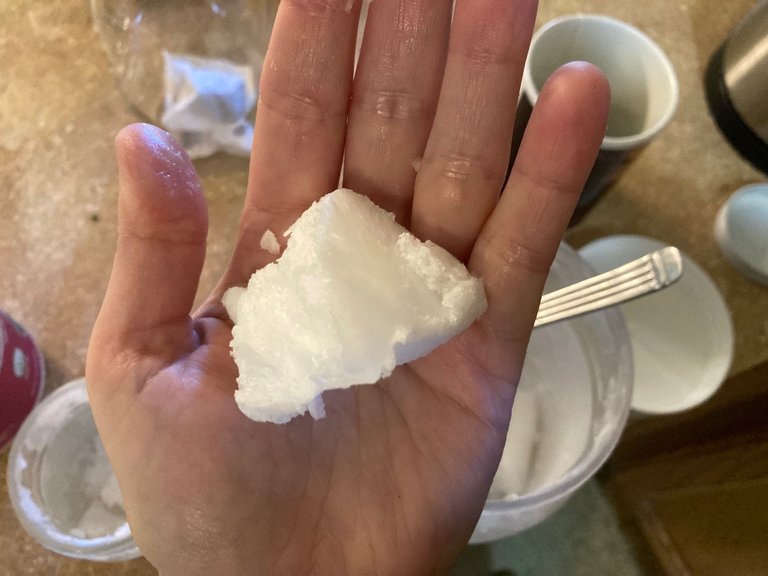 The coconut oil: Okay, this one is a no-brainer, I just love the stuff! Now, I am not coconut-crazy, I just enjoy a bit of raw, unrefined coconut oil whipped up in my hot drinks. One, it's pretty dang good for you and a great energy booster, and two, it smells so freaking good! I love the aroma and flavor of coconut!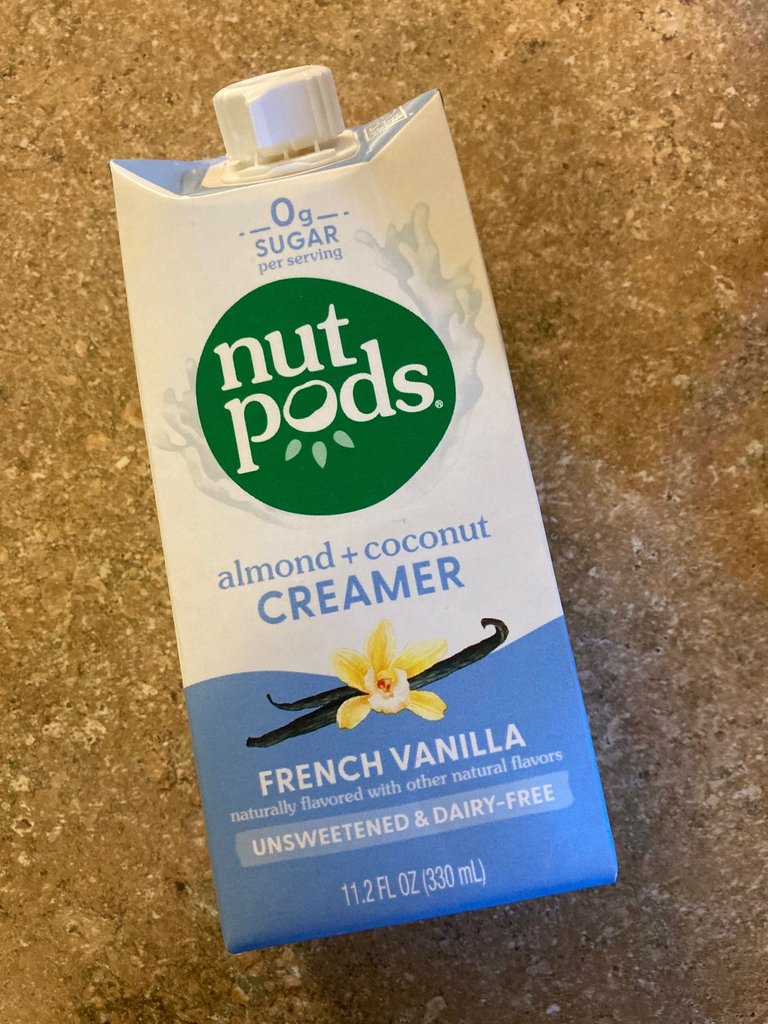 Try not to snortle when you read that product name, I dare ya!
The plant based creamer: As I said above, the more I keep my dairy intake in check, the better off my sinuses feel. I think our bodies are really good at letting us know when things are out of balance, and as I have an autoimmune disease, I really, really try to keep inflammation in check. Mainly because I love to feel good (who doesn't?!) and there's so much I want to do.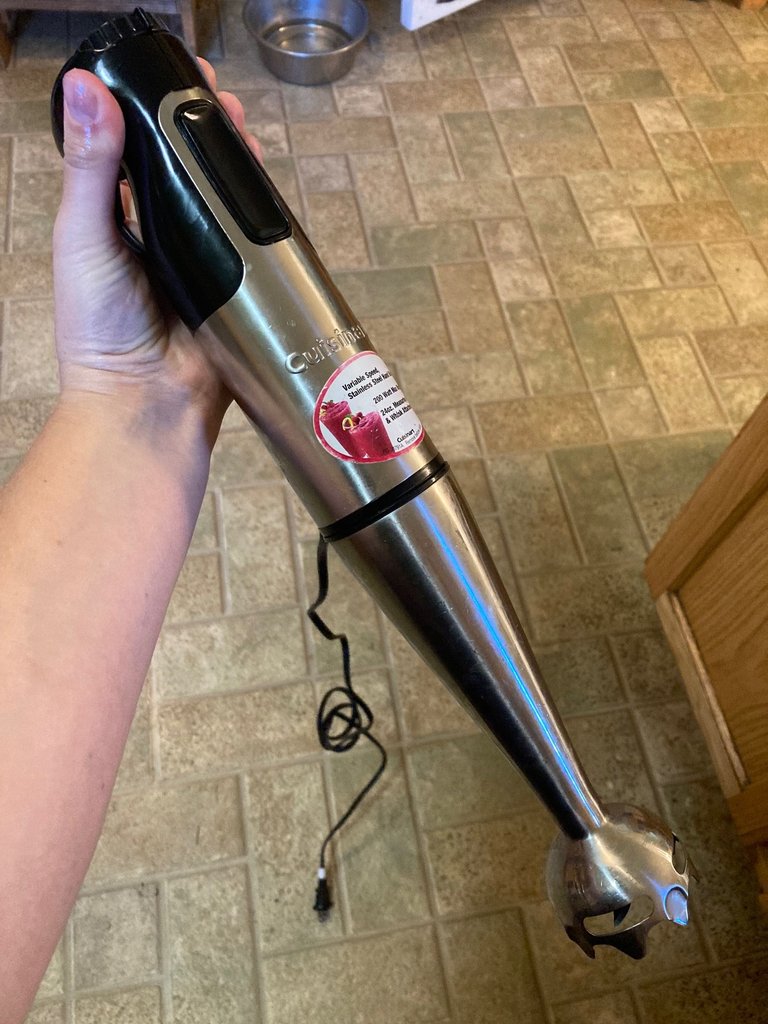 The key ingredient to yummy, creamy, frothy drinks of awesomeness!
And finally, the tea: Even though I drink at least a couple of cups of tea (both true tea and herbal tea) throughout the day, I happened upon this article the other day. The doc who wrote the article highlighted a symposium she had attended about the benefits of drinking tea, and according to the docs in attendance the benefits are YUGE! The bottom line: Tea contains flavanoids and they are so, so good for you!
As in, tea supports immune function, reduces the risk of cognitive decline and dementia, could cut the risk of heart disease and cancer, the list goes on and on.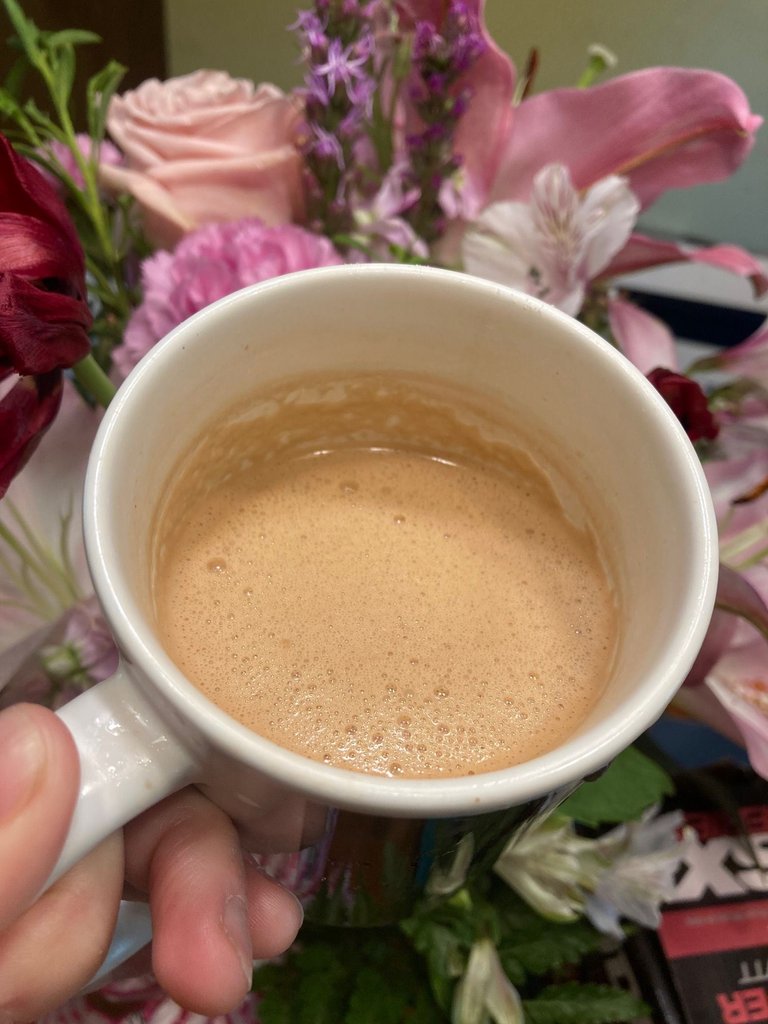 There is a catch though, don't load it with sugar! If you notice below, there is no sweetener at all in my morning brew recipe. I find the flavor so good that I don't need it, but adding refined sugar to anything you eat sabotages the nutritious effects of what you are taking in. Hello inflammation!
A bit of honey, real maple syrup, coconut nectar, or stevia if you absolutely need to have a hint of sweet probably wouldn't be the worst, but I have found that most of the time it's my feelings(mind) telling me I need something not my body. We humans excel at self-sabotage, don't we?😉

And on that note, I gotta jet, there's acres grass to be mowed, warm weather crops to start, and a district track meet in my near future, and thanks to my tasty morning sipper, I got loads of energy to seize the day!

Seize The Morning Sipper

1 cup of fresh brewed black tea (I used English Breakfast, Oolong would also be yummy)
1 scoop (TBSP) collagen powder (could sub plant-based protein)
1 tsp unrefined coconut oil
1 TBSP French Vanilla Nut Pods creamer

Add creamer, coconut oil, and collagen powder to freshly brewed tea and blend well with an immersion blender.

Not at all a pro but here's a tip: Blend your tea in a larger vessel or use a cup bigger than the job if you don't want to clean up a mess or smell like tea all day. Immersion blenders have no mercy and are ruthlessly efficient at their job regardless of the resulting carnage!

Sip the earthy flavored, silken lusciousness!
---

---
Addendum of Explanatory-ness: I am NOT a health care professional. In fact, the only thing I might be a professional at is shoveling manure. Which of course means that this is not a post meant to be health advice. Rather, it is truly just a write up of my own opinions and experience, meant for informational purposes only.
---
And as most of the time, all of the images in this post were taken on the author's still slightly steamed up and ready to roll iPhone.
---
---
---