In The Kitchen With Kat-Orange Creamsicle Cake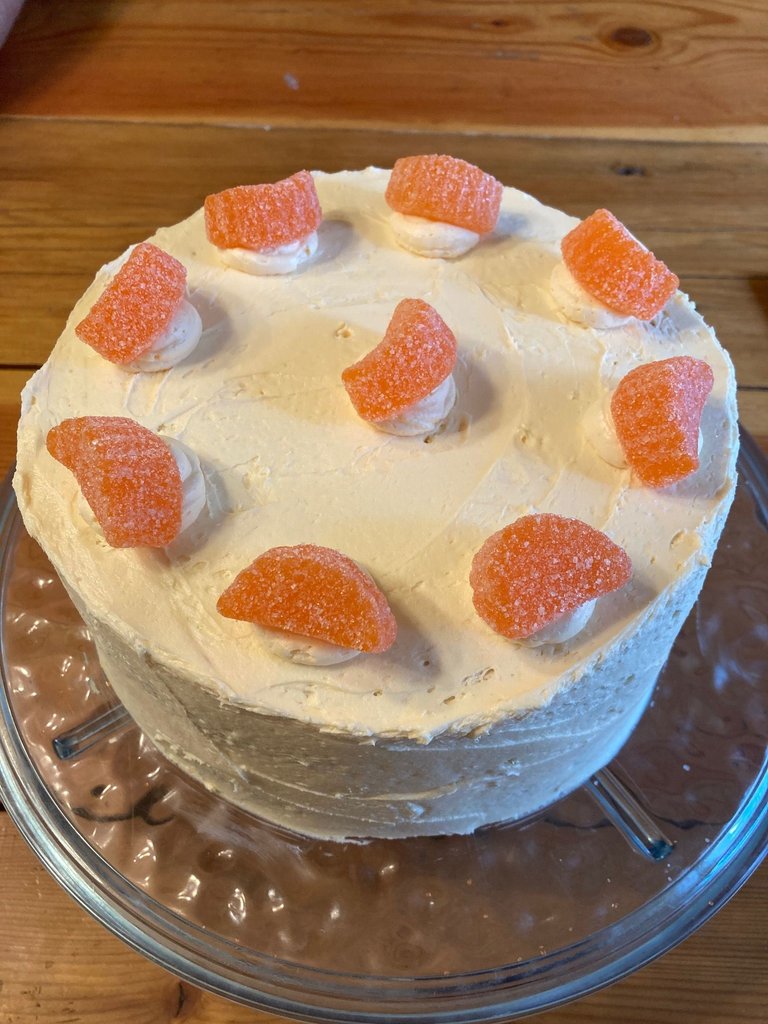 Every year September 14th is a special cake day because it is my cousin's birthday (@sapadetzero). What makes it even more special, is for the last three years running, I have challenged him with selecting a flavor combination that he would like, and then I attempt to deliver.
---
Yesterday I delivered like a freight train on nitrous!
---
Before I get too far ahead of myself, a few weeks ago I told Cuz to flavor up, and we both started talking a bit because he wasn't sure how we could top Apple Pie The Cake (last year's entry). I then blurted, "What about an orange creamsicle-like cake?"
---
He smiled.
---
So, last week I got out my trusty recipe conceptualizing notebook and because conceptualizing.
The resulting recipe turned out to be like getting punched in the mouth by an orange and a bucket full of cream. I am pretty proud of how the cake turned out, mainly because my cousin really enjoyed it😊.

Now, I have said it before, I am a bit on the lazy side. Well, I probably am not lazy per se, it's just that with all the living I am doing all of the time, I just don't have tons of time to do absolutely all the long drawn out steps of certain projects, so this particular cake is a doctored cake mix recipe. I am so not ashamed about that fact.
Because I added a ton of stuff to the cake mix, fresh orange juice, sour cream, buttermilk, you'll see the list of things in the recipe below. Because as anyone who reads this blog knows, I HATE DRY CAKE!
And guess what? Mission accomplished, the cake was so moist and flavorful, and it had good structure which is always nice.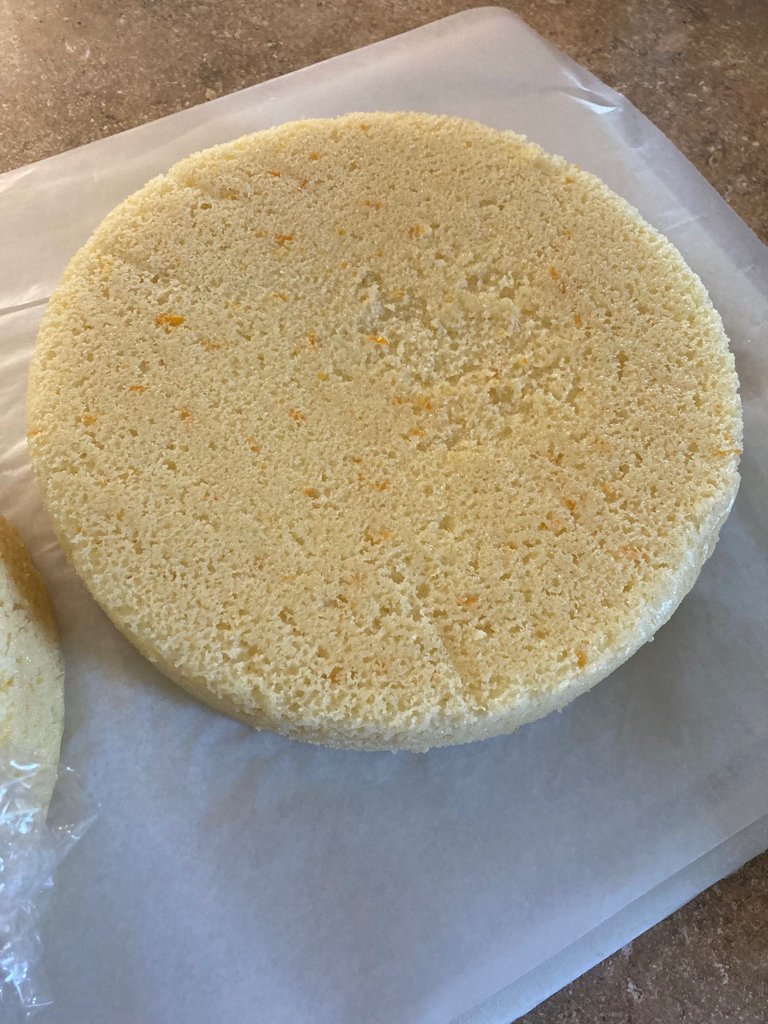 After baking the cakes the day before (just a thing I do, I think cake tastes better the second day), I got out my trusty cake stand began the assembly process. Since I was going for an orange creamsicle flavor profile, I made my standard vanilla mousse filling, and I whipped up a batch of orange buttercream.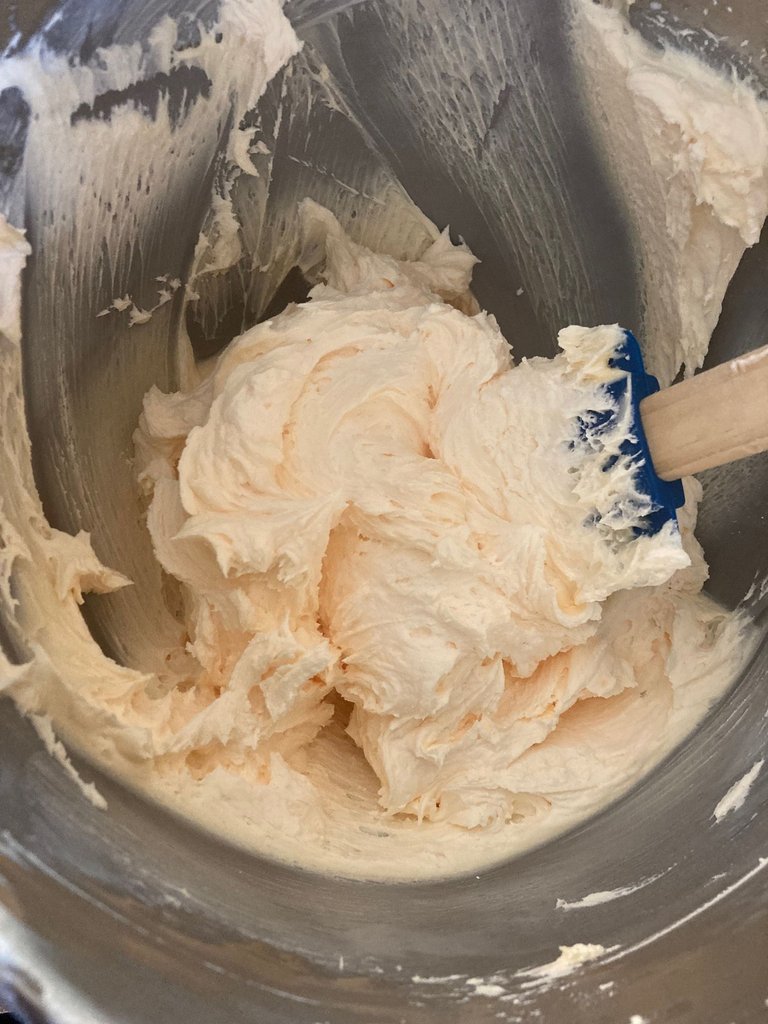 To be honest, I might have taste tested the buttercream more than I should have, but truly, it was for quality control reasons.😉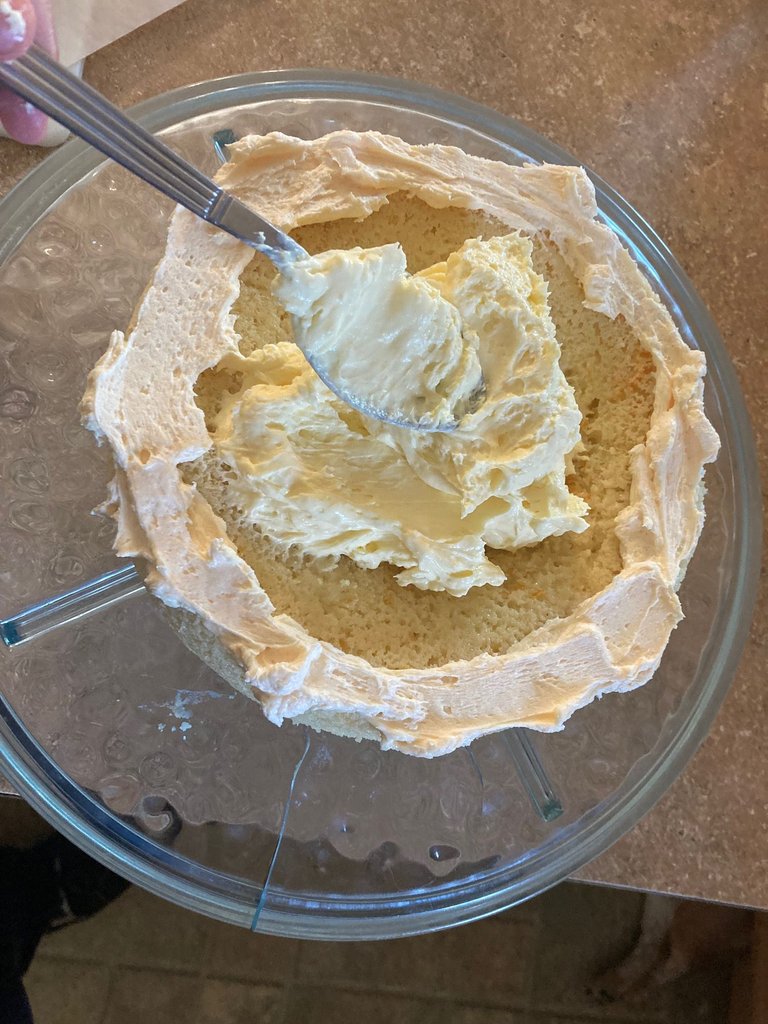 ---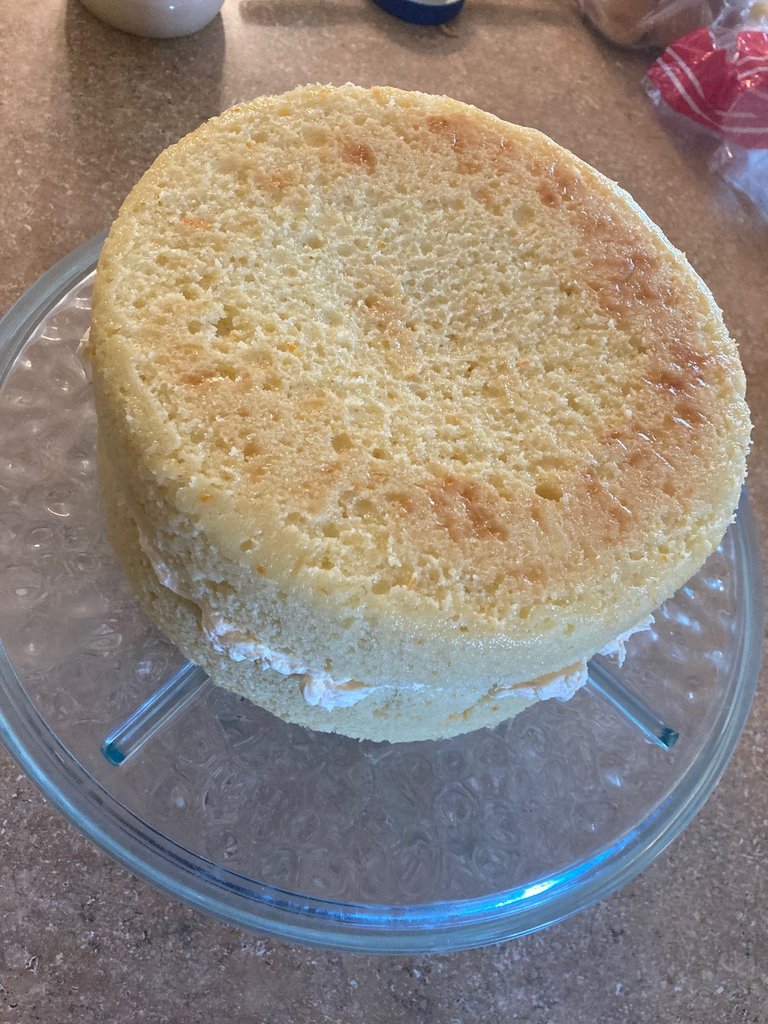 After spreading a filling retaining edge of buttercream along the top rim of the bottom layer, I added a bunch of vanilla mousse cream to the top of the bottom layer, then carefully placed the second layer over it.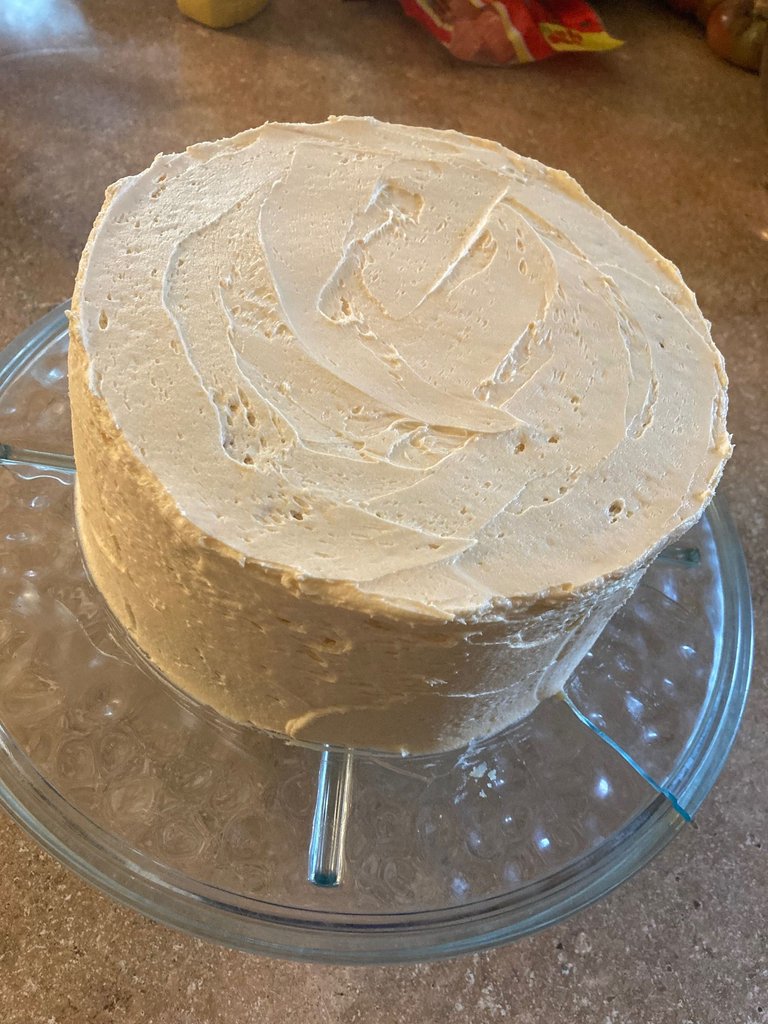 Afterward, I spread the orange buttercream onto the cake. Yes, most cake decorators call for putting on a crumb coat before frosting, and no, I did not do that. At this point I have frosted so many cakes that I can frost one without getting a single crumb in the frosting. Practice and experience are a thing.
Now, a lot of the time, I just frost a cake and leave it at that, no flourishes, but...it was Cuz's birthday and I wanted the cake to have a bit of pizazz, so I got out a piping bag and filled it with the rest of the buttercream.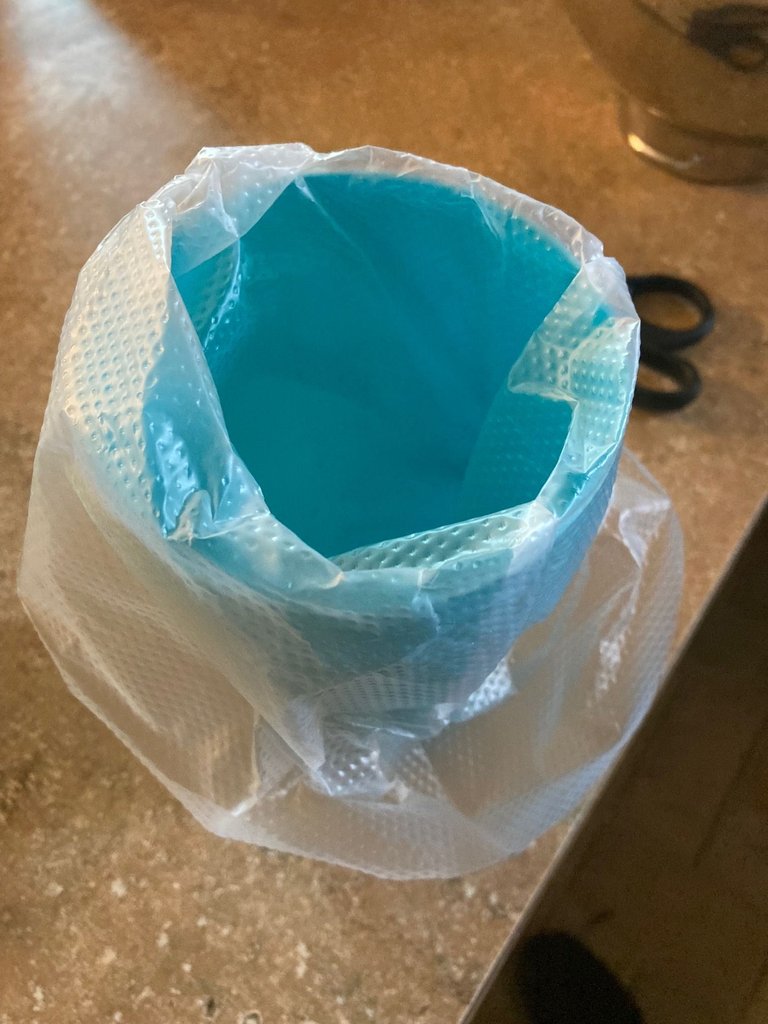 Because earlier, when I ran to the store because I forgot the one dang thing I went to the store for earlier in the week (powdered sugar), I also bought some candied jelly orange slices.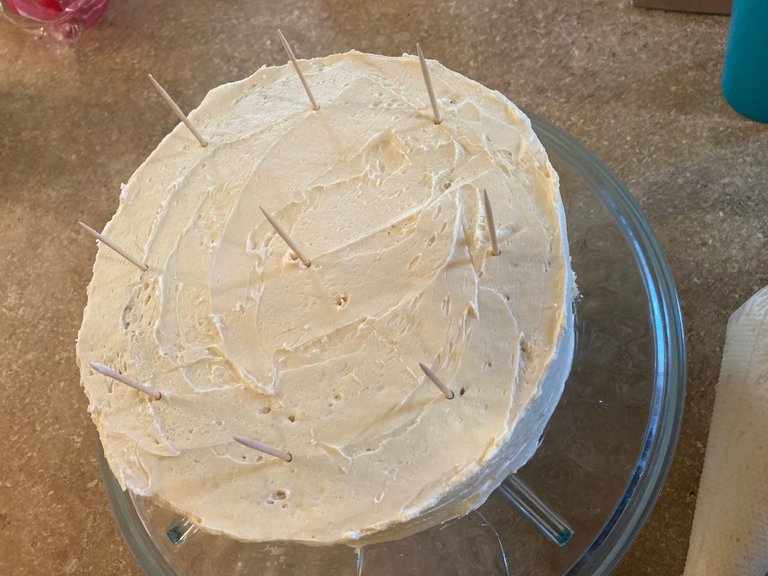 I got out some toothpicks and a ruler and marked out equally distanced spots on top of the cake and one spot in the middle. Then I went around the cake, piping a bit of frosting and sticking a candy orange into each bit of it.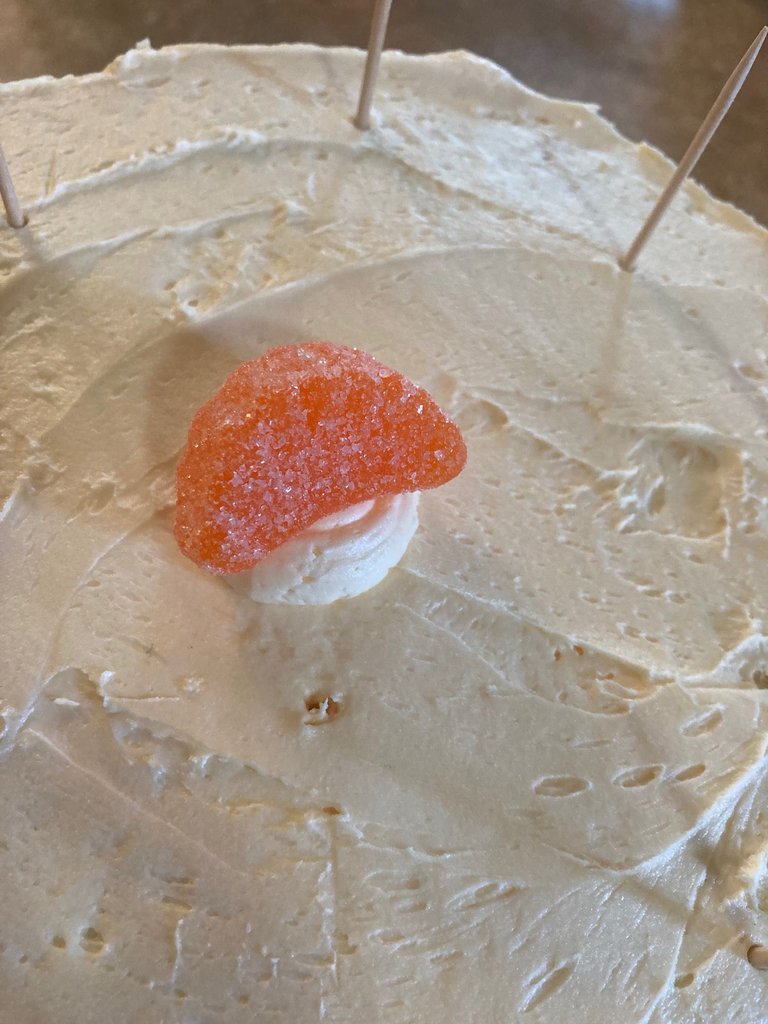 I love how it turned out!
---
But I loved the smile on my cousin's face and the taste of the cake even more. Seriously my friends, this cake is lit, for real, for real, no cap, and the young Zoomer heathens who surround me are fond of saying.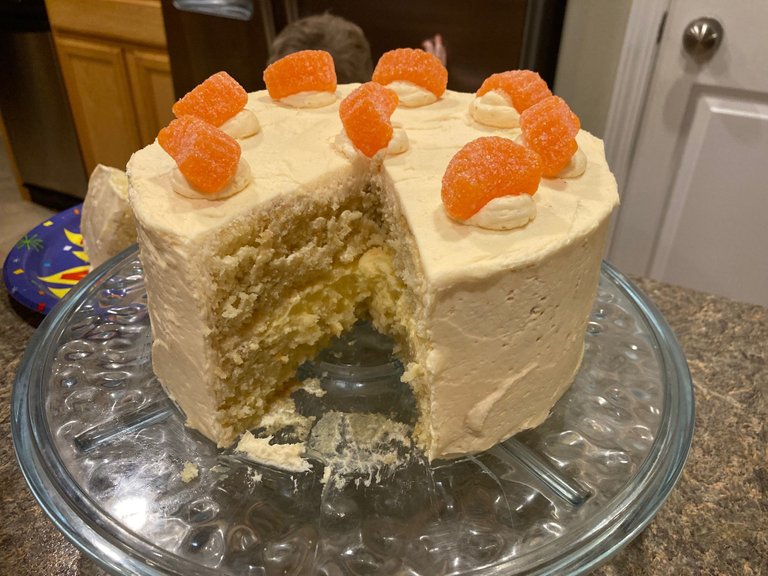 And on that note, I am off, today there is yet more harvest to do, and I don't want the impending frost to claim a single bit of produce!
Orange Creamsicle Cake

1 box white cake mix (no pudding in the mix!)
1 cup of flour
1 cup of sugar
1 tsp baking powder
3 large eggs
1 1/3 cup of orange juice
1/2 cup sour cream (I used the full fat kind)
1/2 cup buttermilk
1 TBSP orange extract
1/2 tsp vanilla
zest of one orange

Vanilla Mousse Filling

1 small box instant vanilla pudding'
1 1/2 cup heavy whipping cream
1/4 cup whole milk

Orange Buttercream Frosting

2 sticks (1 cup) unsalted butter (room temperature)
3 1/2 cups powdered sugar
1 tsp orange extract
1/2 tsp vanilla
1/2 tsp salt
2-3 TBSP heavy whipping cream

Preheat oven to 350 degrees Fahrenheit. Grease and parchment paper or flour two, nine inch cake pans.

For the cake, in a stand mixing bowl, add cake mix, flour, sugar, and baking powder. Mix to combine dry ingredients well.

Add eggs, orange juice, sour cream, buttermilk, orange extract, vanilla extract, and orange zest. Beat thirty seconds, then scrape the bowl using a rubber spatula, beat cake for an additional minute to minute and thirty seconds until batter is well-combined.

Divide the batter between the two cake pans and bake in preheated oven for 30-33 minutes. Cool completely before assembling.

For the filling, add pudding mix, milk, and cream to a mixing bowl and beat until light and fluffy. Refrigerate until ready to use.

For the frosting, add butter to mixing bowl and beat for at least a couple of minutes. then add 1 cup powdered sugar and the extracts. Beat a minutes, then add the rest of the powdered sugar, one cup at a time. Halfway through adding the powdered sugar I start adding the cream and mixing. I continue adding the cream as I beat the frosting until I get the consistency that I want. Each batch of frosting is different. Beat the buttercream until light and fluffy, often this takes 5-7 minutes in a big stand mixer.

To assemble the cake, place the bottom layer, pipe a bit of frosting to hold the filling in, spread in as much filling as you desire, place the top layer, and frost the entire thing with the luscious buttercream. The orange slices are not necessary, it was just for looks and festive reasons that I applied them. Enjoy!
---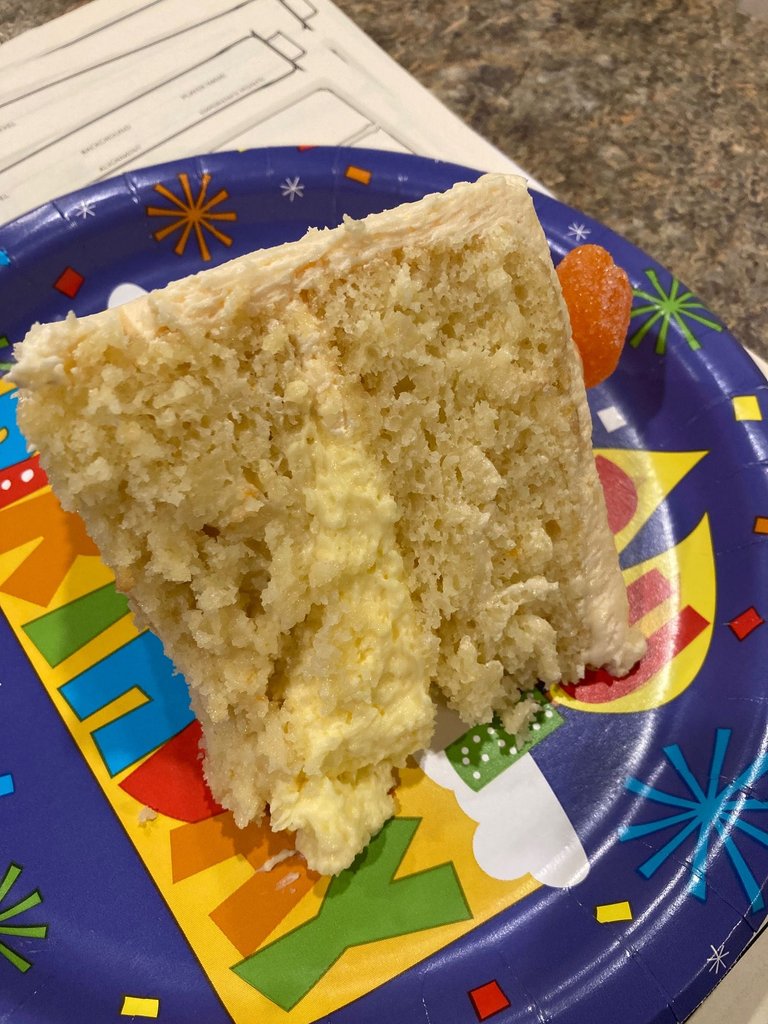 ---

---
And as most of the time, all of the images in this post were taken on the author's now in orange buttercream scent and style iPhone.
---
---