The Flicker Haven Farm Files-Hello Hydrangea!

My mom and dad got me a hydrangea for my birthday!!
---
And it's my favorite color! Purple! SQUEE!
---

Sorry, I just get so dang excited about plants, especially flowers, they are just so awesome!
That said, I have never successfully grown a hydrangea before. Our microclimate is a bit on the hostile, well-drained and not super-nutrient rich, soil side.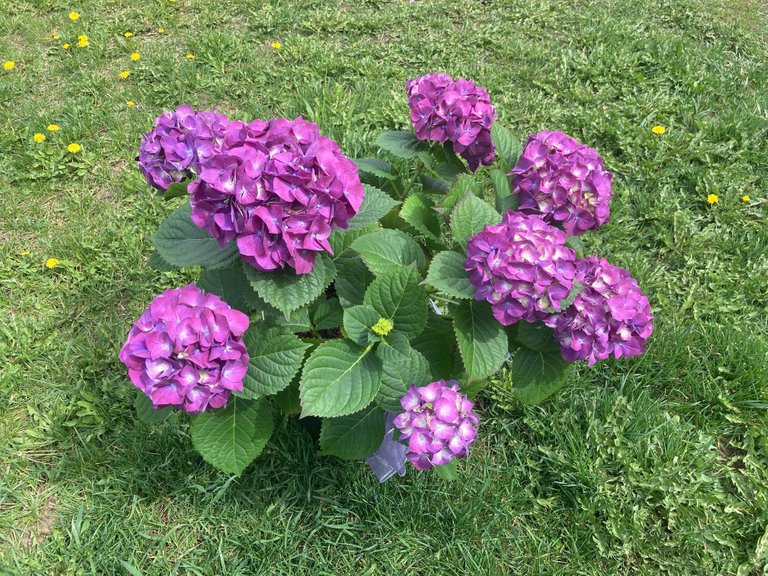 But my new birthday hydrangea is just so gorgeous that I knew I had to do my absolute best to not let it die. So off to the Gardner's World website I went.
For the past couple week's I have been enjoying watching old episodes of Gardner's World on Amazon Prime after a long day of farm work before passing out at night. I have learned SO much from that show, and host Mr. Monty Don has this soothing Zen way about him that I enjoy.
I mean, I had checked his books out from the library over the years, but his BBC show (that has been on for life 36 years apparently) is pretty great.

Anyway, back to the hydrangea. Now, I am pretty well versed in vegetable cultivation, but my flower growing knowledge needs some work. Between raising produce, animals, and heathen children, flower gardening has not been a focus in my realm for the past couple decades. The kind I have around here are the low maintenance kind, like colored yarrow, bellflowers, lavender, etc...
Here's the thing though, I love flowers. My great grandpa grew the most majestic climbing roses and I used to help my grandma tend her flower beds as a kid. So, last year I started upping my flower game by putting in a rose bed, and the birthday hydrangea really fit right into my surround myself with more flowers scheme.
According to the GW website, hydrangeas like moist, bulky soil with lots of nutrients. They don't like too much sun but also don't want full shade. Good Musk on a tusk! They are like the freaking Goldilocks of flowers!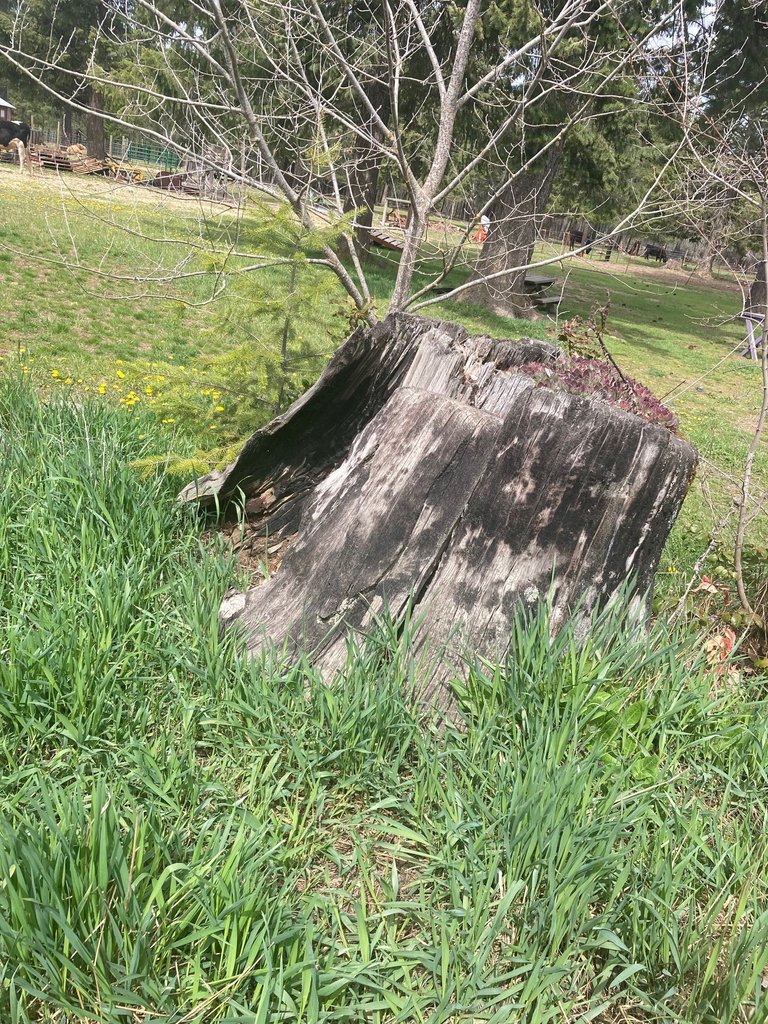 So, I spent a bit of time wandering around my house. The north side of my home is protected from the worst of the heat, and I do have this bed that needs desperately to be renovated. The focal point of the bed is an old stump that was left behind in the 1910 Big Burn, a huge wildfire that swept through the region over a 100 years ago. I love that stump and I have dreams of it being surrounded by blooming color. Years ago when the kids were toddlers I planted a non-suckering variety of poplar and a type of maple next to the stump. They provide a nice backdrop to the focal piece, but the bed itself has been overrun by quack grass. I DETEST QUACK GRASS!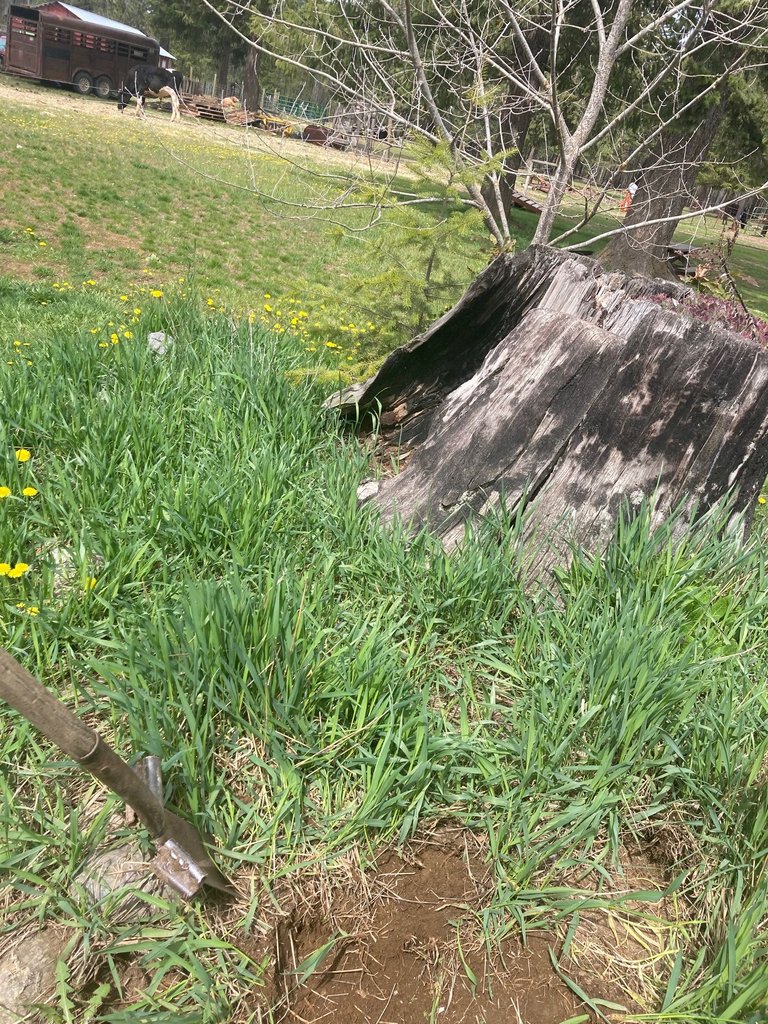 So, after poking about a bit, I decided the absolute best place to plant the hydrangea was right between the stump and the rhubarb. I grabbed my trusty wheelbarrow and went into the horse pasture to grab some well-rotted manure from the remnants of last year's composted pile.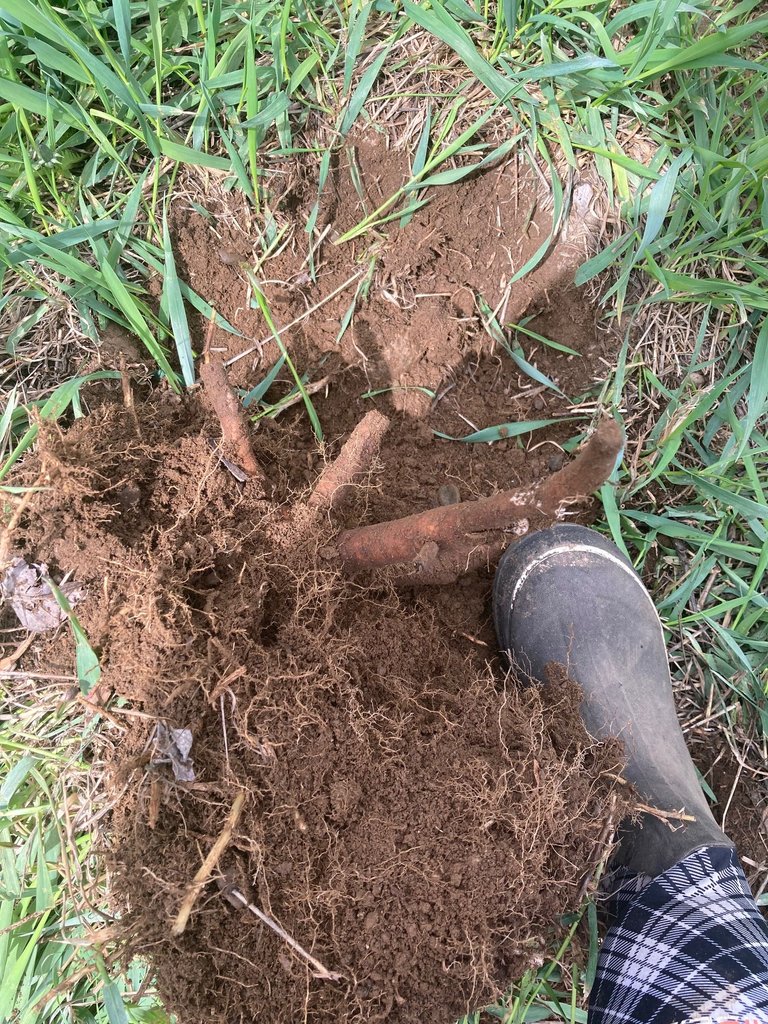 ---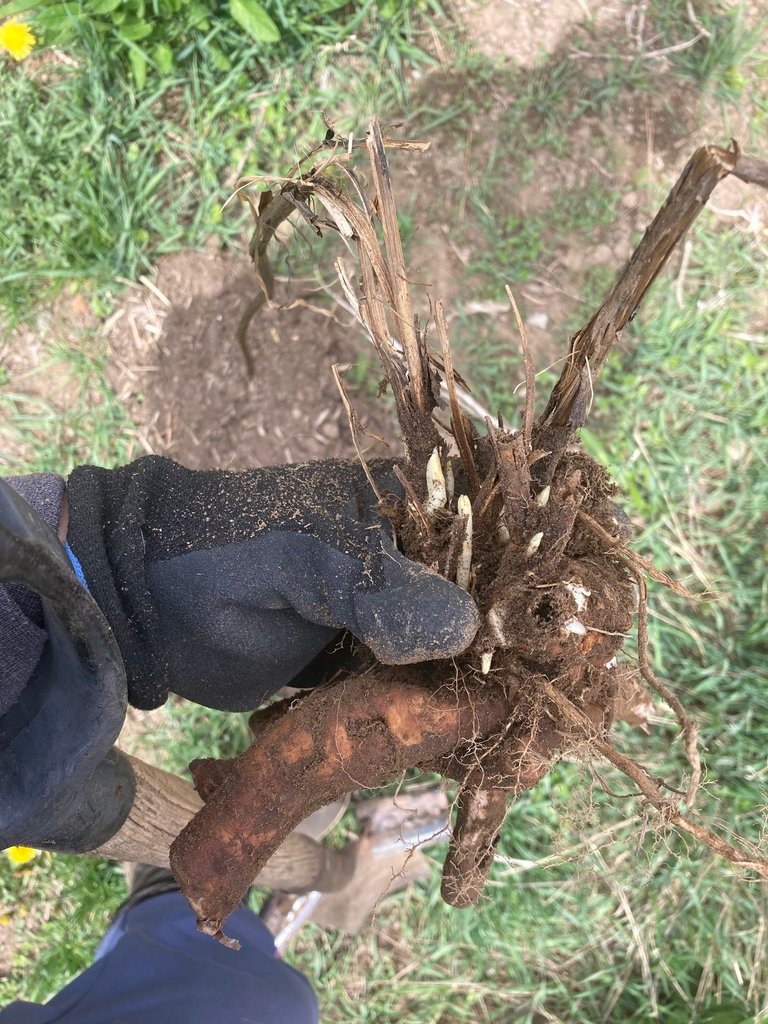 Before I could plunk the hydrangea into the earth I had to remove every root of quack grass that I could. My turf shovel and I spent a nice hour together, and as usual, management was breathing down my neck: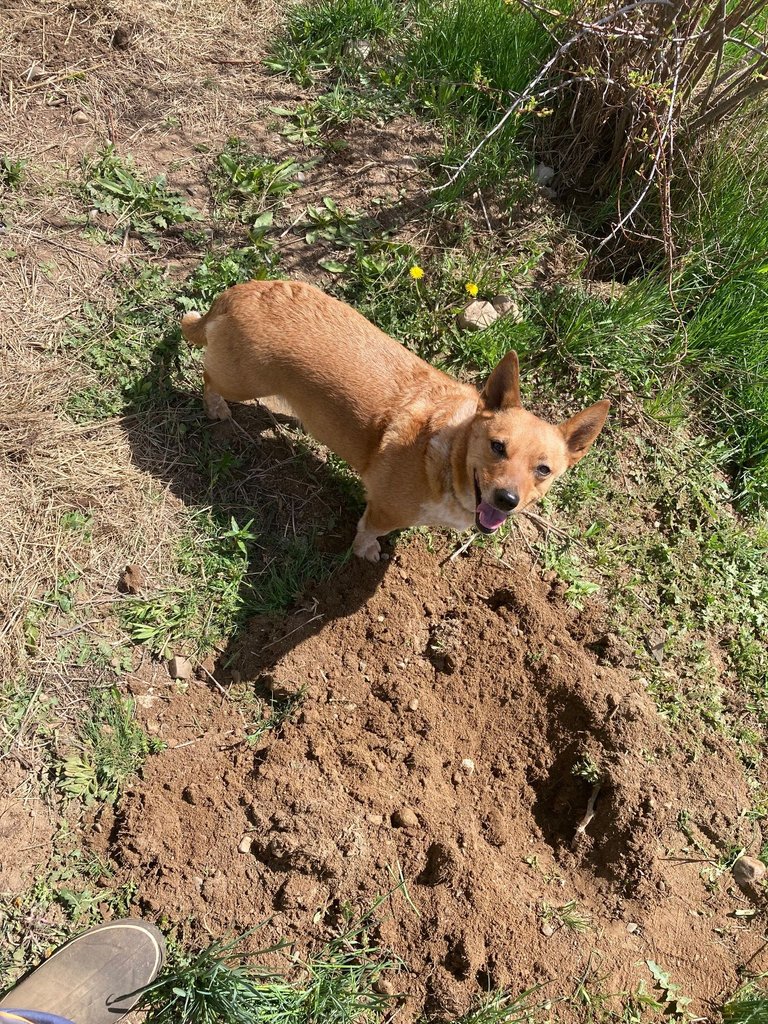 In the spot I had chosen was a peony plant that has been there for as long as the trees. I had planned on moving it over with my other peony in the front flower bed when I renovated the stump bed. That job took no time at all, and I hope that beautiful peony transplants well. I think it will but time will tell.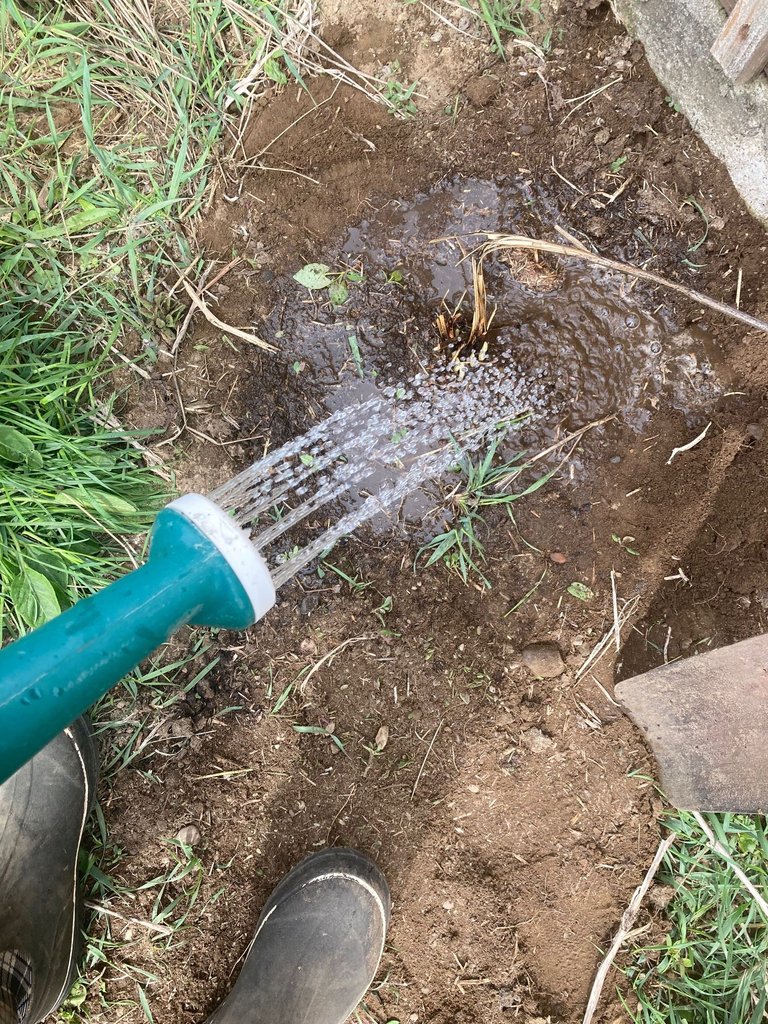 Next I dug the hole for my new hydrangea and mixed in a fair bit of well-rotted manure. I had watered my hydrangea really well that morning because the GW website said to, Water the plant well an hour or so before you plant it. Before you could say well, I didn't need that birthday bow anyway you heathen cat I had the plant in its new abode.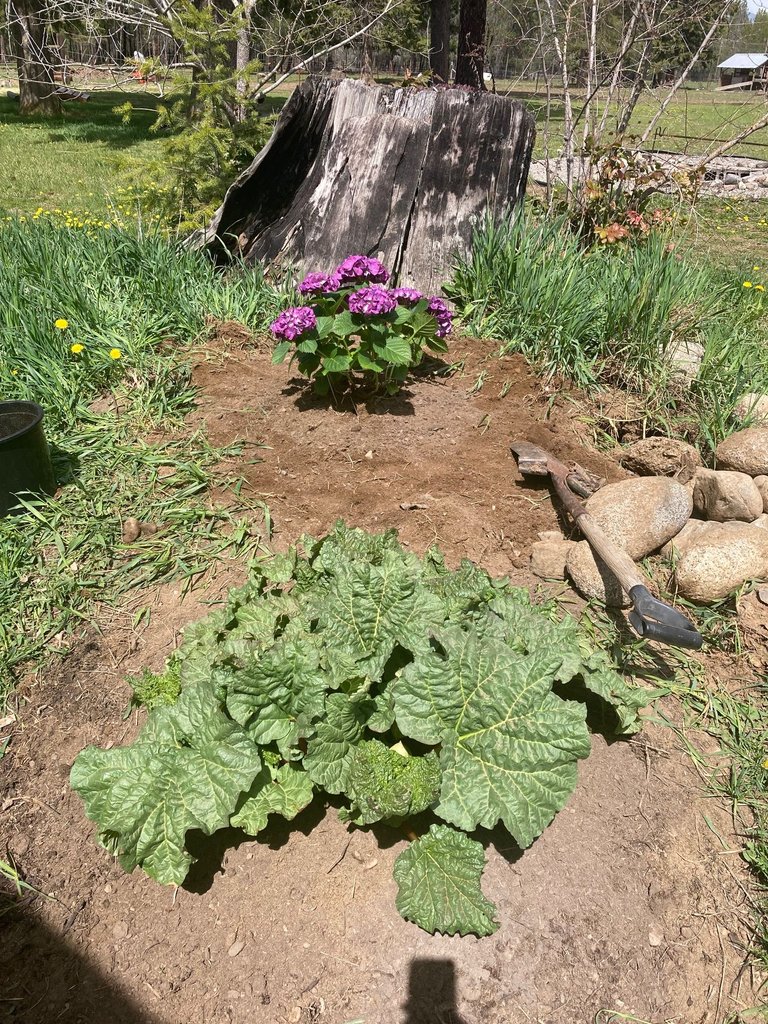 I spent a bit of time firming the soil and compost in around the plant and watered that beauty in. Part of the reason I planted my new hydrangea yesterday is that we were to get buckets of rain today (which we did) and I thought a good, soggy overcast day would be great for a newly rooting transplant to help get it established.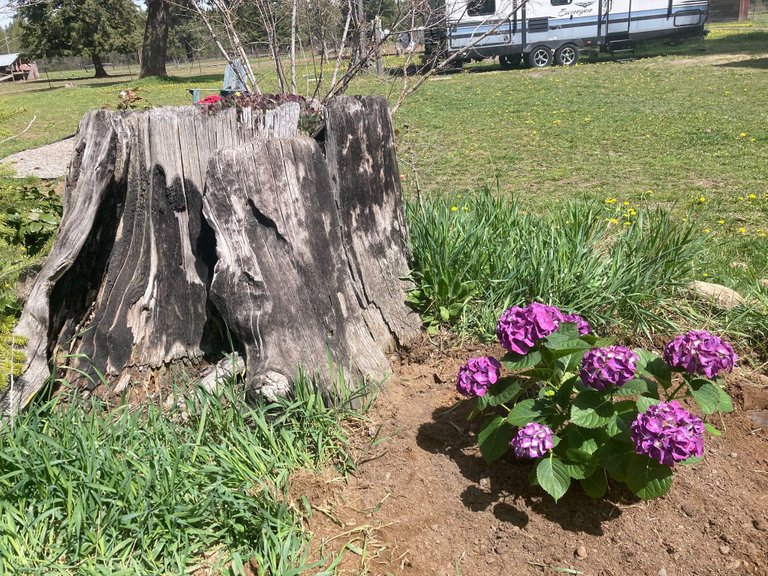 At least that's the theory.
---
Time will tell if I followed the wisdom of the knowledgeable gardeners well enough or not, but I am feeling pretty positive that I found the just right spot for my beautiful new flowering shrub.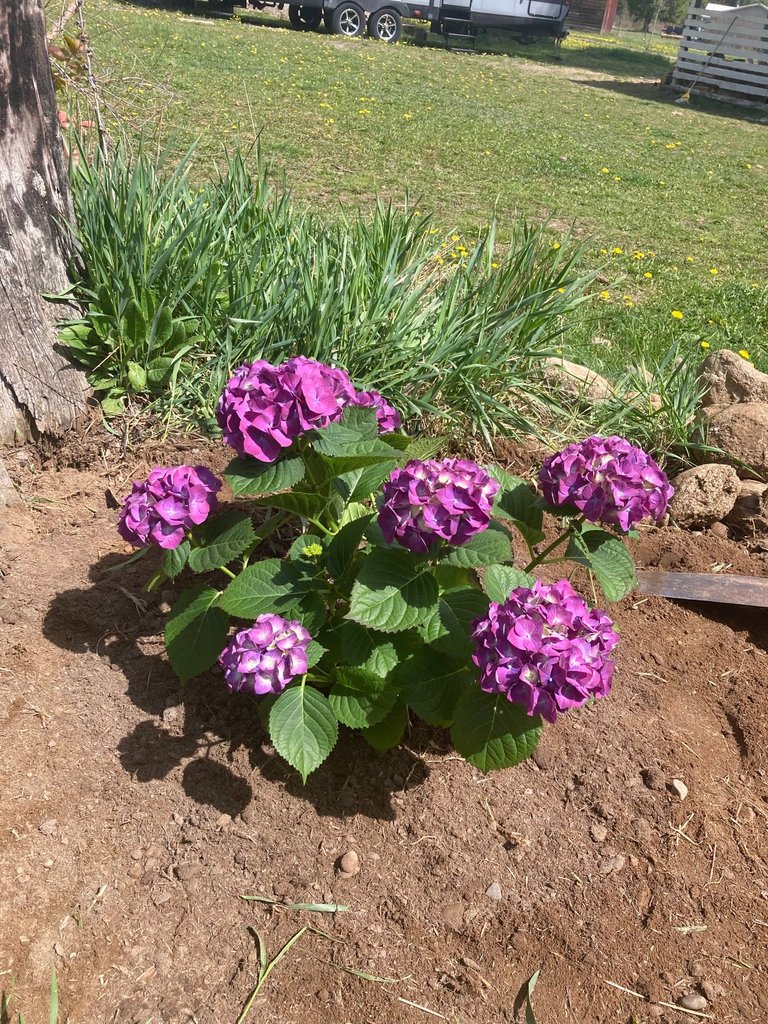 And you better believe I'll be keeping a close eye on its welfare! Well, after I untangle that extra special cat from the birthday bow. Sheesh...
---
---

---
And as most of the time, all of the images in this post were taken on the author's only dropped into the compost one whole time and still amazed that it wasn't buried alive iPhone. The text divider image was made in Canva.
---
---
---