The Flicker Haven Farm Files-The Art Of Potato Maintenance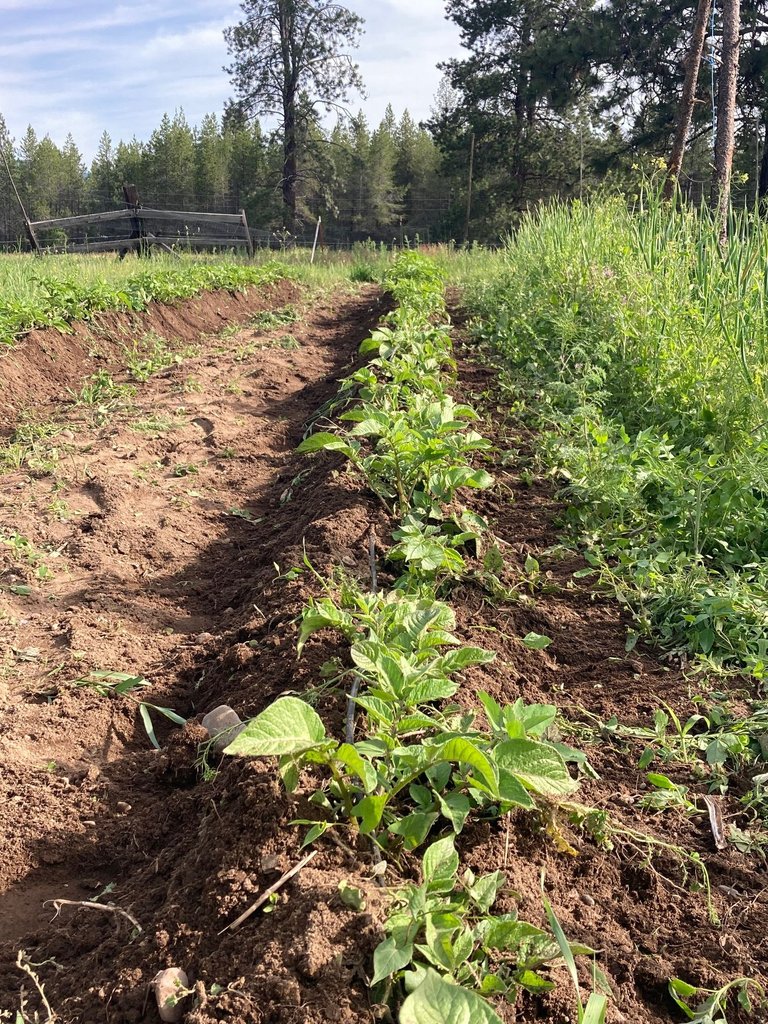 ---
This morning when I woke up I noticed something untoward, the back of my left leg was a knotted mess of throbbing awfulness. Truly, it felt like someone had applied a beating to the back of my calve and quad with some knuckles made out of titanium and ill-will.
As I flexed my cramped up leg, I remembered the source of its woes, those darn potatoes!
Yesterday, the sun was actually out and it was going to be in the mid-seventies, so I got cracking at six AM. With all the rain I am WAY behind on lots of things, especially weed pulling.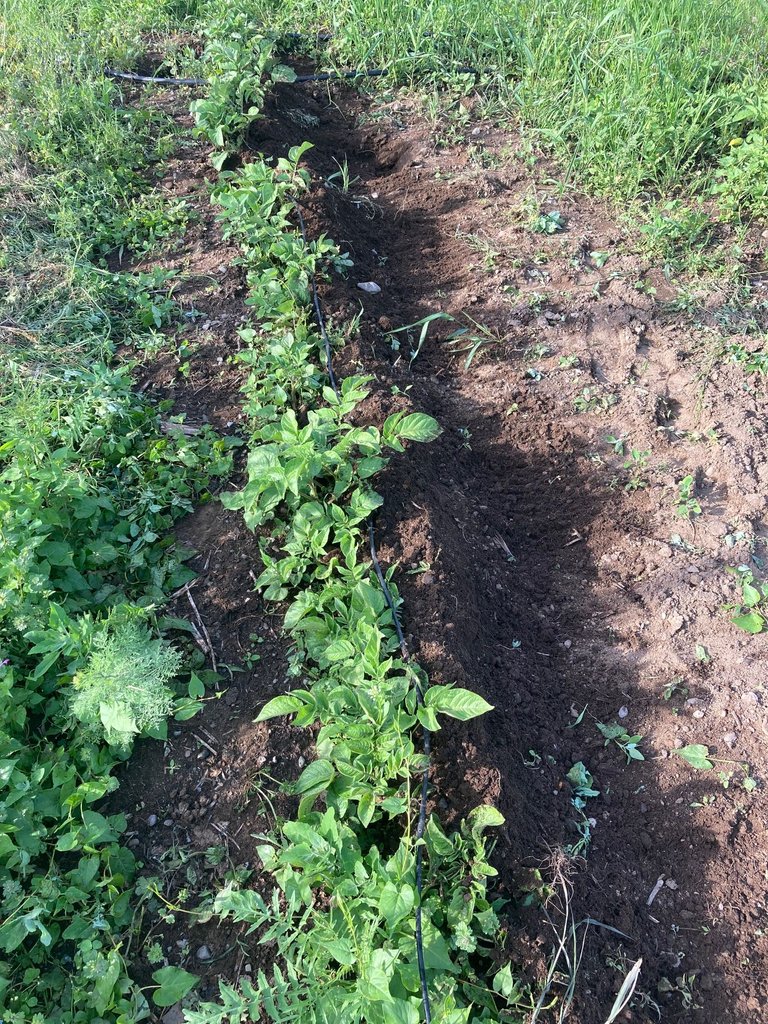 But, my prime directive yesterday was hilling and fertilizing the potatoes.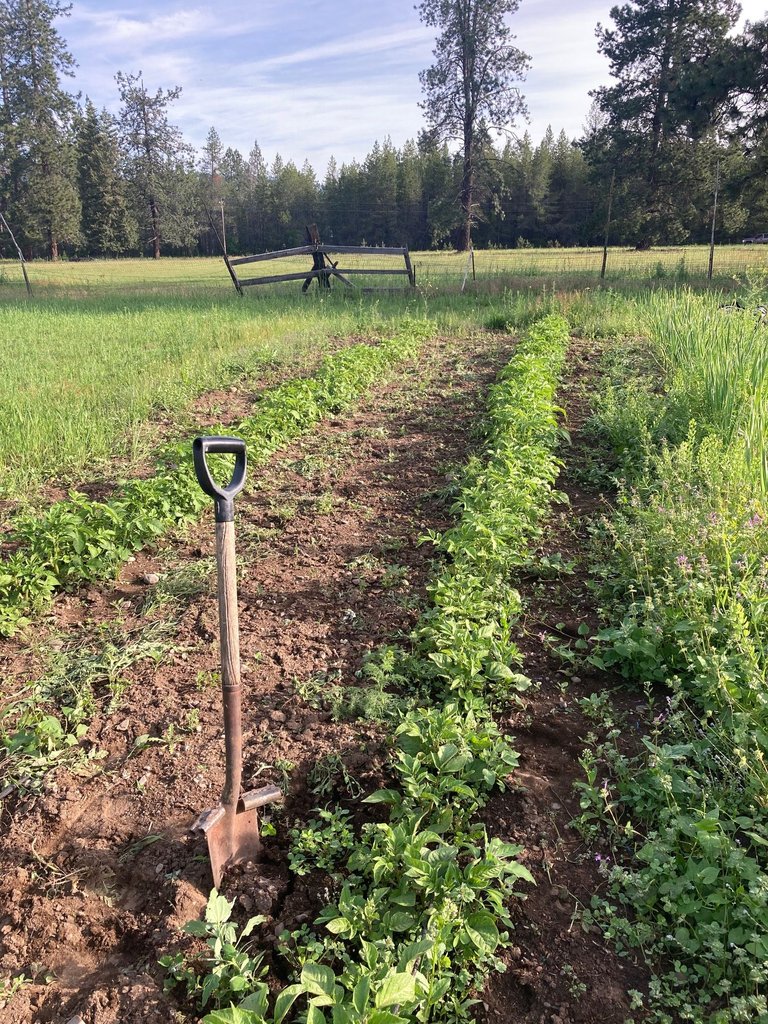 I tend to hill and fertilize my potatoes twice each growing season. I first hill them when they are about a foot tall, and again when they grow another foot and start to flower.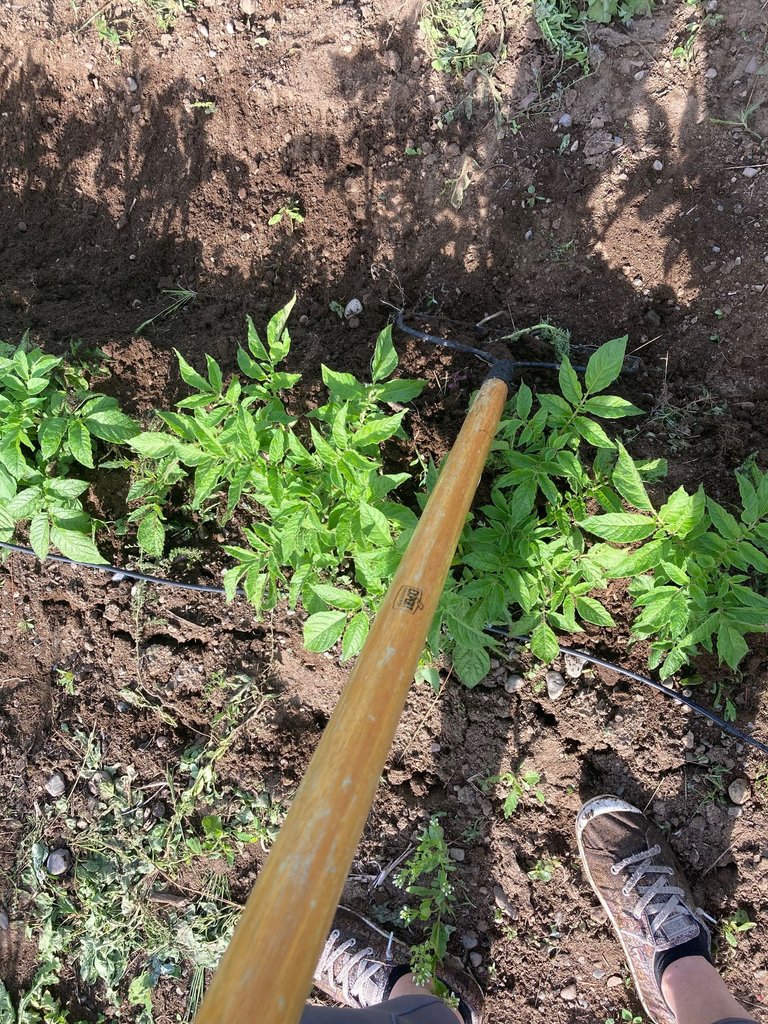 The thing is, this year with all the moisture, the potatoes have been growing nicely, but the soil was far too sopped for me to do any work on it.
---
Until yesterday.
---
So, that's how I found myself at the potato patch, smiling but also feeling a sense of urgency, because the potatoes were just one of many things I needed to tend to.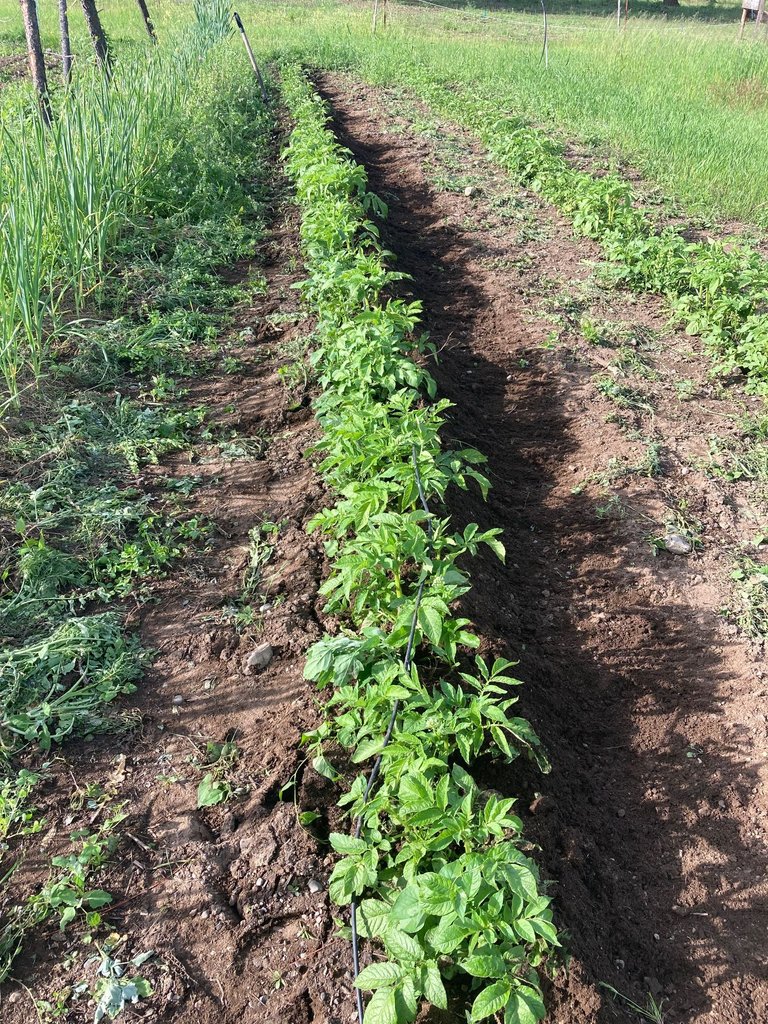 But back to my leg. I loosen the soil on each side of the potatoes and the rake it up over the potatoes, leaving a bit of each plant poking out of the top. Hilling increases the yield of each plant, as tubers only grow above the initial seed potato, so hilling maximizes the amount of available tuber development area and keeps the plant from blooming.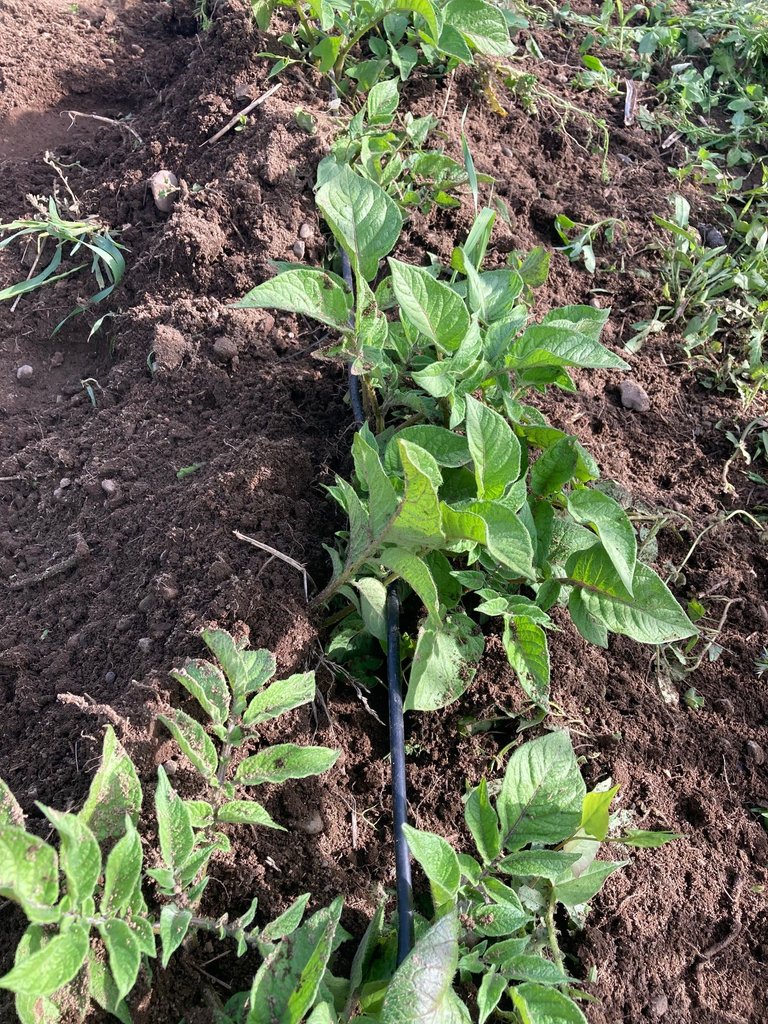 So, over and over and over again I shoved my turf shovel into the ground, several hundred times. At the time I was listening to music and having a good time, so I didn't notice my leg getting fussy. Now that I think of it I also weed-eated a lot and walked several miles yesterday too....sigh...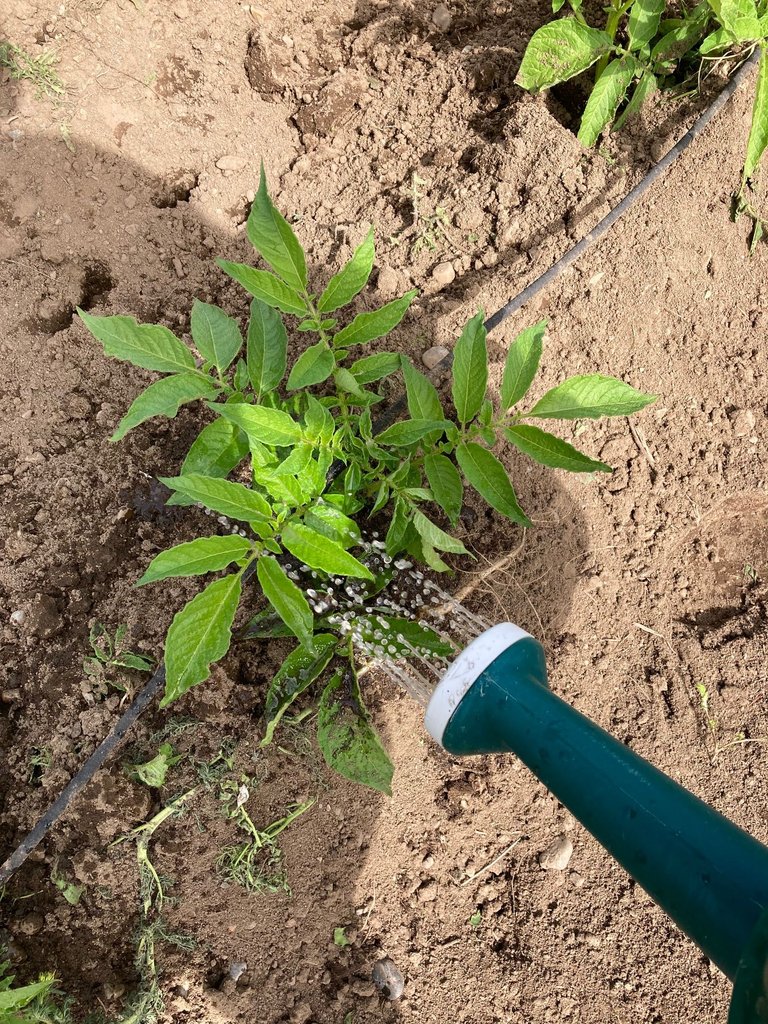 Anyway, I knocked out the hilling rather efficiently and moved on to fertilizing with my fish and kelp emulsion. That also didn't take too long.
Then I moved on to weeding the garlic. The garlic is getting close to being done, and even though I mulched it, there was still a fair bit of weeds up to the edge of the mulch and a smattering of little weeds growing on it. So, I got down to it and removed it all.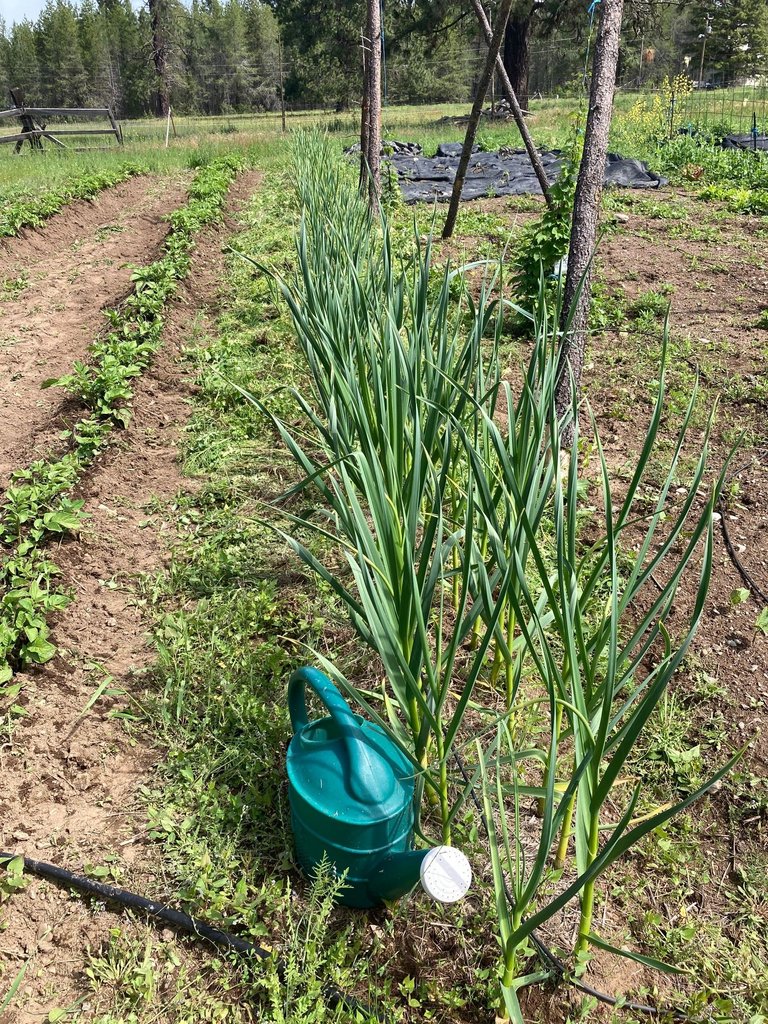 Afterwards, I hit the garlic again, as they are developing their bulbs right now, and then moved on to fertilizing the rest of the garden.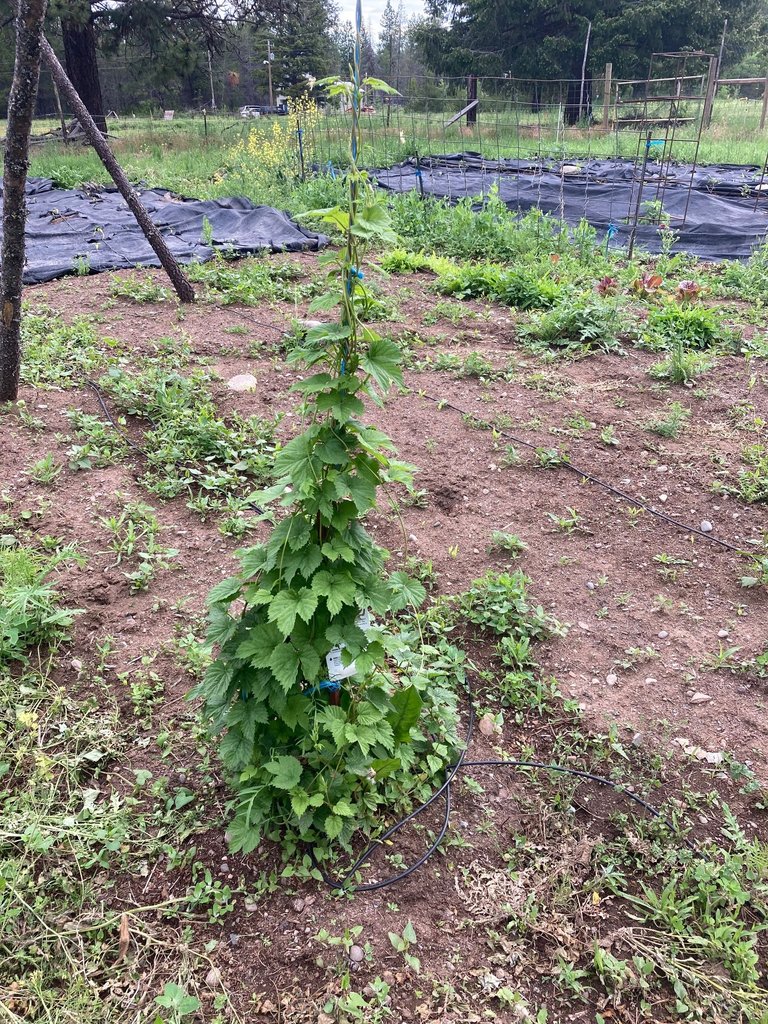 The hops are now about four feet tall, and I love watching them grow daily, they are definitely reaching for the sky. I'm super excited to get a little heat because I intercropped some purple yard long beans on the legs of the hops trellises and threw in some corn, bush beans, and mammoth sunflowers in that section of the garden, it's going to be so pretty and very architectural!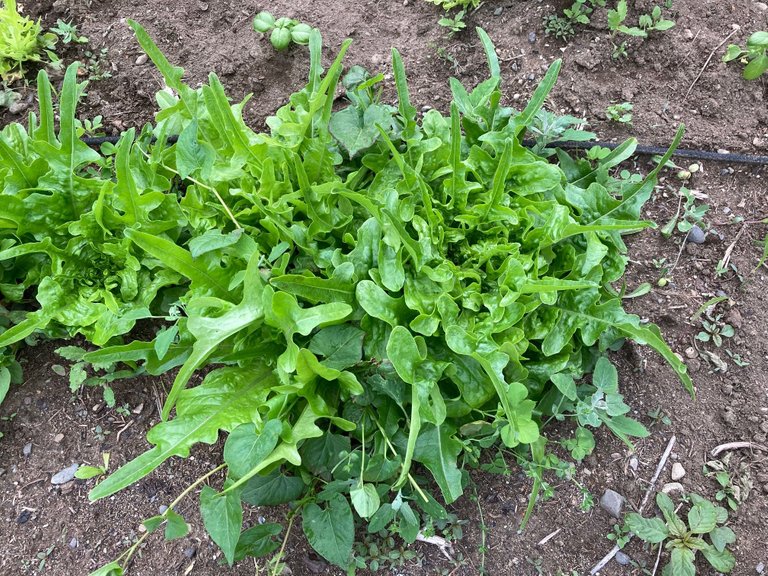 I then smiled as I beheld the volunteer Oakleaf lettuce. We have been eating a ton of salads lately and boy am I not complaining! I love home grown lettuce.
Once I get a handle on the weeds, it will be time to thin these little guys: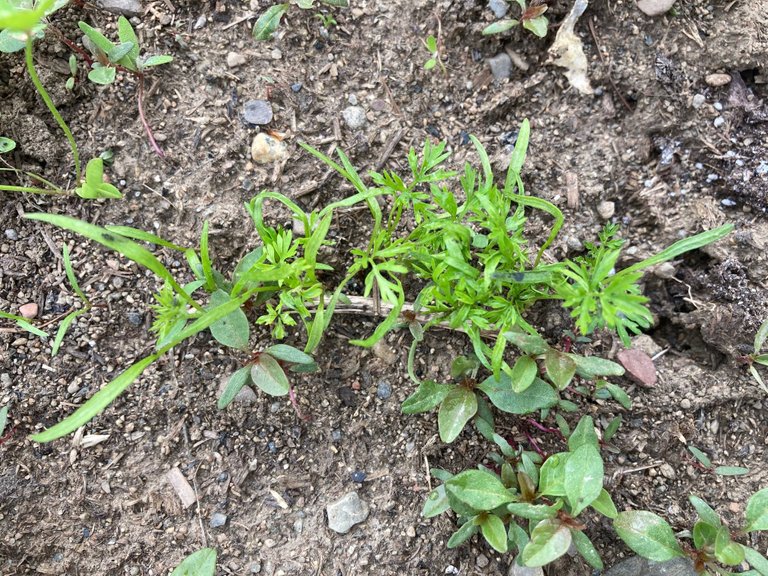 There is no taste I enjoy more than freshly pulled, home-grown carrots. It takes me back to my grandma's garden, much nostalgia. I remember plucking a couple baby carrots from her rows and sitting under the pole bean tee pee for a secret snack. I miss those days!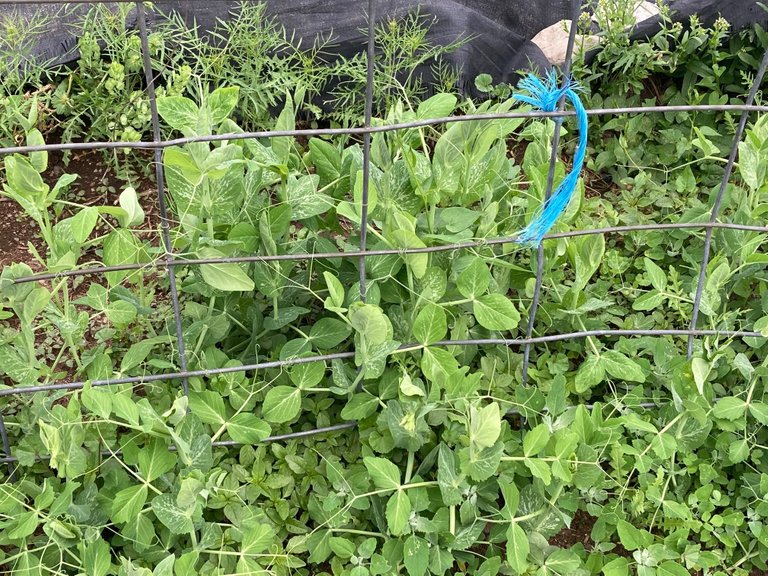 The snow and snap peas doubled in size this week, I hope the double yet again this coming week because I noticed a bloom on one of them and the vines are nowhere near the size they should be yet.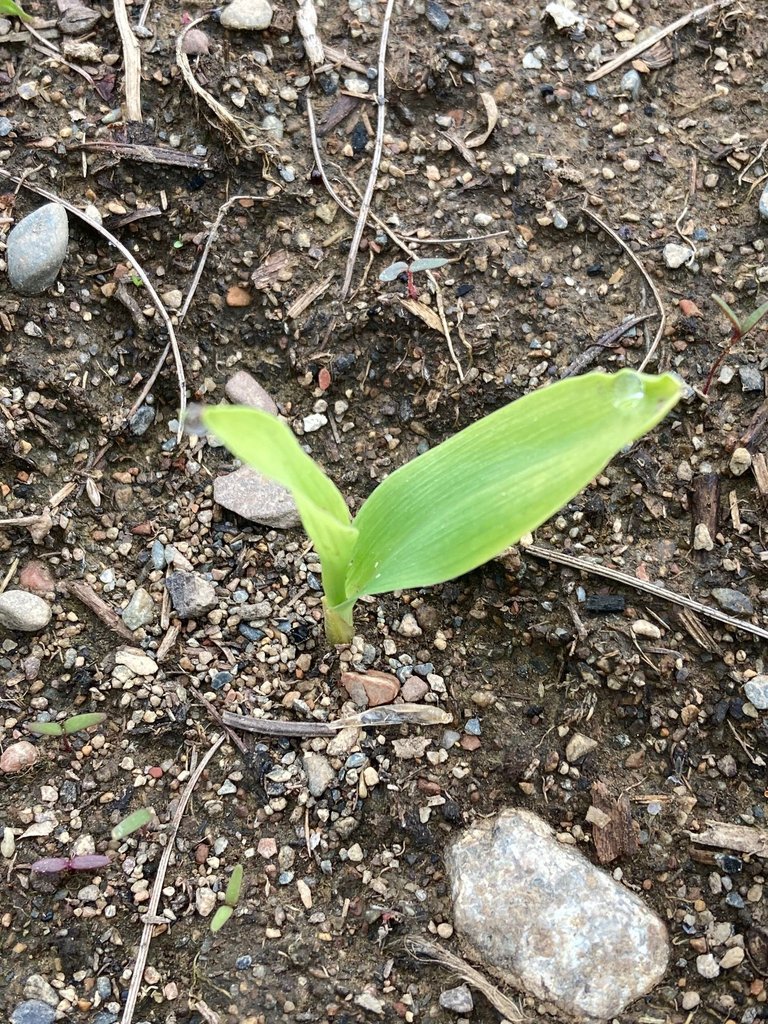 Finally, as I was fertilizing the rest of the garden I had a smiling fit as I beheld my baby corn sprouts. With all the rain I took a gamble and stuck the corn in during a brief lull in the deluge. I did soak the seeds so they would germinate faster, and thankfully they did, I was a bit worried the corn seed was going to rot rather than germinate.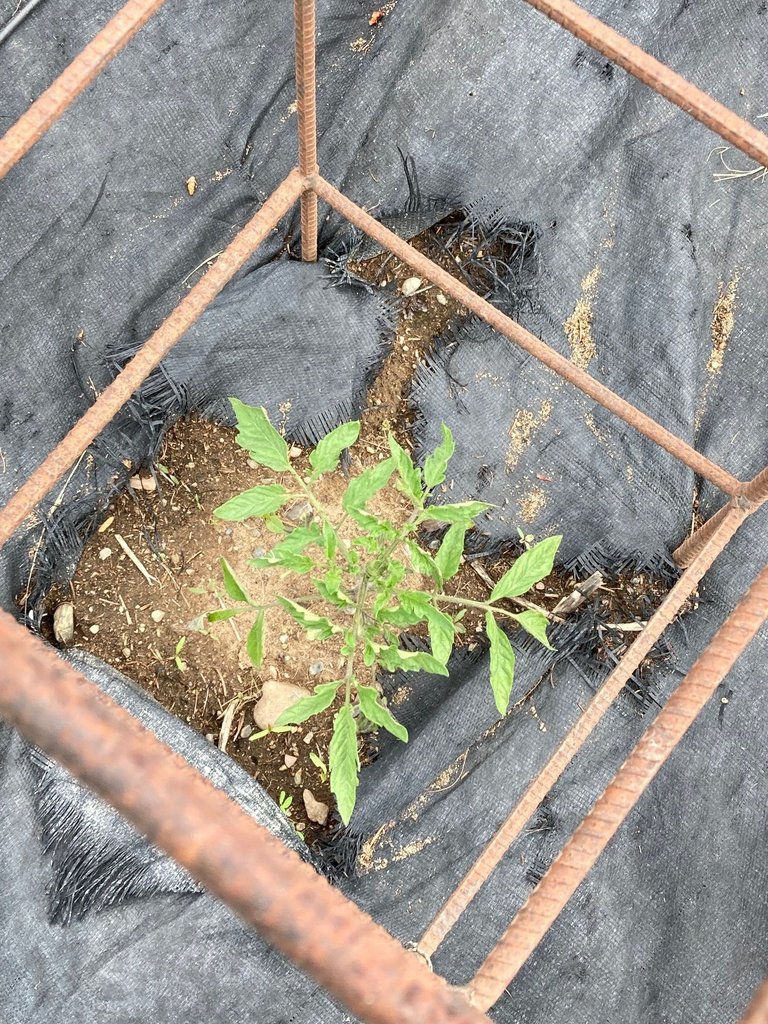 Finally, the tomatoes and squash/pumpkins are all coming a long nicely, just a bit delayed like everything else. I mean it is the second half of June and things look about like they usually do around the end of May.
---
One thing for sure, it's going to be an interesting growing season!
---
And on that note I better get too it. Maybe after putting a bunch of Tiger Balm on my smarting leg that is.😉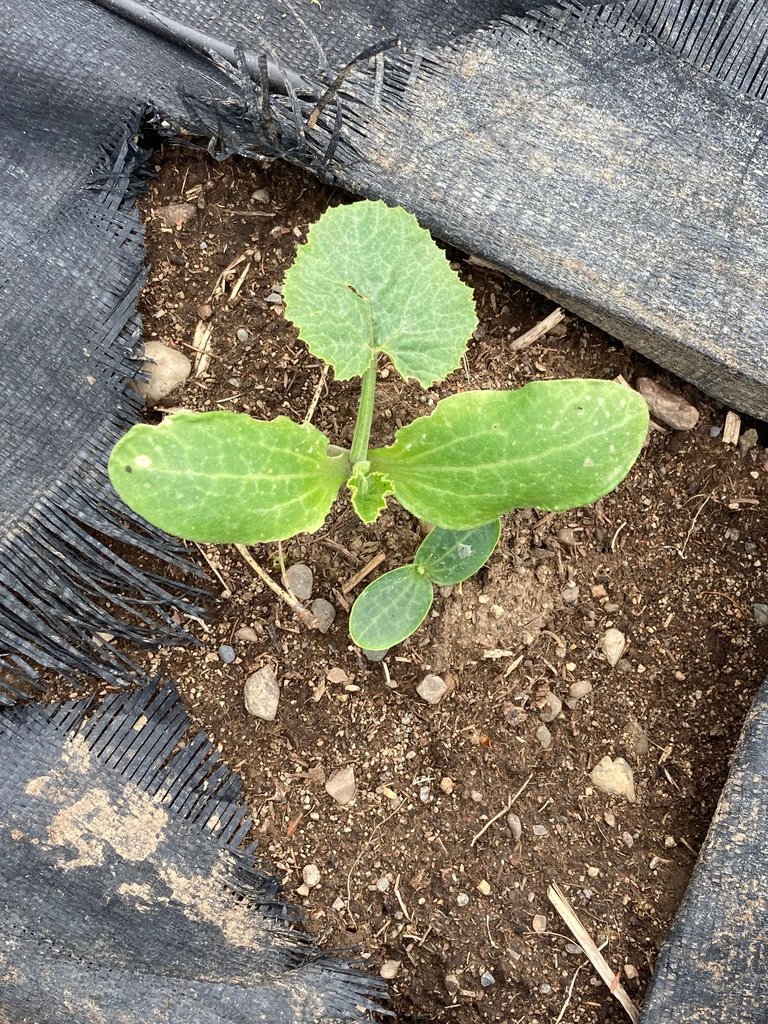 ---

---
And as most of the time, all of the images in this post were taken on the author's well-traveled, never addled, and currently soil accessorized iPhone. The text divider image was made in Canva.
---
---
---