The Flicker Haven Farm Files-The Remains Of The Hay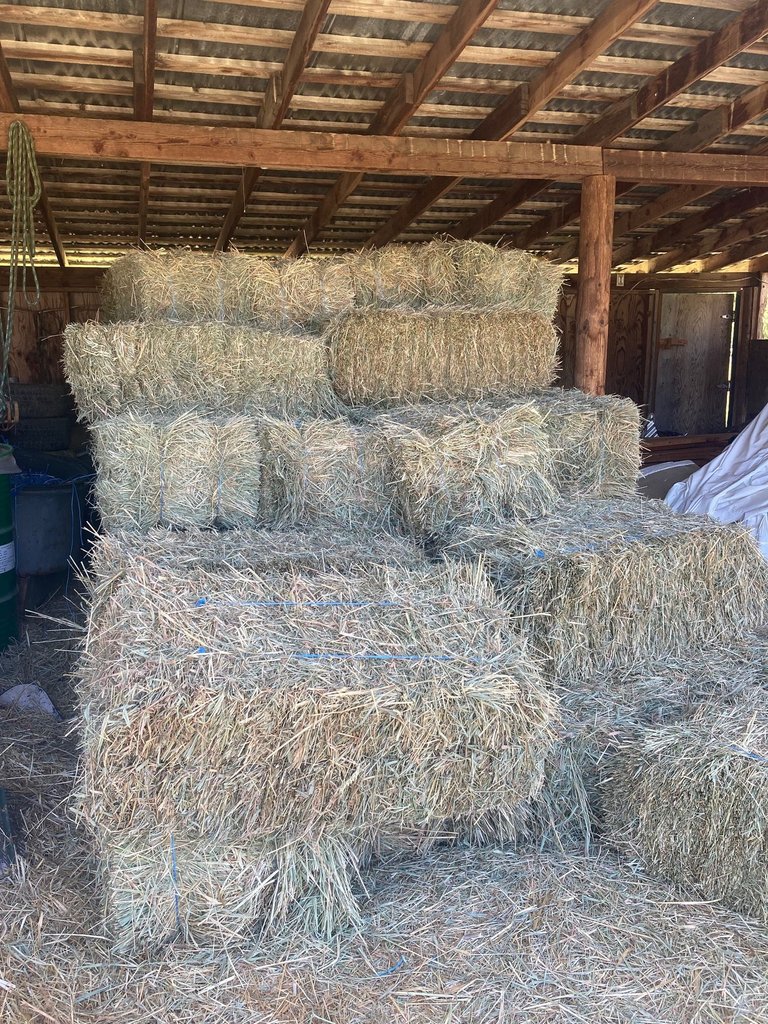 ---

---
Kat Note Of Explanatory Explainingness: From 6AM this past Saturday morning until 6:30 PM Monday night, I went through a roller coaster of existential craziness. My proceeding blog post just covered the pig part of the three day period, here is the rest of the saga...

After the great Pig Recovery Mission was accomplished satisfactorily, my boy and I were pretty sweaty and exhausted. The mercury was hovering right around 100 Fahrenheit, and I was looking forward to a little siesta in my nice, cool abode.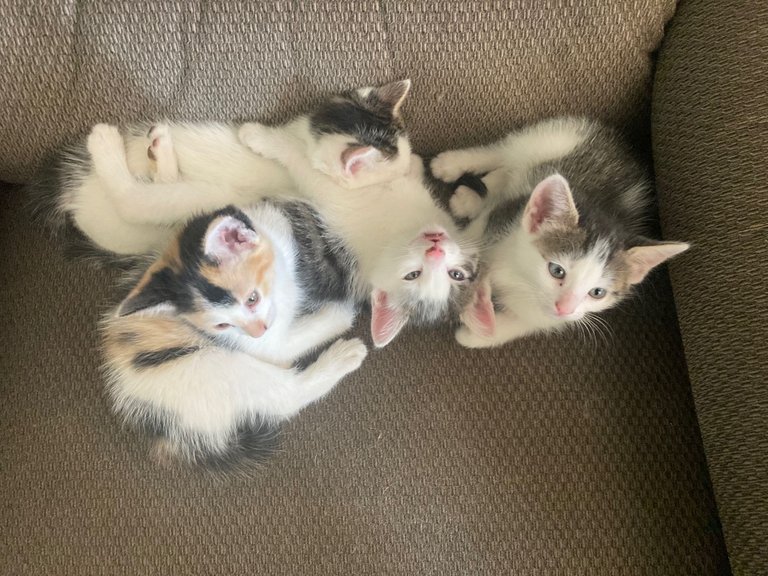 I wish to be this sedate at some point...
I had just sat down and was sipping some ice cool lemon water when my hubs called. He was up north in Montana haying a multitude of fields. I was supposed to head up north and help bring in the hay with a crew later in the week.
"I need you and the boy." was all that he said. He didn't have to say anything else, for he had a tone that just about broke my heart. When people you care about sound beat down by circumstances, the first instinct that you have is to dive in and alleviate some of the load. Well, it's my first instinct anyway.
I'll be there soon, was my reply.

Now, I had a couple of issues. One, my son was supposed to work the next two nights. He's only fifteen so he works a few hours bussing tables and washing dishes in the evenings most weekends at a local resort. Thankfully, he has the best boss ever who knows life happens and was super understanding about our emergency. Plus, one of my boy's coworkers picked up his two shifts.
My daughter works at the same resort, and was at work, so I wrote up an animal care list and stuck it on the fridge because of course right now we have a ton of baby animals about the place that need extra care. My girl is beyond competent though, so I didn't even pale at the thought of leaving the farm in her hands.
My son and I had ourselves packed and ready to go in a few minutes, we just had to wait for my daughter to get home from work as she had taken my car. We left the farm at a little after five.

The drive up north takes about two and half hours in the summer, we made it in a little over two. The boy and I arrived at the place at close to nine PM and went straight out to the hay fields. He and I loaded an entire fifth wheel trailer (over 100 bales of hay) in fifteen minutes, went and stacked it in the barn, and were back in the cabin by 10:23.
Both of us were exhausted by this point, because even that late at night it was still pretty hot.
Now the reason the hubs had called us was two fold. Mainly it was due to the fact that he had over 800 bales of hay baled and the forecast was calling for rain Monday night. After doing all that hard work haying, it SUCKS to lose any hay to rain. Not only that, my hubs is paralyzed in one leg and has a destroyed back. He is also almost sixty. Not that you'd know it nor would he ever complain about anything, but lifting and stacking hay is a big no no for him.
Another reason is that the people who own the place, hay, and equipment didn't get a crew for me. They thought their ranch caretakers could put the hay away. It's hard to imagine how much work putting hay in is until you go through it, so now they know why I said I needed a crew.
But in the meantime, my son and I were the crew, because the hay had to be put in.

So that's how, with my hubs driving the hay truck, my son throwing bales on the trailer, and me stacking it, that we put in several tons of hay in a forty-eight hour period. The only time we stopped was during the hottest part of the day, from 11-4 because it was 100 degrees out and after stacking hay all morning we needed food and a breather.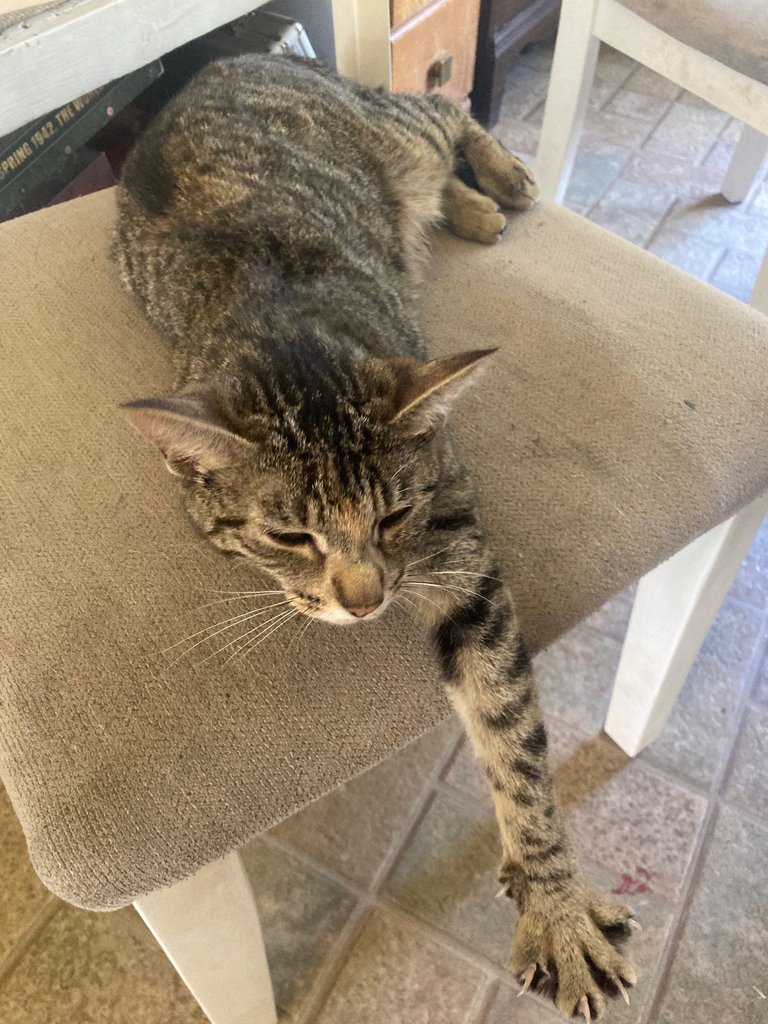 Accurate visual representation of my tiredness.
And as if we needed any more excitement, but to top things off, with all the record breaking rain we've had this year, the fields were a bit soggy as they are right next to a lake. The poor ranch truck would really labor as the trailer got full of hay, so we only went three rows high (about 100 bales). My poor hubs thought he could get the truck out onto the road through this one part of the field, instead we got stuck. Thankfully he didn't gun the engine and bury us, but we did have to engineer the unstuckening. My hubs walked down about a half mile to the tractor, brought it back, and while he was doing that, the boy and I filled the hole under the trailer hitch with rocks and placed a long log off of it so we could use the power of displacement to get the trailer up off of the truck. Then we had to pull the truck out with the giant 120 horse tractor.
After the truck was free, my tractor operating genius of a husband put the tractor arms under the gooseneck hitch and pulled the trailer with the massive tractor out to the road so we could reattach it to the truck. That little time delay was a bit annoying, but thanks to the power of teamwork (and not freaking out or yelling) we were able to get that hiccup sorted quickly.
Don't think that we weren't annoyed about it though, there was a bit of grumbling. Okay, and mocking. In our family it is a sign of affection to roast and get roasted.

Thankfully, the owners found a crew to come in later in the week and the forecast said the rain was pushed out too. I'll never forget how happy I was when I heard those words. My legs and arms are a scratched up train wreck, and even though we had my dislocated thumb taped, it did it no good lifting that much hay for sure.
We also made two trips back to our farm during that time from up north, so on top of all the hay stacking we drove about 1000 miles on Sunday and Monday. We brought down a load of our hay and took back a huge hog house ours for the ranch owners on the flatbed trailer. By that point I had started viewing life in fifteen minute increments:
Get the pig house loaded, unloaded, put the tractor away, stick the baler in the equipment shed, clean out the cabin, drive home.

My son, being fifteen and in possession of the boundless energy of youth, bounced right back from all the labor. Me, being in my fourth decade of life, while pretty happy with the fact that I can still work like a heathen, am a little bit worse for wear. I mean, all said and done I lifted around twenty-four tons in forty eight hours, along with the pig stuff, the driving, and everything else.
But it was all worth it, because of the smile of complete gratitude that lit my husband's face when we pulled into the field on the ranch four wheeler to get to work.
---
That said, I really do need at least thirteen more naps...
---
---

---
And as most of the time, all of the images in this post were taken on the author's hay dust covered and exceedingly well-traveled iPhone. The text divider image was made in Canva.
---
---
---