[ESP-ENG]Adicta - Poema original /Addict - Original Poem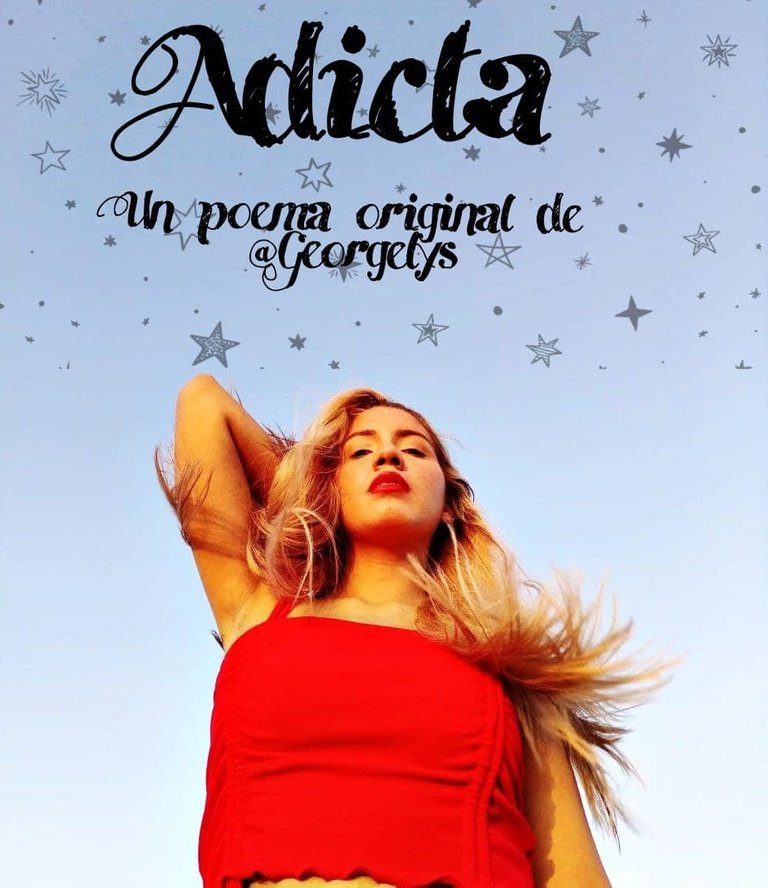 Hola hivers, tenía mucho tiempo sin escribir un poema, así que quise romper el hielo publicándolo para ustedes,y así comenzar nuevamente mi faceta de escritora, espero que lo disfruten.
Hello hivers, I had a long time without writing a poem, so I wanted to break the ice by publishing it for you, and thus begin again my facet as a writer, I hope you enjoy it.
---

Adicta
Como si de la droga más adictiva se tratara,
estuve en rehabilitación por ti,
mi cuerpo paso por fiebre, mis manos por temblor,
el ánimo se hizo añicos por alejarme de vos,
las lágrimas se desbordaban
pasaban por mis mejillas,
hasta depurar la última pizca de lo que yo llamaba amor.
…
Como si de la droga más adictiva del mundo se tratara,
me consumías hasta la destrucción,
tan divino el éxtasis de tus labios y tan miserable el costo del amor.
...
Adicta andaba por las calles,
buscando eso que me recordara a ti,
a tu olor o a la costumbre de estar contigo,
que en las noches de frio no me dejaban vivir,
por esa angustia en el pecho de estar contigo o dejarte ir.
...
Como una adicta a la mala vida,
mis pensamientos se cansaron de mí,
por siempre meterte en el medio de ellos,
como película sin fin,
sin razón alguna, solo para sufrir,
por un amor que no me conviene
y una herida que no termina de abrir.
...
Quiero sudar tu olor,
quiero llorar tus caricias,
quiero ver en sol una oportunidad de alegría,
que no sea empañado por mi vicio,
de seguir estando en tu vida.
---

Addicted
As if it were the most addictive drug,
I was in rehab for you,
my body went through fever, my hands through trembling,
my spirits shattered from being away from you,
tears overflowed
they ran down my cheeks,
until I purified the last bit of what I called love.
...
As if it were the most addictive drug in the world,
you consumed me to destruction,
so divine was the ecstasy of your lips and so miserable the cost of love.
...
I was addicted to walking the streets,
looking for that thing that reminded me of you,
your smell or the habit of being with you,
that in the cold nights did not let me live,
because of that anguish in my chest to be with you or to let you go.
...
As a bad life addict,
my thoughts tired of me,
for always getting in the middle of them,
like an endless movie,
without any reason, just to suffer,
for a love that doesn't suit me
and a wound that doesn't end up opening.
...
I want to sweat your smell,
I want to cry your caresses,
I want to see in the sun a chance for joy,
not to be tarnished by my vice,
to continue to be in your life.

¡Gracias por leer!/Thanks for reading!
---
---