Splinterlands Blew My Mind Today!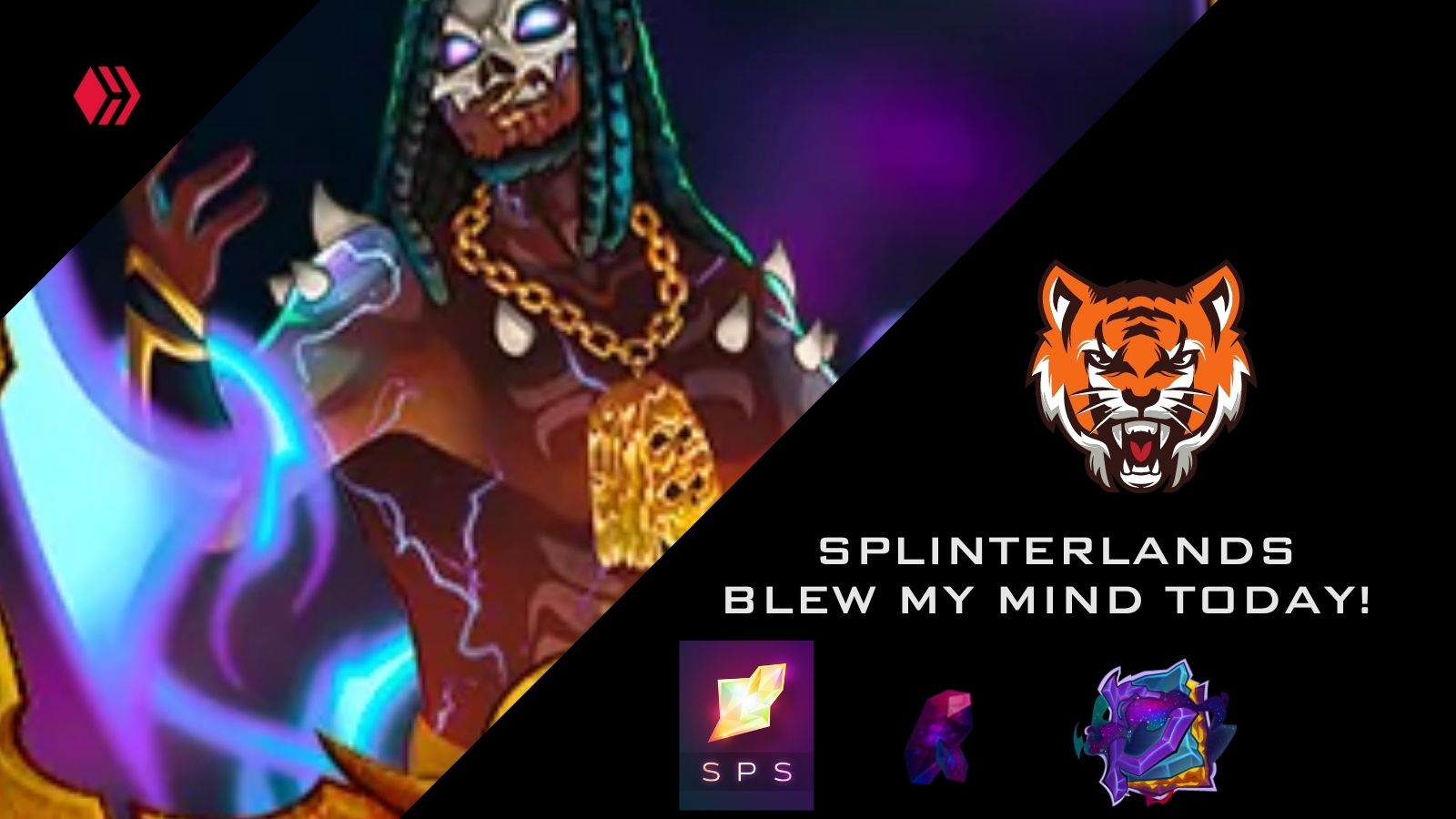 *Images from this post are from the main Splinterlands announcement here > https://www.splintertalk.io/@splinterlands/waka-flocka-partnership-announcement
Splinterlands is my all time favorite game out of them all here on hive and well really across all block chains. Be it that maybe it's because I have so much capital in it makes it more enjoyable than other games on Wax etc. I struggle in but I find it rewarding and fun and not a huge time sink which is the perfect fit for me.
Splinterlands Announces Waka Flocka Partnership
I was curious about the details of what this partnership would be and how it would help expand Splinterlands and drive in value. I have to say I'm not disappointed.
Expanding Reach
Not only is it a new card for the game but there's a good bit of marketing to millions of new people. From what I have been able to gather so far the game will be promoted at the start of each concert just before they hit the stage. (I'll be honest with you though I'm not sure many of these people will be loading up their phones to download splinterlands or remember it. Most will be wasted or high lol) who knows though.
These cards also come with a snapchat filter. This filter being used has the potential of word of mouth/ social capabilities to promote splinterlands.
To me this is the coolest part of all of this. The ability to start really marketing a Hive project and play2earn game to the masses and get people involved. The onboarding process of Splinterlands is one of the best. $10 and you get a hive account with enough resource credits. It also introduces you to Splintertalk.io where you can share your battles, strategies and connect with others who love the game. You can even buy some artwork NFTs here but not only that also earn your first ever layer 2 hive token called SPT. A great introduction to the hive ecosystem and getting people involved with hive as well.
It's these things that will shape the future of hive not some random marketing efforts on a very poorly designed UI with one of the most complicated onboarding processes ever. (which for some reason our DAO still supports)
What We Know
The store will open at 12pm EST or 17:00 UTC on February 24th, 2022. There will be a total of 500 cards being sold in the all new voucher store. 480 of them being regular foil and 20 gold foils. The other 500 are sold out on the store; the other 500 will become available on Wax (atomic hub) which makes perfect sense as there's a huge gaming community there. I'm unsure of what cost they will be listed at on this marketplace however. This new value is going to push Splinterlands quickly into the tops again meaning people are going to get active in the game and start buying. (most likely).
That's a total of 1,000 cards only!
The total cost on the Splinterlands store will be 5,000 SPS and 500 Vouchers.
That means 5,000 SPS x $0.15 = $750 and 500 Vouchers x $2.53 = $1,265 per card! I'm sure prices will bump up higher however as SPS and Vouchers start getting bought and used.
This also means that at least 1.2 million dollars in buying power will be generated from this promo.
The card itself will be maxed leveled when buying it. Cost 3 mana to be played and a rather powerful perk of poison ability which gets applied to ALL cards in the battle. This ability gives all of your monsters the ability to poison upon attack at a 50% chance.
My Closing Thoughts
I'm sure this isn't the last of these types of partnerships which is why I say when you catch a low where there's not much going on and the price of Vouchers and SPS seems like it's at an all time low. That's when you buy and stack like crazy!
This announcement came just an hour ago and I'm sure many people don't even know about it yet. Not only that but we are also a good 10 days away from the drop. I'm sure we will see another dip a few days from now and then a huge burst will come on release day. Keep in the know on these things and buy/sell accordingly and you'll be in good hands I believe.
Personally, as much as I want this card, 500 Voucher might be out of my reach. I'll for sure have enough SPS. What I might do is simply stack and sell vouchers for SPS later after the hype dies down. This should bring me faster towards my target of 1 million SPS by the end of this year. I'll sacrifice not getting the card sadly but it will set me up better for future cards and promotions. Hmmmmm so many choices and decisions. FOMO in on the hype (because it's real lol) or be a responsible person and stack lol
Will you be getting one of these cards? Let me know in the comments about why or why not. I think they are pretty lit to be honest and the snapchat filter is pretty freakin cool!.
---
---