||NEWBIE INITIATIVE TASK 1|| GOAL SETTING, A FUNDAMENTAL BASIS FOR EVERY NEWBIE ON THE HIVE PLATFORM|| MY GOALS SET FOR THE NEXT 3 MONTHS||
GOOD DAY WONDERFUL HIVIANS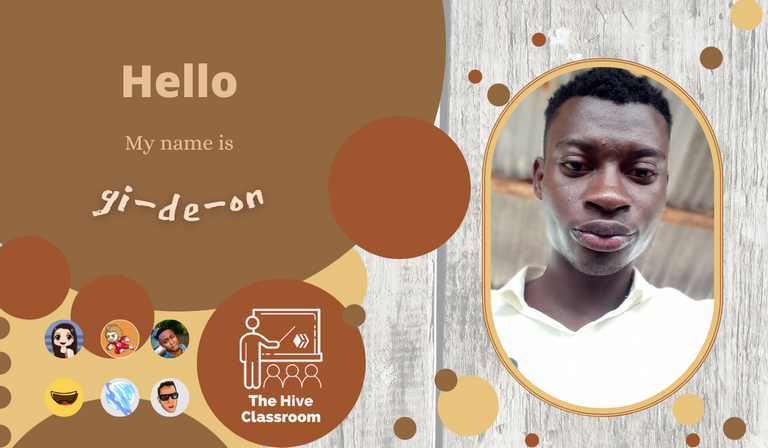 edited by @projectmamabg
---
My profound gratitude to the @newbie-hive for giving me this opportunity to be part of this wonderful program. I am very much pleased to be carrying out my first task which is simply is about GOAL SETTING.
I will like to also express my sincere appreciation to the @hive-learners community for their continued support to the newbies and most importantly, their always educating post to always inspire us and hence help keep ongoing.
The purpose for my writing this post is simply to convey to you all both my fellow newbies and to also the entire administrators of both the @newbie-hive and the @hive-learners communities. To show that I have actually read and understood the tutorial posted earlier on by @starstrings01 which was very much helpful. I must also say big thanks to you sir for your wonderful explanation on goal setting has inspired me to make this post also.
For a start, I will like to therefore supply my answer to the first question that was asked stated below.
First of all, I will like to draw your mind to the meaning of the word Goal. My own personal opinion on this will simply be a goal is therefore a specific target/level an individual set for himself to achieve over a certain period of time.
---

What are your Hive goals by the End of the Initiative (In 3 months) in terms of Hive Power, followers, comments & engagements, and any other Hive related goals you have in mind?

---
Therefore, from the above, I will start by saying that my Hive goals as a newbie is therefore stated below.
As a newbie, When I joined the platform on a very fresh basis, I had gone through numerous accounts and what I saw really made to want to work even harder on a later note I heard about this newbie program for learners, there and then I knew my goals on this platform will come to pass.

Within these three months of being part of this newbie initiative program, I will like to get a HIVE POWER OF 1000*. With this in mind, it can be achieved through me seriously making original and exceptional content, commenting and interacting with fellow newbies and other authors, by taking part in the activities of various communities, which might be contests, projects, etc. Since I presently don't have the hive power to curate on contents, I will say this goal of having an HP OF 1K, will come to pass for me for I am currently on a hive power of 48, hence, through my constant participation in content writing and others, So the distributed rewards from each post written which comes in HIVE DOLLAR which will be later converted to HIVE will enable me to get to my target not leaving behind the fact that I will also be doing some POWER UP from my accumulated reward to boost this process and help me achieve my set Goal through God helping me.
---
That all is for The hive power, Comming to talk about my followers. I will like to have up to 200 followers at the given interval which is 3 months. This can be broken down to say in a day I will like to get a total of 3 followers, and when this is multiplied by 3 months I will get more than the set goal which is 200 followers. This can be achieved by consistently creating original and good content, consistently commenting, and supporting others.
---
Furthermore, I will like to make at least 10 comments in a day on the contents created by other members, which can be achieved by consistently being participatory in activities that are been organized.
---


Having said all that, I will therefore move to answer the next required question which is; How do you plan to achieve them?.


---
As earlier stated, there are diverse ways of me achieving these Goals which are therefore listed as follows.
First of all, I will take this to God in prayers to give me the strength to help me complete this set goal. For God is the center of everything, so he can help guide me towards achieving this aim.

Then, I will have to put everything into work. Therefore creating content that will catch the attention of my readers and hence amount to me receiving a reward.

Also, Outside me making content in the @hive-learners community, I will also look for other communities that best suit the type of content I create and try to make myself part of that community.

By continuously participating in contests that are set by various communities with which I am part, this can also help me achieve my set goals.

I will further try to engage myself and actively participate in activities and tasks given by the @newbies-communitie.

In addition to all this, by actively participating with other authors and newbies in the community.

Last but not least, I will try to be actively reading and commenting on other contents created by both my fellow newbies and also the admins of both communities, (i.e the @hive-learners and @newbie-hive communities.)
Hence, I will say if I consistently follow these laid down ways of achieving my goals, everything will work out well with God's help.
---


Furthermore, answering the last question which was asked as stated; What challenges do you think you may likely face trying to attain these goals?


---
This is a really interesting question to deal with. You will agree with me that there is nothing good which comes easy. Before something really wonderful, good, and meaningful can happen in one's life there have been hurdles, struggles, many circumstances, and lots of sacrifices that have been paid for such things to be achieved.
That is therefore no different from this. Having set all these goals and ways of achieving them, it is very important to think from a negative angle too as has been done for the positive aspect of it which may help you prepare better to face whatever may come in the process of achieving those goals.
So, therefore, after giving this much thought, I therefore think the listed factors below can therefore hinder me from achieving these goals.
Plagiarism: We all know plagiarism is indeed a very serious offense here on the hive platform. So I must say if I am been caught in the act, this will definitely hamper my hive growth and hence put a bad reputation to my name.

Also, another factor may be, the creation of lowly rated contents: Contents which are not fit or worthy of reading nor curating. And hence once I have published a post that is lowly rated, this will therefore amount to no vote and also getting my post being muted.

Again, one of such hindrances may come as a result of me disobeying the rules which the newbies are guided by, refusing to follow instructions may lead to me being kicked out and hence my goals not achieved.

Also, Portraying a nonchalant attitude towards work: Refusing to participate in the given task for the newbies and also refusing to participate in any given contest or exercises from other communities can hamper my goal achievement.

The use of Abusive terms/words can also get me fined/penalized and hence reduce my achievement rate in this ongoing program for newbies and when this is done my goal will be delayed and can even be affected too.

Also, one very important thing I will like to add is when I refuse to power up some of my earnings, then my goal achievement rate will be reduced and slowed. For Heaven helps those who help themselves. So by me trying my little best to help myself grow my account by powering up will be good but if I refuse to do this my goal will be slowed and sometimes not achieved.

One factor that can also hinder me from achieving my goal is when I refuse to be participatory; i.e consistently commenting, upvoting, and supporting others can also reduce my chance of me being noticed or cited by some whales on the hive and this might slow my goal.
It is on this note I say I will therefore do my best to mitigate all possibilities of me not achieving my set goals on this ongoing newbie initiative program Through the help of God.
---
And I, therefore, pledge to be consistent in all ramifications on the hive platform and also on the newbies initiative task to help me achieve my goals.
---
Thanks Everyone for Reading
Best Regards from @gi-de-on.
---
---