Splinterlands FREE Card GIVEAWAY and Legendary summoner RAFFLE
Hey y'all! Gigas here to announce a new GIVEAWAY!!
Not only that but I'll tell you later in this post how to win prizes during my #LIVESTREAM! Found here
But first! Do you like #RAFFLES? I do!!
If you do then follow this link https://discord.gg/8zTbEnjdDZ Tickets are only $2 USD via paypal or Crypto like 2000 DEC!!! I'm hoping to win all 3!!!
Please tell me what you think about it! Good, bad, and everything in between.
Now do you love prizes? OF COURSE YOU DO!!!
Prizes you can win include
1 card of a random splinter (including dragon)
Between 1-500 DEC
Free spins (2 total. This means hit this and you get 2 prizes)
Bankrupt! You lose!
More prizes will be available once land is usable in-game!
Rules
The cost to play is 100 DEC (used for funding future giveaways and prizes)
You must comment during my livestreams every Mon, Tue, Thurs at 7PM EST Fri and Sat at 4PM EST BEFORE SENDING THE CHALLENGE PLEASE!
You can only win prize/s one time* and you can only challenge 2 times if you lose the first time.
Only those that are below diamond rank can enter (Since I'm only a gold level player. Sorry but if you're in diamond+ you probably have way better cards than I do! XD)
Now let's talk about what you can win for simply leaving a comment on this post!
(winner will be chosen on 6/24 during the stream)
You do not have to Upvote or Share but I would greatly appreciate your help to get my stream more attention!
Speaking of my stream you can watch me HERE
The prize for this giveaway is.....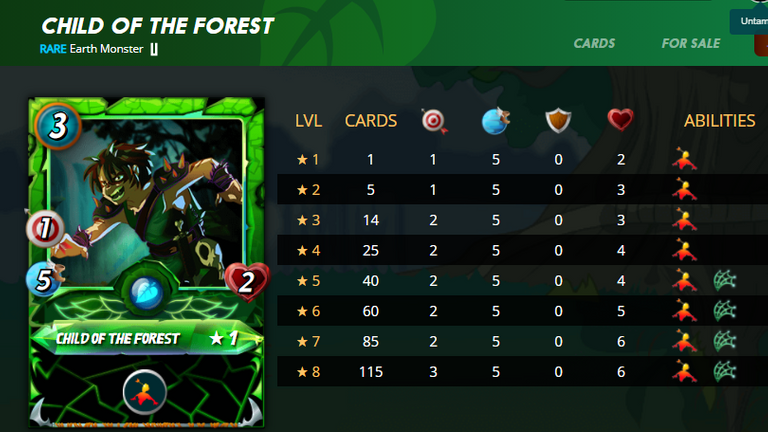 The Child of the Forest is a high hitting, low mana card when you give it a couple of levels! I love ranged fighters and having the sniper ability makes this child is DEADLY! Snatch this guy up for free by simply commenting!!
If you wanna tag a couple friends go for it! It all helps me out immensely!🤑🚀🚀🚀🚀
---
---