Are you playing Stardomplay? [ENG-ESP]
Today I invite you to a Stardom Play game where you can start without investment, or if you want to grow in this area, invest by buying your Stardom tokens through the Hive-engine platform. Here is my referral link. Click on the image, and it will take you to the game.
Hoy te invito a un juego de Stardom Play donde puedes empezar sin inversión, o si quieres crecer en este rubro, invierte comprando tus tokens de Stardom a través de la plataforma Hive-engine. Aquí está mi enlace de referencia. Haz clic en la imagen y te llevará al juego.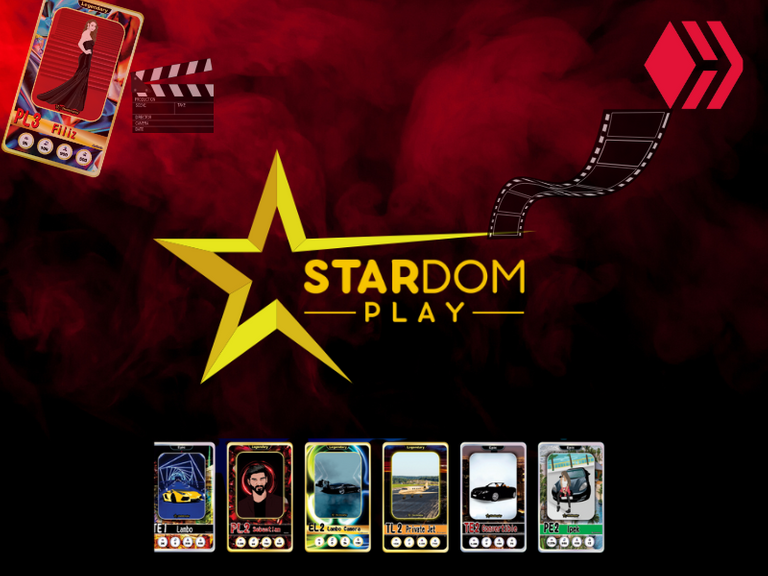 Created Canva.com
---
Stardom Play

Stardom Play

---

It is an online game that is on the Hive platform. You have NFT cards and play as a single player. The Stardom Play has two tokens, one for governance and one for in-game.

Es un juego en línea que se encuentra en la plataforma Hive. Tienes cartas NFT y juegas como un solo jugador. Stardom Play tiene dos fichas, una para la gobernanza y otra para el juego

.

---

Stardom- Pro: Governance Stardom: In-game

Stardom- Pro: Gobernaza Stardom: Juego

---


Created Canva.com

---

The cards:

Las cartas:

---

These NFTs will be your prized assets, and utilizing them, and the coins are your investment. Using it, you can advance faster in the game depending on the level of rarity you find Common, Rare, Epic, and Legendary.

Estos NFT serán sus activos preciados, y utilizarlos y las monedas son su inversión. Usándolo, puedes avanzar más rápido en el juego dependiendo del nivel de rareza que encuentres Común, Raro, Épico y Legendario.


Game screenshot

Game Rules

Reglas del juegos

---

You must not have multiple accounts. Each player will have one account per IP address..

No debe tener varias cuentas. Cada jugador tendrá una cuenta por dirección IP.

Created Canva.com

---

Steps to log in and start playing the game

Pasos para iniciar sesión y comenzar a jugar el juego

---

Click where it says connect to your Hivekeychain wallet - .

Haga clic donde dice conectarse a su billetera Hivekeychain.

Enter your username. Note if you do not have a Hive account create one..

Ingrese su nombre de usuario. Tenga en cuenta que si no tiene una cuenta de Hive, cree una.

Created Canva.com

You will see this screen where you can see the energy, ego, the missions you have to do.

Verás esta pantalla donde puedes ver la energía, el ego, las misiones que tienes que hacer.

Created Canva.com

Click on the blackboard. Wait until the time ends, then click again until the energy runs out.

- Haz clic en la pizarra. Espere hasta que termine el tiempo, luego haga clic nuevamente hasta que se agote la energía.

Created Canva.com

You will be able to observe that this game is to take to the fame of the protagonist. So if you like youtube, ticktok, and Protagon, this collectible card game is for you..

-Podrás observar que este juego es para llevar a la fama al protagonista. Entonces, si te gusta youtube, ticktok Protagon, este juego de cartas coleccionables es para ti..
---
---