Splinterlands Analysis: My Second Full Rental Season in Silver League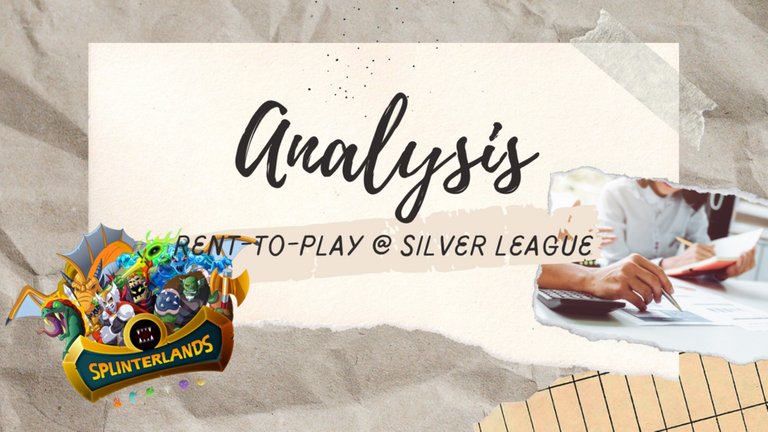 Hello everyone, I am back with another season breakdown and analysis of my full rental strategy. Compared to my previous season, I have done some things better but I am still not in the green yet. It seems that rent-to-play isn't very easy in the current climate. You have to be very smart with renting or you might as well just purchase cards and play with them so you don't have to pull your hair out trying to figure out an excellent rental strategy.
As I am set to explore this part of the game though, I am here to bring you consistent reports or journals on my rent-to-play journey over here in Splinterlands. Without further ado, let's dive into what I did and how I did last season.
---
How Do I Rent?
Focus on Chaos Legion & Riftwatcher Cards. As there are "CL only" tournaments out there, I find myself renting a lot of CL and RW cards because they are available in every format (besides "Alpha only" tournaments, which I didn't play). I still play these tournaments but with a different mindset. I am there to earn some extra SPS but not see them as an essential source of EV.
Be picky about other versions of Modern cards. Going with the same logic in terms of "format availability", I am only renting modern cards and using them to play both wild and modern formats. It's enough to win a good amount of matches in the silver leagues of both formats, as many accounts (I use accounts to include both humans and bots) are not running leveled cards. I have entirely left out Wild cards because they are simply not played enough for me to consider adding them. I can agree that they are very fun to play with, though.
If the max level cards (at Silver, so 5/4/3/2) cost like 10x to rent than the cards one level lower, consider not maxing on levels. This rule was followed since my previous reported season and I was being even more frugal with this rule. In the past season, I was more willing to give up on important stats like damage just so I could rent the cards at a much lower price. It's not the winningest strategy, and it hurts tournament performance, but it's a +EV move in my situation.
---
Result
Shoutout again to this generator, I can show you all the results with ease.
For comparison purposes, this is my report from two seasons ago.
As you can see, I am not in profit yet, but I reduced my losses by cutting down on total rental costs. I would say this was the most significant change in the statistic of the two reports. I was on ~5,000 DEC per day back then and now 1,800 - 2,000 DEC per day.
Aside from that, I only see a few things that stand out among the statistics. I know I have been rather unlucky with my chests. I have gotten more potions now than in the last season. Potions are helpful for the whales but useless for me as a budget player with no intention of opening any pack.
I have yet to get any CHAOS packs from reward chests so far, and I am hoping I can get some this season. I see CHAOS pack and legendary reward cards to be the best reward from the chest. I might even argue that I like CHAOS pack more than legendary cards because it's a consistent ~4 USD value that will only go up further if all the packs are sold out. It's a safer asset than the legendary cards.
---
Mistakes
1. Not Grinding Both Leagues to Silver I
One thing I need help understanding about my results of the latest season is the low SPS earnings. I have checked the reports of other players just to figure out the range, and most of the Silver players are earning 70-120 SPS, whereas I only have a meager 30 SPS in reward. I don't know if this has anything to do with me not playing both leagues to Silver I though, but I am assuming it is at the moment.
If any one of you who read this can figure out a valid reason, please tell me in the comment.
2. Still Not Playing Enough
I did not expect my life to be so hectic in the past two weeks. I did say I will grind more in my previous article but there's only so much time everyone has every single day.
3. Going Up in League Too Slow
I think it's imperative to go up in leagues right away on day 1 or day 2. I missed the golden timing as I was too busy in the first two days of the season, which really hurt my overall reward.
---
Adjustments
1. Extreme Rental Budgeting
I have checked out enough reports of other players in Silver to know that 2,000 DEC per day of renting is still too much for the Silver league. As such, I will be going further into cutting my rental budget. After two seasons of playing, I believe I had enough knowledge to pick up the absolute key cards to rent. I think I will cut down on the number of summoners I will be renting per color too. I liked the flexibility of having multiple summoners per color, but it's obviously not a wise financial decision.
2. Make Silver I in Both Leagues; Consider Gold III on the last day for Gold Seasonal Chest Next Season
I am rushing to double Silver I this season to see if it solves my low SPS reward. I am also thinking of hitting Gold III on the final day just so I can grind for gold seasonal chests next season. I am still determining if it's a good decision, taking the SP amount per chest into account. The thing that makes me want to try this at least once is the much higher CHAOS pack drop rate at the gold leagues.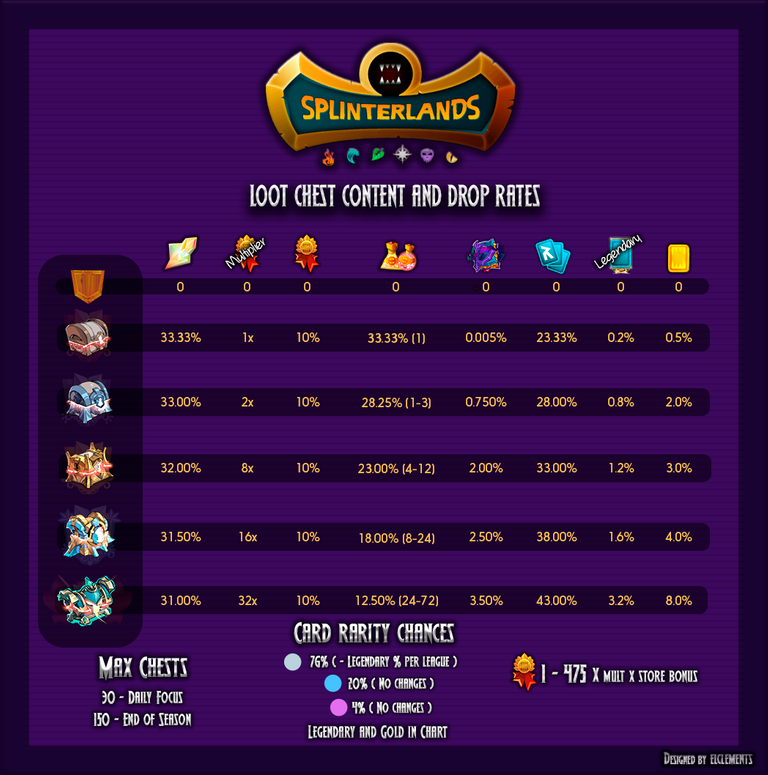 It's 2% in Gold compared to only 0.75% in Silver.
3. Keep my Energy Capture Rate At the 70-80% Range
One thing I learnt from my life at the moment is that I cannot consistently play this game every day. As such, my current approach of keeping my energy high at 90%+ and trying to play the game multiple times per day is not smart. I have wasted many hours of my energy at 100% because I am too busy with my work. I think I am going to cut my energy down harder when I have the time for it. This way, I can not play for a day and my energy still won't get to 100%.
---
That is all from me today. I have learnt a fair amount of things in just two seasons of renting and I look forward to finally seeing green at the end of this season.
If you are not yet a warrior of the Splinterlands, grab your ticket and join us!
---
---