Hashkings-Mundovirtual, Analizando la Economía de HashKings |Analysis of HashKings
Saludos amigos
Con más de un año, HashKings se ha convertido en los últimos meses en uno de los juegos más interesantes en la Red de Hive, aunque entré mucho después que se realizó toda la venta inicial de los primeros NFT, la cual fue muy provechosa para quienes tuvieron la iniciativa y oportunidad de comprar en ese momento.
Puedo describir la economía de HashKings enmarcada en un pequeño ecosistema, sostenible en el tiempo, con economía real, es decir, rentable para los DEV y para los jugadores, con varias formas de entrar, esto es posible, pues tiene varios productos de integración e interacción, pero además de esto, están en constante desarrollo a través de actualizaciones lo que proporciona nuevas oportunidades de crecimiento en un ganar-ganar.
"Hello friends"
"At over a year old, HashKings has become one of my favorite games, although I joined long after the initial sale of the first NFTs was done, which was very profitable for those who had the initiative and opportunity to buy at that time."
"I can describe the HashKings economy as framed in a small ecosystem, sustainable over time, with a real economy, profitable for DEVs and for players, with several ways to enter, this is possible, as it has several integration and interaction products, but in addition to this, they are in constant development through updates which provides new opportunities for growth in a win-win."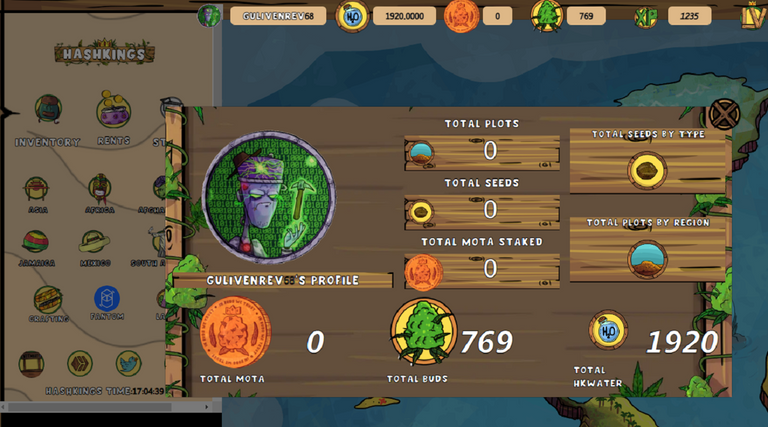 Mi Perfil en HashKings.
My HashKings Profile.
Una mala percepción
Un punto que considero desfavorable (no para el juego o dentro del juego), en mi opinión, es la "percepción generalizada" que tienen la mayoría de inversores, de que todo buen proyecto debe tener retornos muy cotos y rápidos, el tan mencionado ROI. A mi parecer, denota un gran desconocimiento de lo que conlleva hacer cualquier inversión. Es como si hoy decidiera montar una tienda de ropa y que al sólo abrirla al público, voy a recuperar lo invertido de la noche a la mañana. Toda inversión requiere de tiempo de avance y que continúe a un punto de equilibrio, para luego empezar paulatinamente a obtener utilidad, son reglas y teorías de la economía.
Por eso creo que HashKing está en ese camino de hacer una economía viable, real y sostenible en el tiempo, y quizás muchos no lo vean pues desean sólo obtener rápidas ganancias en muy corto tiempo.
"A bad perception"
"A point that I consider unfavorable (not for the game or within the game), in my opinion, is the "generalized perception" that most investors have, that every good project must have very high and fast returns, the so mentioned ROI. In my opinion, this denotes a great lack of knowledge of what is involved in making any investment. It is as if today I decided to open a clothing store and that by just opening it to the public, I will recover my investment overnight.Any investment requires time to advance and continue to a point of equilibrium, and then gradually begin to obtain profit, these are rules and theories of economics."
"That is why I believe that HashKing is on that path of making a viable, real and sustainable economy over time, and perhaps many do not see it because they only want to make quick profits in a very short time."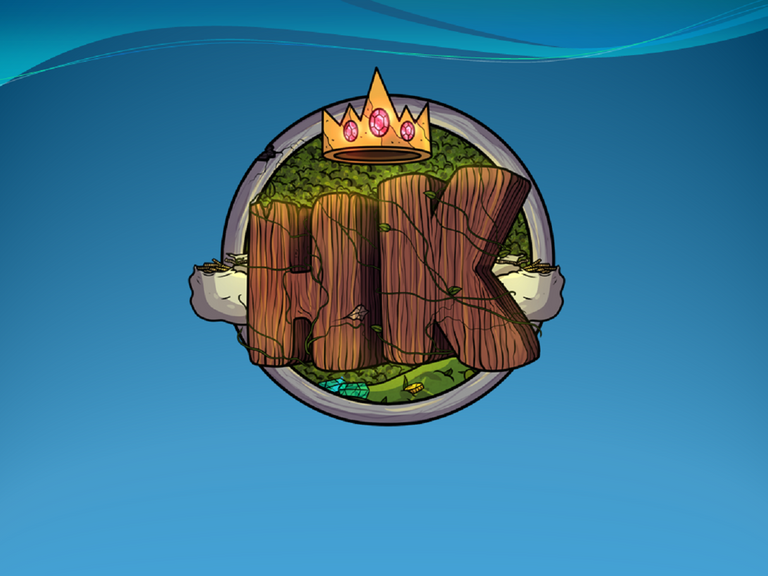 Es la ética negativa presente en la blockchain game, generado de forma generalizada entre jugadores, desarrolladores e influencers. El llamado ROI, una especie de carrera contagiosa para generar bullish entre los proyectos, en donde la intención es generar altos ingresos en muy corto tiempo, en muchos casos hemos visto como jugadores desangran la economía rápidamente, cuando el equipo de desarrollo pierde el control. Por otro lado, desarrolladores quienes generan altas expectativas y de la noche a la mañana se desaparecen dejando colgados a incrédulos inversores. Luego detrás de todo este mundillo, algunos influencers que poco le importa si el proyecto es viable y sostenible en el tiempo.
Entonces la economía en HashKings se orienta a la descentralización de la economía, cada jugador es dueño, posee la propiedad inmutable de su NFT, su toquen principal el BUDS tiene distintos mecanismos que limitan su inflación, esto entre muchas otras características que trataré de resumir en el siguiente gráfico.
"It is the negative ethics present in the blockchain game, generated in a generalized way among players, developers and influencers. The so-called ROI, a kind of contagious race to generate bullishness among projects, where the intention is to generate high revenues in a very short time, in many cases we have seen how players bleed the economy quickly, when the development team loses control. On the other hand, developers who generate high expectations and overnight disappear leaving unbelieving investors hanging. Then, behind all of this, some influencers who care little about whether the project is viable and sustainable over time."
"So the economy in HashKings is oriented to the decentralization of the economy, each player is owner, has the immutable property of its NFT, its main token the BUDS has different mechanisms that limit its inflation, this among many other characteristics that I will try to summarize in the following graph."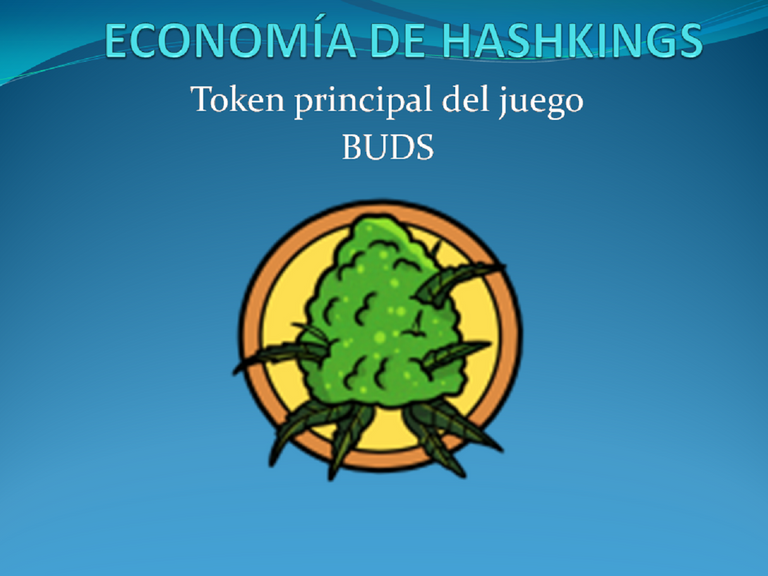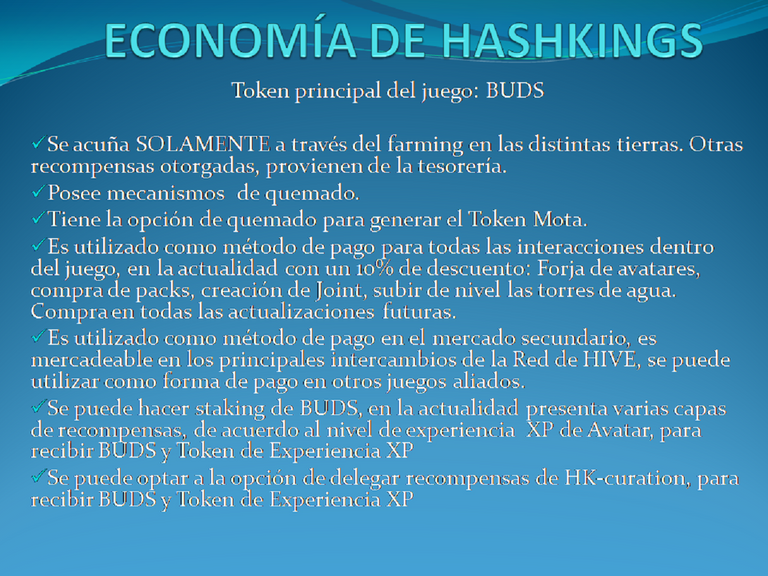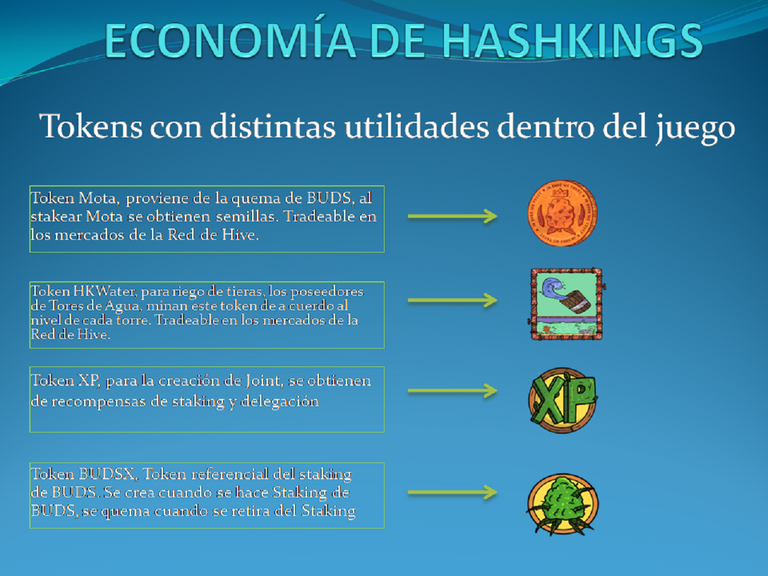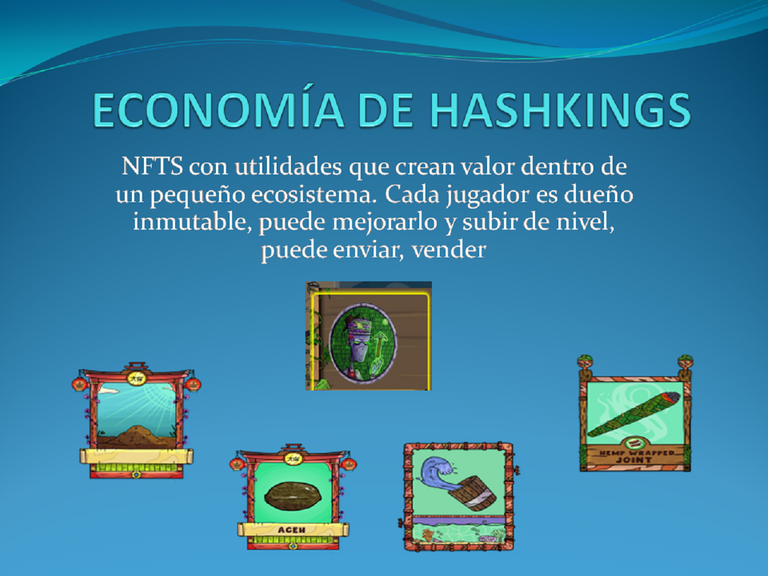 Probablemente se me escape algo más, pero es que el Mundo HashKings es muy dinámico, por lo pronto, agradezco la oportunidad, la atención y el tiempo que se han tomado para leerme, estaré entusiasmado de leer sus comentarios.
"I probably missed something else, but the HashKings World is very dynamic, for now, I appreciate the opportunity, the attention and the time you have taken to read me, I will be excited to read your comments."
Las imágenes fueron tomadas de la Comunidad Discord Mundo Virtual https://discord.gg/bQSeZYdk
"The images were taken from the Discod Community Mundo Virtual https://discord.gg/bQSeZYdk"
Translated with www.DeepL.com/Translator (free version)
---
---