BeeSwap:: DeFi on HIVE.. Entered the SWAP.HIVE:BXT Pool - giving APR 2K+ ATM...

Hey All;

I stumbled upon the article from @ecoinstant, where he talks about - BXT rewards are about to go LIVE! & various pools that you can enter to earn BXT and other tokens rewards. BXT is the native token for BEESWAP portal which is built on the HIVE Blockchain leveraging HIVE-Engine.
SWAP.HIVE:BXT Pool with 2K+ APR
I had some liquid HIVE and looking at APR for SWAP.HIVE:BXT Pool which is at 2K+. I decided to enter this pool. The same can be seen from the above image. I invested close to $2.6K+ and with the current APRs, I would be getting close to 4+ BXT every day as a reward. My current share in the pool is 146.237 which equates to 3.293%.
Following is the BXT inflation & distribution:
1st week 500 daily
2nd week 400 daily
3rd week 300 daily
4th week 200 daily
after that 100 daily
Every week the BXT token inflation reduces by 100 and after that only 100 tokens would be distributed. Details with regards to the all liquidity rewards pool are as follows::
swap.hive : bxt 20%
swap.hive : swap.bnb 10%
swap.hive : swap.busd 10%
swap.hive : swap.matic 10%
swap.hive : swap.eth 10%
swap.hive : sim 5%
swap.hive : leo 5%
swap.hive : dec 5%
swap.hive : sps 5%
swap.hbd : swap.busd 5%
community fund 5%
hive liquidity providers 10%
I think now you would have guessed that, as to why I decided to for the - swap.hive : bxt liquidity pool. 20 % Plus the 2K+ APR is the primary reason to enter the pool and provide liquidity.
Staked 3.6 BXT AirDrop
Also incase if you are not aware - there was an AirDrop of BXT tokens. 5000 BXT tokens were AirDropped to::
SIM holders, LEO holders, splinterlands players, and BeeSwap users.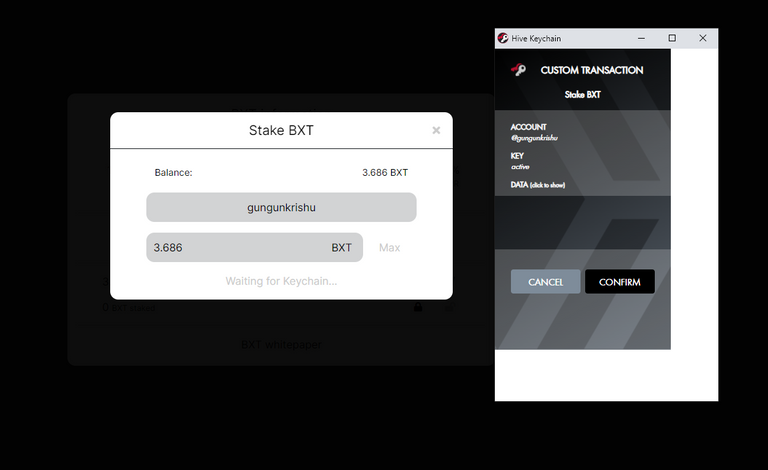 Check your Hive-engine wallet to see if you got any BXT tokens. I had a fair amount of LEO staked in my alt account @gungunkrishu.leo & as a result, I got close to 3+ BXT tokens which as of writing is worth 75+ HIVE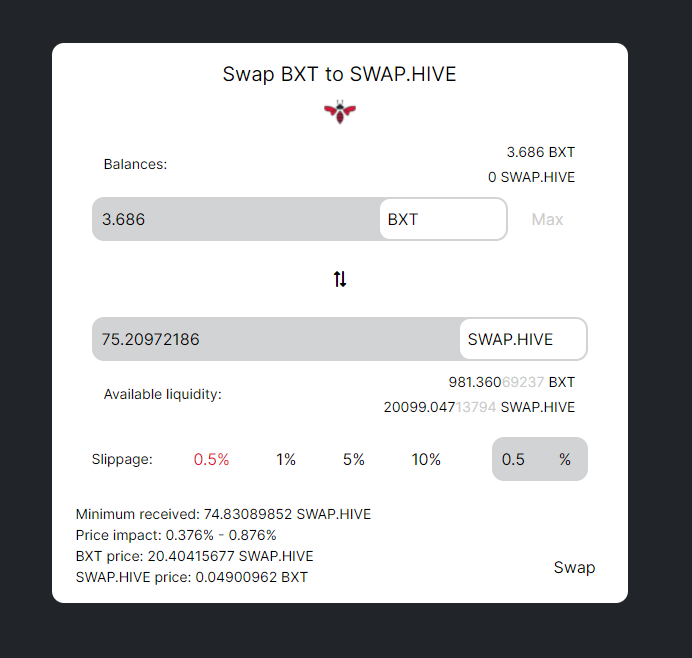 I staked the BXT tokens that I received as a part of Airdrop.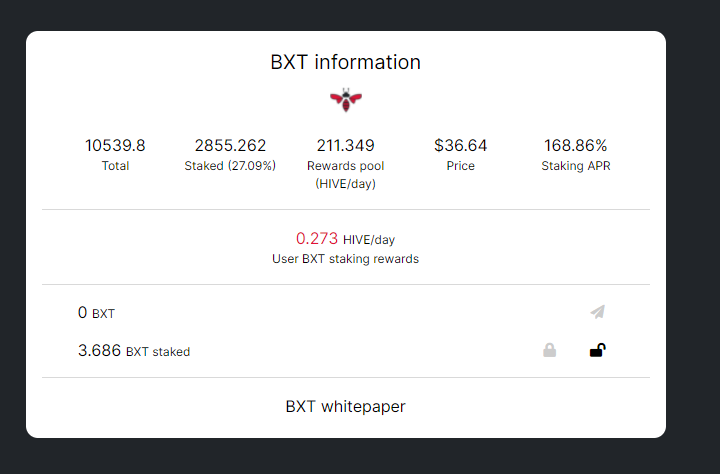 As clearly seen from the above image. The staked BXT tokens give you HIVE as rewards. And staking 3+ BXT is going to get me close to 0.273 HIVE/day. The current APR on staking BXT is 168% which I think is pretty decent. I'm planning to put all my BXT rewards from the liquidity pool to further stake BXT tokens and increase the HIVE rewards that I get daily.
Have Your Say....
Did you know about BeeSwap DeFi on HIVE? Are you planning to enter and pool? Did you receive the BXT tokens as part of the AirDrop - And what did you do with the BXT AirDropped tokens? SOLD or HODLing or Staked iT?
Best Regards

Posted Using LeoFinance Beta
---
---