Harvest OR Compound :: Whats the Big Difference?

Hey All;
I'm new to the DeFi world and frankly speaking I wasn't aware of the difference between Compound Vs Harvest. I know what compound interest is and how it multiplies your wealth. But a real example of how it works in the DeFi world is an amazing experience; when you see it yourself in real-time.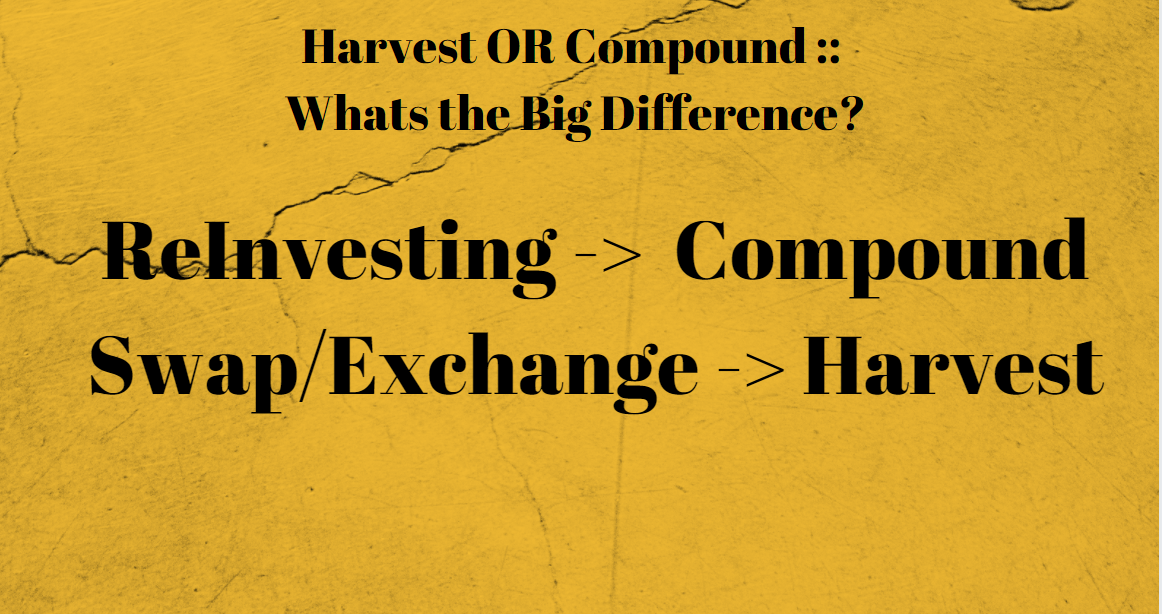 I was doing it all wrong for many days until I actually came to know the difference between Compound & Harvest. In order to understand both these termonologies, one should have the answer to both these questions listed.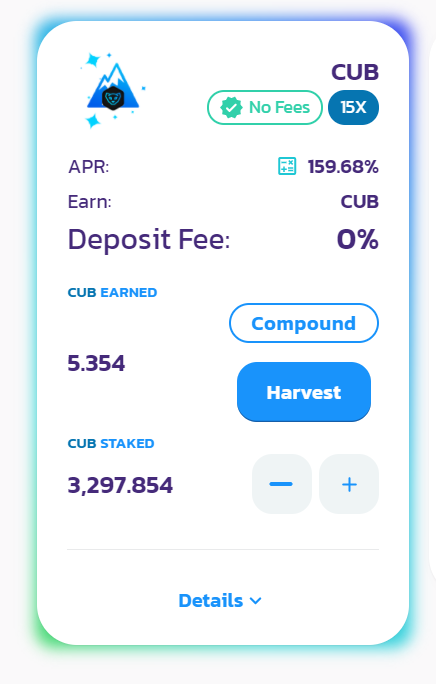 Question1. When to Compound?
You are not in need of Funds i.e. in our example $CUB and ready to invest it further for a period of time say 1 or two months. So if you are one who wishes to invest for a longer period of time then Compounding your $CUB harvest is a good option for You.
Question2. When to Harvest?
On the other side, there could be people; who have already invested what they wanted to. And now are looking to exchange/swap $CUB every time when it's available for harvest. If you are a person in this category then harvesting the $CUB is the way to go.
Let's take my example now; as to what I do with my $CUBs earned. In the given image above; I have close to 5.354 $CUBs that I can either Compound or Harvest. Currently; my target is to get to a point that I have close to 3.5K+ staked. Currently; I've close to 3.3K CUBs staked and short another 200 $CUBs token. Hence; I would be compounding the $CUBs earned.
But sometimes; I do harvest the $CUBs earned when I want to swap it with other tokens like bLEO so as to enhance my stake in the bLEO token.
Therefore it drills down to; what's one objective to use the $CUBs earning.
Reinvesting then Compound
Swapping/Exchanging or Booking profits Harvest
All this time; I was doing it wrong. I wanted to reinvest i.e. enhance my stake but what I was doing was harvesting $CUB and then staking it. This way I was paying the transaction fees twice. Therefore it becomes imperative to know the difference between compound & harvest and how it works. If you are a newbie like me; I'm sure you also would be doing it wrong. Please see as I echo my words; if you want to Reinvest $CUBs then you should be Compounding and this way you just pay transaction fees once. And if you want to swap/exchange or book profits you should be harvesting the $CUBs earned.
Hoping for $CUB to be $10+ SooN...

Best Regards
---
Find Me on the Other Social Media Platforms::

Join me on Odysee & Earn 8 LBCs for FREE... YES for FREE...
HealthDear Youtube; Information tied to Health
HealthDear LearnTogether; Learn English & Hindi
LearnTogether FaceBook Page
PS:- None of the above is a FINANCIAL Advice. Please DYOR; Do your own research. I have an interest in the leofinance, cubdefi and associated projects and it's tokens & hence bought some LEO/$CUB tokens; that's iT.
PS:: Image Credits:: leofinance;
Posted Using LeoFinance Beta
---
---