LBRY Credits LBC On RISE; Price went from $0.7 to $0.13 & Rising Know WHY?

Hey All;
I've been shilling about this token LBC for a long time now. I started following this project LBRY.tv aka Odysee when it used to trade in the range of $0.02 cents. Have a look at the recent chart for the LBC token its pumping and will continue to do so coz. there is something very exciting feature coming to LIVE...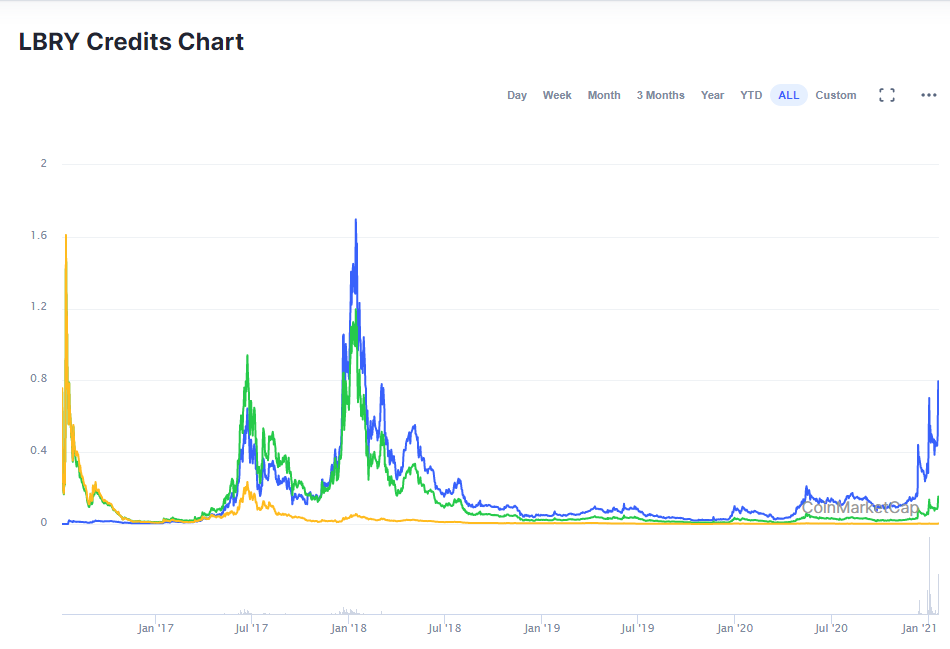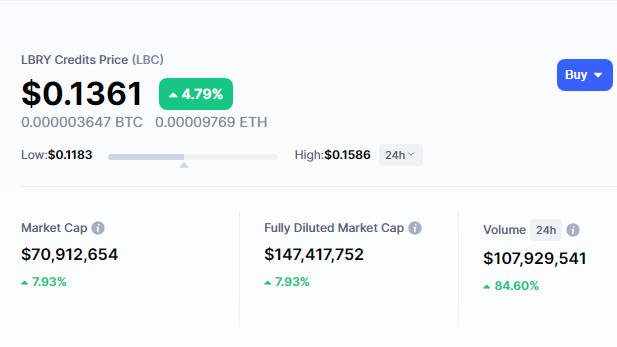 YES; its the LIVE Streaming Feature that's Coming IN
Check the following tweet from the OdyseeTeam with respect to testing of the LIVE streaming feature in testing mode and it's all looking good as of now.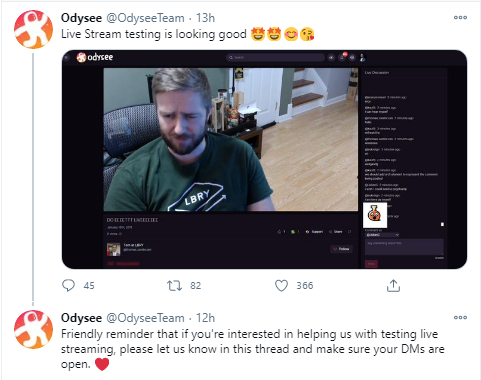 The LIVE Streaming feature had been on the to-do list for a long time and now we see that coming SOON on LBRY.tv and Odysee both.
Recently LBRY has been getting a lot of attraction and is a perfect place to be if you are looking for a platform that promotes FREE Speech and is Censorship resistant. There is more to LBRY and cannot be said in words until you experience it yourself.
I've been using the LBRY.tv platform since June 2020. And ever since have been in love with the technology and have been earning LBC its currency daily via the rewards program. I joined the platform via their Youtube partner program and this was how I entered and came to know about LBRY.
Joining LBRY Youtube partner program was the wise decision that I took and at the same time, this synced my HealthDear Youtube channel to LBRY. So when I post my HealthDear videos on Youtube it directly goes to LBRY.tv as well and I earn LBCs for each view.
US President Donald Trump Youtube Channel Sync. on Odysee
Enough of me shilling about my history and association with LBRY.tv & coming back to the main topic of the recent pump to the LBC token.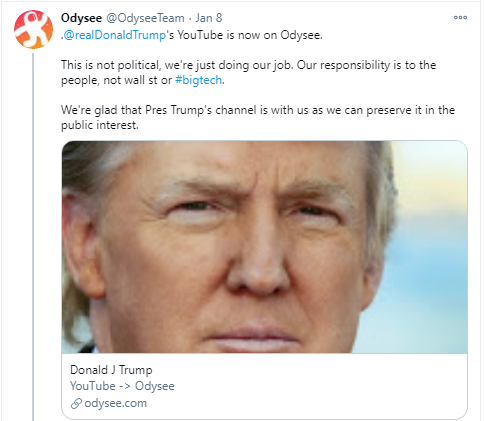 I'm sure you all might have heard this news with Twitter suspending @realDonaldTrump Twitter account. This news raised a lot of questions and at the same time there was this news where the Odysee team announced that Pres Trump's channel is now on Odysee and is protected in the public interest.
This is not political, we're just doing our job. Our responsibility is to the people, not wall st or #bigtech.
LBRY/Odysee has been gaining a lot of attraction recently and this has turned to be very positive on the LBC price which has surged almost 100% in just mere 10 days' time. With LIVE stream round the corner, I do expect the price to pump further and it may even cross $0.20 soon..surely it's coming. In case you still don't HODL any LBCs, I guess it's the right time to just explore and see if you can invest in this upcoming and promising project.
Have Your Say...
Are you on LBRY? If Yes then how are Your LBCs earnings looking like? Are you spreading the word HIVE/LEO on LBRY? How has your experience been with LBRY so far??

Best Regards
Find Me on the Other Social Media Platforms::



Earn 15 LBCs for FREE... YES for FREE...
HealthDear Youtube; Information tied to Health
HealthDear LearnTogether; Learn English & Hindi
HealthDear LearnTogether FaceBook Page

PS:- None of the above is a FINANCIAL Advice. Please DYOR; Do your own research. I have an interest in the LBRY platform, bought some LBC tokens, staked them, and have been creating content on the LBRY platform..that's iT..

Image Credits:: lbry,cmc, Twitter, odysee

Posted Using LeoFinance Beta
---
---