My Crypto Investment current status & Its Self Growing Potential... Journey to Financial Freedom...

Hey All,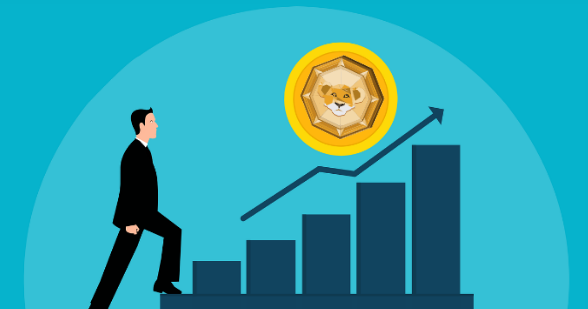 What are your thoughts on Crypto investment having the potential to self grow exponentially? I thought it would be good to reflect back and see what is my current status of crypto investment, with what amount I started and what's the further potential of my crypto investment portfolio to self grow exponentially?
Crypto Investment Started with HIVE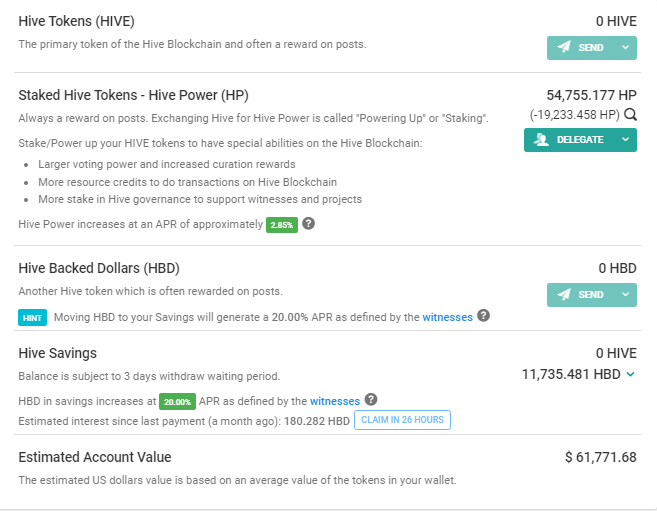 Frankly speaking my crypto investment all started here on HIVE Blockchain. Earlier days were not so good but the consistency to post and getting engaged helped my HIVE account grow. Apart from the content creation and curation rewards, I did buy in lot of HIVE at different lower prices. At one point in time, I started to think that I would buy a chunk of HIVE tokens when it hit is all time low and get to a stage where I would have 100K+ HIVE all powered up. But unfortunately, I was not able to take that risk of Buying at all time low and see today where the price of HIVE is almost at $1. Had I invested at that point in time my investment would have grown 10x already.
Investment in Splinterlands & SPS token

That's' the potential of crypto investment if invested in the right project. Anyway that is past and I am still happy as to what HIVE and its second layer tokens have given me in building my crypto portfolio overall.
Next comes the investment in tothe No.1 Blockchain game Splinterlands. I would say that I was lucky entering the Splinterlands game during the beta sale. My investment here would have been close to $3K+ and now you see that it has crossed $100K+ and is growing at an alarming rate with SPS tokens being Airdropped daily and the card rental income is also adding to it.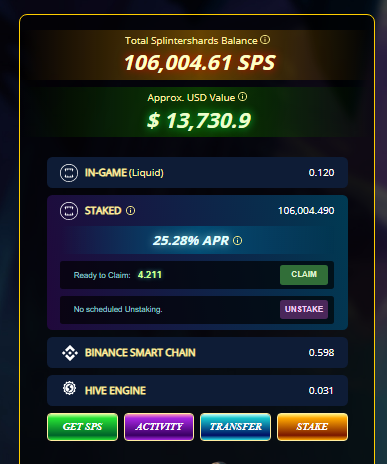 Here is the status of all my SPS staked; which is close to 106K+ SPS staked getting me close to 25+% APR. The plan is continue staking the Airdropped SPS and try reaching/accumulating 200K+ SPS tokens, the more the merrier :-)
Cubdefi & PolyCUB Investment

How can I forget the investment into Cubdefi and now PolyCubd Def 2.0 platfrom. Cubdefi investment is auto compounding at an APR of 60+% and currently I have close to 33K+ CUBs staked into Kingdoms.

All the investment in PolyCUB is directed to the xPolyCUB pool and the plan here is to have at least 2K+ xPolyCUB staked. Currently, I am directing all my PolyCUB tokens airdropped to xPolyCUB staking pool.
Beswaap LP Pools Investment
The investment here in the Beeswap LP pools is close to $6K+ and the rewards that I am getting is currently being directed to increase the SPS stake. I am converting/swaping all the PKM tokens to SPS, swap.hive to SPS as well and then finally staking all the SPS; so as to reach the GOAL of 200K+ SPS being staked in general.
Conclusion & Summing it Up...
So overall, you can see that with investment in just HIVE, Splinterlands its goverance token SPS, Cubdefi, polyCUB and Beeswap my total crypto investment would be roughly around $250K+ and that's not all. I still have other second HIVE layer tokens like STEM, WORKERBEE, BUDS, LEO and many others that would be roughly around another $10K+. Right now I did not consider investment into other crypto projects like VIDYA, LBRY, WAXP, AVA and other smaller projects where total value would be close to another $50K+. So altogether, I can say that overall my Crypto investment status would be touching $300K+ mark and its growing exponentially.. The beauty is that and to be very honest I did not invest that much of an amount. I am from a normal middle class family and from where can I get this amount of funds to invest in crypto currency. I was lucky to have some of my initial investment boom like 50x or even more and then I leveraged the earning from different crypto projects so that the investment has the potential to self grow and it auto compounds.
Overall happy thus far with all my crypto investments and hope that the future is even brighter; so that one day I can say that Crypo made me financial free... I am sure rather confident that the day is not that far away where I would happily say that; I am financially free now... :-)
Crypto Investment has a Potential to Self Grow...
Image Credits:: procanva, trality.com, peakmonster, cubdefi, polycub
Best Regards

Posted Using LeoFinance Beta
---
---