My Splinterlands Land Investment Grew 10x in last 2 Years - Plans Ahead with Land - Can the Investment 10x Further??
Hey All,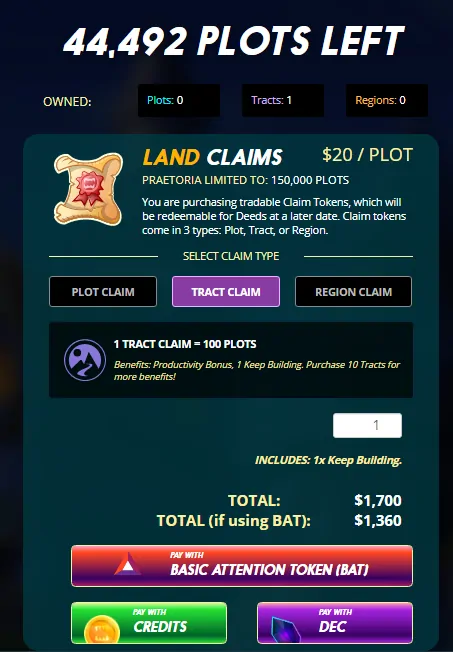 This image is from the time [almost 2 Years ago] when I had bought 1 Tract, which is equal to 100 plots from the Splinterlands LAND SALE going at that point in time. At the moment you wont find any plots for SALE they all got SOLD out back then. And the only way to buy plots is from the internal market either on Hive-engine or on OpenSea. I had this dream of buying 100 plots and it got fulfilled when I bought it at a 20% discounted price via $BAT token. You can also check my post - which I did back then talking about You Dream iT - You Have iT - Bought my First Tract - Equals 100 Plots.

It was a stealer deal without a doubt. And when I was trying to buy one more TRACT - had collected almost half of the funds the hype for LANDS was such that it got sold out immediately. Anyways no regrets and I am happy that I could at least get HODL of 100 plots. Considering the discount that I got, I had paid $1200 for a TRACT. Now if you go on to buy a TRACT at first it going to be difficult as there are not many available for SALE and the second reason is the price for LAND has soared.

There is ONE TRACT for SALE on Hive-engine for 32500 HIVE which is equivalent to almost $13000 [32500 * 0.40]. The other option is to buy plots individually and they are not cheap as well. One plot in internal market is costing around $140+ . So right there if you see my purchase price back then 2 Years a go and now from $1200 to $12000+ its like almost 10x return from the land investment alone. It should be more than that if I consider the land assets rewards in terms of $SPS and VOUCHER tokens. Lets do a simple math here; assuming that I have been getting rewards for Land since last 6 months. I get close to 170 $SPS and 4 VOUCHER daily. $SPS is currently trading for $0.03 cents. Hence if I just consider the $SPS rewards value it will be around $918 [170 * 180 * 0.03]. Adding VOUCHER value as well would lead to giving me my investment of $1200 back with just $SPS rewards and VOUCHER tokens. So ideally my investment in LAND would turn out to more than 10x in this case.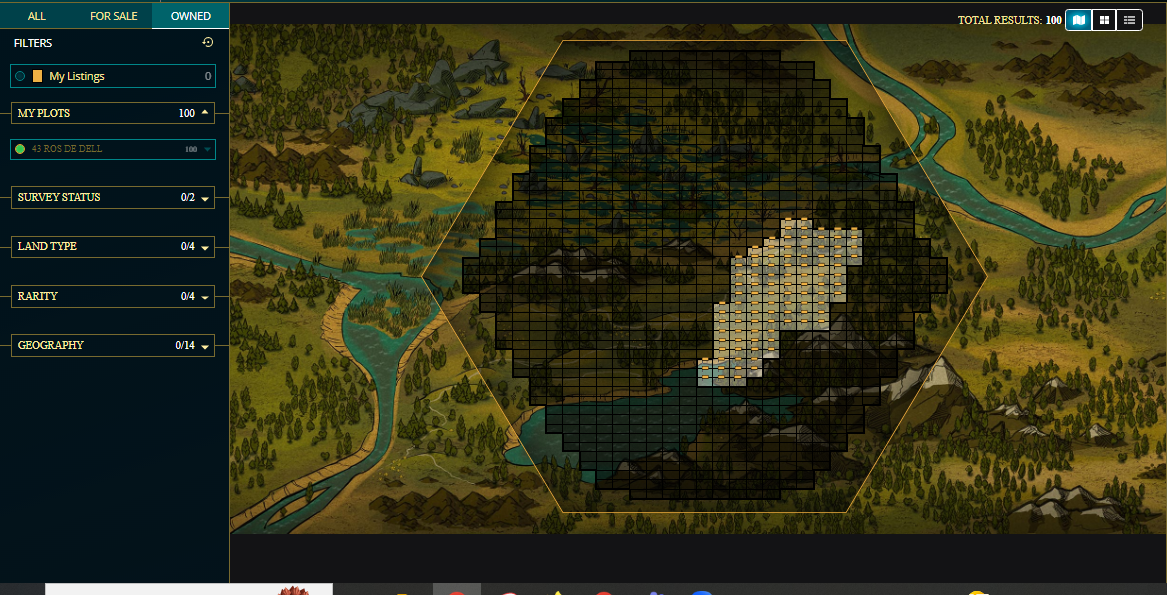 My Plans Ahead with Land
The Splinterlands team recently announced the Land 1.0 expansion, entitled The Secret of Praetoria! Check the post Here for more details on it.
The goal for phase 1.0 is to release certain parts of the system that will eventually become part of the full phase 2 release, including card staking, DEC staking, and some initial resource production.
Please note that the maximum number of deeds that can be surveyed in a single transaction is 100. As I own 100 plots I plan to Survey my all lands altogether. This should give one the benefit of receiving the guaranteed minimums. So what is guaranteed minimums? Check the following table::
You have a better chance of receiving a good LAND type with surveying 100 plots together as opposed to doing it alone. The other thing I am interested in while surveying my LAND is that I would be buying Survey Boosts for all my lands.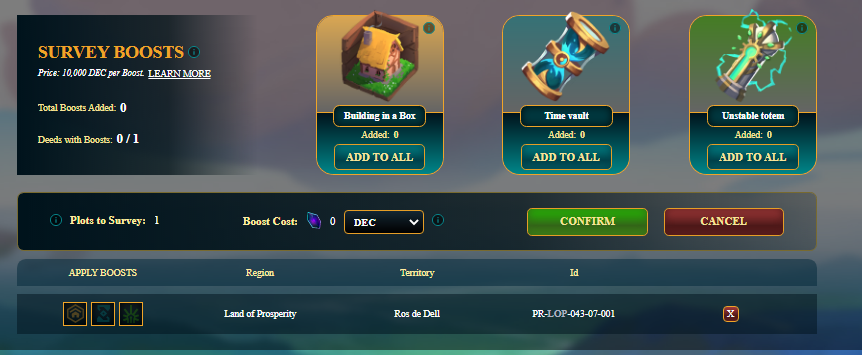 The initial plan is to Buy Building in a Box and Time Vault both. So this is gonna cost me around 200K $DEC-B for 100 plots. All the boosts have their advantages and I am not going to get into which is best or not. But considering the cost benefit part of it, I thought it would be wise to go with both these boosts while I initiate my land survey. Finally, the last thing we do have a $SPS dao proposal which got passed as well around $SPS distribution for surveyed land holders. Check the proposal Here. So incase if you have a land do think of surveying it else you might be loosing on the $SPS rewards for not surveying your land... cheers
Have Your Say on Splinterlands Land Investment...
Did you buy some land/plots? How is your Investment in the Splinterlands Game looking like? Doubled? Tripled? And what has been our latest strategy in the game Splinterlands? Are you planning to surveying your land? Let me know your thoughts in the comment box below... cheers
My Splinterlands Land Investment Grew 10x in last 2 Years
#splinterlands #sps #land #investment #nft #game #play2earn #web3

Best Regards
Image Credits:: splinterlands, hive-engine
Posted Using LeoFinance Beta
---
---