PolyCUB - What is Best to do with the PolyCUB AirDrop?

Hey All;

There is always a dilemma, what to do with Free Money and in Crypto we call this AirDrop of tokens. Currently, we have a 60 days of AirDrop of PolyCUB tokens for folks who have CUB being HODL is Kingdoms, CUB-BUSD Farm and CUB-BNB Farm. Want to participate in the AirDrop and get PolyCUB visit - Cubdefi buys some CUBs or provide liquidity in any of the two listed farms above.

To particiapte in the airdrop, all you need to do is hodl CUB in either the CUB Kingdom, CUB-BUSD Farm or CUB-BNB farm. A daily snapshot of CUB balances in these 3 locations is taken every day for 60 consecutive days. Each day, POLYCUB tokens are then distributed based on the current balances in each snapshot. This means that if your balance changes (add stake or reduce stake), then your airdrop amount will change from day-to-day. Either increasing if you stake more or decreasing if you stake less.
My PolyCUB AirDrop Status Groing Each Day...

I'm getting close to 31+ PolyCUB tokens daily for staking close to 21K+ CUBs in kingdoms. Since, Kingdoms auto compounds therefore my AirDrop for PolyCUB increase eaach day by a fraction of more PolyCUBs being Airdropped.
Coming to our main question and answer for this post which is::
What is Best to do with the PolyCUB AirDrop?
Simple and easy just stake all your PolyCUBs in xPolyCUB staking pool and forget it.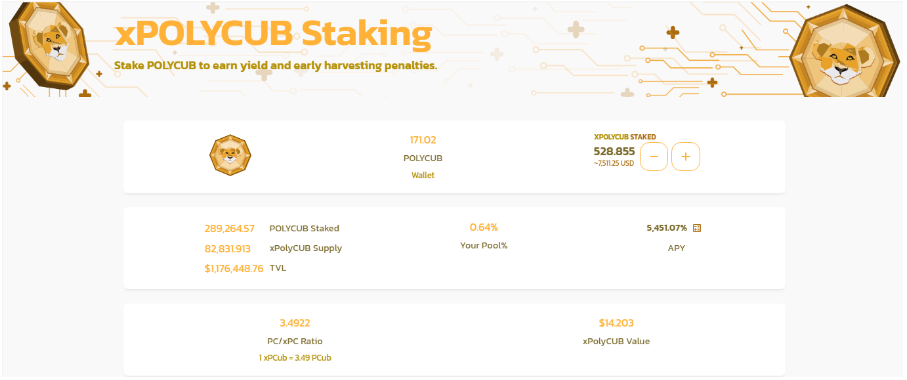 I remember when I entered the XPolyCUB staking at that point in time::
PolyCUB to xPolyCUB ratio was 3.49 & Now check the current status of
Current - PolyCUB to xPolyCUB ratio was 10.5

No matter what the price of PolyCUB would be but it is Guaranteed that the PolyCUB to XPolyCUB ratio is Just going to increase... there is no downward movement for PolyCUB to xPolyCUB ratio. And the other thing to remember and keep in mind is that every week New POLYCUB/block reduces. Currently its 4 PolyCUB every Block and next week it reduces to 3 and so forth. So what we would be seeing/observing is that its going to get hard to mint the PolyCUBs and then the real game will begin.

Folks/People needing PolyCUB will buy from the market. But wait and let me tell you that there is almost already 45+% supply of PolyCUB staked.. so you can imagine what will happen to the price of PolyCUB and from where you will be able to get the PolyCUB from i.e. from the folks who have staked it in xPolyCUB and am not selling and neither are others.. so the price just go Up and Up and to the Moon... :-)
Therefore its simple to conclude the question- What is Best to do with the PolyCUB AirDrop? - Just stake all your PolyCUBs in XPolyCUB staking...
xPolyCub in strong Hands, HODL - Price Doesn't Matter
#xPolycub #polycub #cub #airdrop #defi #matic #lp
Image Courtesy:: polycub, cub

Best Regard
Posted Using LeoFinance Beta
---
---