PolyCUB - xPolyCUB Wallets Keeps Rising - Growth of PolyCUB & xPolyCUB is Inevitable...

Hey All,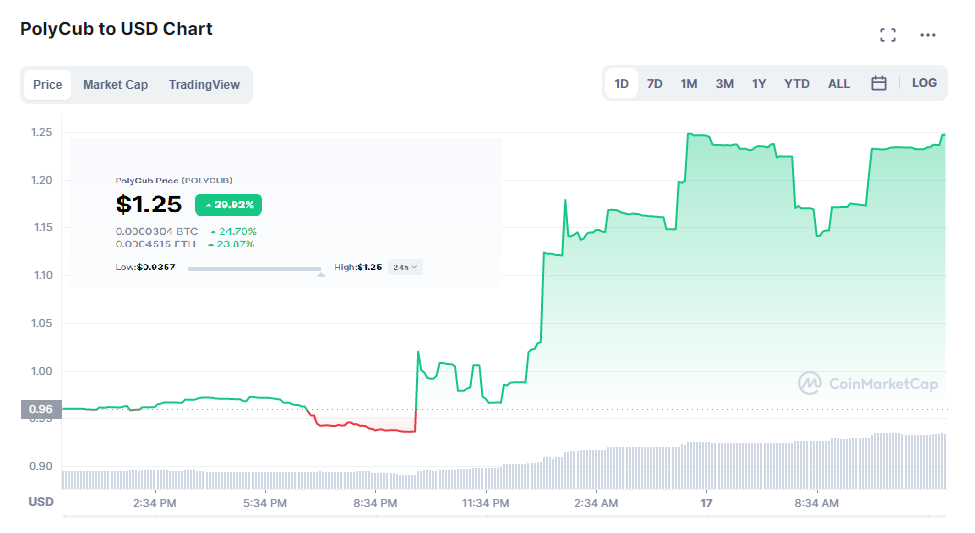 Finally, its taking place and can also be seen from the price of PolyCUB.. Its up almost 30% from its Yesterday price and is currently trading for $1.25 per PolyCUB. There was a point when we saw the price of PolyCUB was trading less then a dollar also. But gone are those trading days when you could get PolyCUB for cheap.
With full fledge marketing taking place and as more and more people come to know about this Web3.0 Defi Project named PolyCUB we are going to see tremendous growth here on this Defi platform - PolyCUB...*
xPolyCUB tokens HODLers Up 45%
Following were the token HOLDErs for xPolyCUB weeks ago i.e. we had closed to 336 wallets HOLDing xPolyCUB tokens

Now if you look at the stats for the xPolyCUB tokens HOLDers on Polygonscan the number is close to 45% up which is we have close to 479 Wallets HOLDing xPolyCUB

You can check it yourself on the Polygonscan website here I normally keep track of how wallets are entering and exiting the xPolyCUB contract. One more interesting thing to note here is that the Top HOLDers of xPolyCUB token are almost the same wallets and their stake is increasing as well. Which altogether is a good sign. I also did notice that some new wallets have Joined the Top 10 HOLDers list for XPolyCUB.
My Ranking for xPolyCUB HOLDing is Not Too BAD...
Currently, I'm no where in the Top 5 or Top 10 list of token HOLDers for the xPolyCUB token. But do crave for finding myself at least in the Top 10 spot.

To be very honest, I stand close to 22nd spot when it comes to HOLding the xPolyCUB token and my ratio of the pool is somewhere around 0.88% as seen from the above image. The growth of PolyCUB & xPolyCUB is Inevitable... and as the emission of PolyCUB reduces and more wallets being addedd that aer craving for xPolyCUB the price of the tokens is going to surge only..there is no backward movement. I joined the xPolyCUB staking at various levels and currently am sitting at a huge profit. But dont intent to take any profits for now...coz.. the GAME has just began..:-)
xPolyCub in strong Hands, HODL && see the MAGIC... the GAME...
#xPolycub #polycub #cub #airdrop #defi #matic #lp
Image Courtesy:: polycub, coinmarket,polygonscan

Best Regard
Posted Using LeoFinance Beta
---
---