VRUZ... two days left.. Purchased 76 cards..
Hello all @splinterlands lover and Hive friends
Hope everything is good at your end.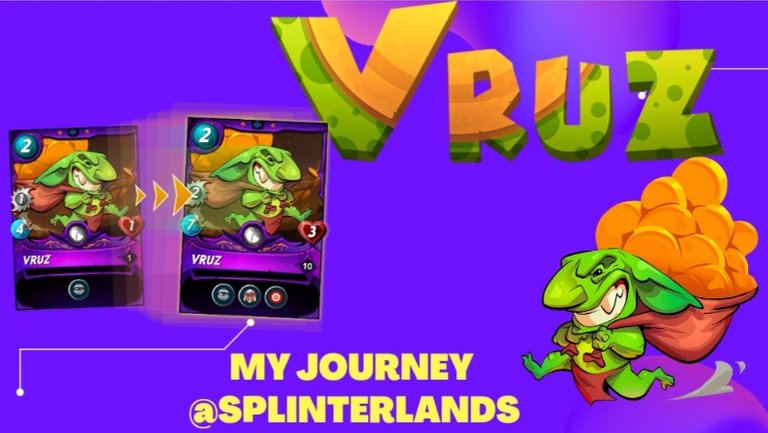 ---
Promo Card for SPS staked
First time the Promo card for the staked SPS holders has been released. When the SPS airdrop for asset holders was over the team has announced that the SPS will play an important role in the economy of then game in future. The vote right for proposals is the first use case of the SPS token and afterword's the proposal was passed to give additional benefit for the staked SPS holders in the form of Promo cards. As per the proposal 1 BCX card for 1000 staked SPS token was proposed.
---
The sale is live now and will end in next 2 days (week time was provided for card purchase). I was holding aprox 75k SPS in my main account and most of then was already in staked condition. I have staked all before the snapshot to increase my power to purchase more number of copies. So I was able to stake 76k SPS and I secure 76 copies of card for my main account. As per the official announcement their was guaranteed 1 gold foil card if purchased minimum 25 cards. In this way I was sure that I will get minimum 3 gold foil cards also.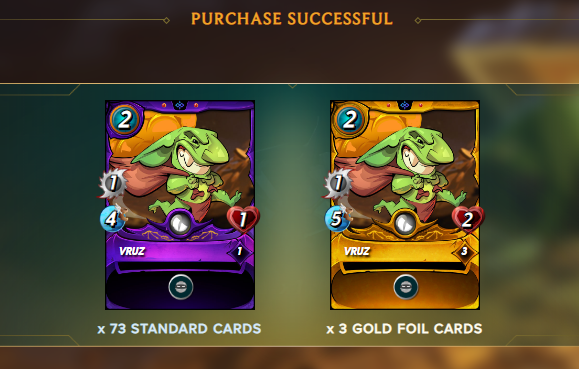 Everyday I am getting vouchers also for staked SPS and I have not sold in past, so vouchers required of the purchase was not an issue for me.
---
Card belongs to the Dragon splinter and is a common card which cost only 2 mana (very useful for low mana battles).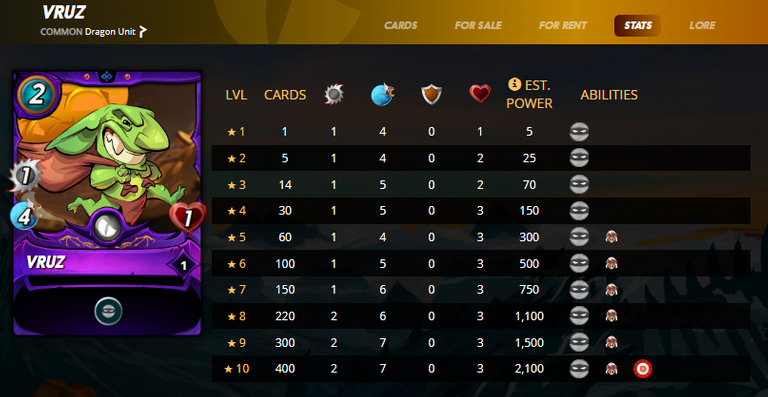 The speed of card is awesome and form level 1 it has sneak ability.
With 76 copies I can upgrade the card up to level 5 which unlocked the Martyr ability also with three health.
At preset the normal foil card is trading at $0.54 and Gold Foil worth more then $8. In this way the total purchase has the worth of $63.
---
I am confused and not able to decide what to do with cards I purchased. I am not a person often do the trading with Splinterlands assets as I believed in long term investment. In past also I have traded my cards with some other cards only. I love to hold the card in my collection and may be put them for rent. But to be true form last moth the rental is also not much profitable.
Four months back when I stared using the Splex.gg service for renting my cards, I was bale to get 2k DEC per day on average which is now not even half of that. Hope the condition will be better in coming days.
---
---
I have some GF legendary cards spare and I wanna rent them out. If you are intrested in renting those cards for long term please feel free to contact me by commenting on this post.

---
What are your views let me know in comment section.
---
Happy Battling.
See you in field.
Please reblog, upvote and comment to support.
Posted Using LeoFinance Alpha
---
---