Did you know there are danger involved in Financial Indulgence.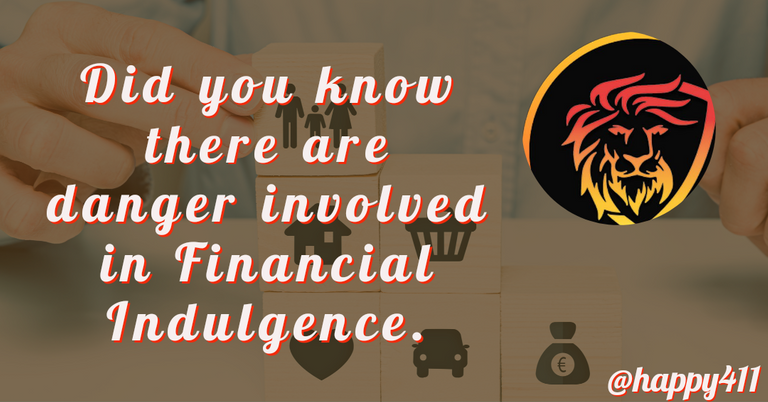 Image edited on adobe
It is always common that we let our desire for financial security and comfort overside our caution and we become so caught up in the rat race in which we forget to take care of ourselves. When it comes into financial aspects, most people falls into the trap of indulging in unnecessary expense and which is very dangerous and can lead to problems at the end.
Indulgence are things like eating out often, it mostly known as something that are not very necessary but at the same time it can be enjoyable, like you purchasing what is not needed but at the same time you like what you purchase or gambling as another case study, when you gamble and later you won, that means you enjoy at the end. But when it comes to money, we all believe what people does and it's so safe for them is what we want to do, but we don't think about when things turn around and it later doesn't work for us the way it works for other?
When this occurs, we may find it or terms it as were trapped, desperate and even more angry, and we may even do what it's not right to the loved once. We mostly don't think about long time when it comes to money but mostly we think about short time happiness and it's base on our ability to set healthy boundaries and focus on them, if we can able to do this we find it easy to create a comfortable and sustainable financial life for ourselves.
By doing this we will be able to do it without resorting to unnecessary expense, we all know it's hard to resist the expensive life's but financial indulgence for some people might get affect so easily. That means when you don't mind how you spend you can find yourself in and unnecessary debt that you don't even plan for and theat how most problems started.
It is compulsory to be careful when it's comes to financial ability because lavish spending without the plans for any unwanted crisis that might happen can fall the financial stability you have.
What are the consequences of financial indulgence
This can be serious, if we're not been careful it can lead to lot of debts and even lost of job and life's as well. When we're focusing on making more money, it might becomes so hard to save, because we believe we have where I'm earning some money I can go out and have lot of debt I don't even expect due to my believe that I'm having some sources of income but I might not think about the consequences. But the best and easiest way to avoid all these is to learn on how to break the circle of financial indulgence.
Mostly the causes of financial indulgence is not want to be honest with people and you want to live a fake life and call yourself what you're not for people to place you where you're not suppose to be and to change it will be a critical problem. But when you can avoid all this I hope we then move to financial security and been in a financial security is what I've discussed with us before and I will love us to go through my post and read more about financial security.
If you're interested in some of my previous post, Financial Stability and how to secure it
Thanks for your time
---
Remember to all: living a better life doesn't mean living beyond our means, it should be the means of living within our means and savings.
---
---