HK Witness - Building a Future For Hive - Formal introduction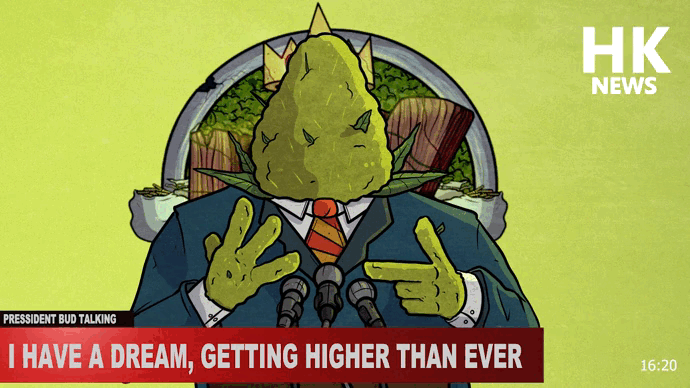 ---
The time for a proper announcement of our witness has come, we have been building the basis of our long term future in the last year and we have been studying since then all the tools, services and products we can build with your help to make this amazing blockchain a mainstream blockchain, we know is not an easy or a fast road but we're fully commited to complete this dream, we believe in our future
We Believe in YOU
---
We bringed first than ever the most descentralized monetization system of a play to earn ecosystem in HIVE, utilizing the concept of hyper tokenization to create property rights for our players, offering them freedom in how to interact with HK and using our devs position to protect those property rights over all the things, and all we have built is only the start of our journey.
If something can be tokenized, we will do it
Descentralization and Development (DD)
Thanks to this hyper tokenization of the HK assets, we changed the main source of revenue to the players instead of the development team, of course that have been our goal since day 1 and is the model we will follow perpetually.
There's just a small issue in terms of development with this model which is specially strong in the stage we are, and is that as players have the biggest revenue source, our team which has grown crazily, actually we are more than 10 people working on HK (we will do a post very soon presenting the team), doesn't have access to a "safe" development funds.
We mean our funds which you can check in our accounts @hashkings and @hk-vault, are relatively small to the size of our team and the size of our goals. This will change slowly but steady cause our biggest strenght is also to give the biggest revenue source to our players, but now is kinda a limitant for us.
In fact, in the last year we have made tons of development with a small budget which made us to be extremly cautious with what we can do or priority.
---
Our Life For The Horde
Why are we telling all these things and what it have to do with our witness? Well we frmly believe that the witness tool is an excellent way to reward developers that make HIVE a better place, and you users have the power to choose which developers are being rewarded.
Regarding HIVE services, and out of all our gaming plans, we are also working in brining new and modern alternatives for different situations that are not very well implemented in HIVE yet:
Our team is setting the frontend of our NFT market, this market will be developed in many stages until we can offer a similar experience to the atomic hub market in wax. Initially we will whilist only HIVE games NFTs helping our partners with an alternative to trade their assets. For example rising start nfts, psyber X, dcity, etc.
The tokenomics of this HK market will be detailed in their own post, but for sure will power BUDS and users will enjoy perks by being involved in HK
The next thing in our plan is to build a Liquidity pool SWAP with engine tokens (initially until we can develop smart contracts of tokens that can offer more freedom to the users), it won't have an order book just a LP, we took enough time to study the formula of constant product which is essential to build it. Of course there will be 0 fee to set up a LP, like in any other chain.
Tokenomics fees will be very similar to the pancakeswap ones, a certain % will be used to fill BUDS staking rewards, the biggest percentage for liquidity providers and a really small cut for the team. Our aim will be to attract the most liquidity possible.
Gamified onboarding, in order to grow HK ecosystem across the blockchain world we really need a personalized tool to onboard new users to HIVE and we can do it through HK and a gamified experience which would include a small tour through the basic concepts of HIVE. In this case we have the support of some community members to help us with account creation tokens.
These are our initial plans for HIVE general services we can create for the blockchain, then we will work in more options to make HIVE even more user friendly and slowly but steady reach the mainstream blockchains.
HIVE has an unleashed potential and that's why we choose it as a our home, HK was born before all the gaming boom that happened in the BSC and we are still here, while tons of other projects born and die one week later, we are stronger than ever and our mission is to get HIVE HIGHER THAN EVER!
So today with our hearth we ask you your support to fulfill this dream, this mision, this vision. We will start promoting our witness so you can, if you want, vote for us.
The thing right now is that our witness produces like 2HP per week, which is not even enough to pay for the server itself, at the long term our plan is to use the witness rewards to help in a faster HK development.
Thanks,
HK TEAM
---
¿How To Vote For HK?
Happily PEAKD, which is the most user friendly frontend of HIVE, has a really easy way to access to the witness section. You only need to click in your profile username, then you will find "witnesses" section in the sixth place.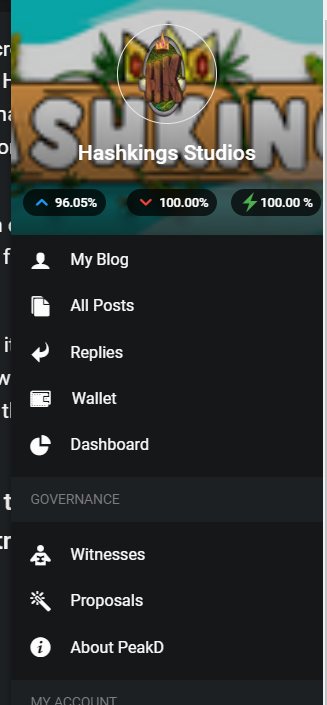 You only then need to write "hashkings" in the search bar in the right side, and we will be there, waiting for you. You need to click on check and approve witness. As well as real politics, we ask you to be wise with the use of your witnesses votes, the moe HP you have, the more influence you have.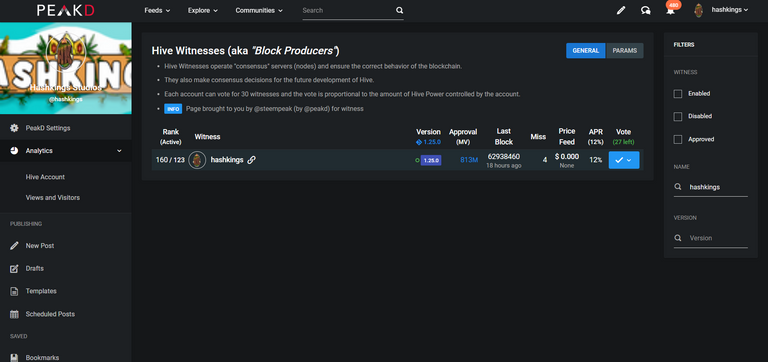 ---
---