HIVE Top Chef Entry - Mushroom Gyros w/ Cucumber Dill Tzatziki
I had a difficult time thinking of what to do for this week's HIVE Top Chef required ingredient; cucumbers. Now, I eat a lot of cucumbers. But, usually not in anything I cook.. I mean usually I either eat them in simple salads or on their own with hummus or something of that nature. I have no idea how to cook with cucumbers.
I looked at a few things on the web, but most of them were cold salads. And while I love a cold salad, I wanted to challenge myself more. I don't remember how tzatziki entered the picture, but somehow it did, and it wasn't long after that thought that "gyros" were settled on.
Full disclosure; I don't think I know how to pronounce gyros OR tzatziki correctly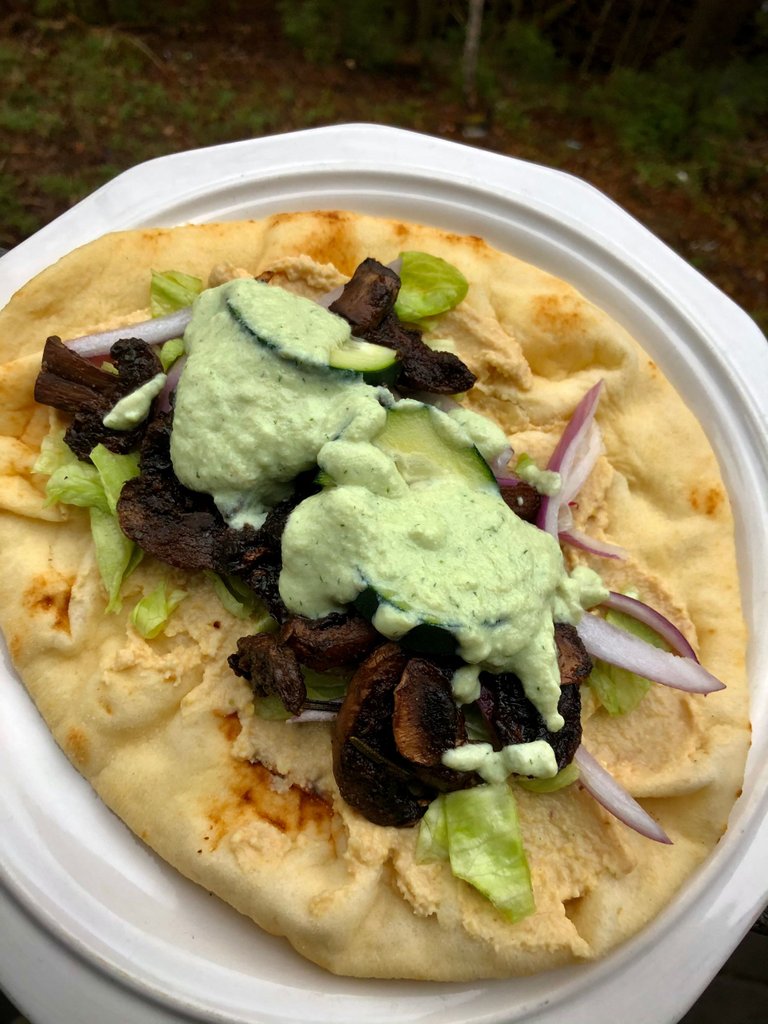 When I decided on gyros, I was partially motivated on myself already having most of the ingredients I wanted to make them. I was only missing a few things, and I figured a quick trip to the store would easily settle that.
Apparently everyone in my small community has been buying pita bread this week. I looked at both our grocery stores, multiple times, over the past week. *"Oh, of course we have pita bread, you couldn't find it? It's right ...." every time. Gone.
The first time I struck out I decided to make the hummus and tzatziki anyways. The first batch of hummus was incredible. I discovered mold on my dill when I went for the tzatziki, sent it anyway, and was a little disappointed in the blandness of the flavor. And, during the time of my pita bread search, a couple of friends and I ended up devouring all the hummus and tzatziki; so I had to make a second batch.
In the second batch, the tzatziki was excellent and the hummus was no where near as good as my first batch. So, I flip flopped. For the sake of this post, I will be giving the ingredients of the better of both- even though I used the subpar hummus on the final product.
Cucumber Dill Tzatziki
Ok, so this was my first time making tzatziki. I was alarmed of how easy it was and it will certainly become a staple in my refrigerator. Prior to this, I only knew it as the overpriced sauce I would buy maybe once a year. I never had put much thought into what it actually was.
Now, as I mentioned before, my second batch came out remarkably better. The pictures I have are from the first. Sue me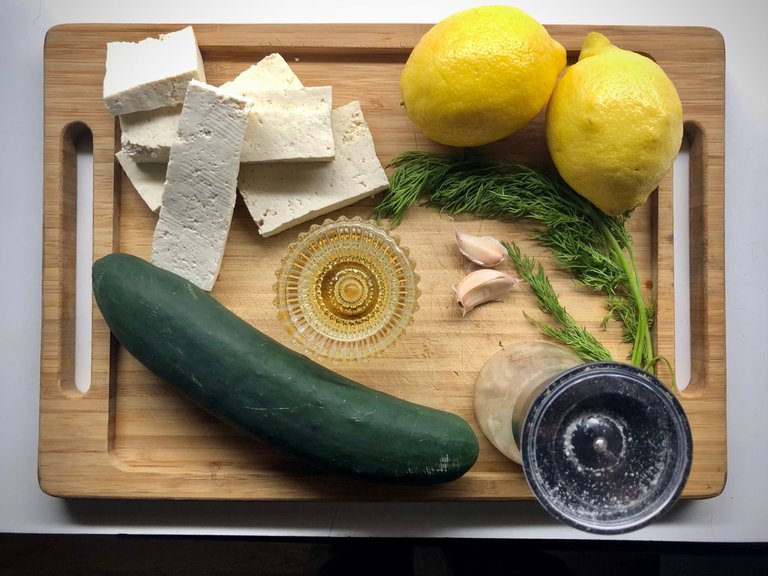 ~9 oz of tofu. Slightly more than half a typical block.
1 large cucumber
3 TBSP lemon juice
1 TBSP apple cider vinegar
3-4 cloves garlic
a SIZEABLE amount of dill
salt to taste
Dry and cube up your tofu. There's no wrong way to do this. Just whatever works best for your blender/processor. The recipe I was originally following called for 12oz of tofu and I found it very overpowering. On the second batch I reduced it to roughly 9, and I found the consistency MUCH better.

Peel your cuke, chunk it up too. Throw it in your blending apparatus with the tofu, ACV, lemon juice, garlic, dill and salt. I used a lot of dill in my final batch, more than pictured, and it was incredible. So, don't skimp on the dill, unless you hate dill. Obviously.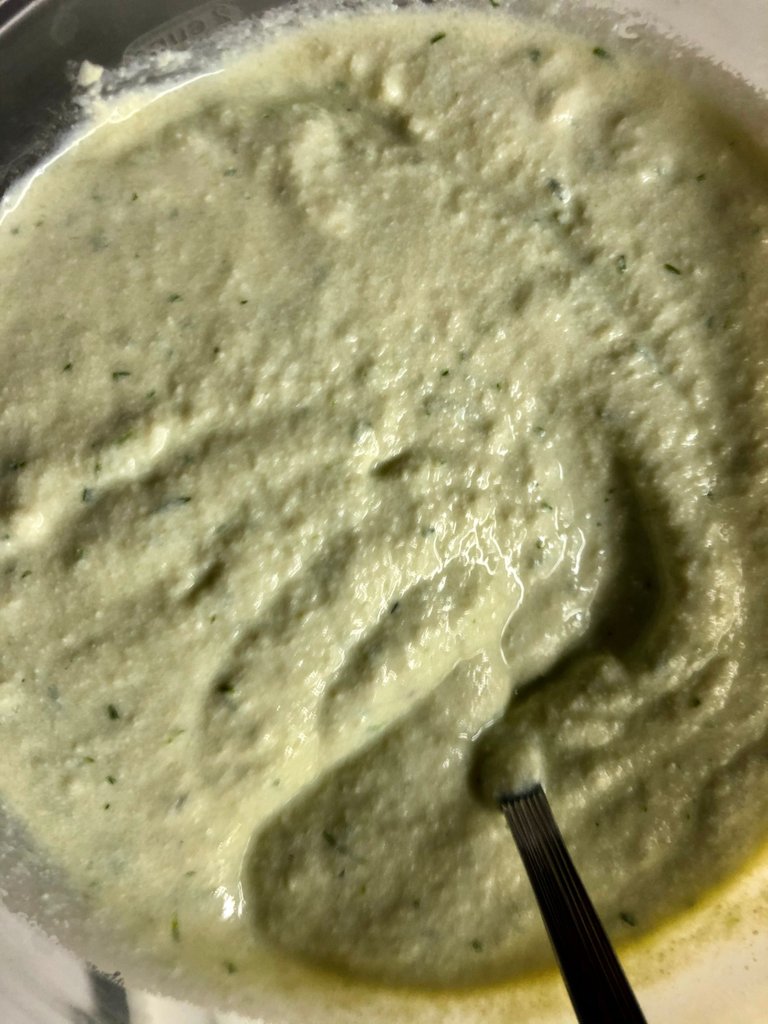 Hummus
You can make your hummus however you want. This personally was my first time including white beans along with the garbanzo beans. It gives the hummus a slightly different taste and texture; and I was a fan. I'm sure there are some hummus snobs out there who would stone me for this but, whatever!
1 15.5 oz can garbanzo beans
1 15.5 oz can white beans
3 cloves garlic
1 TBSP adobo powder
2 TBSP merken
a dozen(?) kalamata olives
2 TBSP lemon juice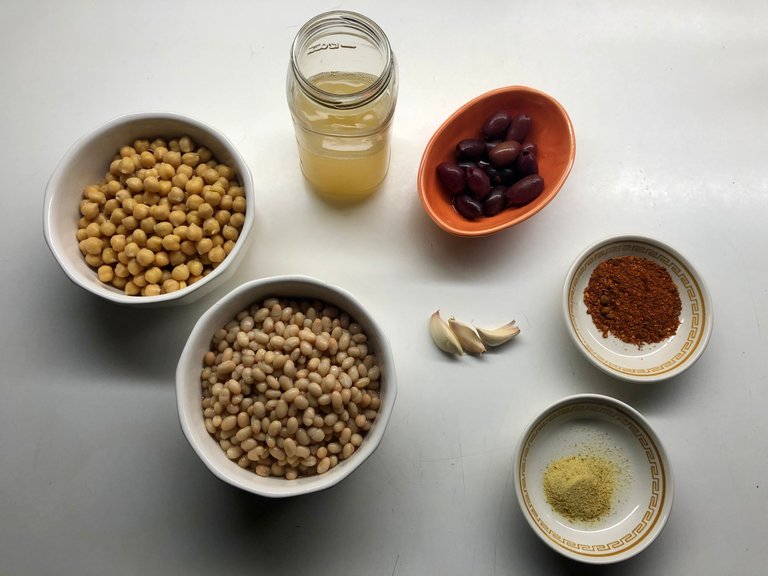 Drain your beans and SAVE THE JUICE. You'll want it to adjust your consistency, if needed.
Throw everything in the blender and chop it up. As your blending, add the bean juice as you see fit and according to your desired consistency. I think I also chucked in a few extra olives throughout the process.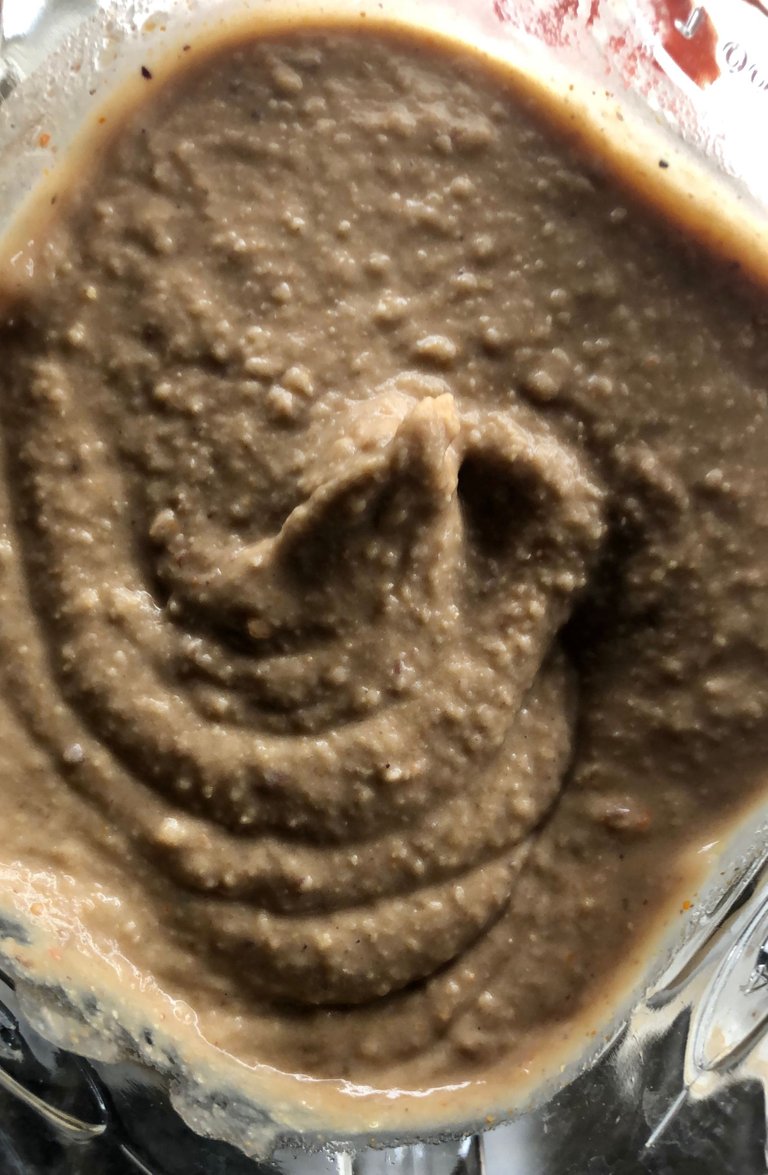 Now, this is a very basic hummus recipe. I'm sure there are thousands of better ones on the web if you're looking to make some homemade hummus. I enjoy the simplicity of this one, and while of course I would have loved to throw some roasted red peppers or something else in there; I like it. It's simple. It's good. Hell, it's great. But, yeah; if you want some real hummus, this might not exactly be top shelf style right here.
The Mushrooms
Alright so the hard part is over. Well, kind of. The only thing left needing any sort of real prep is the mushrooms. But, it's simple; and delicious.
I'm a HUGE mushrooms fan, but I usually get real lazy about my cooking methods. Almost always it's just a mixture of soy sauce and water, and chia seeds if Isi is around. I'd always include the chia seeds if I could, but them's pricey; so I save it for when we're together.
This time, however, I decided I wanted to turn up my mushroom prep effort a little bit. After all, they are supposed to be the "meat" in the gyros- although that's a silly way of thinking about it. But plenty of people do, and I even do subconsciously sometimes, so I'll just say it 😂
If you've ever seen one of my cooking posts before you're probably well aware that I have a habit of preparing FAR too much food. I feel like I should put disclaimers at the top. I love leftovers. I make such a mess whenever I cook and I feel bad for my room mate- so I often just prepare a lot of food at one time and put it away in containers. So, as I'd hope you'd be aware by this point, things like the hummus and tzatziki recipes are gonna produce a lot more than a couple gyros worth. The same goes for these mushrooms- or possibly not, depending on how many you pile on one.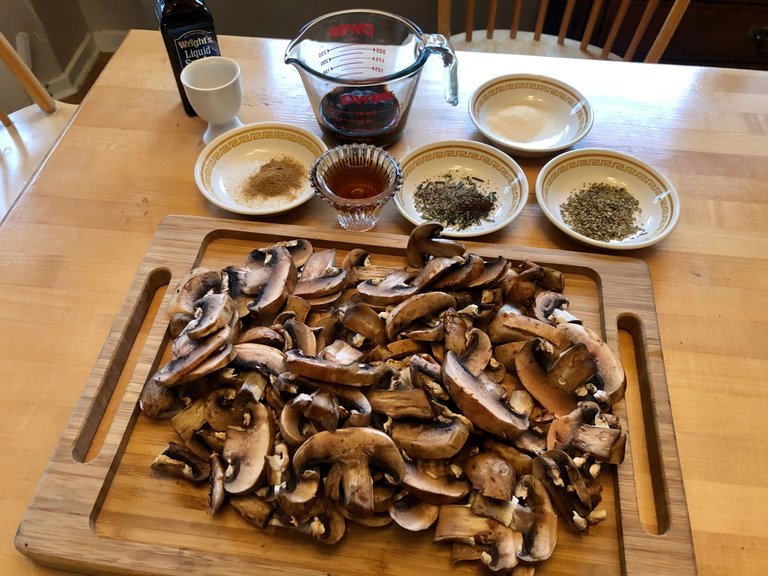 1 lb crimini mushrooms. I would have preferred portabella, but the price point got me
2 TBSP maple syrup
1 TSP oregano
1/4 cup soy sauce
1/2 TSP garlic powder
1/2 TSP onion powder
1/2 TSP ground cumin
1/2 TSP liquid smoke
2 TBSP water
1/4 TSP ground cloves
1/4 TSP black pepper
a small amount of ripped rosemary. I'm not sure how much I used- roughly 1 small stem's worth
Cut up your mushrooms as you please. Make sure to keep in mind that they are going to reduce in size during the cooking process.

Combine everything else into a small glass or bowl and mix together well. Place the mushrooms in a large pan and pour the concoction on top of them.

Turn your stove onto medium-ish heat and cook until most of the marinade has been absorbed. This took a little longer than I expected, and I actually had to turn the stove off halfway through because my dog decided that all of a sudden he needed to go out; NOW. That resulted in some of the mushrooms sitting on the bottom of the hot pan for too long; yet they were excellent nevertheless.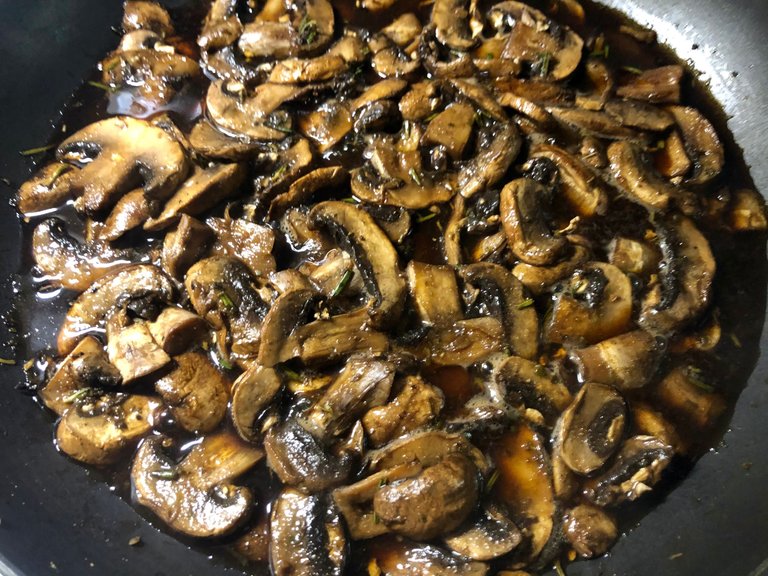 The gyros
Now you're ready to make your gyros with whatever you want. If you can find pita bread, good for you. I was ultimately unable to and went with naan as a last minute decision. No disrespect to naan- I actually prefer it. Pita just felt right for this particular dish. But, no worries :)
Choose whatever other vegetables you want. I used some cherry tomatoes, romaine lettuce, red onion, and cucumber. I meant to purchase an avocado, but fucked that one up. I had already forgotten something at the store before, so there was no chance of me going back a third time.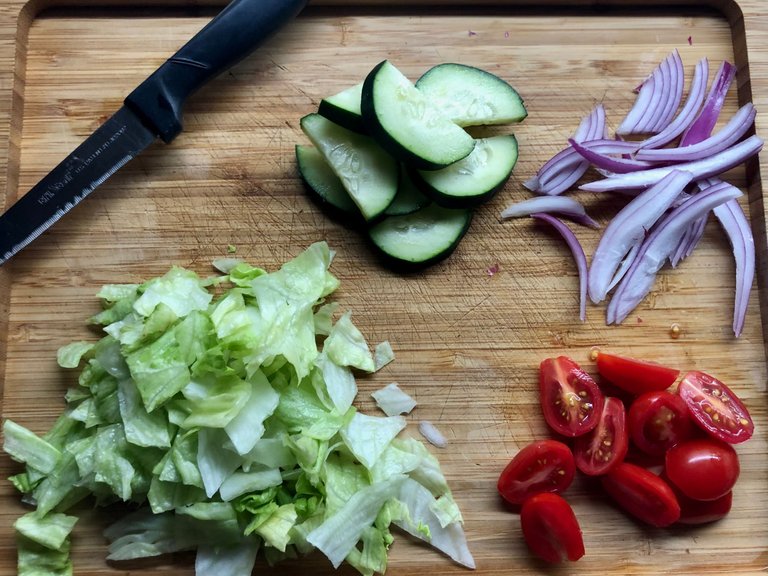 Spread your hummus on your pita/naan/wrap, and add your vegetables. Top with as many of the mushrooms as you think would reasonably fit, and then pour your tzatziki sauce on top. If you wanna be fancy, get some parchment paper and tin foil and you'll impress... well, I don't know. Whoever you're eating a gyro in front of I guess.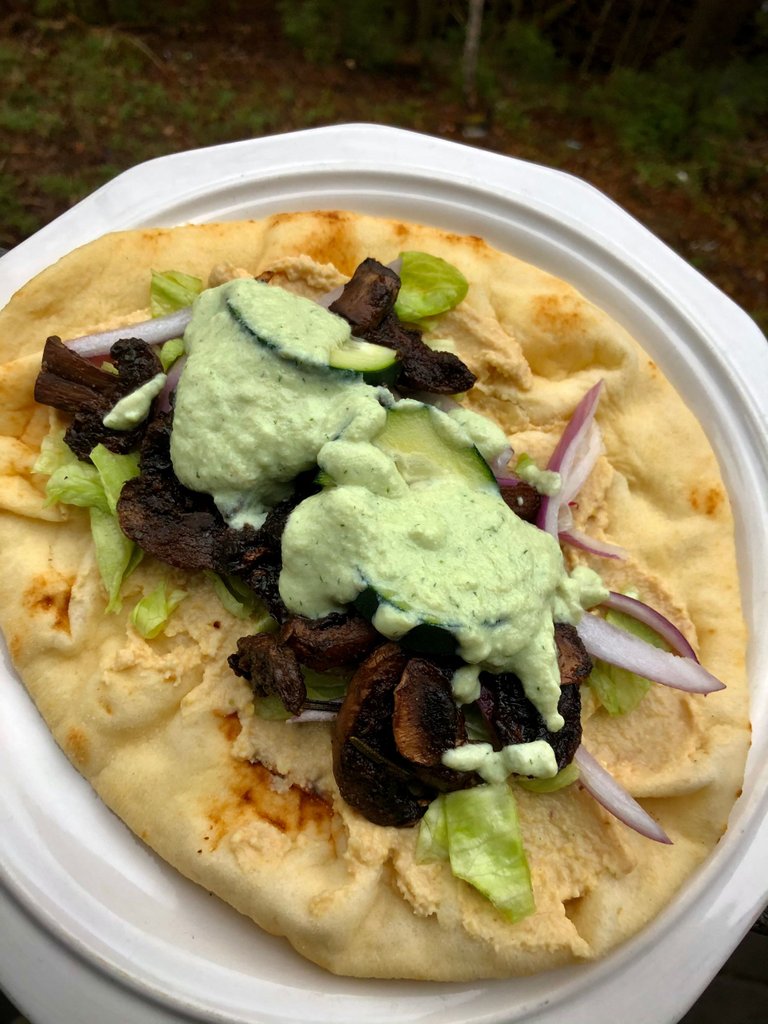 In hindsight, cilantro would have been a good addition. The next time I do this, I'm certainly adding avocado and cilantro. Maybe even thinly sliced radish.
And there you have it. Some mushroom gyros with some really great sauces to save for later- and mushrooms to boot. I would eat this every night of the week if I could. I mean I suppose I could, but I'm trying to regain my ability to move around a little better 😂 This winter didn't do my body any favors.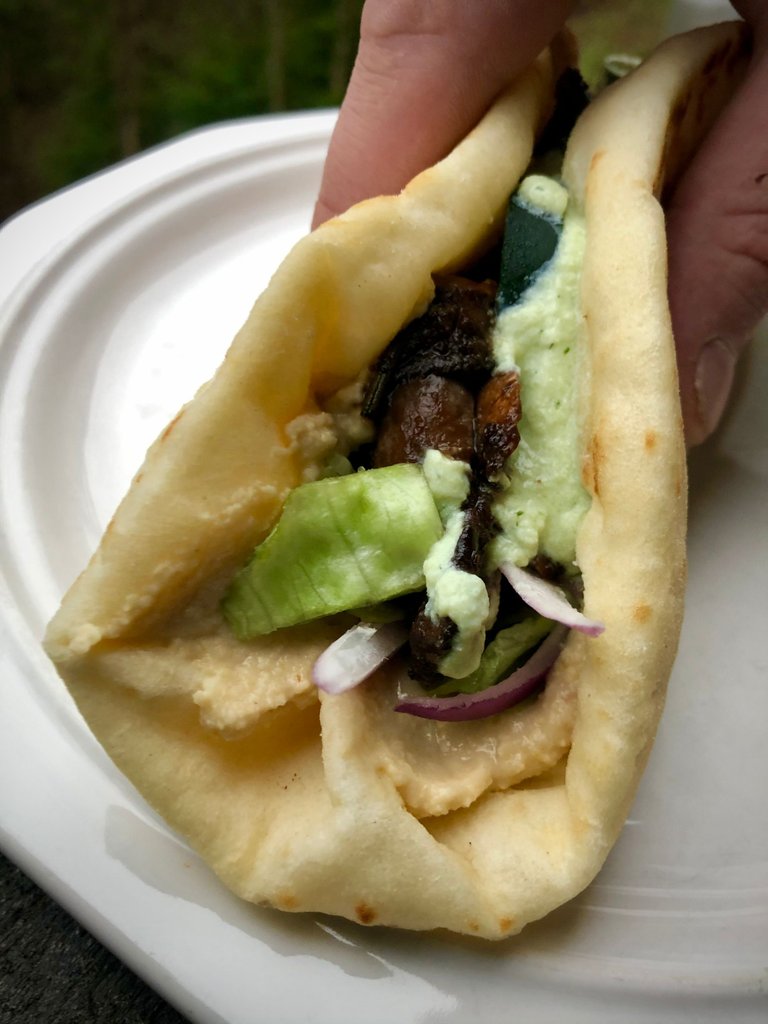 That's all I got for y'all. Looking forward to seeing the other entries!
---
---