Meatless Jambalaya - Who needs the flesh?

HOT JAMBALAYA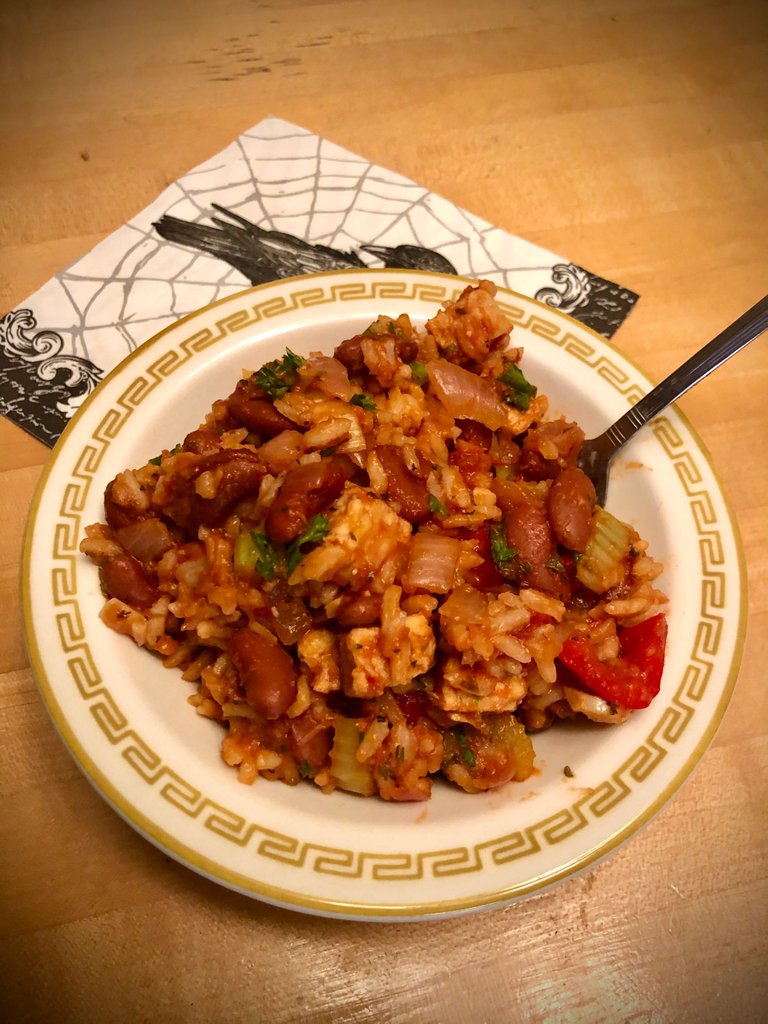 Well, at least I finally know how to spell that word. Back in the day I had a friend who used to use "hot jambalaya!" as an expletive(exclamation?).. usually when he was excited about something. It was years before I even knew what jambalaya was.. let alone having ever made it.
Yet, when looking at the ingredients for this week's Plant Power Cooking Challenge, I decided I wanted to focus on beans, as they are a wonderfully nutritious food that I rarely make, and I need to learn how to cook with them in a more routine fashion.
This is one of the things I absolutely adore about this challenge and the blockchain in general. It inspires me to do new things.
As I was looking through the legumes section of my free-pile, well-weathered, mass-produced, poorly-made vegetarian cookbook that is the sole book residing in my kitchen, I came across a meatless version of jambalaya. I have never made jambalaya before, and I'm not even sure if I've ever eaten it, so I decided I would challenge myself in tribute to my old friend Ralph. We've gone our separate ways in life, but we still live close enough, and maybe I'll even bring him some if it turns out to be as good as I hope it will(I'm writing this part as my beans are a-soakin').
The recipe in the book used a faux-sausage, but as there is an unopened package of tempeh that has been sitting in my fridge, I decided to go with that instead. I also wasn't a big fan of the ratios they used in their recipe; so I decided I am going to improv a little bit, borrow some ideas from the internet, and see what happens.
Ingredients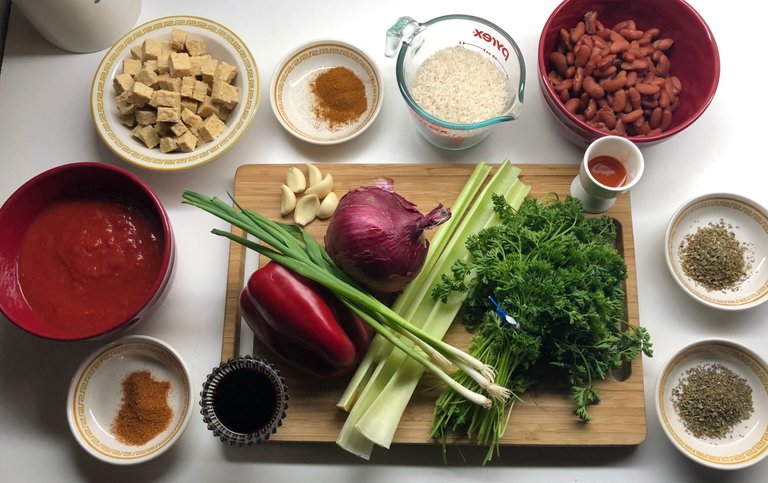 As with all recipes- do your own thang. This is simply what I did, but change this however you please. I think the most useful aspect of cooking is the ability to adapt to what you have available. Sure, it won't go over well in kitchens if you're working a line; but in terms of real life, cooking for yourself, it's one of the most valuable skills you could have. And this recipe is simply adapting to another recipe. That was adapted from another recipe. So on and so forth; back to the 18th century(which is when jambalaya was "invented", according to a quick search on Presearch)
And a quite note about the beans- you may certainly use canned beans. I happened to have dry kidney beans in my kitchen, so I went with the overnight soaking method instead-- but you can skip that step with a nice can of drained beans. Of any type!
3/4 cup dry kidney beans(=~1 15.5 oz can of prepared beans)
1 red onion
1 red bell pepper
3 large sticks of celery
16 oz crushed tomatoes (I wish I had a chunkier kind of tomato; but this was in my pantry)
1 package tempeh
6 cloves of garlic
4 green onions
2/3 cup parsley
1 cup uncooked rice(2.5 cups cooked)
2 TBSP soy sauce
~2 TBSP hot sauce
2 TBSP oil(I used veg because it's the cheapest oil I have)
2 TSP dried oregano
1 TBSP Cajun seasoning
1.5 TSP paprika
1 TSP dried basil
As you'll see below, I also used an additional 1 TBSP soy, some ACV, some onion and garlic powder and I think something else for my beans. I didn't list that in my ingredients list as that's just how I personally prepared my beans, and I'm also operating under the assumption that not everyone uses dry beans. I know I don't, if I can avoid it. But I figured since it was my first time making jambalaya, I might as well do it well.
Beans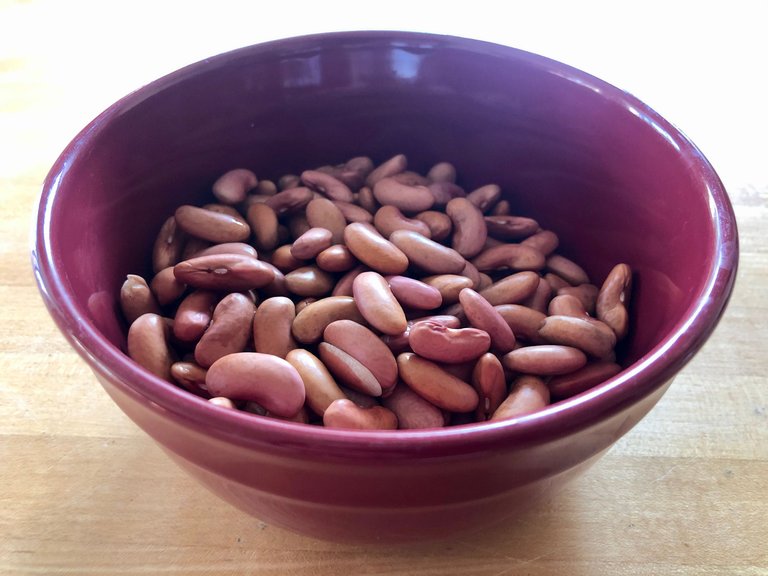 I know beans can be a controversial subject- when cooking from dry that is. Some people soak, some don't.. and some people who don't swear by it. I've only tried cooking beans once without the soak, and it didn't work out well. So, I usually stick with the soaking method. If you're using canned beans, or have your own bean method, you can skip this section entirely.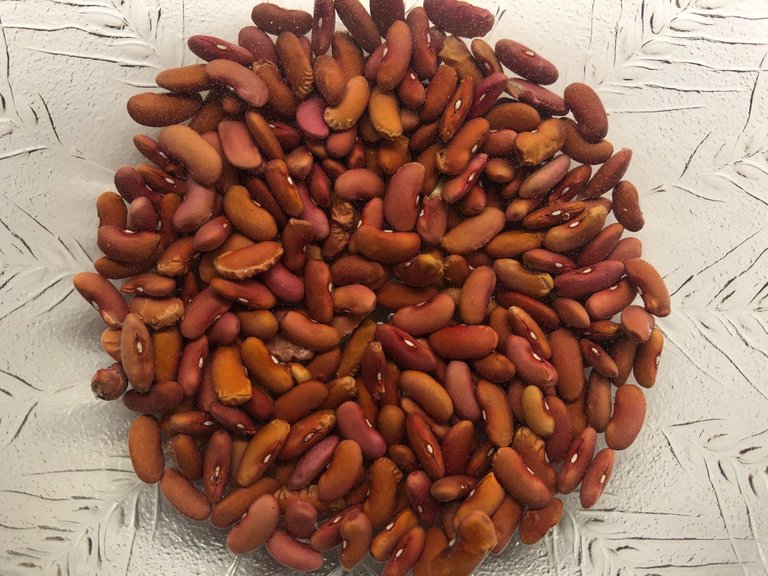 Soak 'em. I've heard of people boiling them and then soaking in hot water for a short period of time. I'm sure that works fine but I don't have the attention span, and it's easier for me to just soak them in cold water overnight.

I added my soaked and rinsed beans to a pot on the stove, and covered them in what I had left in a vegetable stock carton. Probably about 20 oz for my 3/4 cup of beans. I added a little water for safety, 1 TBSP of soy sauce, 1 TBSP of ACV, and a pinch of garlic and onion powders. One thing I enjoy about cooking dry beans is the stock the process produces. At the end, I ended up with a good amount of DELICIOUS stock- pictured below.

I turned my heat up to high, brought it to a boil, turned the heat down a bit and boiled for about 7 minutes. I was shooting for 5 but forgot. I doubt it really matters- just habit. Then, I turned it down to low, to a gentle simmer, and put a lid on it. I let them simmer for just shy of 2 hours, periodically checking the texture after an hour or so.

When your beans have achieved desire tenderness, scoop them out with a slotted spoon into an external apparatus. Then pour your stock into a container to save for later! I use the slotted spoon as I've found it the easiest way to separate the stock from the beans; rather than strainers, etc.
JAMBALAYA
SICK! Now you're beanin', and the time-consuming part is done with. Everything after this is pretty easy and quick.
I WOULD suggest preparing your vegetables beforehand. I did NOT, and I somewhat regretted it. I mean, I was also dealing with my dog and trying to figure out why my speaker playing The Last Podcast on the Left wasn't working properly; I'm sure if 100% of your attention was on the cooking you'd have no problem prepping intermittently- yet I simply can't.
The other thing I did as "prep" was a first-time thing. I've heard of people steaming tempeh before "cooking" it. The quotations is because you don't actually need to cook it. Anyways, people say it makes the texture and taste better- removes bitterness and softens it. I cut my tempeh block into quarters and steamed it for 15 minutes. I honestly didn't notice much of a difference at all. Although, I have never found tempeh to be "bitter" to begin with- like some people say it is. Additionally I like the texture. SO, do it if you'd like; especially if you find tempeh bitter. I don't, and I didn't really notice a difference. Next time I'll do a side-by-side comparison.
Oh, also, I almost forgot to say cook your rice. I had done so earlier when I cooked my beans, and from my understanding the "classic" jambalaya usually pulls parboiled rice from an already prepared batch.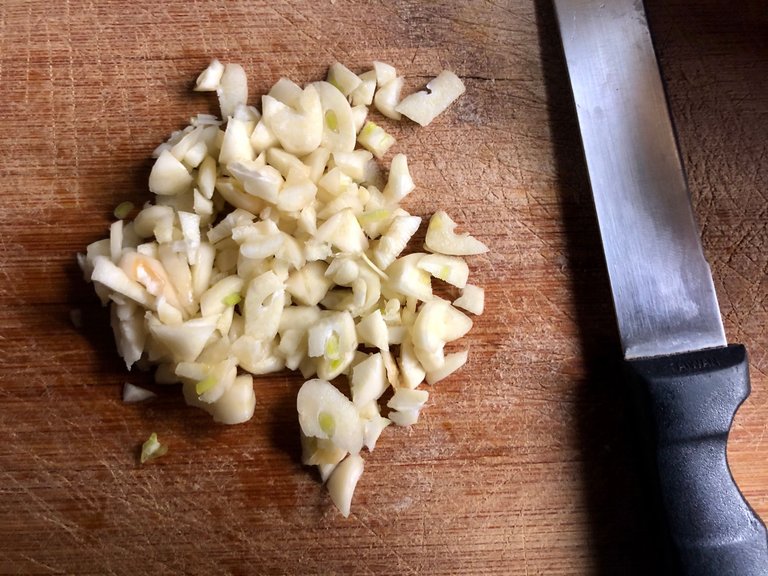 Prep your onion and your garlic. I usually leave red onion in slices, but I decided to chop/dice it this time. From my limited knowledge of jambalaya, this seemed like the right move. I made everything much more square than I usually do- even the garlic. I kind of minced, but it was certainly more of a rough chop.

Grab a good pan- and keep in mind the size. I did not. I mean, I did; I used the biggest sautee style pan I had.. but I wasn't prepared for how much food I was actually making. I have a tendency to make a large portion of one thing, such as beans, and then adjust the recipe to that. And I forget how that ends up. ANYWAYS, pour your oil into the pan and heat it on the stove/whatever your cooking apparatus is.

Once you've got your preppin' done and your oil heated, add your red onion and stir to coat. I'm not much of a timekeeper when it comes to cooking, so go by sight. Once they are a little translucent(if you want a time I'd guess maybe 3-5 minutes depending on the size of your onion and your heat level), add your garlic and stir for about a minute.

Once your garlic is nice and aromatic, browned; however you'd like, add your celery, pepper, and tempeh. I chose to cut my tempeh into little squares to go with the consistency of the size of the rest of the ingredients. The celery I chopped as I feel most people do, and the pepper larger chunks than usual. Once they've been chopped and added, stir, coat, cook for ~6 minutes. You can cook for longer, certainly; just watch your onions and especially your garlic. The rest should be fine.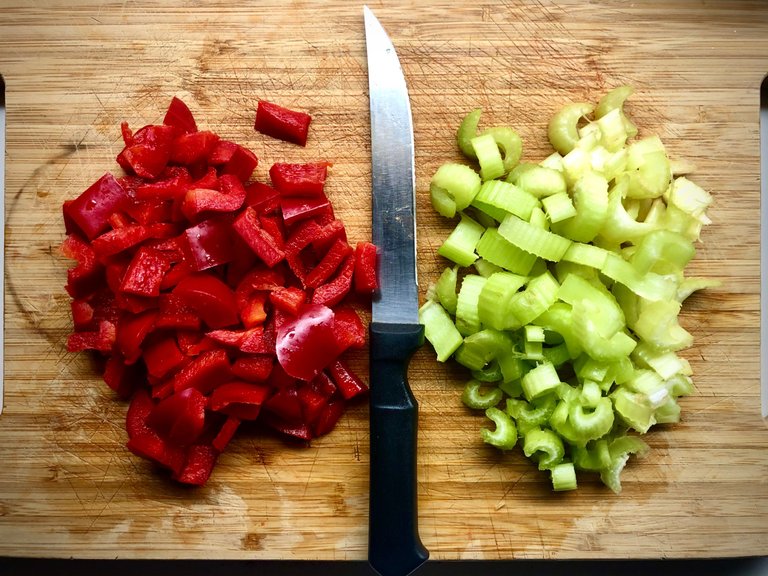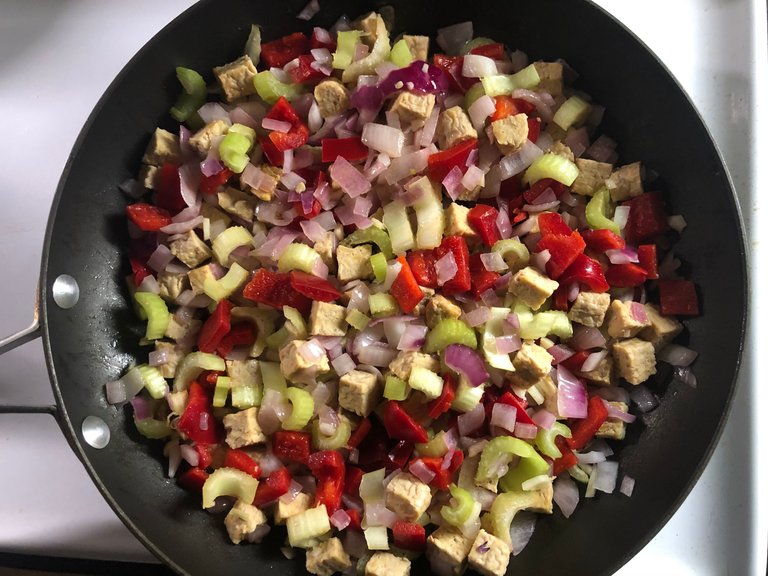 (5) When you're satisfied with the above step, add your beans, (cooked) rice, spices, tomatoes, soy sauce, hot sauce; essentially everything except for your greens(parsley and green onions). Due to my limited pan size, I added the spices and sauces before the larger items; to make stirring a little less hectic.

(6) Stir the SHIT out of this. It took me a solid 3 or 4 minutes of constant effort just to get everything combined- again, the pan size didn't help as I had to be really careful.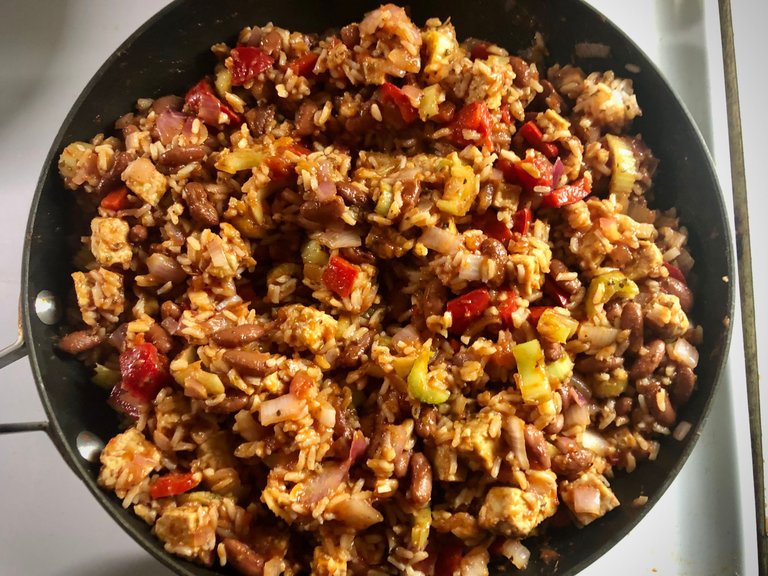 (7) Cook for roughly 10 minutes, stirring frequently. Or, less than 10 minutes. Or, more. Just give it the taste/heat test throughout and adjust accordingly. You want to saturate everything, but as long as everything is well-combined and heated thoroughly you shouldn't have any problems with that. Just make sure everything is heated through and all your liquid is absorbed.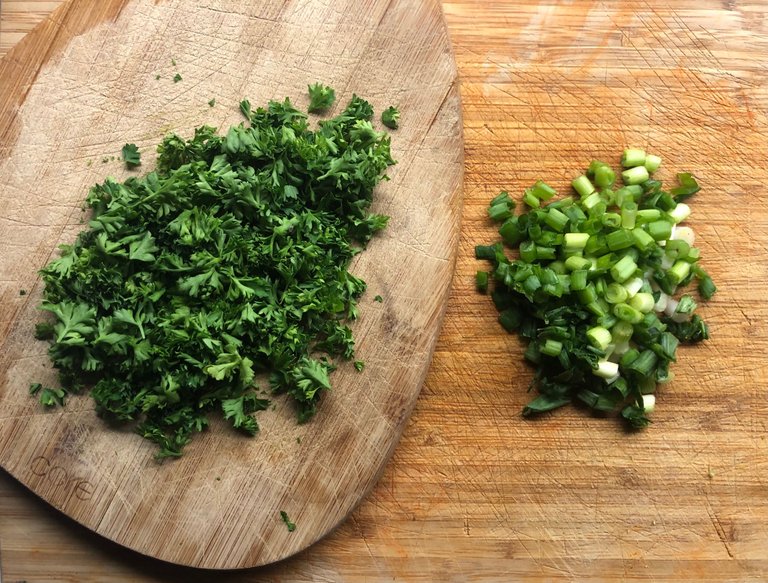 (8) Chop your parsley as you please, and your green onion into rings. Throw that shit in, stir to combine, add some salt or other spices as you please, turn off the heat, serve, and enjoy :) Unless you have a large family you'll have plenty of leftovers. Put them away or freeze some in a freezer bag.
And there you go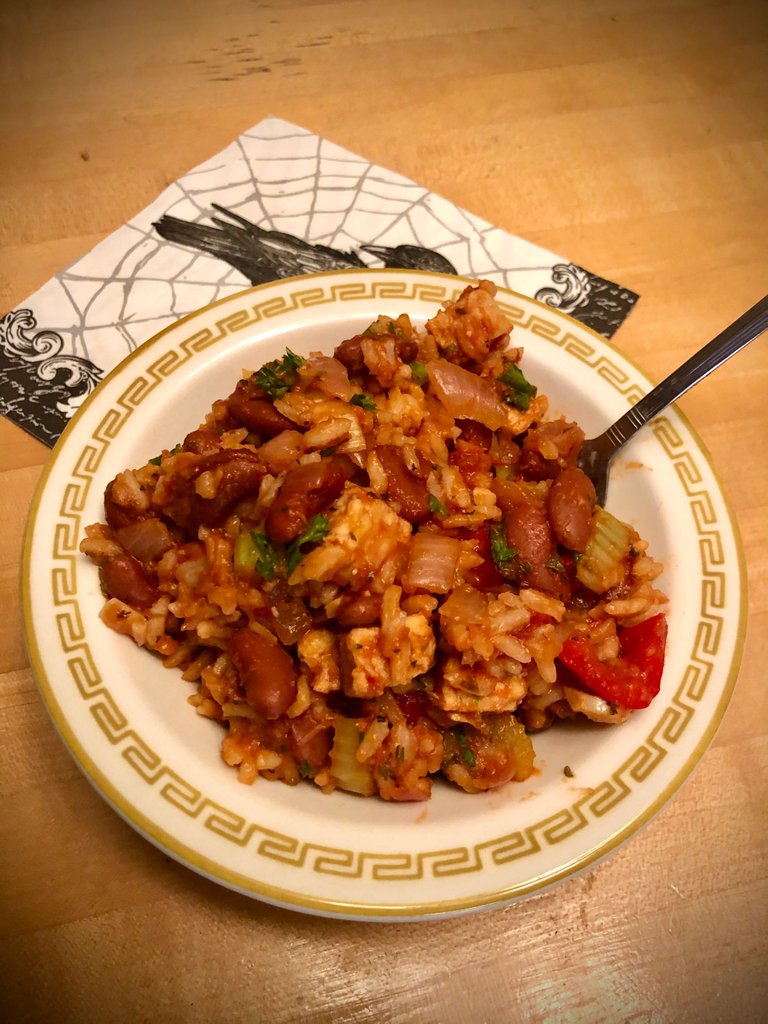 My first time making jambalaya couldn't have gone better. It was absolutely delicious; and I have tons of leftovers. I enjoy cooking this way; as I have to worry about less vegetables spoiling and I have something good to eat when I'm feeling lazy- rather than just making the fastest simplest food I can cram down my throat.
I hope you enjoyed this post about vegan jambalaya and I hope someone attempts to make it! Cajun folks- give me your feedback. Jambalaya experts- you as well. If this inspires you to make some, please take a picture and leave it in the comments.
I had a lot of fun with this challenge. This is my second go at taking a traditional meat-heavy dish and creating a vegan version. I'm getting to the point where I don't really remember the taste of meat but I also don't remember ever missing it all that much as long as the cooking is done right.
Thank you all for reading! Mad love to the HIVE <3
---
---