Music Monday - Joe Meek
This week for Music Monday I decided to take a little bit of a different approach. I decided I would kind of combine my interest in researching the "weird" and "macabre" with my interest in music/music history. A few things ran through my head on that subject; some too boring, some too well-known, and some too, well, dark and disturbing.. and then I settled on Joe Meek. I'm sure if you know that name, you already know this story, but if not; well, this guys has an interesting career, to put it one way.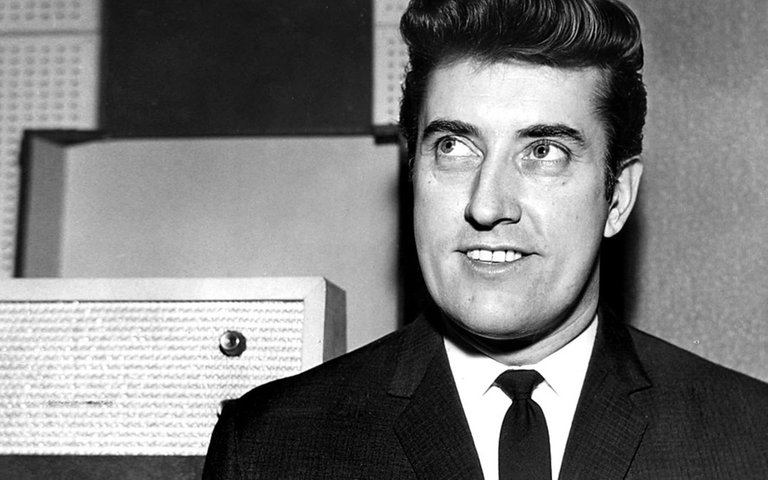 The story of Joe Meek is a fascinating tale of a ahead-of-the-time, genius, insufferable, horrible, paranoid, schizophrenic, communicating-with-the-dead, closeted gay music producer that starts with a prodigal childhood shed electronics laboratory and ended in a tragic murder-suicide. It's a lot to take in, I know.
Now, I'm not saying there's anything wrong with any of the above-mentioned things(well maybe murder-suicide is bad). The reason I mention them is because none of them helped this man find solid ground to stand on, and ultimately, in my opinion, assisted in the deterioration of his mental health which was most likely the cause of the tragic end result.
Joe Meek (1929-1967)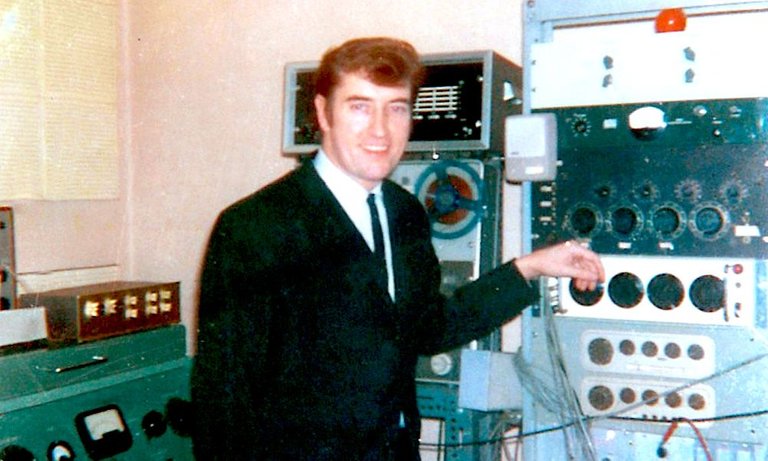 Joe Meek was born on April 5, 1929 in Gloucestershire. He was reported to be somewhat of a prodigal child when it came to electronics, and had taken to fancying his parents' garden shit into a sort of electronics experimental laboratory. I couldn't actually find any evidence supporting this, but multiple sources I've read on Meek have mentioned of the young Meek boy actually franken-creating the city's first working television in said shed.
As he got older, he worked as a radar technician for the Royal Air Force, and continued on to work for an electricity board and use their resources to start his experimentations in sound.
See, Meek was not a record producer due to a talent or even interest in music. In fact, it was said that he was actually a HORRIBLE musician. It was said that he couldn't play an instrument to save his life and that he was tone deaf- although I don't fully see how that's possible given what else we know about Meek; he was extraordinary with sound.
He was said to be able to replicate any sound he could imagine. He was incredible at manipulating sound- and I've actually heard of several instances of artists being furious that he did so with their recordings without their consent. I'm not going to pretend to be super audial-knowledgeabo or anything and pretend to know what I'm talking about on the subject. But I can imagine what those descriptions mean, and if you listen to the work he produced you can certainly hear it as well. This is why many said that he was about half a century ahead of his time- he was doing the things to audio that have become top-of-the-charts in the 21st century.
sigh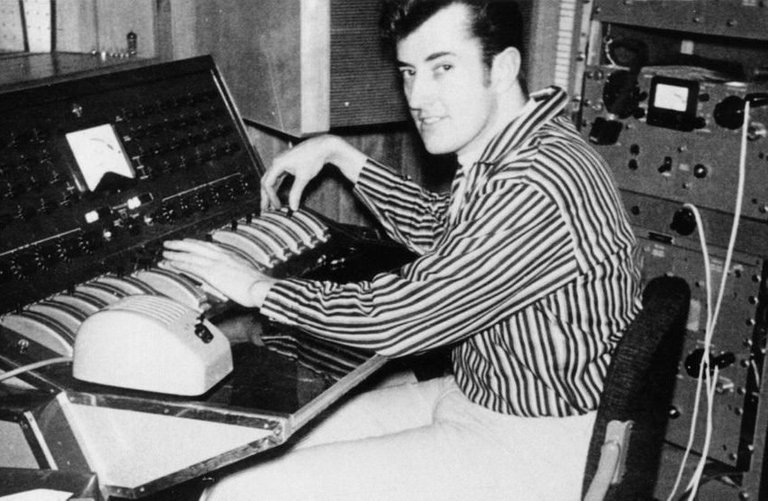 There are so many layers to Meek's story I don't really know how to tell his tale.
So, his sound manipulation when it came to music producing didn't really do him any favors.. except when it did.
To describe Meek as either a very successful producer or a very under appreciated one- well, both would feel dishonest. Meek was not successful. But that was partly due to his own doing. And furthermore, he had a TON of accomplishments.
one of Meek's more well-performing productions
For example, Meek produced the very first UK song to go #1 in the USA. That was a big deal given the time frame, and the British Invasion following shortly afterwards- something that Meek was both uninvolved with and comically involved with. He was the first independent British producer, who established Britain's first independent label; although it failed within a year, mostly due to Meek's substance abuse and him being a general tyrant.
He also recorded the first rock concept album, I Hear a New World, in 1960; although he only released a few tracks at the time, sold 99 copies, and the full thing was not released until after his death.
Additionally, "Telstar" by The Tornados, his above-mentioned #1 worldwide hit, was under lawsuit by a composer who claimed Meek ripped off the melody from a film score he wrote- so Meek was seeing NO money from his best-performing production. Either way, it's a truly beautiful track:
Now, so far I've been seemingly describing the life of a normal up-and-coming, struggling music producer. Joey boy here couldn't be farther from normal.
Now, I mentioned before that Meek was bipolar, paranoid and schizophrenic. None of these things are a crime. I have serious problems with more than one of those things myself. But, it's necessary to talk about in order to understand Meek's story.
Additionally, Meek was an ABSOLUTE FUCKING ASSHOLE. Like a horrible, horrible person. The guys obsessed with outer space, was against the grain of his time in almost every way possible, tried to communicate with the dead- EVERY PART OF ME WANTS TO LIKE THIS GUY. But, I fucking can't. By everyone's account, he was the absolute worst.
And I believe, to an extent, a product of his environment. Society wasn't helping Meek at all. For example, he was a closeted gay man in a time where it was literally illegal to be a homosexual in the UK. I forgot that time period existed; maybe because I was born in the 1990's. But it was illegal to be gay. That's fucking crazy.
But that doesn't change the fact he was an absolute, horrible, abusive tyrant.
"Music Career"
We talked, extremely briefly, about some of Meek's success. Telstar was by far his biggest hit. But he had other successes as well. And to be honest, I really enjoy the music he produced.
Like, it's really good. Sadly, there's no full stream of "Vampires, Cowboys and Spacemen", but it's absolutely incredible. And his recordings are super diverse. From types of tracks you'd imagine would fall under the above title, to romantic garage and everything in between. His catalogue is pretty fascinating for really anyone.
But, his attitude had proved that he was unbearable to work with. After being tossed from several studios and projects, Meek ended up creating a custom recording studio inside his London apartment; reminiscent of his childhood shed laboratory.
Much more interesting than the tales of Meek's musical success are the people he said "no" to. The opportunities that were placed in front of him that he just said "nut-uh" to; or worse. Like I said before, his catalogue is fascinating; and is definitely worth a listen. But, the interesting tidbits of his story lay in the negative.
Ok, I'll start off with a reasonable one. David Bowie. I only say "reasonable" because, well, Bowie's first album was terrible. And I'm a hardcore Bowie fan. I think if you can't admit his first album was terrible you aren't a real Bowie fan. BUT, nonetheless, yes, Meek said no to Bowie. Additionally, he said no to The Beatles. Now, opposite of the Bowie thing, I'm not a Beatles fan; but I can say, pretending I'm in the shoes of a producer, Bowie's demo- reasonable rejection. Beatles- fuck no. Regardless of my feelings about the music of The Beatles, that's the sound of money.
All the meanwhile he was producing music by artists by such names as "Screaming Lord Sutch"- someone I actually desperately want to research more and potentially write a future post about. I'm a fan of the music I've heard by him, I'm a fan of his aura, and he seems interesting as shit. He used to dress as Jack the Ripper on stage in the UK in the 60's, and would just randomly start screaming in the faces of the audience during his live shows, hence the name. He even apparently also was a recurring political candidate, in character and all, and created a political party by the name of "The Official Monster Raving Loony Party". A quick break from Meek, here's a picture of Sutch as the Ripper himself;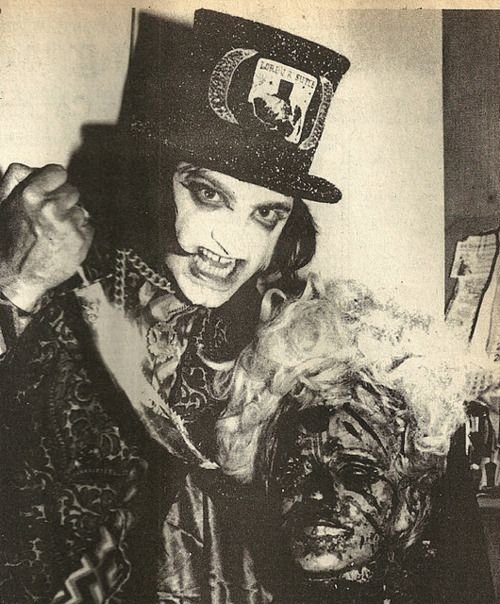 Now, there were plenty of others that Meek just casually said "no" to. But there was also plenty of times when his "no's" were not so casual- or even his "yes's". Meek reportedly ran into a recording session with his fingers in his ears screaming about how horrible a singer's voice was and how he couldn't stand him. The boy was 16 and Meek continued to belittle him, scream at him, and, by at least two source, threw a percussion cymbal at his head. He told him he couldn't stand him and that he had absolutely NO business in music. Meek ultimately ended up stealing the backing band from the singer and re-branding them. That 16-year-old singer was Rod Stewart.
Then there was the infamous incident with Mitch Mitchell, the eventual drummer for The Jimi Hendrix Experience. Mitchell, at the time playing for The Tornados, the group that recorded "Telstar", had been playing drums too erratically a few times during a recording session- prompting Meek to storm into the studio with a shotgun, and hold it to Mitchell's head. This was, certainly, one of Meek's more intense in-studio breakdowns.
He had some sense though, too. As I keep saying, the music he did choose to produce was gorgeous- even if all of it wasn't so successful for it's time. One story I thought was funny was when a young Richie Blackmore came into studio with his childhood band, and Meek told them to all their faces that they all were GARBAGE, with the exception of Blackmore.
"Low-budget Phil Spector" & BEYOND THE GRAVE
Now, possibly due to a combination of his fascinations with sounds, interest in the occult, and his mental health problems, Meek had been developing an increasing interest in the paranormal. And there are ways those last two played back and forth on each other.
Before getting into the more serious stuff, I'll again reflect on some the weird, kinda "cute", in my mind, tidbits about Meek that make me want to like him; even though he was just an absolutely horrible insufferable being. FOR EXAMPLE, Meek, on more occasions than one, would bring recording devices to graveyards and try to record the "sounds of the dead".
On one of these occasions, Meek picked up the sounds of what was, in reality, a cat purring. But Meek was absolutely convinced that the cat was being used as a medium by the dead, and that it was saying "help me".
I have to admit, in one of those weird chicken or the egg type of situations, when you listen to the recording with the thought of his interpretation in your mind, it sounds a LOT like a cat saying "help me". But also, when you first listen to it, it just sounds like, well, a cat...
Meek was convinced he discovered something here, and was making headway in his attempts to communicate with the dead. This certainly wasn't helping his mental problems. And in addition, there was an affirmation that made things so much worse for him, and despite the probability it was simply a coincidence, it is part of a series of events that have a very strange similarity between them.
It started with Meek having a dream and/or vision during a seance telling him that Buddy Holly was going to die on February 3rd. This happened in January of 1958. Holly just so happened to be touring the UK at the time, and Meek found him and told him this "prophecy".
Honestly, I have no idea what led to this oh so specific communication of a specific musician dying on a specific date. I do know Meek was a fan of Holly's, and was a paranoid schizophrenic, so I won't question it further.
And it's absolutely a confirmed fact. It's not just some conspiracy. There is an interview with Holly where he states that someone in January of '58 told him he was going to die on February 3rd. He was laughing about it at the time, as it was well after the date.
However, on February 3rd, 1959, the next year, that famous plane crash happened, "The Day the Music Died", and Holly was among the dead.
Now, yes. This is a crazy, tragic coincidence. But the fact is the coincidences don't stop there. I'll openly admit I am a skeptic to ties such as these, but in the classic X-files form, I want to believe; but even I can't get an eery feeling about some of these later coincidences.
Firstly, and this one needs a bit of a backstory, is the weird connections between Mr. Meek here and his USA counterpart Phil Spector. There were a lot of similarities between them- the most known being that Spector went on to be a successful figure while Meek's life ended in tragedy and his name kind of blew away in the wind.
There was an apparent "rivalry" between the two- although it was not a two-way street. Meek thought there was a rivalry, and that Spector was stealing his ideas. Spector, on the other hand, saw Meek as a peer influence and had a great deal of respect for him. In fact, Spector even phoned Meek one time to show his respect- which ended with Meek yelling at Spector in a paranoid rampage about being bugged and stolen from and then smashed his phone to pieces on the receiver. This was the early 60s.. phones were not cheap.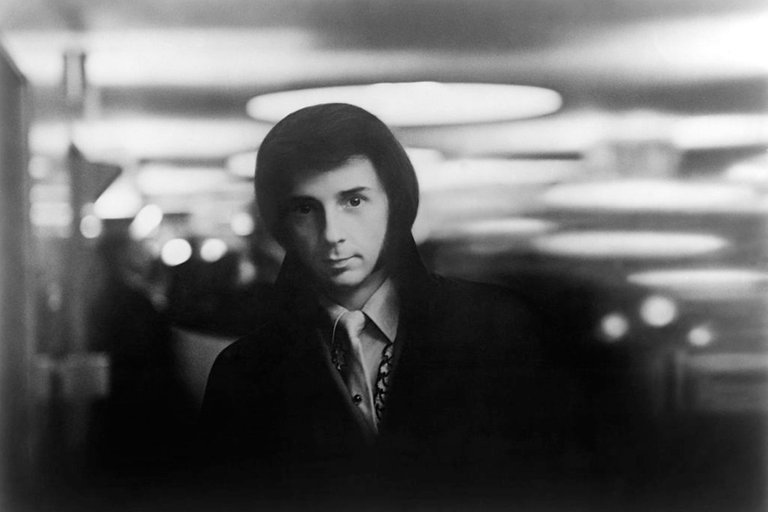 Spector source
The weird part comes with, well, a little one-two'er. First, I have to talk briefly about Meek's tragic, strange end. One day in 1967, Meek's landlord, who lived in the same building on the first floor, came up to speak to the financially struggling Meek about his overdue rent; and also possibly the noise his studio was producing. A witness overheard Meek screaming at the landlady "SHOW ME THE BOOKS WHERE ARE THE BOOKS", presumably talking about rent records, before a shotgun blast was heard, and the landlady stumbled out of the apartment and died in the arms of the witness with a shotgun blast to her back. As she was dying, there was one last blast heard, as Meek shot himself inside his third story recording studio.
A tragic, tragic story, yes. But I can't help but just transitioning right back into the odd coincidences here. The date of this murder-suicide was February 3rd, 1967- exactly 8 years after the infamous plane crash that killed Buddy Holly that Meek more or less predicted.
Additionally, I was not aware before this that Phil Spector had murdered someone in 2003. Another very tragic story that I will not tell here today, and I'm sure many people know about it than I. I always, always thought the similarities between the two were remarkable. And then I heard that they had both murdered someone- that was like an a-ha moment.
But then to find out the date of Spector's murder. February 3rd, 2003.
In January 1958, the mentally ill Joe Meek was supposedly told by a spirit that Buddy Holly would die on February 3rd. We know this to be true, at least in Meek's mind, because Holly recollected that information in an interview in 1958. Holly died on February 3rd, 1959 instead. One year later, same day. Meek then lost control of his unraveling personal issues in 1967 and murdered his landlady and committed suicide, on February 3rd. Phil Spector, his American counterpart and, again in Meek's mind, a "boogeyman" to him, murdered a woman on February 3rd, 36 years later.
It's dark, and I hate to use tragedy as a tool for conspiracy theories. Because I think we've all seen how harmful that becomes. So I'm not trying to present these last pieces of info as a "fun" thing- just rather, very strange, interesting coincidences.
ANYWAYS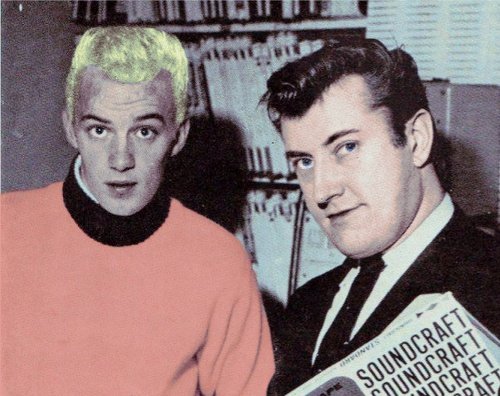 Source
That's my long rant on Joe Meek's very interesting, strange short life. It's funny how divided the music he produced and his character are in my mind- they are so separated. When I just remembered this was a Music Monday post I had to do a double-take and remember, "oh yeah, his music is wonderful". When I think of him as a producer, I similarly forget all about the horrible, horrible person he was.
And I like that distinction. I want to enjoy his music. I mean, I find these macabre, horrible things fascinating so I would probably enjoy it anyway. He's dead, so it's not like I'm supporting him. He had no "ideals", moral or ideological incentive so I'm not supporting those either. So, to me, the producer and the horrid, horrid person are very separated in my mind, and I like that.
I hope I can find more of these weird, strange stories to do MMs on in the future. That was quite a bit of writing, but boy did I have fun doing it :)
---
Posted via MusicForLife.io
---
---