Tortellini Asparagus Lunch! Easy and (decently) healthy!
Today I realized I had far too much asparagus. I needed to eat it ASAP, and I although I love it(hence why I bought it), I never go through the challenge of preparing it(hence why it's just sitting in my fridge).
Years ago I found a cheap old cookbook rotting in a curbside trash pile in the small city I lived in. It was a vegetarian cookbook, and while I was not a vegetarian at the time, I had always wanted to be due to my dislike for the mass produced meat industry. I'm a younger working class guy living in an extremely economically diverse area, however, so being picky about what you eat was not in the cards for me.
I am a vegetarian now.. but that's besides the point.
I happened to be flipping through the book while, no joke, I was also thinking "eh maybe I should make that tortellini I have instead. I'll make the asparagus later".. and what should I accidentally flip the page to but.. "Tortellini Asparagus Salad".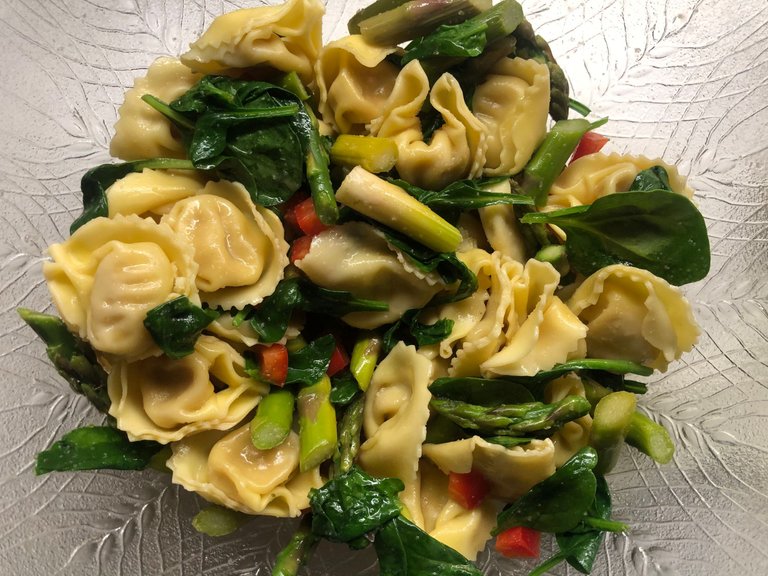 Now this book is one of those cheap ones that is vague on the recipes and uses half their print space to push sponsored products. For example, not once in the entire book will it encourage you to use an actual egg. Even in the breakfast section. It just tells you to use a certain brand's "bottled egg" product or some weird shit like that. Now I don't know what eggs that come in bottles or cans are like but I'm not particularly interested.
Anyways, yeah; the recipe for the salad was lacking. But I decided to use what I already had in my kitchen and take a stab at it. You can alter this recipe IN ANY WAY YOU'D LIKE - including adding meat! I'm not one of those veg-heads who's gonna give a rat's behind about what anyone else enjoys eating! Have at it!
Easy Tortellini Asparagus "Salad"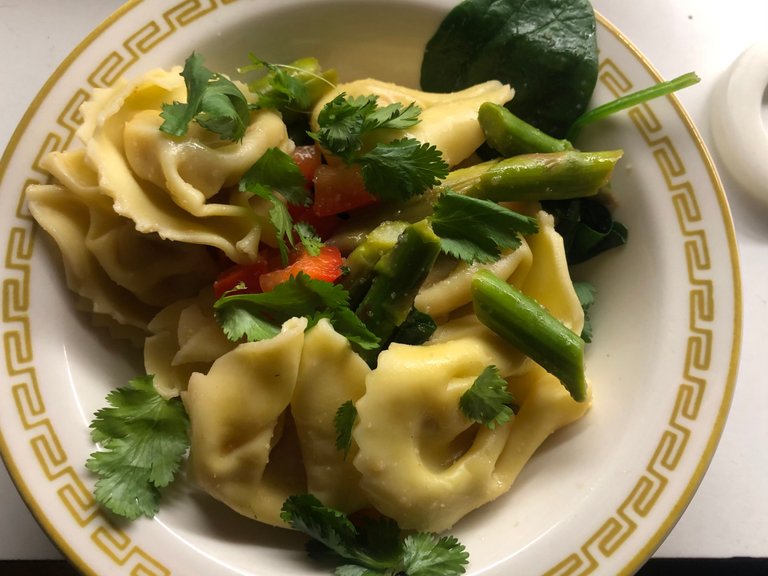 Cilantro optional :)
This recipe is super easy to make; as long as you have some sort of device to use as a steamer. Steaming has never been big for me; and I think that is partially due to me not having a steaming device. Typically I would work ways around it. BUT, cooking asparagus in the oven, as I normally do, is a messy task. Additionally, I wanted this to kind of be a "cold salad"; so I figured I would try to figure out a steaming method. And I accidentally discovered that the thing I found in a kitchen drawer that I've been using as a form of strainer seems to be meant for steaming; and I never put it together.
Ingredients!
1 package tortellini(9/10 oz)
1 cup(tightly packed) fresh baby spinach
1/2 cup diced bell pepper(I used red)
2/3 lb asparagus
Cilantro(optional)
For dressing:
2 TBSP red wine vinegar
1 TBSP olive oil
1 TSP lemon juice
1/2 TSP sugar
1/2 TSP garlic powder
Salt to taste
Let's get cookin'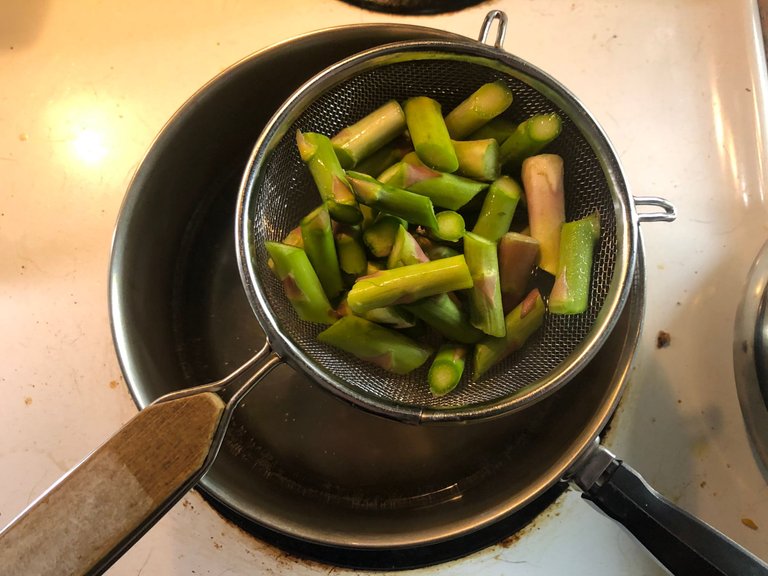 As I said before; I had no idea this thing was (might be) intended for steaming until I was searching for something to use and realized this fit perfectly around the rim of a pot. Find a slightly larger lid and viola
Cook the tortellini according to the directions on the package. If you're a real boss, make your own tortellini. I have tried before and failed miserably. Drain it and put into a large bowl.

Cut the asparagus into 1 or .5 inch pieces. Get a little water boiling in your pot; or whatever your steaming method is. Steam the asparagus for 10 minutes. It's best to not overcrowd the steamer, so with my limited size, I had to do it in two rounds. I enjoyed this dish cold, so I wouldn't worry about timing too much.

Next(really order does not matter), steam your spinach for roughly 45 seconds or a minute. Do it until the leaves are looking wilted. I left my second batch on a little longer than the first and it didn't make much of a difference. Add it to the bowl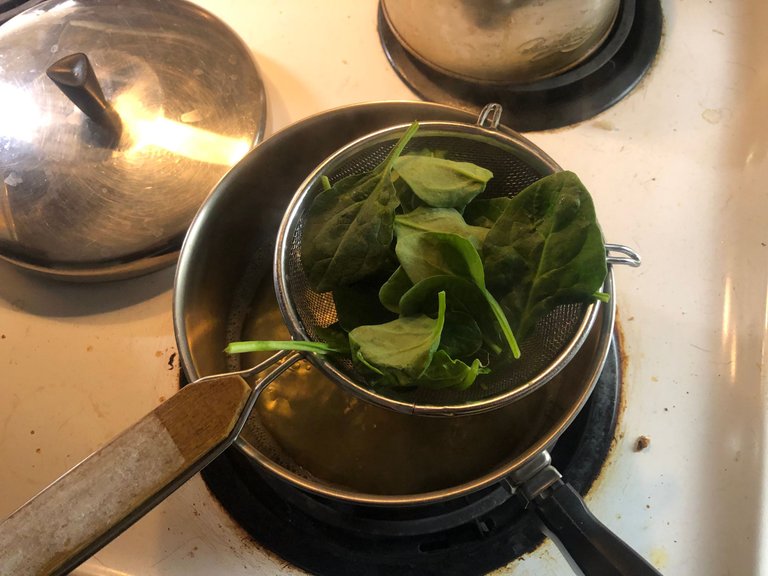 (4) Dice your pepper and throw it in with the rest. At this point, add anything else you would find desirable as well. Cucumber? Other vegetables? I happen to have another pack of tortellini so I may try this again soon and change up some ingredients.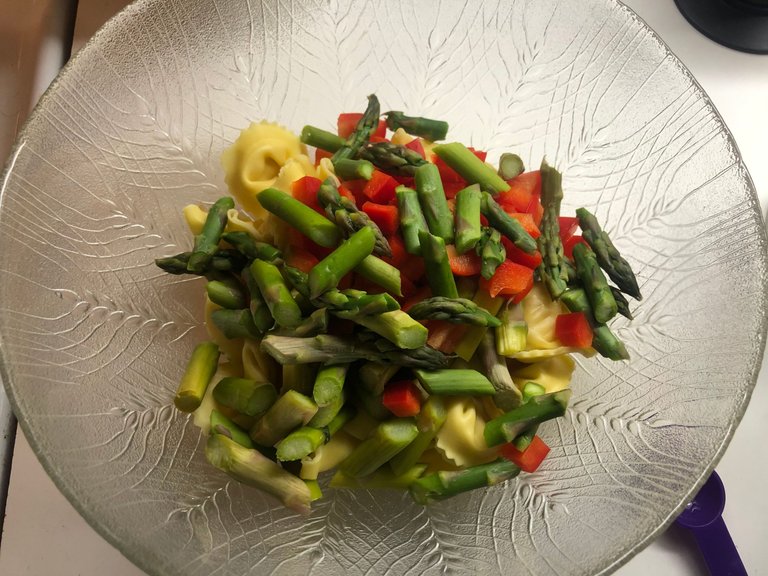 You'll notice I took this picture before I added the spinach.. SMH. I'm still learning how to take pictures for cooking posts
Dress it
Simple! Just take all the ingredients listed above, combine them in a bowl and mix them about. Switch it up if you feel. It can out a little lemon heavy, which I like; but if you think that would bother you use a little less lemon juice.

Mix up your bowl and pour the dressing over! That's it! Super easy, fairly healthy, very delicious meal.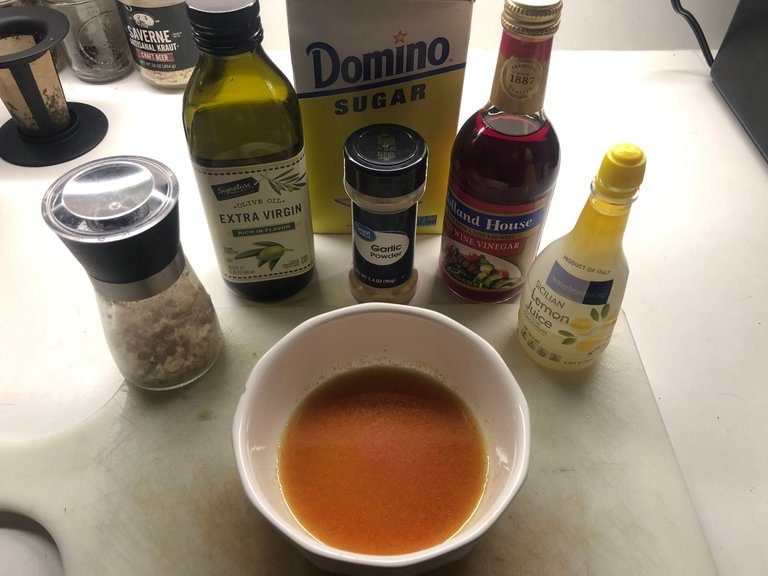 I've been doing a lot of complicated cooking lately(which may somewhat be HIVE inspired; also boredom, unexpected stint of unemployment inspired), and it was so refreshing to make something that utilized a couple vegetables I am afraid to let go to waste that was so simple and easy. Super easy prep, easy clean up; I mean, not even a dirty dish other than a knife and a cutting board! Quick rinse for the pot, quick wipe down of the "steamer", and that's about it.
I added cilantro at the end but that was mainly because I've been adding cilantro to everything lately. I have a large bunch and I don't want it to go to waste.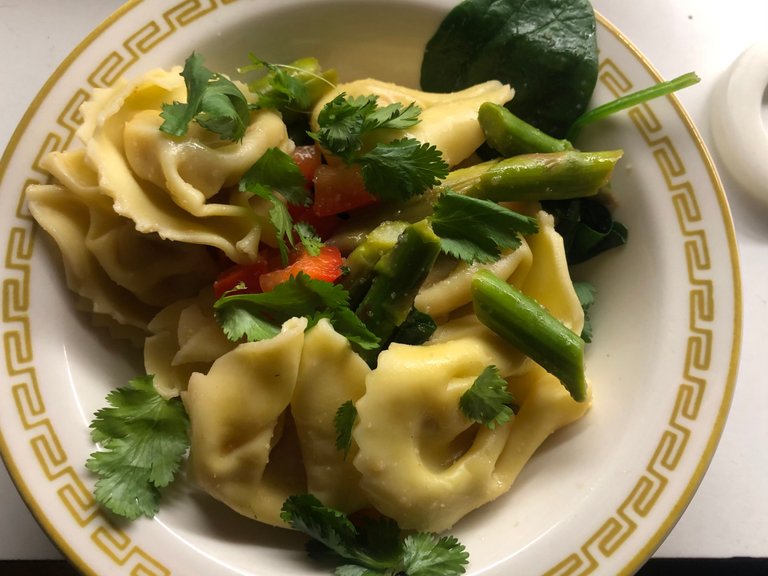 I really enjoyed this meal. I can't stress how easy it was to make. My only regret is that I wish I used smaller tortellini. It was still a great quantity; but the large pieces made it difficult to get bites that had everything in them. It almost felt like I was eating two separate dishes.
Let me know what you think if you decide to make it! Cheap, easy, good. Not too unhealthy! Thanks for checking it out!
All love to the HIVE! <3 Happy eating y'all.
---
---