Zealy Leo Adoption Campaign// My quest and strategy to win and what I will use the price for.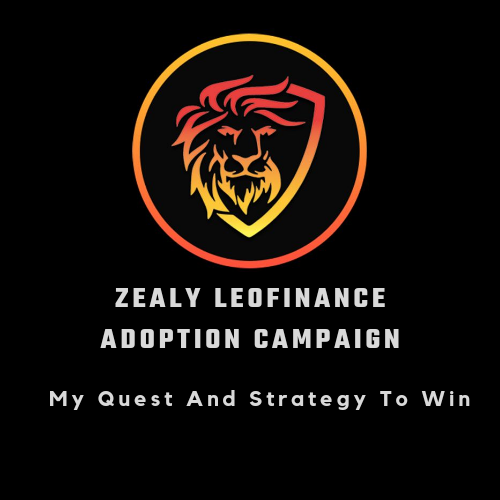 [Image edited on canva]
Lovely greetings to lovely people of this lovely community.
The leo zealy adoption campaign has long started and is hot 🔥.
If you are yet to start I think you should do that as fast as possible, as there is still some time left. You can join using this link.
The price of 10k usd and 200k hp delegation is on the price table. Many are struggling in the quest and some are doing very little.
The leader board keeps changing and lions are fast with quests.
I think the the month of May is a month leo lions won't forget in a haste.
The Zealy Leofinance quest are categorised in such a way it will be very easy for anyone to solve.
They are being group into Keep Staking XP-No Deadline, Daily Side Quest, Weekly Side Quest, CYOA's, and Mini Bonuses.
Grouping it this way makes it easier to concentrate on a particular quest and work on it.
Many of the quests has changed with time and lions are following through.
I was very far on the leader board because I was doing nothing. Two of my friends really encouraged me to wake again and do quests. Happily today I'm in a better position than I was before.
My Plan On How To Win
As I mentioned earlier that the Zealy Leofinance quests are nicely group in such a way that it will be easier to know them. So I will concentrate on each one and make sure I do what's needed. Especially those of the daily and weekly side quests which are being wiped after some time.
Again I will be active on threads and tweeter since that is the two main channels the leo term are using for the adoption campaign.
How I Will Use The Price
It is true that I'm still very far on the leader board but I believe that tables can turn. If eventually I win the contest, first I will need to build up my HP and LP in order to gain more influence in
#leofinance
and on
#hive
at large.
I will also need to support the leo community by delegating some of my HP and LP to
@leo.voter
.
That is just my plan if I win.
Thanks for reading.
Love 🌹
---
---