New health issue

I have discovered I have intertrigo.
Here is a definition: Intertrigo is a fancy name for a rash that shows up between the folds of skin. It is a very common skin rash that can crop up throughout life.
The most common areas affected include larger skin-fold areas such as:
Armpits
Beneath the breasts
Genital area
Abdomen
Mine is in the fold of my abdomen. It can occur at any age. It is more common in hot weather when you sweat. I usually get it in the summer months.
Here is a link that people can look at to learn what it is and how to manage it. https://www.healthline.com/health/intertrigo
Here is some pictures of what it looks like I got from online.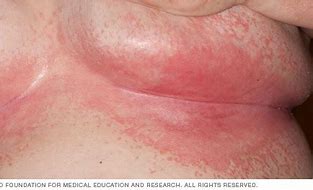 ---
---