Happy New Year Lucky Procrastination Cat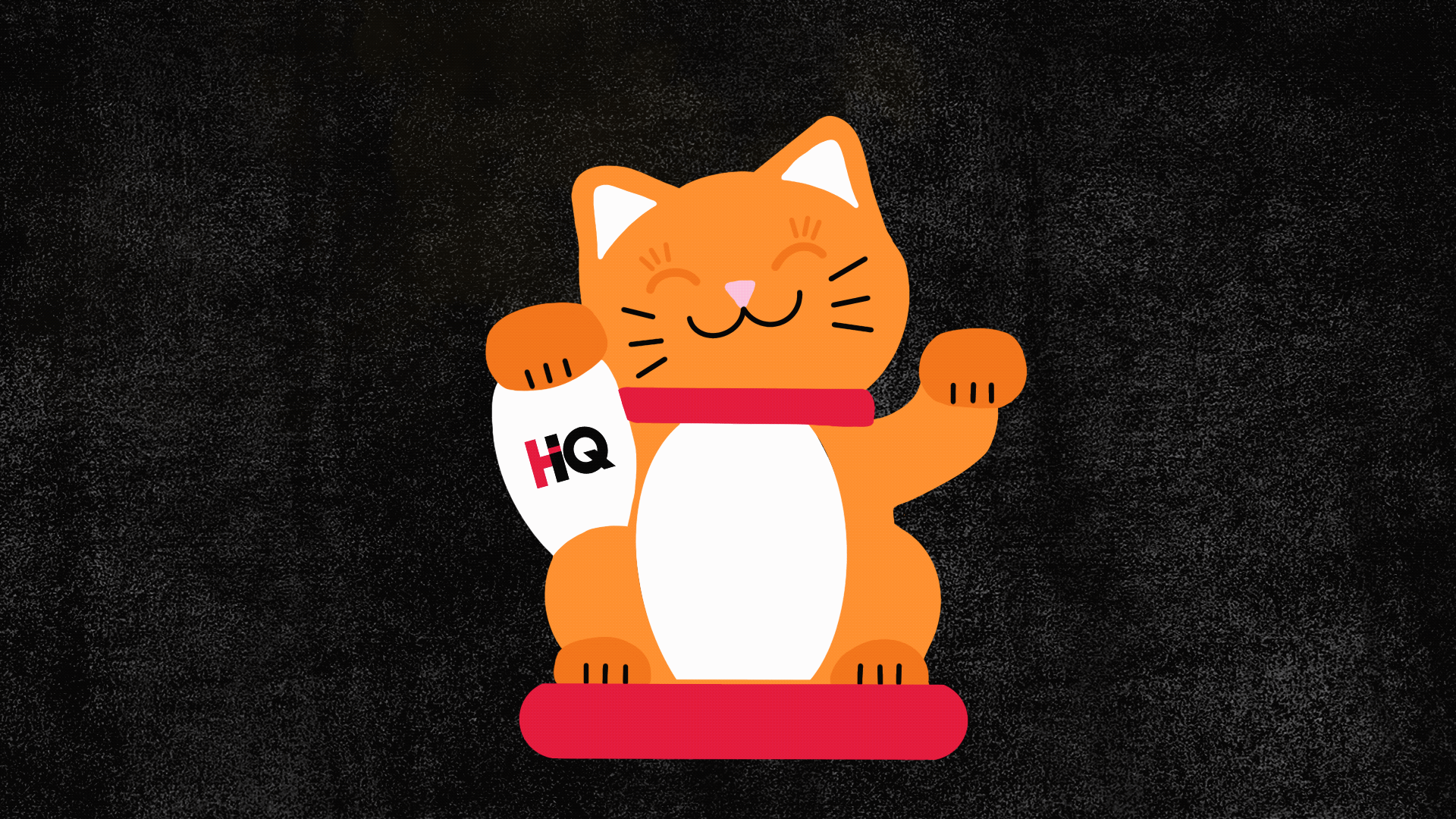 The year has begun. We never stopped. Why? It's simple. We are not only the smartest, the most stylish and the sexiest - we are also the hardest working. (Editor's note: Except when we're not. LOOL.)
But let's be honest... The HiQnesian waving cat gives our luck an origin. 2023 will be our year. Will it be your year, too? Who knows? What we do know is that we'll be digging up the hottest shit for you this year too, starting with this editorial post. How do we know that? Well, take a look at last year. Not a month without an issue. Will this streak last? We'll see.
Das Jahr hat begonnen. Wir haben nie aufgehört. Weshalb? Ganz einfach. Wir sind nicht nur die Smartesten, die Stylischsten und die Sexyesten - wir sind auch die Fleißigsten. (Anm. d. R.: Außer wir sind das mal nicht. LOOL)
Aber mal Hand aufs Herz... Die HiQnesische Winkekatze gibt unserem Glück einen Ursprung. 2023 wird unser Jahr. Wird es vielleicht auch euer Jahr? Wer weiß? Was wir wissen ist, dass wir auch dieses Jahr den hivesten Scheiß für euch ausgraben werden, angefangen mit diesem Redaktionspost. Woher wir das wissen? Na, schaut euch mal das letzte Jahr an. Kein Monat ohne Ausgabe. Wird diese Strähne anhalten? Wir werden es erleben.


HiQ Giveaway
We hid a little competition in HiQ №26. Apparently too well again, because only 4 (four) people took part. We wanted to know your HiQ highlights of the last year, i.e. what you liked best about our output.
These smart Hivians told us their HiQlights and get 1000 INK each:
Wir haben in HiQ №26 ein kleines Gewinnspiel versteckt. Scheinbar wieder mal zu gut, denn es haben nur 4 (vier) Leute mitgemacht. Wir wollten von euch eure HiQ Highlights des letzten Jahres wissen, also was euch an unserem Output am Besten gefallen hat.
Diese smarten Hivians haben uns ihre HiQlights verraten und bekommen jeweils 1000 INK:
---
@mypathtofire
@bitandi
@mein-senf-dazu
@monsterbuster
---
Congratulations to the lucky winners! And next time more people will join in, ok?
Herzlichen Glückwunsch an die glücklichen Gewinner! Und nächstes Mal machen wieder mehr Leute mit, ok?

New Bot Functions
The offspring of the HiQ Smart Bot, Smart Bot Ink, has got new smart functions. For example, you can print out all Hive Engine token richlists and view or download them in a sexy format. And the best thing is that this function is free. Stylish, isn't it.
Der Nachwuchs vom HiQ Smart Bot der Smart Bot Ink hat neue smarte Funktionen bekommen. Ihr könnt zum Beispiel sämtliche Hive Engine Token Richlists auslesen und euch das sexy formatiert anschauen oder runterladen. Und das Beste ist, dass diese Funktion for free ist. Stylish, isn't it?

HiQ Smartcast
Our brilliant @hiq.smartcast offers you the pleasure of acoustically absorbing our texts. A super thing even for the lazy reader. This would not be possible without the talented @solymi. You should know that we can also be found in podcast apps that support Podping like Podverse. So check it out and flex the @hiq.smartcast. By the way, the latest issue is the complete HiQ issue №26, so be sure to have a listen.
Unser brillanter @hiq.smartcast bietet euch den Genuss, unsere Texte akustisch in euch aufzunehmen. Eine super Sache auch für Lesefaule. Dies wäre ohne den talentierten @solymi nicht möglich. Ihr solltet wissen, dass man uns auch in Podcast Apps finden kann, die Podping unterstützen wie Podverse. Also schaut rein und pusht den @hiq.smartcast. Die neueste Ausgabe ist übrigens die komplette HiQ Ausgabe №26. Also unbedingt reinhören.

HiQ Print Issue
There are still print editions of HiQ available. So don't miss out on this unique physical edition. Ever wanted to read an interview with @blocktrades? Then get your hands on it! You can buy a copy for only 5 HBD + shipping. Just send us your address data to hiq.redaktion@protonmail.com. We'll then sort out the rest with you via email.
Es gibt immer noch Printausgaben der HiQ. Also lasst euch diese einzigartige physische Ausgabe nicht entgehen. Wolltet ihr schon immer mal ein Interview mit @blocktrades lesen? Dann schlagt zu! Für nur 5 HBD + Versandkosten könnt ihr ein Exemplar erwerben. Sendet uns dazu eure Adressdaten an hiq.redaktion@protonmail.com. Den Rest klären wir dann mit euch via Mail.



Rabona
Today we have dug up some important breaking news for you. @rabona is going to shut down the game and the end will be tomorrow (Editor's note: 06.01.2023). So you don't have much time to process this sad news and get your assets to safety.
Heute haben wir eine wichtige Breaking News für euch rausgekramt. @rabona wird das Spiel abschalten und das auch schon morgen (Anm. d. R.: 06.01.2023). Ihr habt also nicht viel Zeit, diese traurige Nachricht zu verarbeiten und eure Assets in Sicherheit zu bringen.

Soft Fork
Almost as awesome as the HiQ can only be one thing. Updates. In order to be worthy of the stylishness of the HiQ, Blocktrades did not let itself be left behind and released a new soft fork. Soft fork 27.3 is supposed to deliver various upgrades, fix bugs and give the APIs more functions. Is this the reason why the API nodes are currently discreetly spackling? In any case, Blocktrades is busy programming. If you want to read up on what the Blocktrades dudes are up to, you can do so here.
Fast so awesome wie die HiQ ist nur eines. Updates. Um der Stylishness der HiQ würdig zu werden, hat auch Blocktrades sich nicht lumpen lassen und einen neuen Softfork rausgehauen. Der Softfork 27.3 soll diverse Upgrades liefern, Bugs fixen und den APIs mehr Funktionen geben. Ist dies der Grund, weshalb die API Nodes derzeit dezent abspacken? Es wird auf jeden Fall fleißig programmiert bei Blocktrades. Wenn ihr euch selber einlesen wollt, was die Blocktrades Dudes so treiben, dann könnt ihr das hier.


This week you can once again take part in the popular HIQS Commentary Discount Sale 2/4 and buy up to 270 HIQS. This time there is a 30% discount on the current price (0.648 SWAP.HIVE). Just write
!HIQS HereYourWishAmount
in the comments. For 0.453 SWAP.HIVE per HIQS you can get the coveted item this week. You have 48 hours from when this post is published to do so. After the deadline, a post will be published on @hiq.shares that will process your orders.
If more than 270 HIQS are requested, the HiQ Smart Bot will distribute the HIQS fairly according to smooms' rule. In cases of abuse, we reserve the right to exclude users from purchasing. (Editor's note: Which still has NEVER happened.)
Auch diese Woche könnt ihr wieder beim beliebten HIQS Commentary Discount Sale 2/4 mitmachen und bis zu 270 HIQS erwerben. Diesmal gibt es einen Discount von 30 % auf den aktuellen Preis (0.648 SWAP.HIVE). Schreibt einfach
!HIQS HierDeinWunschbetrag
in die Kommentare. Für 0.453 SWAP.HIVE pro HIQS könnt ihr euch diese Woche den begehrten Artikel sichern. Du hast dafür 48 Stunden Zeit, nachdem dieser Beitrag veröffentlicht wurde. Nach Ablauf der Frist wird auf @hiq.shares ein Post veröffentlicht, in dem eure Bestellungen bearbeitet werden.
Wenn mehr als 270 HIQS angefordert werden, wird der HiQ Smart Bot die HIQS nach der smoomsschen Regel gerecht verteilen. In Fällen von Missbrauch behalten wir uns das Recht vor, Nutzer vom Kauf auszuschließen. (Anm. d. R.: Was noch NIE passiert ist.)


https://twitter.com/hiveblocks/status/1609274030275825664


If you want to be informed about our latest issue, the Commentary Discount Sale, or the other stuff then you should definitely subscribe to us and even get the coveted HiQ SUB Badge. Write quickly
+SUB
into the comments, follow us on PeakD or any other dApp you trust: For the german issue follow @hiq and for the english version @hiq.magazine.
Wenn du über unsere neueste Ausgabe, den Commentary Discount Sale und andere Dinge informiert werden willst, solltest du uns unbedingt abonnieren und dir außerdem die begehrte HiQ SUB Badge sichern. Schreib schnell
+ABO
in die Kommetare, folge uns auf PeakD oder einer anderen dApp, der du vertraust: Für die deutsche Ausgabe folge @hiq und für die englische Version @hiq.magazine.


Anyone who is stylish and smart has subscribed to us: @adedayoolumide @adncabrera @akida @alex2alex @allonyx.ngs @alucian @alz190 @andy-plays @andy-vibes @andy4475 @animaya @atra-aranea @balte @bananofarmer @bechibenner @beeber @bitandi @blue.rabbit @btcsam @carolinmatthie @chaosmagic23 @chappertron @chrislybear @cloudlynx @coldbeetrootsoup @cultus-forex @dafusa @danielhuhservice @dauerossi @dieradikalemitte @ditsch @dragon-ti @dynamicgreentk @dynamicrypto @ervin-lemark @failingforwards @flamo @florian-glechner @fredfettmeister @fun.farms @ganjafarmer @hannes-stoffel @hatoto @hiq @hiq.magazine @hiq.redaktion @hive-loto @ischmieregal @itsme9001 @jeenger @jfuji @joseph23 @kadna @kaeptn-iglo @kenechukwu97 @kheldar1982 @klausklaus @konstice @kryptodenno @ksam @kvinna @lammbock @lauchmelder @leosoph @louis88 @madame-cyntaia @manncpt @mario89 @markus.light @mary-be @mary-me @melinda010100 @miketr @mima2606 @misan @mrdalle @mryoung1979 @music-beatcz @mwfiae @neoxvoter @nessos @nkemakonam89 @noctury @oceanbee @oesterreich @oscarps @photomoto @platuro @points-fr @powerpaul @prinzvalium @pundito @queker-bee @quekery @quelled @querdenker @r0nny @rachaeldwatson @ravenmus1c @reiseamateur @remotehorst23 @saffisara @saggi07 @satren @schmidi @sebescen81 @shakkei @simsibee @smooms @smoomslive @sodom @solarwarrior @solymi @stickupboys @stresskiller @syalla @tengolotodo @thatcryptodave @thatgermandude @thetimetravelerz @thoth442 @tibfox @trading-tokens @tribemieregal @twicejoy @twinner @twistytango @untzuntzuntz @utopia-hope @vasupi @vugel @willendorfia @yeckingo1 @ynwa.andree @yoshi-and-family @zockerpeine

---
---