Champions have short memories...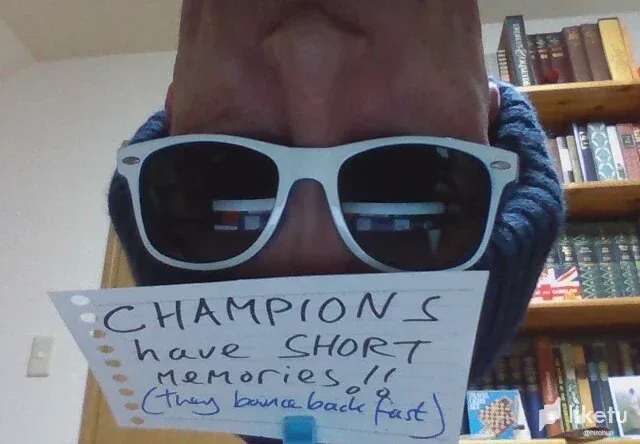 I really didn't feel like creating any Hive-based content tonight. Trouble was, I'd written it down as my "priority task" for today and it felt kinda lame to go to bed without having done it... "I'm going to have to turn things around somehow to get it done," I thought.
Then it occurred to me that the best way to change my energy was to turn myself around... and then try to "bounce back quickly" before all the blood, beer and wine went to my head...
Well, maybe the beer and the wine had already gone to my head...
(Tonight is my last evening of home drinking until Christmas as I always give up "drinking at home" for Advent, which begins tomorrow. Maybe I'll start going out more in December ;) ...)
Today's quotation is another that I gleaned from an Alex Hormozi YouTube video.
Champions have short memories. (They bounce back quickly.)
Alex Hormozi
This guy fizzes with business-related aphorisms, and this is another one that jumped out at me as I listened to one of his videos.
The thing is, if you are going to succeed at anything worthwhile you are going to have to go through a whole bunch of failures on your way to success.
While you do need to take on board the lesson that failure offers, you need to stop beating yourself up each time you fail.
Learn the lesson but forget the failure and move swiftly on to a new challenge, applying what you learnt as you go. That way you turn "failure" into gold just as champions do.
Alex Hormozi also tweeted out a bunch of funny "advice" tweets about "how to fail" and one of them was along the lines of "fail once, then give up." The opposite of that is the essence of today's #index4index quotation.
Cheers!
David Hurley
#InspiredFocus
#Index4Index
---
For the best experience view this post on Liketu
---
---