Crypto Accumulation Report: November 2022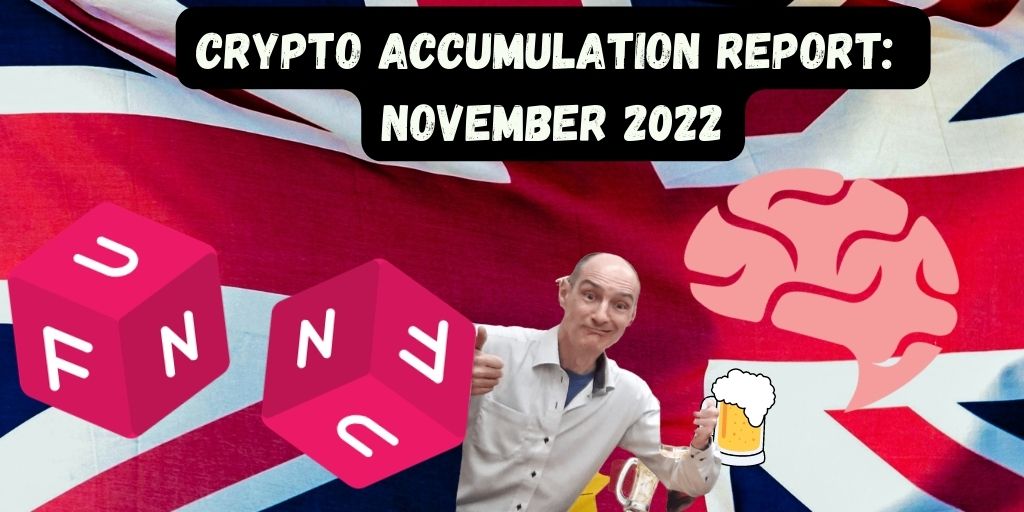 I made quite good progress towards some of my 2022 targets in November. In spite of a hectic winter term teaching schedule, I got into a good rhythm of posting content on various Hive front-ends over the last few weeks.
Back On Track With ProofOfBrain
I also made good progress with the ProofOfBrain (POB) token at last. That boost in momentum was fueled by Splinterlands' GLX airdrop. I've got enough on my plate with the Splinterlands game and my other token projects at the moment so I don't want to diversify into another game, even though the interest you can earn on staking those tokens is impressive. So I've been selling off GLX for SwapHive, pairing SwapHive with SPS, BEE, and SPORTS in the liquidity pools, and buying POB with any surplus SwapHive. Thanks to that, I believe I will hit my POB target of 1,000 tokens by the end of 2022.
(For info about GLX interest rates check out this post by Achim03: https://ctptalk.com/@achim03/iwyphubo )
The State of Play With Just 4 Weeks To Go...
Crypto Asset
1st January
2nd November
3rd December
2022 TARGETS
HIVE
779
1,121
1,174
1,500
CTP
37,271
42,783
43,815
50,000
CTPSB
194
200
200
250
INDEX
1,100
1,204
1,204
1,500
ALIVE
1006
2,425
2,619
5,000
LEN
47
127 (64 + 63 lp)
[year high = 132]
153 (90 + 63 lp)
1000
LEO
46
113
117
1,000
LISTNERDS
11
57,772
57,967
200
POB
100
460
880
1,000
FreeBitcoin Satoshi
1,520,291
3,008,127
3,004,578
3,000,000
FUN
51,109
111,327
122,882
125,000
SPS
–
517 (429 + 88 lp)
606 (468 + 138 lp)
300
Gaining Late Momentum With CTP...
Last month I managed to publish about 20 pieces of content on my ctptalk/@hirohurl blog and earned over 1,000 CTP for my efforts with content creation as well as staked CTP dividends. If I had managed that rate of output every month of the year I would now be within striking distance of the 50k target I set for myself back in January...
Accumulating LEN Via Tribaldex Liquidity Pool
Just as when a planet seems to be moving backwards from our perspective on earth, but in fact is continuing to move forward, so my apparent retreat on the LEN front last month was nothing of the sort. I placed a bunch of LEN tokens into the Tribaldex LEN/LENM liquidy pool, and to do that I had to swap some LEN for one LENM. Over the last month that has steadily yielded just under one new LEN token per day so now I have hit a new LEN high of 153 tokens.
While my new found ability to accumulate LEN did not come quickly enough or with sufficient accumulative power to hit my 2022 target, it will set me up nicely for 2023 when I intend to set a more realistic target based on the potential of the liquidity pool to continue yielding a nice dividend.
On Target To Hit 125k FUN Tokens!
This is the big one! I am confident that I will be able to hit this target this month. 125 FUN tokens locked on the Freebitco.in site for one year will earn 25% apr, and increase the BTC interest rate that the site pays out each day. One other perk I'll pick up is extra Wheel of Fortune spins - up to 12 spins a day - plus one for subscribing to the newsletter, so a total of 13 spins a day. Very nice!
28 days left in which to achieve our goals for 2022! Good luck! 😀
David Hurley
Posted Using LeoFinance Beta
---
---