FreeBitcoin Tip For Beginners Who Want To Win More Satoshi

In a recent blog post I talked about how to swap 100,000 Reward Points for 100,000 satoshi on FreeBitco.in and did a live demo swap on the video that is embedded in the post:
https://leofinance.io/@hirohurl/how-to-swap-freebitcoin-reward-points-for-100-000-satoshi
However, if you are new to the FreeBitco.in platform and are just clicking the Roll button once an hour to claim some free satoshi and Reward Points, you are probably claiming just a dozen or so RP per day. At that rate, it would take several years to accumulate the 100,000 RP for the satoshi swap.
In short, aiming for 100,000 RP only makes sense if you are able to earn RP at a much higher rate than the typical beginner can. So I do not recommend that you aim to accumulate 100,000 RP when just starting out.
Instead, I suggest that you use Reward Points to boost your satoshi winnings, as I explain in this video:
Or view the video on Odysee @ https://odysee.com/@DavidHurley:2/freebitcoinbeginnerstip:2?r=GrVFj92rFw6jZV3gmiEigcU6vWSM5ipf
Aim for 30,000 Satoshi
One of the first targets you should aim for when getting started is to accumulate 30,000 satoshi. Accumulating 30,000 satoshi on FreeBitco.in is a lot easier for beginners to achieve than accumulating 100,000 Reward Points.
Once you have 30,000 satoshi you will start to earn interest at the rate of 4.08% per annum - paid daily into your FreeBitcoin account, so it is a target that is well worth pushing for.
How To Redeem Reward Points For Bonus Satoshi Winnings
Once you have won at least 40 Reward Points you can use your Reward Points to boost your satoshi winnings over a 24 hour period.
To do that, hover your cursor over the "MORE" option in the top menu and click on the "REWARDS" link in the dropdown menu.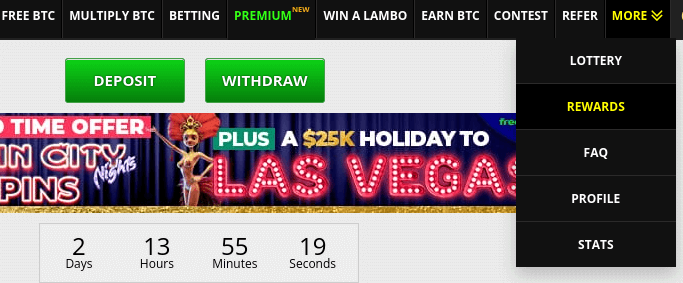 Scroll down to the blue panels and click on the "FREE BTC BONUS" option. A dropdown panel will open up where you can redeem your RP for an increased win-rate when you click the ROLL button each hour.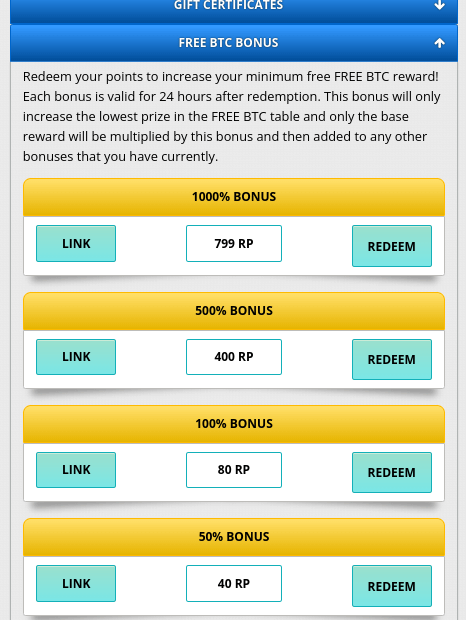 That was one of the things I did to speed my path towards my first 30,000 satoshi on FreeBitcoin.
Subscribe to the FreeBitcoin Newsletter
Another way to speed up your progress is to subscribe to the daily newsletter. Somewhere near the bottom of each newsletter you can claim a free spin of the "Wheel of Fortune". You can win satoshi or Reward Points as well as lottery tickets and maybe even some other prizes. Count the days when you win several dozen satoshi or Reward Points as bonus days that speed up your progress to 30,000 satoshi!
Refer Others and Earn Satoshi Commissions
Another way to boost your satoshi income is to promote the site in the hope of earning 50% satoshi commissions on your referrals' activities on the site.
In short, those are three ways of boosting your satoshi earnings on FreeBitcoin without any out-of-pocket expense (assuming you use free advertising methods to promote the site).
Cheers!
David Hurley
#InspiredFocus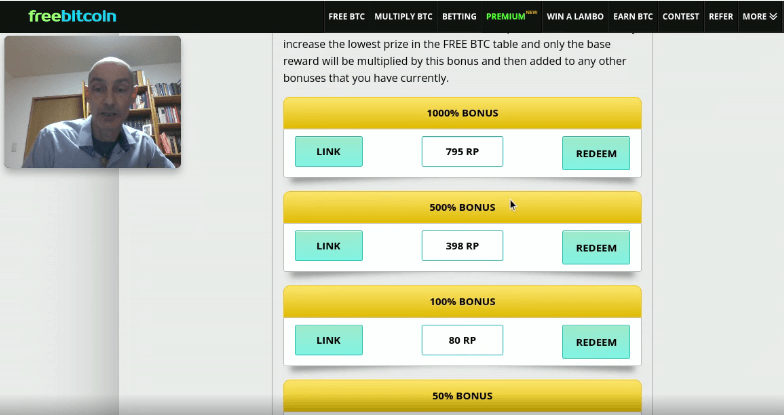 Posted Using LeoFinance Beta
---
---