How To Accumulate FUN Tokens To BOOST Your Daily Bitcoin Earnings!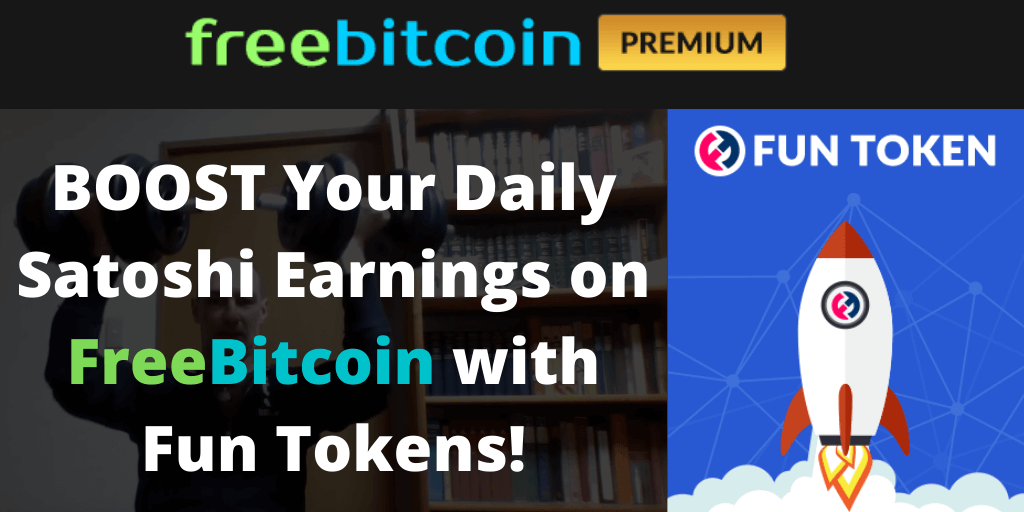 In March 2021 FreeBitcoin adopted Funfair's FUN token to power its exciting new Premium Membership Program.
As soon as the new Premium Membership Program launched, I bought myself 12,500 FUN tokens. After seeing the benefits of Premium Membership I bought another 37,500 FUN tokens this weekend to boost my Premium benefits.
I'll talk about the benefits of Premium Membership in a moment, but first, what on earth are FUN tokens and is there any value in buying them apart from the benefits of Premium Membership of FreeBitcoin?
What Are FUN Tokens?
According to the blurb on the FUN website @ https://funtoken.io/ ,
"The FUN Token is an asset developed specifically for the online gambling and gaming industry. It combines the qualities of the ethereum blockchain with a cutting-edge tech stack, making FUN a powerful resource for players, platforms, and developers alike. FUN seeks to usher in a new age of digital gaming."
In other words, the token has been launched to serve a specific niche market and a clear purpose. FUN uses decentralised and secure etherium smart contracts to settle casino games. They have also developed a technology to ensure odds in gambling games are processed fairly.
This video by Coin Bureau provides an excellent introduction to Funfair and the FUN token:
I am not offering any financial advice here, but for me FUN tokens are an interesting punt in themselves. In other words, I think there is enough potential in the token to merit holding them apart from any value they deliver through FreeBitcoin's Premium Membership Program. If nothing else, holding 50,000 FUN tokens helps me to diversify my crypto portfolio and it is also "fun" to buy into FUN at a discount in the current bear market...
So What Are The Benefits of the FreeBitcoin Premium Membership Program?
There are three benefits to becoming a Premium Member of FreeBitcoin:
You get a 1% cashback on your bets. (This is of no interest to me!)

You can earn up to 25% extra daily interest on your satoshi holdings.

You get up to 16 free spins of the Wheel of Fortune (in addition to the free daily spin you get for subscribing to their mailing list).

Boosting Your Daily Interest Earnings
If you have at least 30,000 satoshi on your FreeBitocoin account you will earn 4.08% interest per annum. Even better, the annual earnings are broken down and you get paid DAILY, which means you can pretty quickly start earning COMPOUND INTEREST.
As a Premium Member, you can earn up to 25% extra interest. That 25% boost means your initial 4.08% could increase to 5.1% per annum, paid daily.
Extra Spins of the Wheel of Fortune
This one sounds like a bit of fluff, BUT it can significantly increase the amount of satoshi you earn each day. When I bought 12,500 FUN tokens I received five additional wheel spins per day (in addition to the one I get via email). After holding the FUN tokens for 90 days I received one more daily spin.
Most days those spins would yield at least 50 satoshi, often 100-150, and sometimes several thousand. Last weekend, for example, my six wheel spins earned me 5,150 satoshi, 50 lottery tickets and 50 Reward points.
Lottery tickets can win you a ton of extra satoshi, but the odds of winning, even with several thousand lottery tickets, are very low.
Reward Points can be used for several purposes, but I use them to boost my hourly satoshi earning rate, so they are a very useful prize to win on the Wheel of Fortune.
Here are a couple of screen shots of my lucky Saturday Wheel of Fortune prizes: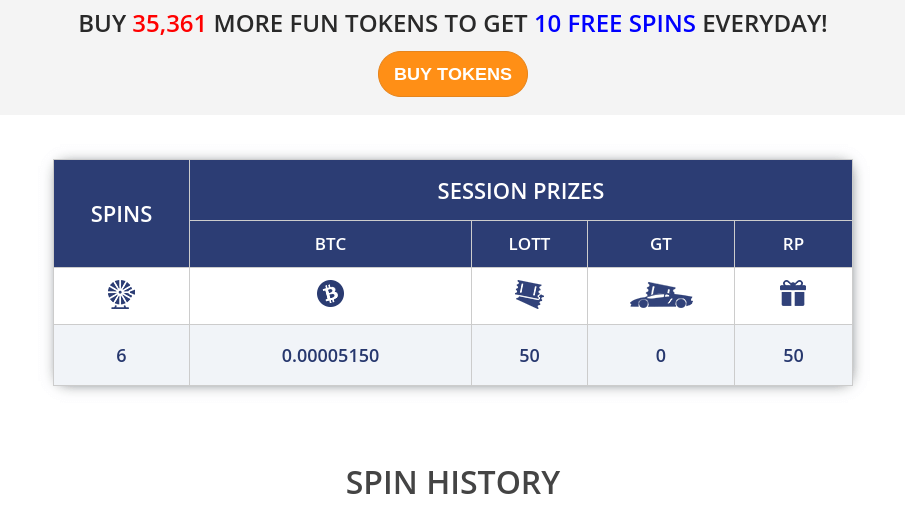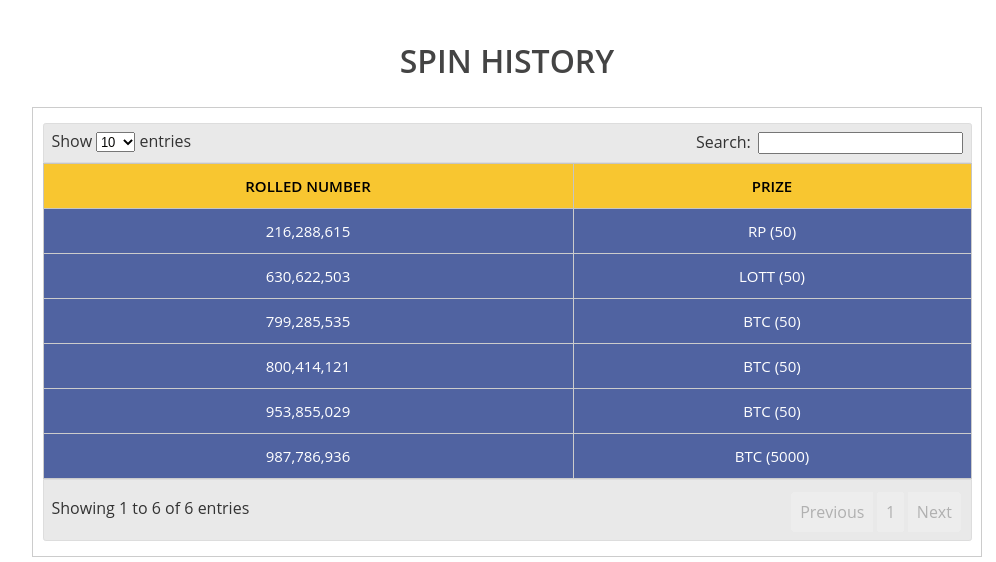 I like how it was my newly added sixth wheel spin that won me those 5,000 satoshi!
How to Buy FUN Tokens on FreeBitcoin
You can buy FUN tokens on several exchanges including Binance and Uniswap, but the easiest way to buy them is directly through FreeBitcoin. All you need to do is log in to your FreeBitcoin account and click the green "PREMIUM" link at the top of the page. Then you will be taken to a page where you can purchase FUN tokens directly from your Bitcoin balance. Simply enter the number of tokens you want to buy, check the price, and if you have enough satoshi, hit the BUY button and you're done!
Your FUN tokens will be held for you by FreeBitcoin. Selling is just as easy as buying, and your FUN tokens will be sold at the going rate for Bitcoin, and the satosh will be instantly added to your balance.
If you are not yet working with FreeBitcoin to earn free satoshi every day, here's my affiliate link if you'd like to check it out: https://freebitco.in/?r=37315680
Cheers!
David Hurley
#InspiredFocus
---
---