JustOneThing: Go Out & Party, BUT Catch The Train Home So You Can Rise & SHINE!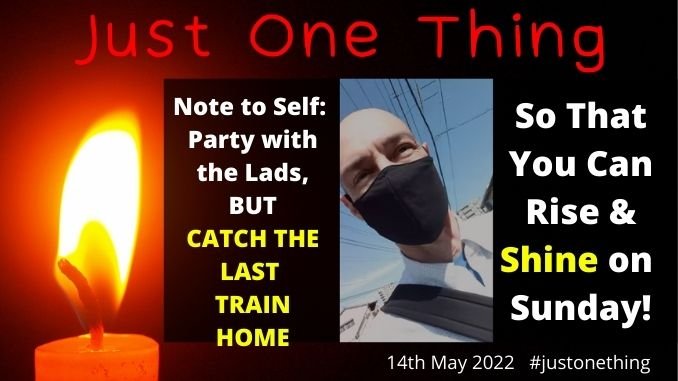 Daily Prompt: "shine"
This #justonething blog post is really a public "note to myself" to "catch the train home tonight."
As I explain in the video, I'm going out tonight to join my footsal (5-a-side football) team mates at a dinner party.
Apparently we are hitting two "izakaya" (pub restaurants) tonight among the bright and shining lights of downtown Hiroshima, the first is a typical Japanese joint, and the second is an Okinawan restaurant. The second party starts at 9:30pm, so my plan is to leave around 11 to 11:30pm (depending on where it is located) so that I can get to the station in time for the last train home.
The thing is, if I miss the train home I'll end up staying out until the early hours of the morning and spending 4,000 yen on a taxi home, and then will sleep in later than usual.
Sunday is my only completely free day and I want to rise and SHINE and have a productive day getting some blog posts written and scheduled for the coming week.
In that way I hope to maintain my momentum of blogging every day on the Hive blockchain and promoting my blog posts on Listnerds.com even though I have a busy teaching week ahead.
I'll make another video later on to let you know how things panned out...
Wish me luck!
David Hurley
---
---