JustOneThing - Watching the Yen Sink: 1995 Endaka to 2022 Enyasu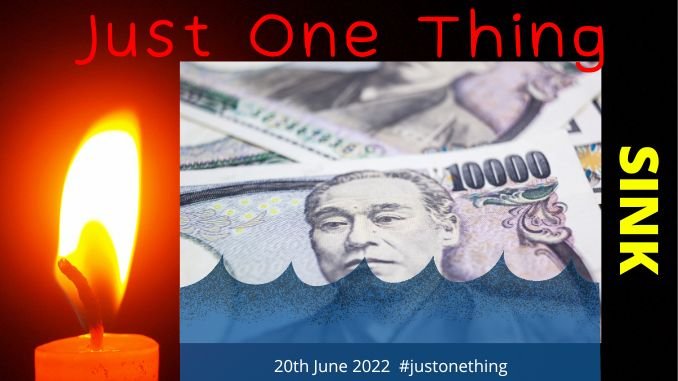 All I can say is that I've had a good innings here in Japan. During the 1990s it was a good place for an idler who wanted to live well with minimum effort.
My Only Regret: Missing The "Bubble"!
Actually, it would have been even better to have lived in Japan during the "Bubble" economy of the 1980s. If only I had been a bit more on my game when I graduated from university in 1985 and got myself a plane ticket to the bright lights of Tokyo...
No need for a teaching qualification back in those glory days!
Private English Language schools were gagging for young British blokes to [ahem] service their flush-with-cash female clientele who were keen to get a smattering of "eikaiwa" [Engrish conversation] under their belts either before or after their whirlwind tour of Europe.
All you had to do was wander into one of those worthy establishments, and not be a complete fuckwit, to get yourself a cushy little "teaching" job.
I arrived in Japan in August 1990 to take up a teaching position in just such a school in Hiroshima.
The "Bubble" burst in 1989, but luckily for me, nobody in Hiroshima seemed to notice, so I got there just in time for last orders, so to speak.
Actually, now I look back on those times, I realize I was experiencing a kind of shadow period where the bubble had burst but lots of bubble-era establishments had not yet sunk into oblivion.
For example, one of my colleagues and I went on several trips to famous hot springs around Japan. We had a wonderful time living it up in uncrowded Japanese inns and spas, blissfully unaware that they were already dead in the water and about to sink.
Money For Old Rope
Compared to my teaching gigs in Italy and England, "teaching" in Japan in those days was money for old rope.
When I lived in Rome, I'd sometimes have to get up at the crack of dawn to commute across the city to teach business executives at 8am. Eight in the morning for crying out loud! Can you believe it?!? In Hiroshima in 1990-91, my earliest class was 11am, and just a 15 minute bicycle ride away from my apartment.
When I arrived in Hiroshima in 1990, one pound stirling was worth 280 yen.
1990s: The Decade Of "Endaka"
When I returned to Japan for my second contract, in October 1992, the pound had sunk to about 216 yen.
Yes, the bubble had burst in Japan, but Japan was still the world's second largest economy and a "safe haven" for cash. Meanwhile, the UK was going through the European Exchange Rate Mechanism crisis.
I was politically as well as personally opposed to the idea of the pound eventually being replaced by the euro, which Britain's entry into the European Exchange Rate Mechanism was preparing for. So I was very happy when the UK government had to abandon its policy of keeping the pound pegged to the lower currency exchange limit stipulated by the ERM. Let the pound sink and exports (and my yen remittances back to the UK) flourish!
I stayed in Japan for five years on that second stint. The bubble may have burst, but that was the glorious era of "endaka" or "high yen" when the dollar sank to an all time low of just 79.75 yen in 1995. The pound also wallowed in the mire for much of that period.
This is my third time in Japan. I've been here for 22 years now and for most of that time the exchange rate has been quite stable and favourable to me as a yen earner.
2022: The Dawning Of A New "Enyasu" Era
Suddenly, in 2022 we are in a new world of "enyasu" (low yen). In the New Year the yen was trading at 104 to the US dollar. By early June, the yen had sunk to less than 130 to the dollar, a twenty year low.
Just look at this dollar/yen chart: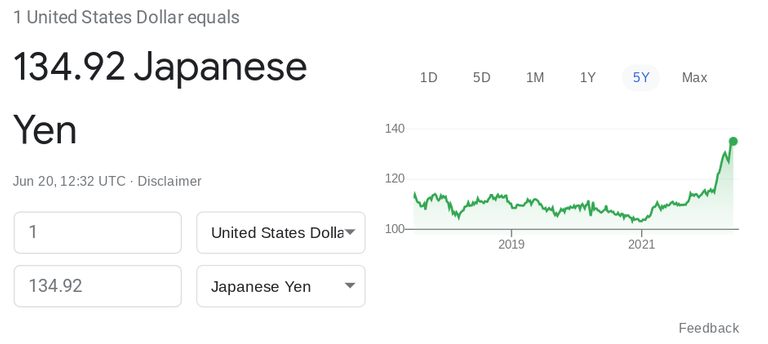 The yen has lost value against the UK pound stirling too, much to my chagrin, and I don't see any reason why anybody would want to invest in yen - or in Japan -right now. Just look at this chart: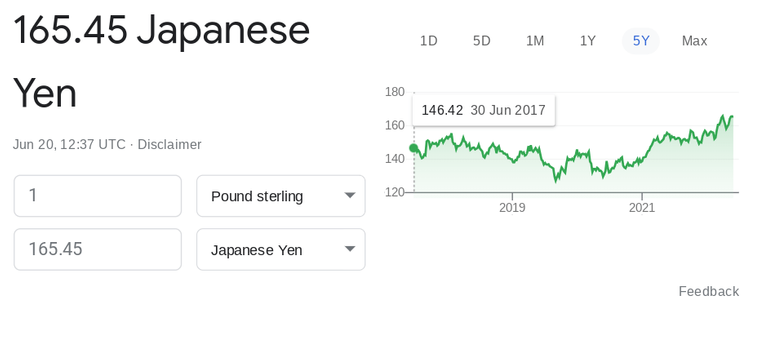 Well, well, who'd have thought that the post-Brexit pound would be a better bet than the bloated yen? LOL!
It seems to me that the headless chickens are coming home to roost for the Japanese zombie economy. Japan has lived on borrowed time for far too long... the government is mired in debt, the population pyramid is upside down, and the younger generation are more inward looking than ever... Meanwhile more dynamic Asian economies now compete much more fiercely with Japan than was the case in the 80s and 90s, and domestic manufacturing has been hollowed out as a lot of Japanese manufacturers have relocated to cheaper production centers in those Asian economies... there is a complete lack of leadership... oh and of innovation too...
In short... it's game over for Johnny foreigner ("gaijin") enjoying the easy life in Japan unless Johnny is earning himself some US dollars!
So now more than ever, I need to focus on building my dollar-earning online business, and on growing my crypto holdings while prices are cheap...
And then ... escape from the wrath to come by becoming a digital nomad!
Cheers!
David Hurley
Sources
https://www.google.com/search?q=dollar+yen
---
---