JustOneThing - Where Have I Been & Where Am I Going?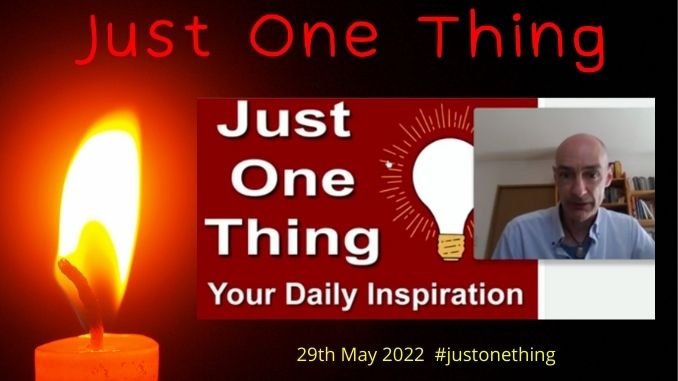 After blogging pretty consistently for most of May, I tripped up during the second half of last week and didn't get any blog posts written for four days...
Today, instead of using one of the daily prompt words, I prefer to talk about what was going on, and what I intend to do going forward to try and create blog content every day.
I do the talking in this video (but if you prefer to read, scroll down for the transcript):
Video Transcript
Hello folks,
This is David Hurley of the #JustOneThing initiative blogging on the Hive blockchain and talking to you on Sunday 29th May 2022.
I blog on the Hive blockchain and have been able to blog a lot more this May than this time last year.
During this part of the year I get really busy with my offline teaching contracts and so I wanted a way to be able to try and maintain momentum and continue blogging through a busy teaching term. And thanks to the #JustOneThing initiative, and especially to @russellstockley and his daily prompts around which we can create blog content, I have been able to blog a lot more this May than I did last May.
I think I put out over twenty blog posts this month. I blogged most days 'till last week, whereas last May I only put out one or two, maybe three, blog posts during the whole month.
That is thanks to this #JustOneThing initiative that we got going at the beginning of May or end of April this year.
Then The Wheels Fell Off My Bus
However, the wheels did fall off my bus towards the middle part and throughout the rest of last week.
What happened was I work offline here in Hiroshima as a freelance teacher and I have two college contracts which are running now at full steam right through until the end of July, so they keep me fairly busy ever day five days a week, but I also teach a bunch of private classes.
I have several contracts and depending on the class they are either once or twice a month classes. And last week from Wednesday to Saturday it was a week when every single one of those private contracts was in play. And that caused me to get very busy.
Private Teaching On Google Meet
I teach two doctors, separately - private classes. I teach them from home online.
I was using Zoom, by the way, but Zoom now want to charge for private classes that go over I think it's 40 minutes, so I switched to Google Meet, which I highly recommend.
Google Meet is completely free and doesn't seem to have any time limit and it worked very well for us, teaching these private classes. So Google Meet - worth checking out if you have private clients.
Too Knackered To Write... But...
Those classes finished 10:30pm or 10pm in the evening so I just didn't have enough energy to post out a blog... and I was getting up early - I get up at 5:50 in the morning to go off and teach my morning classes [Mondays, Wednesdays, Fridays]. So, in short, I didn't have enough energy to pump out some blog posts.
[BUT...]
I did have enough energy to continue playing Splinterlands and I also managed to maintain my email voting and clicking on the Listnerds mailer site, but creativity went down last week.
Teaching May Be Tiring, But It's A Lotta Fun!
I love the teaching I do. I'm having a bunch of fun teaching. I say "creativity went down" but look at this, this is what happened at college. My students insisted on roping me in to dance with them...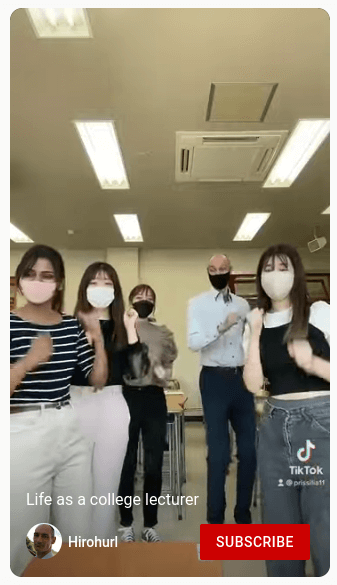 This is a rehearsal. We're going to try again next Friday to see if we can improve on this.
So, teaching is a bunch of fun. I love teaching, but it does kind of drain you by the time you get home, especially when you have all your privates kicking... your privates?
... your private CLASSES kicking in as well!
So, anyway, what I'm really talking about is, it's been great that the #JustOneThing initiative is in action because it has kept me blogging through May even though I've been busy, until the last four days when I just got too busy.
Use Daily Prompts To Write And Schedule Blog Content
All that aside, what it means now, going forward is that there are some daily prompt words [that Russell has posted on the #JustOneThing community for us to blog about] - and a lot of these are right up my alley, like...
"rhetoric"

"fossil" - Well, I've got something I can write about being a fossil - not me being a fossil, though I feel like it sometimes....

"flat" - Got an idea for that one...

"drama" - Of course with my background in English literature and English Renaissance literature, Shakespeare studies and all the papers I've written about Shakespeare I've got a lot to say about drama.
The Plan...
Those are fine words that I can blog about and so what I'm going to do now is, use this video as my blog post on #JustOneThing for today (because you don't actually have to use the daily prompts, you can talk about what's going on in your life if you prefer), and then - I have a completely free day today, Sunday - I'm going to see if I can write some blog posts around these prompt word themes and then schedule them for next week so I've got some in reserve.
So, hopefully, if I get busy again I'll be able to maintain my blog posting every day because if we can post out blogs every day and then we can share them on Listnerds where we can earn (especially us Enterprise members - highly recommended) over 100 LISTNERDS a day if enough people upvote your mails, then you're... maintaing momentum even through busy times offline.
Anyway, that's really what I wanted to say today. I am very pleased with how #JustOneThing is going and I'm now going to use the daily prompt words to build up some blog posts that I can schedule into the busy days going forward and in that way see if I can pump out a blog post every single day in June... That would be nice.
Okay folks, that's all from me, David Hurley, of the #JustOneThing initiative until next time.
---
---