Leadsleap Training Video 2 (the latest update!): Surfing for Credits and Profit Share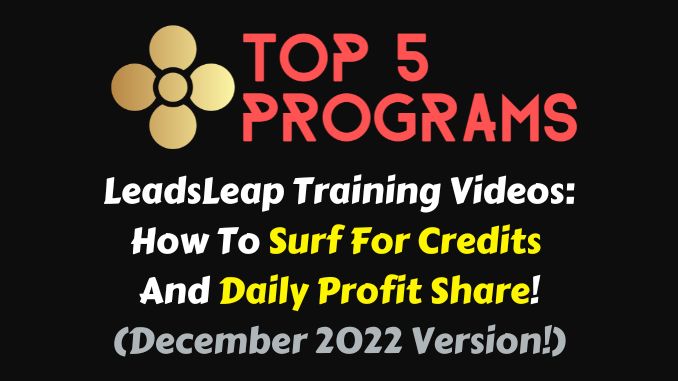 About a year ago when I started making Leadsleap Training Videos, Leadsleap had an ad-rating requirement. When you surfed ads to earn credits, you had to give each ad you surfed a rating of 1 to 5 stars. In my second video I talked about that star-rating system and demonstrated how it worked.
Then, sometime in 2022 Kenneth Koh updated the ad-surfing system and dropped the star-rating system. At that time I made an update video explaining the changes.
Time To Make A New Leadsleap Surfing Video
Fast forward to December 2022 and I received a distressed email from one of my subscribers in which he lamented that he
was shocked to see that you had to give a star on the left,i never knew this.I have some 8000 credits without marking a star are these now useless,i willbe bitterly disappointed if so.
Clearly it is high time I made a completely new training video and update my email letters to reflect the changes without referring back to the old star-rating system. In the months that have passed, a new generation of subscribers has come to Leadsleap that have no experience of the old system. All they need to know is how the current iteration of Leadsleap works.
Finally, A Free Day!
So, after a hectic teaching week, and too many late nights/early mornings watching the World Cup... I finally had a free day today in which to rectify the problem by making a brand new video.
Mind you, I was somewhat out of practice and it required several re-takes and a lot of editing to get a basic "how to surf Leadsleap" video done.
So here it is, the latest update of the second Leadsleap training video.
Video Contents
In the video I take you through the relatively simple process of surfing for credits. I also show you how many credits you can earn per click.
Also covered:
Credit overrides from your direct referrals.
How to earn credit overrides on 10 levels of your downline.
How to earn daily profit share bonuses.
Get started with Leadsleap free today: https://leadsleap.com/?r=hirohurl
Cheers!
David Hurley
#InspiredFocus

---
---